| | |
| --- | --- |
| | TCEDEROTH's Recent Blog Entries |


Sunday, February 10, 2008
My son came home from school today so that he could see find out where we'll live and how to get there, and to see the place. I expected him home early so that we could see the place and then go do some shopping before coming home and finishing packing up his room. But he stayed out late last night, and I called him and woke him up when I was checking to see how close he was. So he was 3 hours later than I expected. We didn't go shopping, or picking out paint colors like I had hoped we would, but I can send him some samples and he can pick from there I guess.

He surprised me though and chose the smallest of the bedrooms. I was planning on using that one as an office, but I had forgotten about his love of sunlight. That room is in the corner of the building and has a great view out two sides.

Anyway, it was great having him all to myself today. That hasn't happened in years, and I didn't realize that I missed it, but I guess I did. His girlfriend wanted to hang out with him, but he promised her he'd spend time with her tomorrow before he went back to school and stayed with me. We had a great time working together and packing boxes. We didn't really get a whole lot done, but we had fun.

At least his room is packed. We got all of the shelving off the walls and the holes patched and tomorrow I get to paint it and shampoo the carpet. Then I can really start making some progress. With all of the boxes around I can't move in here, and with his room emptied and thoroughly cleaned, I can stack boxes in there as I pack, and they will be out of my way.

Tonight was his turn to be a bit melancholy. He's spent pretty much his entire childhood here and he will never be back. I purposely wasn't going to take his bed apart so that he can sleep in his room one last time. His response was that it didn't matter. We could take the bed apart and he'd just sleep on the mattresses on the floor. Without his things in there, it wasn't his room anymore.

But he's really happy with the new place, and he's excited about coming home next and unpacking his belongings and getting himself set up.

I guess we're both leaving our old lives behind and looking forward to the future.




Thursday, February 07, 2008
It's after 3 am and Iím still not done packing up The Boyís room. Man, did that kid save a bunch of crap. He claims he purged a bit before he left at the end of winter break, and I know he did throw away some stuff. Iím trying to go through things and get rid of more junk, but itís very hard. Iím sure a lot of it was saved for a reason, particularly things that are actually put away, like in a container or something. Heís lived here since he was 6, starting in first grade. I donít want to throw away things that may be important to him. But then there are things that I absolutely refuse to move with me. Sticks that he was practicing whittling on. Several long chains of rubber bands. Bits and pieces of string, leather cord, hemp (he was going to crochet a suit made out of hemp to wear to homecoming, LOL), a bunch of rocks, an entire drawer full of rubber balls of various sizes. A fairly large box of playing cards, all just thrown in. Must have been at least 20-30 decks. We donít need that many decks of cards, and Iím not sorting them. I feel like Iím throwing away his childhood. I really wish he would have done this. He should have a last chance to go back in time before the stuff is disposed of. The truth is though, he wonít even know itís gone.

I am allowing him to keep his porn magazines, videos and the pot he had hanging and drying on the clothes hook behind his door. He wonít be needing it anytime soon, so I packed it in a box. Heíll find it when heís unpacking and have a pleasant surprise, probably followed by a good buzz.

One thing that I will not throw away are all of the notebooks and piles of paper. Heís going to have to go through that stuff himself. Heís constantly creating something, and there are the beginnings of scripts, novels, song lyrics, musical compositions, poems, drawings. Maybe heíll be inspired to complete one of those projects someday. Maybe I can get him to transfer it into the computer little by little, so it can be saved without clutter. The crafty stuff Iím just throwing away. He can always make more ďstuffĒ. But the creative stuff thatís in his head, or was, I donít want to mess with. There's a lot of things that seem like journals too. I didn't read them though. Cleaning up and clearing out are one thing, invading his privacy is another, and I won't do it. The problem with all that paper is that itís freaking heavy.

I wanted to get the walls patched tonight so I can touch up the paint tomorrow and then shampoo the carpet, but it doesnít look like thatís happening. There is so little room in this place that I had planned on taking his bed apart after everything was done and just piling the boxes and stuff up in his room to get it out of the way. I hope whoever takes the place likes electric blue walls and midnight blue ceiling with a tie-dye border, because thatís how his room is, and I'm just touching up, not repainting the whole room. Heís been in a hippie stage since 6th grade. He really was born in the wrong decade I think. Maybe I should leave the lava lamps, black lights, beads in the doorway, tie-dyed comforter and all that other hippie stuff to complete the effect for them. It would be less to bring with.

I enjoy the peace in my household now that he's gone to college, but going through his things made me really melancholy. I miss him tonight, and not just so he can clean up his own junk, either.





Tuesday, February 05, 2008
Geez, I've run the gauntlet this week.

Last weekend was the wedding. What I worked so hard for. My plan bore fruit. I was successful. I only missed my goal by a few pounds, and I was, and still am OK with that. The witch never even showed up to the reception, so I was triumphant.

The following day started my funk. I don't have all the reasons why. Maybe I felt bad because they missed the reception. But why should I feel bad? She's the one with the issues, not me. I didn't tell them not to come. I never said a word to her, and wouldn't have. But I don't enjoy making others feel bad or angry. Not even when they deserve it. So it was a hollow victory.

I was also very emotional the day after. I left my friend's house without even saying goodbye. There is an unresolved issue between us, and I felt it best that I leave before I pushed it. It's not worth losing one of my best friend's over. But why was I emotional? The hollow victory? Not making my goal weight? GEORGE's visit looming? Who knows?

All I know is that it sent me into a funk which lasted a few days. I had to force myself to exercise. It wasn't fun and I hated every second of it, but I did it anyway. I was also background eating. It wasn't crap, it was healthy food, but food I didn't need. I wasn't hungry, and I thought about it every time I put something into my mouth. And then I thought, so what? And ate it anyway. I didn't eat an actual meal for 4 days. Just snacked. Even though it was good snacks, how I managed to stay in my calorie range, I'll never know.

Then towards the end of the week, the motivation just hit me again. I had energy. I was getting things done. My life was on track. I had a positive outlook. That was short-lived.

Then GEORGE shows up. No heavy duty workout for me now. I tell you, I almost wish for the days when I wasn't getting healthy, because GEORGE only visited once or twice a year then. I was lucky. But now, he shows up like clockwork. Damn PITA. I'm not used to this.

Now I'm in a stage of rebellion. I missed my OWI today because I wasn't at home, so it will be tomorrow. I already know it won't be pretty. GEORGE has not affected my weight loss before, but this time I am holding water badly. I don't have a muffin top, this is a damn Bundt cake. Even my ankles are swollen. There's no way this is going away over night. In an act of rebellion, I purposely went over my calorie range tonight. I ate a dinner that I really shouldn't have, even though I could afford to calorie-wise. But that wasn't enough for me, no. I had to have a snack that was sure to put me over the top. And one with a high fat content to boot.

So I really need to examine why I am trying to sabotage myself. Or IF I'm trying to sabotage myself. Part of me feels like I am. I'm so close to my goal, but I don't really care. I even extended my goal to an even 140 to try and motivate myself more. I actually paid money to a health club to ensure that I would continue to go. I don't want to do this, but I'm making sure that I do. With the exception of today, I'm eating healthy, even when I'm being bad. With the exception of today, I'm exercising, even though I don't want to.

I've been here for 4 months and still haven't moved on to stage 2. I don't feel entitled. I eat right and stay within calorie range. I think I've gone over less than half dozen times. I've been seriously exercising since January when I felt it was safe enough for me to do so. But, I don't drink at least 8 glasses of water a day. Maybe twice a week if I'm lucky. I'll go days without water at all sometimes. I switched to Coke Zero, with the intention of cutting it out completely, but haven't. I still drink just as much. My fast break goals are to drink 8 glasses of water a day, eat at least 3 freggies a day, and to get 8 hours of sleep per night. Oh, and to journal daily. It just doesn't happen. I figured if I can do all of those things for 2 weeks, then I would be entitled to move to step 2. I can't even do it for 2 days straight. Not I can't. I won't.

I don't even know what step 2 is all about. For all I know, it could contain the motivation that I need, but I'll never know. Because I refuse to keep the commitment to myself, and to the healthier lifestyle. The eating habits were really easy. I didn't have any to begin with. And I am a creature of habit. So now that SP has taught me how to eat, and eat well, I'm rocking along with that. It's the bad habits. The soda. I like water when I drink it. So why don't I just do it? Why grab the soda instead? The lack of sleep (it's after 1 am here now). Why am I still here? I have to get up in 5 hours. Refusal of freggies. The fridge is well stocked with them. Why did I go for the Spinach and Artichoke flavored tortilla chips then?

Is it because my loss came relatively easy for me? Willpower was not a factor for me. I really didn't do anything but switch to a diet soda and actually start eating. I've only been working out for a month, and that was only to get rid of the "bra-bacon" so I could look good in my dress. My brain KNOWS that it needs to do these things. Not just for the weight loss and subsequent maintenance, but for my overall health. Yes, I've lost weight. A lot of it, but I'm nowhere near healthy. I feel better, but it's more like a feel better coating over a crappy inside.

I'm eating a whole lot more and a whole lot better than I used to. But I'm still malnourished, and very likely always will be. Because I won't conform 100% to my dietary needs. Actually, not needs, but forbidden things. Some of the healthy food that I eat is actually not allowed for me. It prevents me from getting healthy.

So even though I only eat a little bit of the forbidden things (rebellion days like today excepted), I still have a pouch belly like a starving, malnourished, Ethiopian orphan. My hair still falls out in handfuls on some days. My fingernails still split and peel. I still can't sleep at night. I am still constantly in pain (which will never go away, no matter what).

So part of me says throw in the towl, why bother at all? And another part of me says just keep going. Every little bit helps.

So yeah, I look better, and feel better, but I'm not better, and will never be 100%. I've never been the type of person to settle, and anything less than 100% is settling.

But I don't want to quit either.

The battle rages within.





Monday, January 28, 2008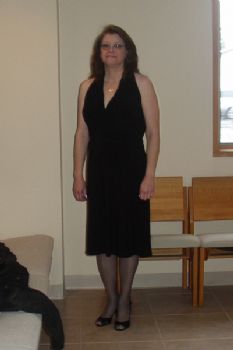 I think they must.

My goal was set at the end of September 2007. I wanted to lose 50 lbs by the time I attended a wedding on January 26, 2008. In the past I have compared that 50 pounds to a few Thanksgiving turkeys. Well, a few days before the target date, I was just a bit under 5 lbs short of my goal, by my OWI. The day before, it was less than 3, but we'll stick with the OWI.

Those turkeys had literally flown off of me, leaving nothing but a smear of gravy on the plate.

The main reason for wanting to lose the weight was because I wanted to be healthy. I had looked at some pictures of myself, and reflected on my health over the past few years and decided that I had had enough. What kept me motivated though? Aside from all of you wonderful people on SP, the story of the additional motivation is somewhere on either another blog or a message board thread (80's Music Lovers), but most of you probably know it already, and I won't repeat it all here.

Briefly, for anyone not familiar with the story, I wanted to annoy someone who I knew would be attending the wedding. Not an ex, but a woman that hates me for no reason other than the fact that I exist. She once wished me dead, and I wanted to show her that not only did I not die, but I was better than ever.

She did not know that I was going to be at the wedding, and here's what happened:

She didnít know that I was there initially because I was back with the bride before the ceremony. My friend is the father of the groom. The mother is remarried, and her husband was not expected to make it to the wedding, so the plan was for my friend and his ex to be escorted into the church together as the parents of the groom. Well, her husband made it after all, and since my friend was dateless, he came back and asked if I would mind walking with him. I didnít mind, so we did, and thatís when she first saw me.

I literally heard her gasp. And then there were a few snickers. I think everyone that knew her was watching her to see how sheíd react. I never looked back at her, but man, was the back of my head feeling warm.

Because I was with my friend, I ended up in the receiving line with him afterwards. I tried to say that I didnít belong there, but his ex and the kids wanted me to stay, so I did. When she and her husband left the sanctuary, he started for the receiving line and she grabbed him and pulled him out the door and they left. You might say she FLEW out the door.

They never even showed up at the reception, which of course resulted in all manner of conversations, because they WERE expected. Iím just surprised nobody told her that I would be there in the first place. They must have been wanting something to happen.

My mission was accomplished. I pissed her off.

So I guess yes, turkeys really DO fly.

But who cares? I soar with the eagles on SparkPeople.com. Thank you all for your continued encouragement, support, and motivation. I wouldn't have done it without all of you.

You people ROCK!!





Thursday, January 24, 2008
A while ago I blogged about the evil machine at the end of the hallway that I pass by everyday. Lynn suggested putting a copy of my signed SP pledge on the machine to reinforce my commitment, and I did. It disappeared, and I assumed the vending guy removed it. So I put another one up. It stayed up for quite a while, but yesterday it was gone again, so I put up another one. This morning as I flitted by the machine, the breeze of my passing stirred something. I looked over and what do you think I saw?

Not just my pledge card replaced (making 2 of mine up there), but TWO MORE!!! I think they belong to a couple of ladies on the 2nd floor that I talk to periodically when we are outside indulging in our vile nasty habits. They had noticed my weight loss and commented, and I had told them about SP. This was before Christmas. Apparently, they've made up their mind to join too.

Woot! Woot! I can't wait to run into them and find out what their screen names are.

The vending guy is going to hate me. But then again, it's incentive for him to get in some healthier snacks, if he wants to make any money.

Perhaps the 3 of us can start something and get that whole machine covered in pledge cards.

Oh, and by the way, this was just the kick in the butt that I needed to inspire me some more. My goal weight is in sight. I'm really OK with not making the date, but for some reason, I have slacked off terribly recently, and the past couple of days in particular. Not much water the past couple of weeks, too much fat in the nutrional balance, not keeping up with exercise, or going lightly. Maybe because I knew I wasn't going to make the date, it didn't seem as urgent anymore. The goal is still important to me, even though the date doesn't really matter.

As my reward for losing 50 lbs. I have decided I'm going to Vegas. And I am booking the trip soon, and it will be for sometime in Feb. or March. I WILL have reached my goal by then. Once I have booked the trip, I'm going, so if by some chance I haven't met goal, I'm going to allow you folks to think up some kind of penance I will have to pay while in Vegas. Maybe something I won't be allowed to do, or something non-fun that I may have to do. I'll leave it all up to you. Start thinking and posting. Lynn's going too, so she'll make sure I cooperate. But I'm sure it won't come to that.

And if anyone wants to come along, speak up now, so dates can be discussed as well as accomodations.

A girl's weekend in Vegas? Can somebody say Hell Yeah!



First Page
1
2
3
4
5
6 7 8 9 10 11 Last Page

Get An Email Alert Each Time TCEDEROTH Posts