Wednesday, October 29, 2008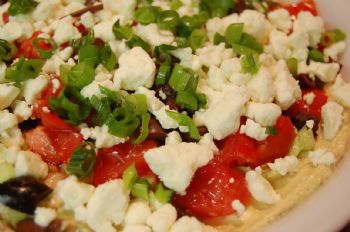 Here's a recipe that will come in handy this holiday season. It's easy to make and looks pretty when you serve it. This Layered Greek Dip from The Savory Notebook ( savorynotebook.blogspot.com/2005/08/
layered-greek-dip.html ) is perfect to take to those family carry-ins or to keep on hand for a healthy snack. Hummus has become one of my favorite snacks since I joined Spark. Be sure to use a good hummus for this recipe. I tried a new brand the first time I made it and the horrible hummus overshadowed the whole dish. Next time I used our family favorite and the dip was delicious.

For more recipe ideas, check out my blog I'm Running to Eat! imrunningtoeat.blogspot.com/

Looking for ways to cut back on expenses? Check out my new blog The Good Life: Live Well on Less ways to live well while spending less! tgllivewellonless.wordpress.com/

Layered Greek Dip
Recipe from The Savory Notebook savorynotebook.blogspot.com/2005/08/
layered-greek-dip.html

8 ounce package reduced-fat cream cheese, softened
1 Tbs freshly squeezed lemon juice
1 tsp dried Italian seasoning
3 cloves garlic, minced
1½ cups prepared hummus
1 cup chopped cucumber
1 cup chopped tomato
½ cup chopped pitted Kalamata olives
½ cup crumbled feta cheese (reduced fat is fine)
1/3 cup sliced green onions
pita chips and/or multigrain tortilla chips

1. In medium mixing bowl, cream together cream cheese, lemon juice, Italian seasoning, and garlic with rubber spatula until smooth and well-combined.
2. Spread cream cheese mixture into deep 9-inch pie plate or oval platter. Spread hummus on top of cream cheese layer. Sprinkle on cucumber, then tomato, olives, feta, and green onions.
3. Cover and refrigerate for 2 to 24 hours. Serve with pita chips or tortilla chips.