| | |
| --- | --- |
| | TARAFROMTX1's Recent Blog Entries |


Thursday, August 23, 2012
Okay so my Oldest starts school tomorrow.. Pre- K. (Its all day as well) And I hate to say it but I am a wreck!! All I want to do is cry.. of course not in front of her. I don't want to make her any more nervous or scared. I don't know which one of us is going to have it worse really. One day she's excited the next she's telling me "momma don't make me go". She's like me.. changes are hard and very scary and we tend to have issues with them lol... with her its Melt Downs. I know in the end she will love it and it will all go well but its the whole getting past it being new and a huge change! I say that because every since the day she was born I have been with her, with the except when I was in the hospital giving birth to her baby sister. Sure I have left her with her grandparents a few times for a few hours but that's it! So its new for the both of us and let me tell you its so not easy! And I know all you Moms (parents) out there know what I mean, even more so if you've been like me and been so blessed to be a Stay at home mom. I love it and wouldn't trade it for anything! But it has its tough times too. This being the worst one so far!! Anyways So that's where I am! I am over emotional and stressing and neither of those is a good thing... means I am eating just about anything I can find!

So here's where the Questions come in.

How to make this an easy or easier transition?

Any ideals to making her first day/ week special?

So far all I have is.. I want to take her 1st day picture probably with a sign saying her first day of Pre-k ect.

Also I was going to make a special breakfast But the school has a mandatory all kids eat breakfast with her class and teacher.

But I did ask her what she wants for dinner.. she said pizza lol So pizza it is!

Any help, answers, advice would be much appreciated!!!!


Thanks in advance for any and all of you who take the time to read this and give advice! Also Sorry I haven't been on much. Its been crazy and hectic! I m sure alot of you are going threw the same with school coming up and other things as well!! And Best wishes to you all on all of the up coming!! Thanks again SP Friends!!!!







Friday, August 10, 2012
Well for me the past year has been life changing!! I have lost 103lbs this past year! For the First time in my life! Sure I have lost alittle weight here and there and most times gained some if not all back. All because I didn't have the tools to change the mistakes I was making and would always go back to bad habits. In this past year I have learned so much! Before now I use to think I couldn't do it.. after trying so many times and felling so many times. But something was different this time. Yes I have determination, and for the most part I have the will power!! But Spark people gave me the much needed tools! And All the wonderful people on SP have given me the inspiration and the extra kick of motivation I needed!



Now don't get me wrong I am still learning. And I still have another 107lbs to go to make it to a healthy weight for some one my age and height. And even tho I have lost weight and I feel so much better!! I still have the fight ahead of me. And I know I can't give up!! If I can lose 134lbs total (103lbs being with SP) so far then I can certainly lose the other 107lbs!!! And my friends if I can do this SO CAN YOU!!!



I am no pro at this by far! But I can tell you what has been working for me.



1. Drinking lots of water.. most days I get 12 to 14-- 8 oz glasses a day but I do try to drink more.



2. working out.. even on the days I just don't want to!
2/3 days a week ST 3/5 Days a week Cardio..
my workouts include.. when I first started out.. at 360lbs I started with a recumbent bike, and ST with 10lb dumbbells, I also do many of the ST workouts SP provides.. like: close arm wall push ups, dumbbell side bends, standing and lying abductions.. and many more. Also now I have added an Elliptical in my work outs.. I push mow our yard once a week. & tend to our flower gardens. I also from time to time play wii bowling, boxing and Just dance 2 & 3. Kettlebells,

Theses days I just stay as active as I can! Weather it be working out, cleaning house, swimming, gardening.. anything to stay moving helps lol

3. tracking everything!! it is very helpful to know what you are putting in your body!



4. using this web site and following what it says to do.. it has been so helpful in so many ways,,, you need inspiration, motivation, friends who know what your going threw, tips, advice, what ever you need its HERE!!!!



5. eating healthy as I can and NOT over doing it! & Lowering my calorie needs as I lose weight.. Like SP recommends



6. One of the most important things that has help me is not over-thinking it and STRESSING every little thing!! Just knowing that okay we make mistakes and were gonna have bad days. But tomorrow is Always a NEW Day and there are no mistakes too big to fix!!! Just keep trying!!!

7. Also watching my sodium!

8. also Keeping to a strict sleep schedule.. when I say that I mean I try to go to bed the same time every night and get up the same time every morning.. always trying for 8 hours of sleep no more no less.

Okay so like I said theses are the things that have been helping me. I know everyone is different. And I hope this helps answer some of the questions I received in my blog!!




Okay so after my last blog .. "Photos of me from a year ago and today." I have to say I wasn't thinking anything about it when I posted the pictures and I am not sure its even sunk in with me yet that I have lost so much weight. I think I just keep looking at how much I have to go. Not how much I have lost and I think alot of us do that.
I just have to say that I posted those pictures after a few friends had asked to see new pics.. with no thought what so ever of so many SP seeing the blog and commenting! I m still in awe over all the wonderful comments and friend request I have been getting. And I just wanted to say THANK YOU to you all for all the wonderful comments and the Friend adds! I never in a million years thought I would be here, doing this! Nor would I have thought I would be giving inspiration to so many. WOW is all I can say.. I am at lost for words!
So again a HUGE THANK YOU to You ALL! It might take me months but I do plan on commenting back to you all.







PS. I made it to 249.5 lbs today!! 8-10-2012 I m so excited! 99.5 lbs to go to get to 150lbs!! WOO HOO that gives me 141.5lbs gone (total weight loss)







Wednesday, July 25, 2012
My oldest daughter and myself July 2011 At the Rainforest Café I was about 360lbs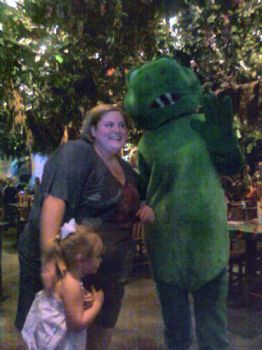 Me April 2011 I was about 361lbs here




Me today 257lbs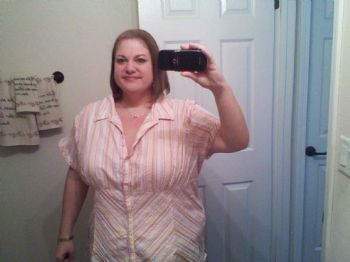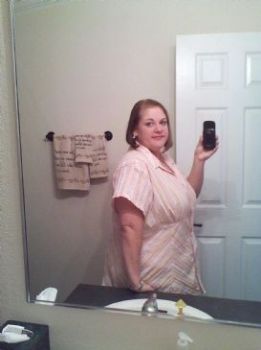 So I started SP July 5th 2011 and weighting in at 360lbs and today July 25th 2012 I am 257lbs... my highest weight I was at 391lbs that was in Oct 2010..
Weight lost 134lbs since my highest.. 103 with SP in the past year!!!!!

I now have about 107 to go and that will put me at 150lbs.. I don't know how I will feel when I get there but if I need to keep going I will and if not then I will stay and do my best to maintain it!! I know I will get there and I know it takes time but I will do it!!!!!!!! And I will do my Absolute best to KEEP it OFF!!!

I just want to say a BIG Thank you to all my SP Friends!! You have all been so wonderful & helpful in so many ways!!!! I love you all and wish you all the Best!!



Also a Huge Thank you to the Spark People site because it has given me all the tools I need to do this as well!!!














Wednesday, July 11, 2012
Share and spread the Spark!


Today, I promise I will not quit.
I pledge that no matter, how many ups and downs I pass through, I will continue on my journey.
I pledge to make a NEW START today, and forgive myself for my past, and to stop being so critical of myself.
I pledge to take control of myself, to stop making excuses, and stop blaming other people or situations.
I pledge to treat myself as I would my best friend, because that is who I am.
I pledge to stay in the race and to be a WINNER!

Signed: Leisa (Sunflowergal40) 04/26/12

Signed: Chris (chriskenandkids) 04/26/12

Signed: Linda (scoutmom715) 04/27/12

Signed: Nancy (tedybear2838)

Signed: Linda S. Jayne (Geminisue)

Signed: Vicki aka VICKI-B--56

Signed: Pixie (Pixie-Licious)

Signed: Gloria (GloriaB73)

Signed: Fran

Signed: Sarah (Millie 5522)

Signed: Shelby (theshelbster)

Signed: Beckie (BIRKIE528)

Signed: Debaune (Doobie893)

Signed: Wallahalla on Friday, June 29, 2012

Signed: Karen (MAMAWALMART) on June 29,2012

Signed: Sibille (musolf6) Friday June 29,2012

Signed: Shirley (Lookingup2012) Friday, June 29, 2012 who needs to do this because she quit SP three times in 3 years.

Signed: Susan (catladyx8) Friday June 29, 2012

Signed: John (Johntj1) Saturday June 30, 2012

Signed: Deb (jewelle217) Saturday, June 30, 2012

Signed: Kathy (Kalantha) Saturday, June 30, 2012

Signed: Elizabeth (MEADSBAY) Saturday June 30, 2012

Signed: Caz (NEW-CAZ) Saturday June 30, 2012

Signed: Gaye (GABY1948) Saturday June 30, 2012

Signed: Linda Kay (LKWQUILTER) June 30, 2012

Signed: Sallie (Changing4ME49) July 11, 2012

Signed: Tara (TarafromTx1) July 11,2012


Will you blog and post the Never Quit Pledge, today/soon?
Let's spread it through Spark, so all can have the choice to commit!





Tuesday, July 10, 2012
Well like many of you life has been alittle hectic. lol My hubby had his first foot surgery.. it all went well.. but since things have been alittle umm well crazy I guess... lol He's on crutches and its hard for him to get around. So I m taking up the slack.. which is no big deal, just keeping me alittle busier.. not that I mind.. it is throwing me off alittle as far as my work outs and eating the best I can BUT I am staying so busy that I'm not over eating and I am STILL Losing weight lol so its all good. Its been Dr. Apt after Dr. Apt. While having the surgery we stayed at a hotel for a couple of days.. and I am happy to say while my youngest slept and my hubby rested I was able to go down to the hotel fitness room and get my sweat on!! And I LOVED every minute of it!!! They had some really nice equipment!! And by that time I was really starting to miss getting to work out!

Anyways everything is good here. Yes its been crazy and I haven't been able to really get on here and catch up with anyone. I've been getting on just long enough to track my fitness and food, and trackers.. and to somewhat see how everyone is doing but I do apologies I haven't been able to catch up on many blogs. From what I can see everyone is doing Great and Kicking some weight loss booty!! WTG to you all and keep up the good fight!!!!!! Hugs to you all!!!






First Page
1
2 3 4 5 6 7 8 9 10 11 12 13 14 15 16 17 18 19 20 21 22 Last Page

Get An Email Alert Each Time TARAFROMTX1 Posts