| | |
| --- | --- |
| | TALESEDRIN's Recent Blog Entries |


Wednesday, February 29, 2012
On my search to women who rock their chests... I found Ginger Spice! I was in 7th grade when the Spice Girls started becoming popular... so of COURSE I was in love... this totally makes me happy. It seems Hollywood loves "C" cups (see my link below)... but finding one or two gems in the "D" list totally makes my day... especially this one :)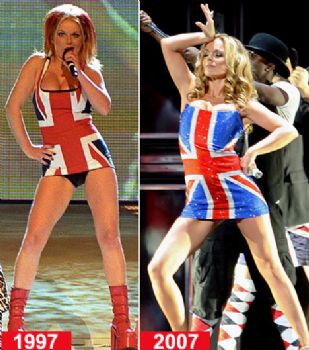 Best part... I just realized she's only a little taller than 5'1" !!! That's shorter than me! Totally rocking what she's got...




Tuesday, February 28, 2012
*** Warning: This diatribe contains my own personal inner-thoughts and self-criticisms. It is not aimed at anyone, nor is it intended to attack or berate anyone who may have opposite views or feelings***

Breasts.

Boobs, ta-tas, lady lumps, rack, boobies, tits, jugs, knockers, hooters... love 'em or hate 'em, whatever you call them, if you're a girl- you've got them (and if you're a guy- you might too).

Okay, so you know I'm on a mission to find and face my demons. And here I am face to face with the first one.

The Demon: My Double Ds
Okay, let's just cut straight to the chase. When I was in 9th grade I was lucky enough to have the "coolest" teacher in school for Civics. She was awesome. She was thin, beautiful, athletically talented, and everyone loved her. Since 7th grade I'd heard about how great she was and how everyone prayed they would be in her class. I was in that class. Excellent!
It's been several years since then, so my memory of what occurred surrounding "THE EVENT" is a bit ambiguous. What is NOT fuzzy, however, is what she said in class that day.
Wait, let me back up- give you a little background about myself. I was 5'2" and 14 years-old ( Does that sound right for 9th grade?). I was not athletic- though I tried and wanted to be. I didn't have very many friends at that point (girls are mean... and I happened to be the "odd one out" at that time), and I was very, very uncomfortable about my body. Some of which, I'll get into later- but the fact that I had size C+s hanging out on my torso (and had since 7th grade) resulted in endless teasing. I hid my chest in baggy shirts and sweaters- that only added to my self-esteem issue because the baggy clothing only made me look much larger all over.
Okay- back to the story. So we're in class one day and my awesome teacher that I totally love, respect, and think the world of says, "No, I don't have much of a chest, because all boobs are is fat. Only fat people have large chests."
*insert sound of world shattering*

The Predicament: Belief that I'm fat
I'm fat. I'm fat. That's all there is to it. I have big boobs, so I'm fat.
That's what I truly believed- for a very long time. Those thoughts are still engrained in me. I tried to play sports. I tried track, I LOVED soccer... however, the constant comments about giving myself a black eye only reminded me of my "fatness".
Shopping for dresses is impossible (get a dress over my chest? HA! Laughable). Listening to women complain about not having boobs was, and is, hard (I want less boobs, I don't want to be fat!). Listening to women talk about getting breast augmentations is torture (Not fair that you get to be skinny AND have boobs! if I'm going to be "fat," at least let me have one male attracting feature you skinny girls don't have!).

The Exorcism: Acceptance
Though this demon has tortured me for half of my life, it's time to banish the monster that has been causing me so much torment. Over the next week I am going to do something daily that will help me appreciate myself the way that I am. No, I don't expect that one week will help me overcome something that has been weighing on me for about 13 years. My eventual goal is to crush this fiend and embrace my lady bumps. Yeah, I'm still going to have to buy super-support sports bras just for yoga, but if I can make one tiny step towards feeling beautiful in the skin I'm in and accepting the body I've been given, well... I consider that a win.

The Game Plan: Break the belief, work with what you got, respect what you have
1. Find pictures of women who I believe to be thin, beautiful, and have NATURALY larger chests. (Break the belief)
2. Research clothing styles that don't cause the large-chested woman to look heavier- or extremely trashy. (Work with what I have)
3. Look up information about breast cancer. (Respect the breasts I have)







Sunday, February 26, 2012
Pushing, pushing, and pushing as hard as I can, but then the road block appears. That's how Ive felt the last several years. Every time I start to make some progress the road block pops ups in front of me, like some silly stunt in a Bugs Bunny cartoon. If I try to go around, it grows longer, if I try to duck below, suddenly it's solid. Forget trying to climb it- it becomes a skyscraper of massive proportions.

So I get frustrated. I get down on myself. I cry, scream, and yell- and then I pull myself back together. Only to get momentum, start rolling, and run into the next road block. I look around and realize I haven't got much further than I was the first time; maybe an inch or two, a foot at the most. The cycle starts again. Frustration, depression - motivation, enthusiasm - discouragement, hindrance - inspiration, passion... you get the idea. So what's a girl to do? These roadblocks keep materializing with no was around, under or over. Well, the obvious thing- go through.

Right. And I'm a house ghost at Hogwarts and can sail through walls. I don't think so.

It's not going to be that easy. It's going to be a difficult process filled with soul-searching, and possibly heart-wrenching moments. But it has to be done. I can no longer back up and keep running at this roadblock. It's time to face my demons, and that's exactly what I will attempt to do. No, strike that. Thats exactly what I WILL do. I WILL accomplish my goals, and if this is the way to make that happen- then this is what I am going to do.

Starting this week I am going chase down my demons. After I find them, I am going to figure out what I need to do to exorcise them. I invite you to join me. It's not going to be easy- but hey, not much worthwhile ever is.

So here's to chasing demons, ridding ourselves of negativity from the past, and busting through those roadblocks that stand between us and success.





Wednesday, February 01, 2012
Dear Bikini Season,

First and foremost- I am declaring my independence. I am NOT afraid of you. When you arrive I will be confident, radiant, and gladly jump into the awesome bikini that is, even now, staring at me from across the room. So back off bikini season- you're not going to frighten me.

What makes me so confident, you ask? Why am I SO certain that I'm going to win this year? Because I have some awesome goals. I'm breaking it down, and not trying to accomplish it all overnight, or all at once. I've got some seemingly "small" goals this month- but just WATCH how they're going to allow me to kick your butt.

1. Track calories in vs. calories out every day this month! (I don't have a measuring device for normal daily- so I'm gonna use an estimated 1400 each day plus any I burn unless I can figure out a better number. I'm going for that weekly deficit of 3,500).

2. At least 5 servings of fruits/veggies every day (I'm on the road again- so this HAS to be a goal so I can keep myself on track).

3. Start the 100 pushup challenge. (YIKES!) I've realized I need to do something to pump it up a notch, but I can't do something that is TOOO time costly. So, I figure- I'll start with doing some pushups three days a a week on my lunch break. I can do that, right?

On top of that- I'm going to search for some other short workouts (10-20minutes) that I can incorporate into small amounts of times that I have.

So watch out bikini season, this year- I'LL be bringing the heat.

xoxo (we're going to be friends soon, so you might as well get used to it),

Talesedrin





Wednesday, August 24, 2011
I've been thinking a lot about self-esteem, self-respect, and, well, general happiness lately. It's been rolling around in my mind and I realize that instead of dwelling on it on my own, I should reach out for thoughts/suggestions and help.

I realized that the happiest/best I've ever felt about myself was when I was the healthiest/smallest... but I don't think the small part came first. I think the weight loss started happening AFTER I started to become more content with myself and the situation I was in. An interesting thought- and one I would LOVE your thoughts and opinions on. I need to get myself back to that happy place of love, respect and acceptance. I think a lot of women do.

It's hard. Especially after a bad break-up, a bout of bad luck when in comes to jobs, and a stressful living situation. I don't think it's impossible, though.

I know where some of it comes from, but this is not the time or place for me to complain about, or reveal my demons.... what it is, though, is a time and a place to find solace and recovery. A place to share hope, thoughts, and ideas.

I need a path, I need a plan, I need a way to take some sort of control. Self-help books care abundant... they can't ALL be worthless, can they? What can we (I) do to learn to love and respect ourselves the way we deserve?

Any thoughts, suggestions, and ideas are welcome... but hey- I just put it out there- I'm fragile, so be nice! =)


1 2 3 4 5 6 7 8 Last Page

Get An Email Alert Each Time TALESEDRIN Posts