| | |
| --- | --- |
| | TAFFIN2000's Recent Blog Entries |


Friday, December 10, 2010
When I was young and single, I used to go to my mom's and together we would make dozens and dozens of cookies. We made dozens of varieties of cookies! It was always a blast and a highlight of my Christmas.

The past few years, cookie making was never as exciting. I was usually to tired or achey to enjoy the whole process--not to mention the bickering that would usually take place. Either way the kids enjoy it, so we always do some baking.

A few weeks ago I thought, "It won't be too hard to resist snacking on the cookies." Huh! Who was I kidding! Of course, most of the cookies are frosted now. So far I have only eaten a few crumbs and two m&ms. I'm pretty happy with that! But the during the whole process of making the cookies, I wanted to dive in! It's been about the hardest temptation to date. The worse thing is that these particular cookies are about a 100 calories for a tiny peice...yikes! I have to find a low-cal cookie I can make to have as a "treat" while these high cal ones are around.

Anyway, so far so good!





Wednesday, December 08, 2010
When I started Sparkpeople in Feb. 2010 I was very unhealthy. I won't go into how unhealthy, but the point of this blog will be colds and flu. In the past, if anyone was sick and even thought about me I would catch what they had!

Seriously, I have six people living in my house. The way a sickness would work is one of the kids would show the signs of being sick. Then, over the course of several days, another child would come down with the sickness--then the next, and so on. Finally, just when I would think I had escaped, I would catch it. When I caught it, I would normally be sick for about three weeks...coughing, blowing, and ect!

Well, about 4 weeks ago, one of the kids woke up with a sore throat and belly ache. He actually vomitted--yuck. About a two days later, he seemed to be getting better. Well, each kid started with a sore throat. Then the first one started with a cough. Cough, cough, cough. Days of coughing and congestion. My oldest ended up going to the doctor--because she was in a show at our local theater--she ended up with antibiotics.

The point of my story??? For weeks I've been thinking, "Have I escaped?" In many ways, I believe the answer is, YES! I know I have/had the sickness, but it was so mild I can hardly call it being sick. I think it is safe to actually declare I have escaped! I haven't had weeks of coughing. No mucus congestion or post nasal drip driving me nuts. I simply believe this is a miracle. I have never not caught a sickness brought home. I don't think I have ever not been full of mucus for weeks after a child brought something home.

I am pleasantly surprised and amazed! I think a huge part of this victory has to due to the affects exercise has had on my immunity. I also think that guzzling many cups full of lemon waterevery day since the first signs of sickness has helped. Of course, I give thanks to the Lord for all the changes in my health!

I just had to share this amazing change!






Wednesday, December 01, 2010
It's been too long since I've posted a blog. We've been dealing with sickness and a busier schedule. Today I weighed myself. I am a couple of ounces from being 77 pounds lighter than when I started on Feb 15th 2010.

A while back, I read a blog or saw a picture of someone holding a child which represented the weight they had lost. So today I had my two youngest get on the scale. I found my son weighed 78.4. So guess what I did!

This is a visual representation of how much weight I've lost!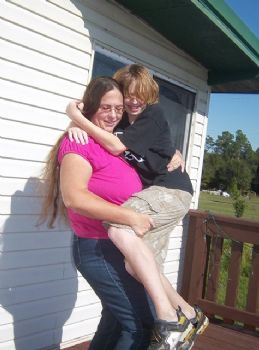 So there you have it! A visual on what losing 77 pounds really looks like. Wow! It sure makes think about what carrying all that extra weight around must do to your body. I couldn't stand holding my son for very long!

Another visual...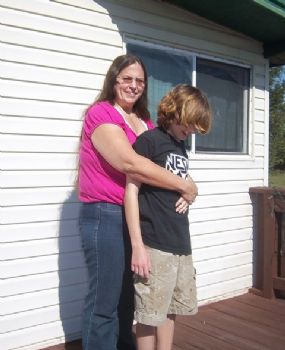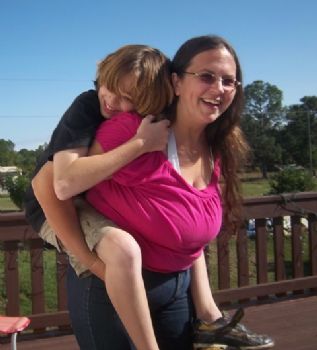 BTW, when I reach my ultimate goal, you will NOT see a photo of me holding my 17 yr. old daughter--standing near, but not holding!





Tuesday, November 23, 2010
With Thanksgiving almost here, and Christmas and New Years soon to follow, it's a good time to join the Winter 5% Challenge! I joined the Fall 5% challenge and made it to my goal. I think the winter challenge will be that extra motivation and accountablity needed to continue to lose weight through the holidays!

If you need that extra motivation, why not join me? I should be on the Shooting Stars team!

www.sparkpeople.com/myspark/groups_i
ndividual.asp?gid=46791





Thursday, November 18, 2010
Reflections on the Fall 5% Challenge

Ok, so I joined the Fall 8 week Challenge, which officially began on September 25th. My starting weight was 219.7, with waist measuring 41 inches, and hips 46. My 5% weight loss goal was 208.7. Today when I weighed in I was at 208 even!

Here are the statsÖ..

9/25- 219.7 lbs, 41 waist,46 hips
10/2 - 217.2 lbs, 41 waist, 46 hips
10/9 - 217 lbs, 40.75 waist, 46 hips
10/16 - 214.6 lbs 40.75 waist 45.5 hips
10/23 - 213.4 lbs 40.25 waist 45.25 hips
10/30 - 214
11/6 - 211.8 lbs 40 waist 44.75
11/13 - 211.4 39.5 waist 44.5
11/20 - 208 (Yay!) 39.25 waist 44.25 hips

Thatís a total of 11.7 lbs. With 1.75 inches off my waistóBig moment hereÖwith the waist finally in the 30ís again (Phew)! I lost another 1.75 inches off my hips! So, all in all, it was a pretty successful challenge.

Through the challenge (and a personal challenge) Iím learning how much fitness time I can actually fit in to a day! Iíve also made some great new spark friends! Iíve really enjoyed this challenge. It really helped to motivate me and keep me focused on the goal.




First Page
1
2
3
4
5
6
7
8
9
10
11
12
13
14
15
16
17
18
19 20 21 22 23 24 25 26 27 28 29 30 31 32 33 Last Page

Get An Email Alert Each Time TAFFIN2000 Posts