| | |
| --- | --- |
| | SZ5_SKINNYJEANS's Recent Blog Entries |


Tuesday, July 13, 2010
It's been quite some time since I've written up an entry. Silly me. I got so carried away with the World Cup and work and my Tumblr blogs that well my SparkPeople blog ended up being neglected.

But in good news, I joined a gym. During the month of June I was just working out at home, in the morning while watching the games but then work started and seeing as I have to wake up at 6 to get into Queens by 9, my 7AM routine is no longer an option. I just pack my workout clothes with me, and then instead of getting off on my usual train stop I go an extra stop. After my work out, since the gym is only 11 blocks away, I simply walk back home. It's quite nice. Especially since I work as an S.A.T Tutor and my kids make me want to strangle them. Let off some serious frustration.

Aside from the gym, I pack my lunch everyday which really helps because I found that when I was sitting at home I was constantly thinking about food and what I could ear next and keeping serious tabs on how many hours had gone by since my last meal (which usually resulted in my checking the time every 5 minutes, desiring another sandwich or something). My food is also packed with cake, and ice cream due to my brother's 30th so of course not good. Packing my lunch means I take a nice salad with a sandwich or some of last night's leftovers or even some pasta. It's nice. I enjoy it.



In other news, for dinner today I made a yummy "Whole Wheat Scramble".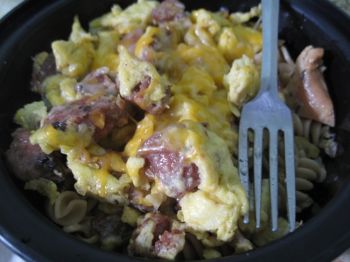 Basically, I sauteed some onions and a Portobello Mushroom Aidells Sausage while cooking some whole wheat pasta. Then I drop some scrambled eggs with some lemon pepper and garlic pepper over the onions and sausage. When it was all done, I topped it off with a little bit of cheese and wala! A whole wheat scramble. It's the perfect "I don't really feel like cooking or waiting for my food to get made but I'm uber hungry and already had a sandwich earlier today" meal.

The only thing I didn't like was that it was too oily. I usually saute my food in Pam, or a cooking spray so that it's not drenched in all that oil but alas, staying in New York City means not all my usual cooking items are handy. Nonetheless, the sausages and the onions with the pasta and the eggs and the cheese were de-lish!




Wednesday, June 23, 2010
Guilt. Simple 5 letter, 1-syllable word that hits with intensity. Whenever I eat something I've told myself I shouldn't, like say ice cream, I feel it. Or when I only do 40 minutes of Cardio instead of my scheduled 75, I feel it. If I eat closer to SparkPeople's recommended 1,500 calories instead of my planned out 1,350 I feel guilty and start thinking all my efforts are just going to go to waste. So I try to not think about it, focus on eating right, and getting in all of my fitness but my relationship with food just feels off. If I've eaten over my calorie limit, I'll skip my next meal or not eat my last snack even if my stomach is rumbling because I keep thinking if I allow myself to do it one time, it'll become second nature and begin to add up over the week and then I'll see myself 20 lbs heavier rather than 45 pounds lighter. And now I'm obsessed with checking what's in my food and I can't pull myself to buy a cereal that I know has all these ingredients that are bad for you. Which is great, considering the healthy part, but it feels frustrating giving second thought to everything I buy or eat, especially since my friends like to go out to eat. I don't know, maybe I'm just frustrated with my lack of weight loss.

Other than my shaky relationship with food, I have found that whenever I don't exercise in the morning I end up really depressed and moody. It keeps me exercising but the feeling is no fun.






Monday, June 21, 2010
The Biggest Loser hype passed right over me. Probably because I very watched rarely NBC or television even unless there was a specific show I wanted to watch, for that matter. Then suddenly, it was like Biggest Loser fever everywhere. Of course, at first hear I thought it was phenomenal the idea of putting a name, face and real-life aspect to the sprawling issue of obesity. I expected it change the way people viewed exercise and nutrition. Then I read that they were dropping about 10 lbs per week, and threw my hands up in despair. Another reason for people around the world to fret about why they haven't seen such results in their weight loss journey. One more things in the list of many that don't outline healthy ways of losing weight. Granted, I have never seen the show and I have heard that is inspirational to many but I have read various different articles that follow along the same tone as this one: jezebel.com/5564997/bigger-loser-fin
alist-says-show-gave-her-an-eating-dis
order?utm_source=feedburner&utm_medium
=feed&utm_campaign=Feed%3A+jezebel%2Ff
ull+%28Jezebel%29 .

Now, I am not bashing The Biggest Loser. I definitely commend the show for being a health-conscious program, but I believe the way in which it promotes this health-consciousness is a problem. Losing 10lbs in a week probably feels great. It'd be amazing to find that after a week the scale has made such a leap and that my efforts have really made a difference in my body but it's not healthy. I care more for my health than about fitting a smaller pair of jeans. Losing weight the unhealthy way won't help me any if 5 years down the road my body begins breaking down. And I really wish a show like The Biggest Loser would take it's influential power and help people work towards better health. Wishful thinking? Am I alone? Am I being too harsh on a show like The Biggest Loser?

In other news, I made some Cashew Butter yesterday!

I was kind of scared because I was using a blender instead of a food processor, but I figured they basically do the same functions give or take a few so it couldn't be too much of a disaster right?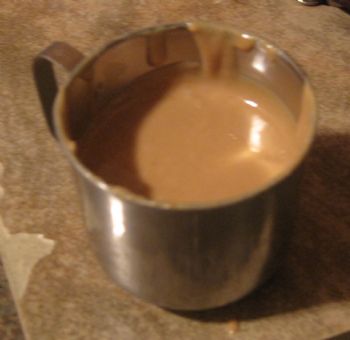 That's right! This is my "test run" batch of Cashew Butter, which is absolutely DELICIOUS after having roasted some raw Cashews. I found no need to add salt or sugar. My parents loved it too and I feel like it's cheaper this way. No need to pay big bucks for the Organic stuff or waste money on the processed batches. I'm attempting Pecan butter next, then Macademia Butter, and then I think I might venture into fruit butters (like Apple and Strawberry).

Boy, I love food projects!






Saturday, June 19, 2010
Dear Body,
Now before you go ripping up this letter like you did the last one, just hear me out. I know, I know. You're real angry and don't want to hear from me and all that cuz I went back on my word but you gotta believe me when I say I'm serious this time around. I've got it together. I mean, been waking up at 7AM for the past week and, and, AND I may have fallen off in April but the moment June hit I got right back into my fitness so that's gotta count for something right? OK. OK. OK. So, I've been half-assing how much effort I put into my fitness, and I know I promised you 75 minutes of running every day and 45 minutes of Strength training Tuesdays and Fridays but you know very well I hate running outside and those stupid fitness DVDs are all made with 10 minute or 30 minute work outs cuz it seems no one wants to exert more energy than necessary to lose weight. And so you know, I tried finding the best DVDs out there that would work for you and that would make you happy, but you ain't responding much and really, if you don't like them why don't you just say so? Just tell me right quick so I can send them back to NetFlix and get my other movies.

Honestly though, you should be grateful. There would be others who would really abuse you but I'm eating all my fruits and veggies, refueling you every 3 hours, making sure my calories stay between 1200 and 1550, drinking 11 cups of water a day so why can't you cooperate? Huh? What have I done to you to warrant such attitude? Oh no! Don't you roll your eyes at me! You always make all these damn requests: [whole grain please! no soda! Oh, can we get some tofu? Boy, I could sure go for some oatmeal right now *hint hint*] and yet, when I make one little request you wanna go and quit on me! Well! This is where I draw the line. I'm putting in effort, and it'd be nice if you recognized it. Ain't gotta be nothing out of this world. Just two inches here, a few pounds there. Less yawns way out there. Just you know, maybe you wanna be a bit more likeable. Not that I don't like you now, you're alright but if you were a bit more compliant we'd be real good buds. When you're feeling really cranky just think "Gee, sure was nice that she didn't reach for that big fatty hamburger I hate so much" or "Wow, we sure did have quite a nice sweat session today." Think: positive. Think: ready for action!

A few letters back you said you felt attacked by my words and I want to clear up that I am in no way intending to attack you. I sincerely apologize if it sounds that way. Think of it this way: you get a new job at a place like Louis Vuitton, and your boss comes to you and says "You know Body, I know you're working hard but we're really expecting our sales associates to make 10 sales every day. Currently, you're at 6. I know you can get those 4 more, so don't disappoint me. Go out there and get them, tiger!" That's all I'm saying. Your efforts are at a 6 right now, kind of sliding off into a 5 but I have real faith that you can get it up to 10. I'm depending on you. We have a bit of a long road ahead of us, and I'm not in it if you're not in it.

So, now that that's settled let's go grab some McDonald's!

Haha, jokes jokes jokes. Salad it is!

Don't Forget I'm Rooting For You,
Me





Thursday, June 17, 2010
If I had to absolutely, no ifs ands or buts about it, just pick one thing about taking on a healthy lifestyle is the creative way in which you begin to think about food. Now, even though I tend to eat and really enjoy a delicious meal, I am not a lover of food. I do not know what it is, but food does not give me that sort of twinkle in my eye when I think about it. I like it sure it does not go beyond that. I do on the other hand, love food blogs and trying new recipes. The creating is what I really love.

And from time to time, when I am looking for something to drop into my stomach, I will think of a combination that seems would only appeal to my quirky palate. I love that feeling of anticipation as I make that new dish! It's just so exciting!

But, honestly I can't pick just ONE thing about a new healthy lifestyle. Because I love discovering new products (even if I do not end up being a fan), or trying to cook, or whistling on my way home after a good session at the gym, or opening a new jar of delicious creamy almond butter (which by the way, if anyone can find it Zinke Orchards makes some STELLAR clean almond butter. No added sugar, just roasted almonds and yet the flavor is like nothing else! And even after a night in the fridge, it was still as creamy as when I opened it yesterday. Love love love love love love... love love love... love love love love love...love love love love (oh, you get the point!) it!) I love trying out a new exercise, trying an old exercise and seeing that I can do it better, trying a more advanced move, running faster, running longer, getting stronger.

And I do not regret it any day.





First Page
1
2
3
4
5
6
7
8
9
10
11
12 13 14 15 16 17 18 19 20 21 22 23 24 25 26 27 28 Last Page

Get An Email Alert Each Time SZ5_SKINNYJEANS Posts