| | |
| --- | --- |
| | SWDESERTLOVER's Recent Blog Entries |


Tuesday, January 10, 2012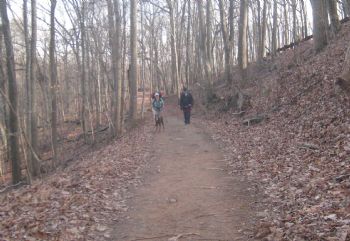 Tommy, Thor and "GG"

Today started out cloudy and dreary but by lunch time the sun was beginning to peek out and it was warming up. I'm off work today, so I couldn't pass up a hike at Pilot Mountain in such glorious weather. Tommy decided he wanted to go along, but he didn't think he could hike far, so he loaded Thor in the van and they drove me to the top of the mountain. We agreed that he would drive back down the mountain and they would meet me at an agreed upon spot on the trail near the bottom.

It was a great hike and I was mostly alone on the trail with few people being out on a Tuesday. When I got to the place where they were supposed to meet me, they weren't there. I started to get a little concerned because I knew they had more than enough time to reach that spot. I kept on hiking hoping they had just decided to wait in the van. Then about 10 minutes later I see them coming down the trail towards me with a lady. I took the above picture of them as they approached.

They had met "GG" (that is her trail name) and had been walking and talking with her. Tommy said he knew I would want to talk to her. What a super nice lady she is. She was wearing a big backpack because she's training for a thru hike on the Appalachian Trail beginning in March. We talked for a long time because that has always been a dream of mine. She gave me her trail journal information and her email so we can stay in touch. She also laughed telling me that her grandson had given her the trail name of GG, which stands for grumpy grandma! She sure didn't seem grumpy to me, but quite the opposite. I'll be checking her entries in her journal and cheering her on. For those who don't know, the AT (Appalachian Trail) is about 2,180 miles and runs from Springer Mountain in Georgia to Katahdin Mountain in Maine. People who hike from one end to the other within one year are known as thru-hikers. It's quite an accomplishment for those who can do it, and I truly hope that GG will be successful and enjoy her time on the trail. I also hope that someday I can do the same.

Go GG!





Monday, January 09, 2012
Today was a day Tommy and I have been dreading for several weeks. He had a CT scan December 28th and we were really concerned about what it would show. Itís always a stressful time when weíre finding out results of tests.

Dr. Shearer gave us the good news this morning that his scan looked good. She said the tumors in his lungs have shrunk somewhat from his last scan in September. We were just praying that they hadnít gotten any larger, so the news that they are actually a bit smaller is wonderful.

The only problem he is currently having is with some neuropathy (numbness) in his fingertips and the ends of his toes. We were told this is a common side effect of one of the drugs. Dr. Shearer did say that if it gets any worse, she may have to stop his treatments for a month or two or maybe switch to a different kind of chemo (possibly back to the Gemzar that he was originally on) for a while to allow his body some time to recover. The current cocktail of drugs heís on is very aggressive and is associated with lots of side effects. Fortunately, this is the only one Tommy has experienced since starting on this treatment program last June.

Tommy is such an amazing person. He has been fighting this battle since 2009 and he somehow manages to stay positive and says heís thankful for every day. I think his attitude has much to do with the fact that he is still here today. His oncologist has always been amazed by him. We even learned today from a nurse that, without using his real name, they are now telling new pancreatic cancer patients about Tommy and how well he is doing to help give them hope to fight on. Apparently this is true as I was talking to the wife of another man who was diagnosed last July and when I was telling her about Tommy she said, ďOh, your husband must be the man our doctor was telling us about.Ē Apparently, Iím married to a star.

Weíre still realists and we know his prognosis, but weíre not ready to throw in the towel just yet. Tommyís positive attitude is infectious and he really doesnít care about statistics. It looks like heís going to do things on his time line. We still have a lot to do!





Saturday, January 07, 2012
I got home from work a little after midnight last night and followed my usual routine of grabbing my computer and turning on King of the Hill. This is my time to wind down after work. Itís quiet in my house because Tommy and Thor are usually already in bed. Catching up with friends on my computer and watching something funny on TV helps me leave behind all the stress of the evening. I logged onto SparkPeople and was so surprised to find that there is now a Spark People Motivator badge on my page. Thank you so much to those who nominated me. It makes me feel good to know I was able to help motivate others in return for all Iíve received from this community.

Hmm! I wondered how this happened. Me, a motivator? But SparkPeople is where Iíve always come to find motivation when I begin to slip a little. This is where I find friends who encourage me, share advice, help me to pick myself back up and get back on track. I also try to encourage others along the way, but I never really thought of myself as a motivator. I would have to think about this a little while.

So finally, after much thought, it came to me. I AM A MOTIVATOR! AND SO ARE ALL OF YOU! Because that is so much of what this community is all about. Friends helping friends. Encouraging and cheering each other on to help us all reach our goals, providing little tips weíve learned along the way, meeting new friends, sharing our common interests, supporting and helping each other through the rough spots in the road, and celebrating in the success of others' achievements.

So thatís it. I have figured it out. Weíre ALL motivators and we all need each other. It is each and every individual that comes together to make this such a special community.

Congratulations to everyone who has achieved their goals and who is now living a new and healthier lifestyle. For those of us still working to reach their goals, itís a new year and a fresh start. TOGETHER, WE CAN ALL DO THIS.

Thanks SparkPeople for this wonderful site, and thanks to you all for helping keep me motivated!









Saturday, December 24, 2011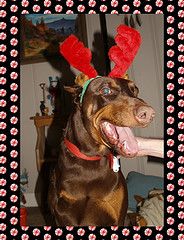 The presents are wrapped, the goodies are baked, Christmas cards all mailed out, the house is cleaned, and finally at the stroke of midnight itís Christmas Eve and I am off work for two days. Tommy and Thor have both gone to bed leaving me in silence with my own thoughts. As I sit here in the quiet of my living room at 2:30 a.m. I think about how quickly this year is coming to an end and how much has happened in this short twelve months.

On my way to work this afternoon, I saw all the traffic backing up with holiday shoppers trying to get into the stores, people on a desperate mission to find that perfect gift for each and every person on their list.

Just a couple weeks ago I too had been out shopping for gifts, but everything I looked at seemed so trivial. So much has changed in our lives that these gifts just didnít seem as important as in previous years. I finally managed to find gifts for everyone except Tommy. I had asked him many times what he wanted for Christmas, but he would always just look at me, smile and tell me not to buy him anything. I knew what he was thinking. The only thing he wants for Christmas is his health; something I do not have the power to give him, no matter how hard I try.

We finally talked and decided to skip giving gifts between the two of us this year and instead we will give ourselves a trip to the coast in a few weeks, even if just for a few days. Weíll spend a couple days walking on the beach in the off season when there are no crowds. Thatís always been our favorite time to go. The time together will be worth much more to us than anything we could buy each other at this time in our lives.

After posting my last blog about Tommy and Thor, I was amazed at the number of responses I received from this wonderful Spark community, not only posts on my blog, but also on my Spark Page and many private messages. I am so deeply touched by all of the support that Iíve received, and also by the many stories of others who are dealing with illnesses and the loss of loved ones. The messages have been comforting, and sometimes also heartbreaking. Although I simply havenít had the time to respond to all of them, I have certainly read each and every one.

Itís been a busy and tough year between working nights and spending much time at Forsyth Regional Cancer Center. I am not complaining though. I am just thankful that Tommy has access to this wonderful group of professionals who are working as hard as they can for him. Iím also thankful that we found a veterinarian who was willing to operate on Thor to remove all he could of his tumors. While Tommy and Thor are both fighting cancer, we thank God that He has given us another year together. This is Tommyís third Christmas since his diagnosis! He has finished his chemo treatments for this year and will have another scan next week.

There are people all around this marvelous Earth who are facing difficult times for many different reasons. Many are fighting against disease for their lives or know someone who is, many have recently lost a loved one, while others are facing unforeseen financial hardships. There are so very many people who need our prayers, not just at this time of year, but all year long. Itís so easy to take life for granted, until reality hits you and you realize there never was a guarantee for a tomorrow. Each and every life is precious. Thatís why we should live every day to its fullest and cherish all of the time we are given with our loved ones.

I hope that while you are celebrating Christmas, or whatever holiday you may celebrate during this season, you will take just a few minutes and send prayers up for all of those who are not as fortunate this year. It costs nothing but a few minutes of our time. Also, if there is any way possible, please remember there are many of our furry friends who are living in shelters and dog pounds and they truly need a forever home and a family to share their love with. If you can open your heart and home to an animal, you will be greatly rewarded by the unconditional love that you will receive from these wonderful creatures.

Thank you to this awesome Spark community for all of your kind words of support. You are truly an incredible group and a blessing.

My wishes to each and every one of you for a Merry Christmas and a Happy New Year!






Thursday, November 10, 2011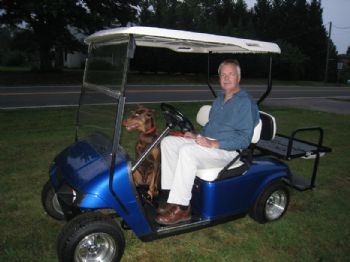 Tommy and Thor on their golf cart.


Most people have a lot of friends, all of which are an important part of our lives. Friends come in many forms including different races, religions, nationalities, gender, and so on. And sometimes theyíre even a different species. There is a lot to be said for the old saying about a dog being a manís (or womanís) best friend.

My husband, who was diagnosed with pancreatic cancer in September 2009, was never what I considered an animal lover. It wasnít that he didnít like animals, rather he just didnít care about them one way or the other. His parents never allowed animals in their home when he was a child, unlike the home I grew up in where we always had dogs, birds, hamsters, turtles and fish. Our pets were an important part of our lives and were greatly loved and cared for. So it made me both mad and sad when Tommy and I married and he then proclaimed that he would ďnever live in a dog house.Ē It was really the only thing we ever argued over, and because our marriage was otherwise happy and strong, I gave up my idea of having a dog deciding it really wasnít worth the fight.

Then in March 2007 my 20 year old son, who had been living in an apartment, decided he wanted to come back home and go back to school (yes, reality had set in for him). All was fine until he informed us that he had just that week acquired a sickly, three-legged, red Doberman pinscher. He wanted to bring ďThorĒ home with him. After a lot of ďdiscussingĒ this with Tommy, he finally agreed that Jeremy could bring the dog home, but he would have to build him a lot out back because the dog was not living in our house. So, Jeremy came home with all of his belongings and a skinny, sick dog. He built him a dog lot and bought him a dog house his first day home. We immediately took the dog to the vet and they treated him for a severe case of hookworms and he got all of his shots and a full check-up.

Thor was one of the friendliest and sweetest dogs Iíd ever met and I immediately fell in love with him. He then began to work his magic on Tommy also, something I had previously thought was an impossible task. Yes, I began to see Thor breaking down that tough exterior of Tommyís and working his way right into his heart. Then one afternoon, within one week of Thorís arrival, Tommy brought him inside the house making sure to tell us it was only for a few hours because the weather was so bad outside. His new outdoor dog house was quickly replaced by two indoor dog beds. Thor never slept outside again.

After Tommyís diagnosis of cancer, it became more important than ever for him to get some exercise every day. He began taking Thor on daily walks that they both seemed to really enjoy. On the occasional days when he felt too tired to walk very far, he would ride his golf cart around the property and eventually taught Thor how to sit on the cart and ride with him (this has become one of Thorís favorite things). The bond between the two of them was growing. They were becoming best buds. When I would go to work in the evenings, Tommy would always have his buddy with him for company. I watched the transformation of my husband from the tough guy ďheís just a dumb dogĒ attitude to a much gentler person that would often cater to Thorís desires. WOW, I was in awe. Thor was able to do what I was not.

Then about six weeks ago, I noticed two lumps on Thor, one on each of his back legs, that were quickly increasing in size. I showed them to my daughter-in-law, who is a vet tech, and she immediately loaded me and Thor into her vehicle and took him in for a biopsy. We received the bad news that they were cancerous tumors. Because he was already missing a front leg, amputation was not an option. He was scheduled for surgery and the lumps were removed two weeks ago (his stitches were removed this morning). He has healed well, but one of the lumps was in a bad spot and they were unable to get clean margins on it, so it will surely return. The vet hopes that the removal of the tumors will give Thor a couple more good years.

I now wonder if this is the reason Thor was brought into our lives. Thor was able to win Tommy over, become his best buddy, keep him exercising, and now they are both fighting for their lives against the same disease. Could this really be a coincidence? I donít think so.

Tommy's pancreatic cancer has now spread to his lungs and his doctor has told him she cannot cure it, only try to slow it down. Just a few nights ago Tommy was laying on the couch watching TV and Thor was in his bed. He began to talk to me about how great our last 17 years together have been and how he wished we could have 17 more together. Thor immediately got up off his bed, walked over and laid down on the hard wood floor in front of Tommy as if he was coming to comfort him. Tommy reached down and began petting him and saying, ď Youíre such a good boy, and youíre not just a dog, youíre part of our family. Youíre just like every other family member.Ē I watched in awe, knowing that this was a moment between the two of them and I was just a spectator. They were two best friends facing the same challenges and uncertain futures and I was not a part of that. Even though Thor doesnít understand his illness as we do, he seems to be very connected to Tommyís emotions and they have brought much happiness to each otherís lives.

I sat on my front porch the next morning and watched Tommy and Thor walk away from our yard and down the road, a man and his dog, his best friend. I was happy that they had become best friends, but I was also suddenly struck with a harsh reality. I knew that on this morning they would come walking back to me shortly, but sometime in the not so distant future, they will both almost certainly leave me forever. I felt a little wave of panic knowing that I cannot hold onto them forever. Only God knows how long I have left with them, so I will try to make sure we all enjoy whatever time we have left together.

I believe our pets are a gift from God and they bring so much happiness into our lives. What Thor has done for Tommy, and all of our family, is living proof of that. Love your pets and care for them.




First Page
1
2
3
4
5
6
7
8
9
10
11
12 13 14 15 16 17 18 19 20 21 Last Page

Get An Email Alert Each Time SWDESERTLOVER Posts