Saturday, February 02, 2008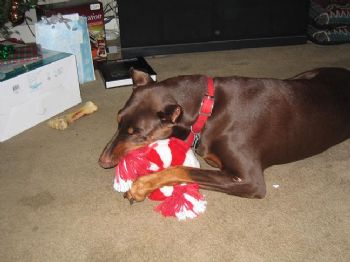 One year ago this month my son came home with a 3-legged doberman who was very sick and thin (ribs showing). He had found this dog in a dog lot next to some woods at the home of a friend's relative. He felt so sorry for "Thor" and asked if he could have him. The man was thrilled to see him go. We were told that Thor was hit by a car when he was just a puppy and had to have one of his front legs removed. After that, the original owner no longer wanted him and he was passed to several families before we ended up with him. Oh well, their loss is our gain. We took Thor to the vet where he was checked out very well and given medication to treat the severe case of hookworms he had and given all of his vaccinations. In the last year he has reached a very healthy weight of around 80 pounds, his coat is shiny and he is healthy and happy. Thor has become part of our family and we can't imagine anyone ever wanting to get rid of him. He was nothing like I thought a doberman would be. He is fun and playful and loves everyone he sees. Even with only 3 legs, he does everything any other dog would do. His only limitation is the distance he is able to hike with me. He does tend to tire out a little faster than most dogs, so I keep our hikes short.

It is unimaginable to me how so many people see pets as throw away objects. He is such a sweet dog that loves any attention he gets, yet someone didn't want him anymore because he was no longer perfect. Well, we're happy to have Thor. No more cold winter nights on the ground for him. He sleeps comfortably in my son's room at night and spends most of his time indoors with our family and is usually the center of attention.