| | |
| --- | --- |
| | SUTHRNCAT's Recent Blog Entries |


Wednesday, July 24, 2013
"Once you start - don't give up. The hardest thing to do is continue. If you have a bad day, don't make it a bad week"

So, I haven't seen a lot of changes in weight and shape this year ( in a perfect world, I'd be down 27 pounds for this year). The bigger changes have been taking place in my head. I've been able to kick my biggest craving - Golden Double-stuf Oreos. Gave them up for Lent, and I have had a couple a coup,e of times, but they're just not that good to me any more. I've been practicing persistence. Over the years, I would start to exercise, get a cold or bronchitis and have problems with my asthma and decide I wasn't meant to exercise and just let it go. This year, I'm re-wiring my brain to keep going, to get back up and try it again. So, I hit a stumbling block, but I keep trying. Had a cold and asthma problems for ten days, couldn't exercise, made it on to the bike 4 times last week and have been on 3 days already this week, AND I increased the resistance for the whole thirty minute! AND I added some crunches and push-ups and leg lifts. Not quite the 5 days a week- 30 minutes on the bike and 30 minutes of Denise Austin ball workout video that is my goal, my path my be a little twisty, but I continue to make progress towards my overall goal of consistently taking steps to exercise and be healthy in my eating habits and other choices. I'm getting better about not beating myself up for missteps, and being proud of myself for continuing to move towards my goals and not giving up. Go me!





Monday, March 18, 2013
SO, I haven't been losing weight - yet - and my coach recommended I start using measurements to track changes and I'm glad I did! I've lost 3 inches on my waist and hips and two inches on my arms! AND I made it 30 whole minutes on my bike at speed!

I'm also journaling a little bit - finding quotes or things I want to remember here and there and writing them in a little book, writing down my small successes and other things. A few of the things I've written down lately ~

~I told my boys to leave me alone while I was working out. I reminded them they could always ask their dad or wait until I was done, but I needed time for me!

~I quit eating when I got full! Trying to do away with the clean-the-plate mentality and just eat til I get full, not stuffed. I actually ended up putting up a whole portion for lunch the next day :oD

~ Try something new - I tried tuna salad with olive oil and curry instead of mayonaise, and then I had it on a cucumber plank instead of bread. Yum! Also had sloppy joe's this week, but I had mine on toasted bread, which had about 60% of the calories of the hamburger buns the boys had.

A few things I've culled from articles over the past couple of weeks:

"Health and wellness issues don't result from one small mistake during a 24-hour period; it's what you do day after day, time after time that really counts"

"Every person is worthy of love, respect and self-care and maintaining a healthy weight is part of that"

"Once you start - don't give up. The hardest thing to do is continue. If you have a bad day, don't make it a bad week"

And that said, now that I'm over my cold and my asthma is back under control, I need to go spend some time on my bike!








Saturday, January 19, 2013
So, had a stress fracture in my foot and had to back off plans for the last two weeks, but guys, for some reason, when I got done with breakfast, I *wanted* to exercise. Weird, I know....but that's what I've been working towards for the last month, right? Finding the 'want to'?

A lot of the guys at work (I'm the only woman in my department besides the admin) go workout together after work, and I've been talking to them about workouts and motivation. One of them said he'd been doing The Biggest Loser workout for XBox with his daughter and suggested it for me. Went with the 7yo on a hunt for Ninjini yesterday and they happened to have a used copy at the game store we were at, so I picked it up. I thought that would be a good starting place when I had that weird urge to move my booty this morning. Y'all, XBox thinks I'm fat and ugly! I fixed the ugly part by editing my character, but no matter how you dress it up, I am fat.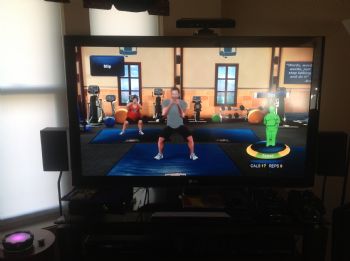 That's something that's been hard for me to learn to say. I think of myself as cute and appealing and in the interest of self-esteem, usually use words like 'fluffy' and kinder words like 'overweight'. But i am learning that when I am 80-100 pounds off of where I'm supposed to be I need to learn to use truthful words like 'fat' and 'obese'. If I keep refusing to face the truth, I'll have to use words like 'morbidly obese', 'heart attack', and 'diabetes' and worse, right?

I made it through the body scan and assessment, and, on the up side, XBox has great faith in my abilities and placed me at the 'moderate' work out level. I put it on beginner and then did 20 minutes on my elliptical. HUGE! That's the first time I've made it 20 minutes on the thing, ever!

So, where do I go from here?

- I try to do it again tomorrow. Then I'll try to do it again the day after that, and again and again and again as many times as I can.

-I shrink that green blob that is how the Kinect (and everyone else) sees me until I am happy with what I see.

- I keep going until my avatar looks good in the bike shorts and sports bra (and the real me too!)

- I lose 14.5 pounds so I am under the weight limit for our trampoline. Then I can start taking turns and jumping with my 7 yo.

- I see 160 on the scale and I can jump WITH my 7yo without exceeding the weight limit!

-I , well I could keep going, but that's a pretty good start, I think.




Monday, January 07, 2013
One of the things I've been working on for a while is standing up for myself, distancing myself from damaging people, and saying 'no'. I was raised that you do everything you can to help people when they need it and as an engineer, my main drive is to be useful. When you don't set boundaries or limits, you can wear yourself out completely and get some really high stress levels. Well, a close family member is bi-polar, and the last couple of weeks have been a roller coaster since they went off their meds, got depressed and made two suicide attempts. Since my mom died 3 years ago, I've felt like I had to be the one to take care of everything, including my siblings, and y'all, we're all in our thirties, so there shouldn't really be that much to take care of, right? So, this sib has been absolutely crazy for the last couple of weeks, but got help, got some new meds and is okay for now. I get a call today asking if it's okay for them to stay at my house tomorrow night, since there's an early lab on Wednesday. I didn't automatically say 'of course'! Y'all this is huge! I told them that if they were truly okay then yes, but if there was any drama, or they felt like they weren't in control, they would have to find somewhere else to stay - I don't need the drama and my kids don't need to see it either. And I'm not hyperventilating because I wasn't helpful! Yay me!

Another thing I said no to today was making myself feel better with food. Another lady in our Scout group was fairly snarky tonight and I'm just strung out enough from the sib situation, workload, and normal mom stuff that I got my feelings hurt. I'm working on growing thicker skin, promise. But in the meantime, instead of going for the Golden Oreos, which honestly DO make everything better, at least until you add them to your calorie intake.....I came home and attacked the recycling pile - it runs tomorrow for the first time in a month and we had a BUNCH of cardboard boxes and stuff from Christmas.so, my garage is clean, I BURNED calories instead of gorging on them, AND my recycling people will be happy with me! Again, yay me!

Also woke up before my alarm went off this am, so going to move wake up time back another ten minutes and see if I can get in some time on the elliptical.

Night all!






Friday, January 04, 2013
just had a call with Danielle and told her about Sparkpeople and we talked about my plans for the year. The calculator tells me I can be at my goal weight by the end of the year! Have a lot of big milestones coming up - going on a cruise in August (reward: new bathing suit & clothes!), turning 40 in 16 months - would LOVE to be meeting my goals by the time I'm 40! I've been walking, jumping on the trampoline and ice skating this week, so I can't say that I don't have opportunities to exercise. I need to work on consistency though. Goal for the next three weeks: exercise in some way, shape or form 20 minutes 5 days a week. Keep up with the fruits and veggies, and keep watching the calories. Going to pick up a soft measuring tape too and see what changes I can track as my mass rearranges itself.

Feeling: positive!



1 2 Last Page

Get An Email Alert Each Time SUTHRNCAT Posts