Monday, August 19, 2013
Sort of an unplanned rest day today. I just feel out of sorts. I didn't sleep great (I think I need a new pillow and a mattress flip). My knees felt a bit achy, did a lot of standing both Friday night and Saturday night. We did a long, challenging hike yesterday with steep inclines.

Forgot all about snapping a picture of my breakfast. Chobani 2% Strawberry Banana Greek yogurt and a Nature Valley Dark Chocolate Crunchy granola bar. 350 calories

Resisting the urge to walk at lunch. I may have to though. Still feeling foggy in the head.

Eating my lunch early...forgot to add some chia seeds to my breakfast so it's not holding me as long.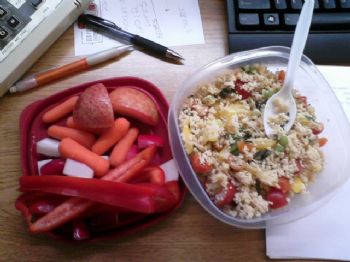 Tomato Parmesan Basil Quinoa salad (made with home grown tomatoes and basil), carrots, red pepper and radishes. Half a dinoplum for dessert. Approximately 365 calories

Snack is the rest of the plum and a hard boiled egg.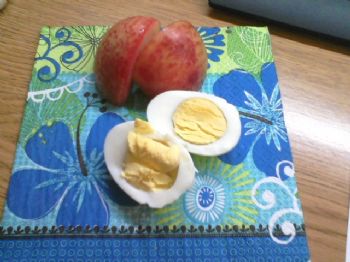 Dinner tonight is what we were supposed to have last night. I'm not going to say it again. Every time I do it doesn't happen!