| | |
| --- | --- |
| | STONECOT's Recent Blog Entries |


Tuesday, December 10, 2013


When I registered for BLC24, and asked to remain with Azure Destinations, I started to think about what the BLC meant and had done for me, and what I had learned since I first started on BLC22.

I started the BLC with Azure, and have stayed an Azurite. After initial concerns whether I could cope with it, I settled in, and found a strong caring team that fitted me like a glove. I wouldnít want to leave them. This round, being my second, having got my feet under the table, I have learned a lot.

I NEED the scale! One of my concerns when I started was with the weekly weigh in, as I know that I am an obsessive person, who can become fixated on the numbers, which then take on an importance they donít really have. For years I have been saying to anyone who will listen, that itís not all about the numbers, itís about how I feel in my skin, how my clothes fit etc, and thatís all very true, BUT, and itís a big but, my easy going, laid back personality that can ignore what is going on in the mirror, and is an expert at not seeing what is obvious to everyone else, who can chuck the scales under the bed and not use them for months, well, that all contributed to me becoming the 220+lbs person that I was when I originally joined Spark.

I have learned that I need that weekly weigh in, but not to take it too seriously, lots of things can upset that number. Itís merely a tool.

I NEED the structure. Although I have exercised for the last couple of years, it has been sporadic. I will seize upon any excuse not to do it, and I donít push myself. Although Azure doesn't have the same challenges as the other teams, (we do however always have others), when weíre traveling, we take on their challenges. I love the TNTís, the weekend challenges, and the LCWís. It hauls me out of bed and gets me to the gym. It gets me in the pool after, it sends me off to karate, when I really would rather not, just to gain extra points for my team!

I needed to be more flexible in my attitudes. I started out in round 22, thinking ĎIím not doing thisí and ĎI canít do thatí and have gradually found myself doing all sorts of things. participation not perfection, is the phrase, and itís meant wholeheartedly. If you are physically not capable of doing something, you can modify it until you can at least try.

I love meeting the other teams and visiting them. I meet lots of different personalities, and make friends and see how they do things. it is fascinating, and I can do anything if itís just for the week! (except I draw the line at jogging!)

I NEED CI/CO. Azure is a team that doesnít use this, and as I love Azure as it is, and would be sad if it changed, I am very glad of it, but I had never even heard of it before recently visiting the Outlaws. I have always resisted calorie counting, not only does it take a lot of time, but it doesnít work for me, because Iím set an unrealistically high calorie limit which I then eat Ďupí to. Then I gain weight!. CI/CO though worked! It was a revelation, my BMR was calculated much closer to what I calculate it to be, and if I Ďsavedí 3,500 calories over a week, guess what, I lost a pound! Simple as that! and as I can calculate over a weekly, rather than a daily target, I get less Ďtaken overí by it too. It's just another tool.

I would never have found or tried that if not for the BLC, and independently, will keep on using it.

I NEED Azure! My journey through SP has been littered with teams joined, briefly flirted with, and discarded. This one is different. if I only had one team on SP, and in actuality, I only visit this one, it will be Azure. A no apology, no blame, no criticism zone. I have learned to be honest. Because nobody criticises me, I no longer need to be defensive, whatever I have done or not done, someone else on the team has been there before. I can be proud of my successes, and simply acknowledge my failures. We are a close knit team, without exception.

Itís always interesting, I have never been bored by it. My team chat thread, and the thread of the team I am visiting, are the first things I check in the morning and the last I look at at night.

So, at the end of BLC24, I will sign up with Azure again for round 25Ö.and 26Ö..27...... ad infinitum as far as I can see at the moment.

Perhaps I will meet you there on one of the teams.







Saturday, October 26, 2013
October 15th 1987, was a very ordinary day, it was the day before my husbands important exams towards his BSc. It was a mild autumn Wednesday, and that night, London, and all of south-eastern England was pulverised by the most violent storm in to occur in over three hundred years.

Now many of you will live in places where real hurricanes or typhoons are part of everyday life, but for us, sitting smugly in our little semiís in London, it was cause for some amusement when the weather announcer (with the rather unfortunate name of Michael Fish) announced that a lady had phoned up the BBC, and said that a hurricane was brewing. He rather condescendingly said not to worry, it would be just a little windy over night. The poor man never lived those words down!

It was a little windy when we went to bed at about 11pm. I went quickly to sleep but was awoken by banging at about 2am. The curtains were dancing the gay fandango from the draught around the windows. We had an old fashioned fireplace in our bedroom. Someone over the years had covered the opening with hard board, and affixed a gas fire to it. The noise that had awakened me, was the fire and hard board being alternately pushed away, then sucked back to the chimney. I laid in bed listening to the howling of the wind. My husband, oblivious, slept peacefully on. I always said that he could sleep through the last trump, and here he was proving it.

The wind was like a live thing, screaming round the house. We faced west, and that was the direction the storm was coming from. A little white face appeared around the bedroom door, the children were awake, they were then aged 17, 14 and 7.

We sat on the landing for a while. My son said he had been woken by the noise of slates sliding down the roof. You could hear nothing but the sound of the wind, it was deafening. The loft hatch was also bouncing up and down in its hole.

My husband slept on! The children werenít frightened exactly, just in awe of the power of nature, so after a while they went back to bed. I slipped downstairs to the toilet, and to check on my cats, very grateful that I always insisted that they were indoors at night. It was quieter on this side of the house, I looked out of the kitchen window into the darkness of the garden. The wind was still strengthening. The old apple tree outside the window was being almost pulled up by the roots. It was extraordinary watching it, almost like it was a human, being picked up by the hair and then dropped again!

At about 4.30 the electricity went off. I had gone back to bed, but it was impossible to sleep. I must have made a noise, because my husband asked what was the matter, then told me not to be so stupid, and went back to sleep!

Finally I did sleep. In the morning there was chaos. My husband actually wouldnít believe me, and set off for his exams on his motorbike, only to be turned back by the police as all the roads into Guildford were closed by fallen trees. Shops and schools were shut. Trees were down by the thousands, if not millions. In October in south-east England, all the leaves are still on the trees, so there had been devastation. Oaks Park had lost all its oaks, Kew and Wisley Gardens mourned their losses. To this day, under the undergrowth, in English woodlands, you can see lines and lines of pushed over trees, all pointed the same way.

Ships from the English Channel had been blown inland and dumped by the waves. It took over a week to get power back to some of the more rural parts of Sussex. The slates, fortunately, came from a neighbours roof. Equally fortunately, it was not full moon, so there was no accompanying storm surge.

So why am I blogging about this now?

Forecasting has improved a lot over the intervening years, satellite and radar have got it down to a fine art. Just off the eastern coast of America, a storm is brewing. It is forecast to meet up with the jet stream which is lying across the south of England at present. The low pressure will intensify and deepen, then rush across the middle of England, on Sunday night. The wind speed forecast across south east England in the early hours of Monday morning, is in excess of 80 mph in the gusts, about the same as 1987.

Also in the intervening years have come a number of false alarms. We have been forecast wind, hail, snow and some events of almost biblical proportions. So far, theyíve all amounted to nothing, so in all probability, this will be another storm in a teacup. (sorry, couldnít resist!)

But, it just might...just might,...be another night to remember...like the hurricane of í87.







Monday, October 14, 2013

Of course we all know about the language!

My purse is your wallet, your purse is my bag.
Your pants are my trousers, but my pants are your knickers.
My chips are your French Fries, but your chips are my crisps.
You say to-ma-to, we say to-mar-to, etc.

Everything is definitely bigger in America. You have Cheetoís, we have Cheesy Wotsits, but your Cheetoís are twice the size of my Wotsits!

And a self respecting English spider is about 2Ē across including the legs. I found this monster on the steps outside a restaurant we were visiting.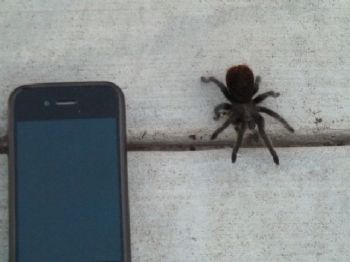 That is my iPhone beside it, showing the scale, both I and the spider survived the experience!

The British have always been noted for their inventions, but for sheer inventive genius, give me the Americans every time.

In the British Isles we have two ways of flushing a toilet. There is either a button on top of a cistern to push, or a lever on the side to operate. On rare occasions there is a Victorian survivor with a high cistern and a chain to pull. In the USA, every time I visited a rest room, I had to pass an intelligence test, (or throw a six when in Las Vegas), before I could flush and escape. Plumbing that comes up from the back of the seat, or sometimes sideways, buttons on the top, or the side, levers that went up, or down. The list was endless! On one occasion, I stood up and the toilet flushed itself, before I could pull my pants, or knickers up, frightening the hell out of me!

Then thereís the food. I was constantly wrong footed. If I ordered an appetizer, it would be huge, but when I didnít the main course would be tiny! and the idea of boxing half of your meal up and taking it home for later, is an entirely alien concept to the British. Then, whatís with the cheese? It comes on everything!

Youíre so polite! The only time I heard a horn honked in anger was in Boston, and I bet he wasnít a native. People crossing the road have priority. Now thereís a novelty! You try that in London and the drivers will head straight for you, woe betide anyone stepping off the kerb in front of them! Itís ten points if you frighten someone or knock their hat off!

Tipping! Now thereís another alien concept for the British. In the UK, the price you see on the ticket is exactly what you pay, In the USA, one adds tax and a tip on top of the ticket price. I cannot image an Englishman in a pub, tipping the barman £1 every time he orders a pint of beer.

In spite of all of this, I thoroughly enjoyed my holiday in the USA, and hope to visit again next year. Everyone I met was polite, friendly and helpful.

Unlike the British who can be a surly lot!








Saturday, September 21, 2013


For the first two weeks of this round Iím away on holiday, so Iím splitting my goals into the first two weeks, and the remaining ten.

Part one, holiday.

I intend to:

Enjoy myself.

Eat and drink whatever I like, but stop when Iím full.

Not show by word or deed that Iím trying to lose weight.

Not spoil anyone elseís enjoyment of their food or drink. (my mother dieted continually, and watched what everybody else put in their mouths like a hawk. She would make comments too, and ruin whatever you were enjoying)

Exercise whenever I can, especially taking stairs rather than elevators.

Not stress about putting on a few pounds, they will come off when Iím back to normal.


Part two, home again.

I intend to:

Go back to Alternate Day Fasting as soon as itís possible.

Continue my present exercise regime. Gym classes 4 mornings a week, 39 steps, on 2 mornings plus one evening at home, swim two mornings, karate on 2 evenings.

Keep on top of my paperwork, and donít put things off for weeks.

Take control and responsibility for the structure of my life.

Put things away and tidy up before going to bed.

Continue to cook for myself on my non fast days, from scratch, and use as few processed foods as I can.

Remember that I need rest too. I must not feel guilt for not exercising if Iím not well.







Friday, September 06, 2013


One of my avowed goals on my weight loss journey, is to tackle the ironing pile BEFORE I run out of clothes to wear. However, so far I have failed miserably in this endeavor.

Thus it was, with the ironing basket hidden under a Mount Everest of clean clothing, I was forced to go to the gym yesterday, in a baggy old tee shirt, that had seen a lot of better days.

I happily started with the other five elderly men, to work through out 39 steps program which helps flexibility and mobility in the older person, circling my arms, and stretching, and doing the other exercises.

All went well until the exercises where one has to bend over and reach ones toes. No problem with the exercise. I can bend and put my hands flat on the floor, (show off), but I am suddenly aware that my back is cold!

The tee shirt is sliding up my back, showing it and my underwear to any interested spectators. I carefully tucked it into my gym bottoms, and carried on.

We did the cobra,

and the other abs exercises, and all was going well until doing the plough,

and then the shoulder stand.

Now I canít do a shoulder stand or a plough from flat. I have to take a Ďrun upí at it. I have to sit up and then roll back quickly, using my momentum to get my torso off the ground.

So I successfully did the plough,

then pushed myself up into he shoulder stand. Once up there, we have to bicycle with our legs, energetically!



The general flow southwards of boobs and belly can always cause a problem with asphyxia during this maneuver, sometimes itís like fighting your way out of a 20 tog duvet!

Then suddenly, the world went black! Had I gone blind????

No. The energetic upside down cycling had untucked my old tee shirt, and it had completely inverted itself over my head, blinding me, and exposing acres of white flesh to all the other stunned gym users!

Thatís the fastest I have ever come out of a shoulder stand, and back on my feet in my life!

So the moral of this story is

1. Do the ironing
2. Stay the right way up
3. Do NOT wear clothes several sizes too big to the gym!



1 2 3 4 5 6 7 8 9 10 11 12 13 14 Last Page

Get An Email Alert Each Time STONECOT Posts