| | |
| --- | --- |
| | STEPH-KNEE's Recent Blog Entries |



Monday, November 04, 2013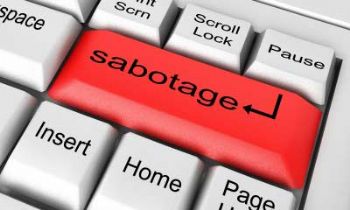 Self Sabotage:
I'm not quite sure what it is about me and hitting certain milestones, or approaching the goal weight that causes me to shoot myself in the foot. I am on this roller coaster of emotions and I want to get off! One day I am celebrating a great victory of losing 85 pounds, the next I am discussing the demise of a plan I was trying, and getting a visit from the Binge Monster. This has happened many times when I hit different milestones, whether it's an amount of weight lost, seeing an all time low weight, or getting to another clothing size. I guess there is a part of me that is truly afraid to hit my goal weight.

I'm not sure why that is, because all I've EVER wanted is to lose this weight! I have been overweight my entire life and I can not remember a time from age 13ish on that I was happy with my body and wasn't worried about losing weight. My life has revolved around wishing and trying different things, but never succeeding. But here I am, I am finally doing this. I am getting there, slow and steady, never giving up... yet there is something inside me that is terrified of my goal weight. What is so scary about it? I don't think there is anything scary about the goal weight itself, I think what is scary is losing the layer of protection... my fat. I have allowed my fat to hold me back for years, avoiding many social situations, dating, etc. because of how I felt about myself and my body. Every boy that "didn't like me back" must not have liked me because I was fat. Now, let's be real... that probably wasn't true. Sure there were some that it probably was true, because we got along great otherwise, but it is highly possible that they just didn't feel that way about me, period. But I always felt that I was able to blame it on my weight. I never had to look at anything else, I would just write it off and move on.

So what happens now? Right now, this exact moment I still have just enough fat on me that I am still overweight. I can still hide behind it a little bit, I can still try to convince myself that is why that boy doesn't feel the same way about me, but what happens when that is all behind me? What happens when I'm just a nice, normal sized girl? That means I am going to have to put myself out there, and say take me or leave me... and that is a very scary thought! I feel better and more confident and I am hoping that will help me... but there is obviously something still plaguing me that is secretly gnawing at me deep down. I will continue to push forward and try to get to the bottom of this. This won't come in a day or even a week, but the good news is I'm conscious of this self sabotage and I'm going to try to continue to fight it, as well as the Binge Monster that always pounces when I'm second guessing myself.

This leads me to my next topic:



I have shed a lot of tears recently about the damage I have done to my body. I will be the first to say that I have always had very real expectations of what losing weight was going to look like. I expected the loose skin, I expected the horrendous stretch marks (mine are particularly bad), I expected jiggly arms... but I think there is still a part of us that thinks MAYBE it won't be as bad as we thought.

Well I am here to tell you for ME and my body, it is exactly as bad as I thought. I have stretch marks so deep and shredded trucks could drive in them. I have the flying squirrels as I have mentioned before... my stomach is hanging down so low that I recently went out to buy compression shorts to wear under my clothes to help give it support. My inner thighs are getting wrinkly and very jiggly... and I have an unsightly pouch on one of my inner thighs. I often joke that I am okay with it, and that I will just never be able to go through life wearing daisy dukes and tank tops. Okay so I am fine with that, the daisy dukes isn't happening no matter what, and I wouldn't be comfortable in those even if I could rock them. The tank top I can probably still muster up the courage to flaunt, but I am still very hard on myself. I think I am just mad at myself for putting my body through so much over the years, and it's sad to see that it can't recover from the stresses I've put it through.

It is just very hard to know you've worked this hard and to see all these various things happening. With that said, if I could have a do over with this life, and could have the perfect body, but be a part of a different family, and be a completely different person I would never do it. I have learned a lot, and while my body had to feel the wrath of my decisions, I am still so happy with the person that I am. So I will do my best to tone up my arms, and tone up my legs in an effort to help my jiggly thigh. I am already saving for a tummy tuck because it is honestly becoming a hazard the more I lose my weight... and I know I am privileged to be in a position where that is an option for me. That is going to lead to even more scars, and I am going to still have plenty of stretch marks, but as the picture says I earned those.

They are my battle scars and I really think I am a much stronger person after going on this weight loss journey... and I have learned so much about life.

So no more tears, what's done is done. I can sit here and cry about things I can not change, or I can focus on what I can improve on and what I have accomplished. And to any of you ladies out there worried about your bodies after weight loss... this is what I have to say about it at the end of the day... I am going to look darn good in my clothes. 99% of people I come in contact with are ONLY going to see me IN my clothes and that 1% that actually gets to see me without them better consider themselves darn lucky and not have any complaints!






Saturday, November 02, 2013


Let me take you back to a time, long long ago... October 25th, 2013. Well, ummmmmm, okay so it wasn't that long ago, but it feels like 10 years ago. In this week, I have gone from excitement, to physical exhaustion and feeling crummy, to feeling okay, to crash in burn. Before we go any further I must say that this is NO reflection of the plan... I obviously haven't been on it long enough to know if it is effective (and I betcha it is), but I have been on it long enough to know it's not for me.

So let's get back to the story, where was I? Oh, that's right, October 25th, 2013. You see, I had this idea that I should shake things up and try something new. My plan the last 19 months has absolutely worked and I have lot a lot of weight, but I was looking for something to do. I wasn't really prepared but I jumped in with both feet, only 30 net carbs per day. Okay that doesn't sound so bad right? At first it was great! I was at home and I had full access to my kitchen and could go in and cook up something super healthy and low carb every couple of hours. I had a little trouble getting in enough calories but that was okay. By Sunday night I felt sick, and had an awful headache, I have read about "induction flu" when it comes to low carb, so I thought I must be doing things right.

Cut to Tuesday night. I had to go back to work, I thought I had enough food, turns out it was only 1000 calories. I would never eat 1000 calories intentionally, but I was at my carb limit and I had no other options at work. Repeated this on Wednesday and then Thursday, Halloween, is when all heck broke loose!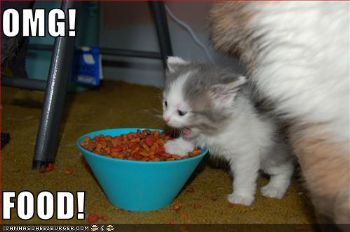 Yep. It was bad. I went face first into SEVERAL slices of pizza

at work, followed by a mini candy binge. I lost my mind. I had been hungry for days, I had wanted carbs for days, and I just couldn't stop myself. The thing is my first "Carb Nite" (where you intentionally eat a lot of carbs) was supposed to be Sunday. So I thought well I will just count this one as that and move forward. That was a good plan until today.

I ended up eating 3, yes you read that right, 3 donuts!

In my 27 years as an overweight girl, I have NEVER EVER EVER eaten 3 donuts. 2 maybe, but not 3. That was the aha moment for me! This was bringing out the Binge Monster in ME! I haven't seen him in quite a while actually, and he caught me by surprise! He caught wind that I was doing this low carb thing, and he knew that after I had already eaten an insane amount of pizza & candy that getting me to eat 3 donuts would be a piece of cake! How evil is he? He truly is a monster.

You see, there is nothing wrong with this plan (I don't think), but there is something wrong with it for me. What bothered me most was that if I was doing it "my way" (everything in moderation tracking calories), I could have easily had ONE donut, tracked it and moved on with my day. In fact I have passed up donuts at work millions of times because I know they weren't worth the calories. But you tell me I can't have something and I obsess. I have had ice cream in my fridge for months and it is missing 2, 1/2 cup servings.. but if you told me I couldn't have it I would be right there eating out of the carton! This was bringing out the binge/restrict cycle in me and that is not good. There was nothing wrong with my counting calories and everything in moderation plan, but I am human, and I get caught up in wanting to try other plans. I said it when I posted about trying it that I was truly "going against myself" because I have always believed that for ME to lose weight it had to be my way and it had to be something I could do forever. I went on this plan knowing I would have to come off of it and that was the first mistake.

I think I had the right idea that I need to change up my routine, I need to make an effort to eat more healthy foods and to eat more veggies. This plan allowed me to find that I liked some healthier things and it really started to move me away from processed foods. I am going to keep that in mind as I move back to what has helped me lose 85 pounds, counting calories and eating what I want in moderation. I will just kick it up a notch so that I am eating more healthy, whole foods.

Anyways, if there is anything GOOD for me to say at the end of this is to remember that your weight loss journey is YOURS alone. What works for you may be pure disaster for someone else. Don't judge anyone else for their choices and more importantly don't let anyone judge you for yours. You know you better than anyone else, and sometimes we have to go through trial and error to find what works for us. So take whatever "your plan" is, and rock the heck out of it!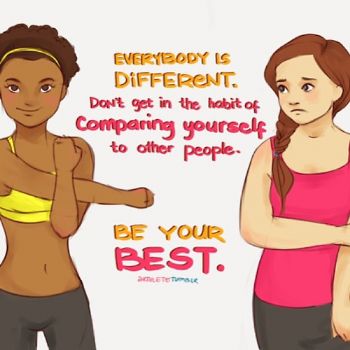 arthlete.tumblr






Thursday, October 31, 2013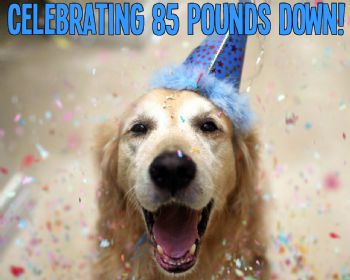 When I started this journey 19 months ago, I didn't celebrate each little milestone. In fact I don't think I truly celebrated until 40 pounds down. After that I celebrated 50, 60, 70, and not too long ago 80 pounds down with all of my Spark friends!

Those milestones were important to me because I felt like I was actually getting somewhere. This journey can be long and tedious at times, so we have to find the fun wherever we can. I have never celebrated a "halfsie" like this (Eighty FIVE pounds down), but these milestones are going to be coming to an end soon as I come closer and closer to the end of my weight loss journey. Now wait, don't get it twisted... the end of my weight LOSS journey... which will start the beginning of my life long MAINTAINING journey.

It is a great feeling to be so close to getting to where I want to be... (I am thinking 160 sounds pretty good, 170 sounded okay in the past but I am ready for more I think)... but that also means my weight loss is slowing. I'm not getting to celebrate those milestones regularly, so I thought what the heck... let's celebrate 85 pounds down! But the more I think about it, it is NOT just 85 pounds down... I am actually celebrating:



19 consistent months sticking to my weight loss journey and being consistent on Spark People almost daily.



The lowest adult weight in more than 10 years: 186.2!



Not giving up on myself for the first time in aaaaaaaaaaaaalllllllllllllllll my attempts at weight loss.



Feeling happy and confident in myself, the person I am, and my ability to lose this weight and keep it off.



Regaining control after 5 food-filled-days in Vegas where I gained 7 lbs of bloat... Not only am I home and back on track, but I have eliminated the bloat and an additional 2.6 pounds!

So I am not celebrating just a number on the scale, but all of the things that have changed in my life. I am still very much the same person, just in a smaller body... but my confidence has returned and boy did I miss it!

Just 4.2 pounds away from celebrating 90 pounds down, what a treat that will be! With my body it could be as soon as two weeks or as long as 2 months... unfortunately while I do what I can, my body and that scale makes the final call. But I look forward to it, and I can't help but peek into the future and be ecstatic about that beautiful 100 pounds down! I never thought it would be possible, but this site and community has taught me that you can achieve your goals if you are willing to do the work, and boy am I willing!



Puppies, Rainbows, and a Cuddly Kitty for you cat people.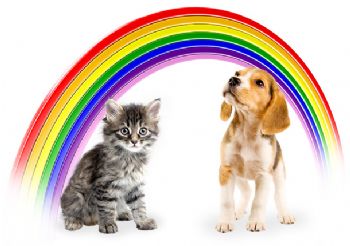 Countdown til 2014: 62 Days
Goal to lose 10 pounds: 179
Current Weight: 186.2



P.S. Happy Halloween!











Sunday, October 27, 2013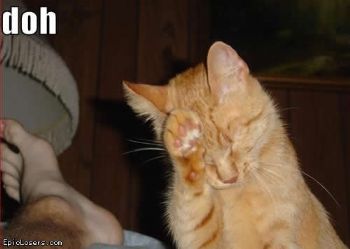 I am very reluctant to post this, because it goes against what I had decided for myself and the advice I give to others. When others ask for tips on how to lose weight, my biggest piece of advice is it's easiest if you make changes you can stick to forever. If you are leading a healthy lifestyle, you never have to go "off of the plan" and figure out how to survive once you aren't doing that certain plan. I am 19 months into this journey and my approach has always been counting calories and exercising. That is not the approach that works for everyone, but everything in moderation (except my blasted trigger foods LOL) was what I followed and I have never regretted it. So to post this goes against everything I've always said. If you want to criticize I will gladly take anything you want to throw at me.



So what is all this hoopla about you might ask? Well here's the scoop. 19 months in I'm bored to tears on my weight loss journey.

My arthritis is flared up, my knees are swollen and sore and that has bummed me out. I was enjoying Hip Hop Abs so much and loved doing it almost everyday. I even bought Rockin Body to give that a try but my knees put a firm stop to that. It was keeping me on my toes, it was keeping me feeling like I was doing something new and exciting and it was taking the weight off of me. Since I am back to essentially only walking, I have gotten very bored.

Let's add on to that the part where I am getting towards the end of my journey. Now wait wait, hold the phone, don't jump on me yet! This is a life long journey that never ends, I understand that... but what I mean is I am at a place where I have lost more weight than what I have left to lose. Does that make any sense? Maybe not. What I mean is that I have lost 80ish pounds, and my goal weight on my ticker is 170. According to that I have 20ish pounds to lose. Between you and me, I probably will keep pushing til I got to 160 so that's 30ish pounds.

While 30ish pounds is no small feat, it is a heck of a lot less than 80 pounds. Add on to the fact that my body has not forgotten that I've lost all that weight and is continuously trying to find that weight again. With that said the weight is surely coming off at a snails pace. I know my way works, but my body is just rebelling all the way. Too bad 190 wasn't my goal weight, because I can maintain that like a champ.



Anyways, if you are looking for detailed information on this Carb Nite Solution you are in the wrong place. I am not here to promote this plan in any way. In fact, I do not even have the book. I got the information online, and the rules of the plan were readily available as was some of the "science" behind it. One thing I really respected about it was that the guy himself said this is not a healthy lifestyle. It is a weight loss TOOL and that you should not do it for more than 6 months. I really respected the honesty behind that because I do believe a healthy lifestyle is the way to go in the long run and that is what I intend to do. But I thought this would be a fun little experiment. I am really bored and it has lit a fire under me. Granted it is only day 2 (completed) of this plan. Remember when you started your journey? That sense of shiny newness where you couldn't contain your excitement? I am looking to get that back almost 19 months later. I have a goal to follow this plan for a month to: 1. Give myself something new and exciting to try. 2. To be accountable to myself and show myself I am strong enough to do anything. 3. Possibly shed a few more pounds that my body doesn't want to let go of.

So there you have it, that is what I'm up to. If you want to call me a hypocrite I completely understand. I was reluctant to try any plan because I have never been big on "plans". This won't be something I do more than a month or two and it is not a lifestyle. But the difference between me following a plan 19 months in is that I know what to expect when I go off this plan. When I go off this plan the 3 lbs that disappeared in water weight will come right back. When I go off this plan it does not mean going back to eating fast food 2 times a day (sorry Burger King, I miss you, kind of...)... it means going back to my healthy balanced lifestyle of everything in moderation and counting my calories (which I am still doing on this plan btw) and getting the job done. I also thought this would be the extra push to me through some of these dreaded holiday gatherings.

If I throw in the towel on this plan, I promise to fess up. In the past I just would never mention it again, but I enjoy the accountability so when I go off the plan I will let you all know.

Countdown to 2014: 66 days
Starting Weight: 193
Current Weight: 190 (just water weight, don't get too excited)
Goal Weight: 179






Thursday, October 24, 2013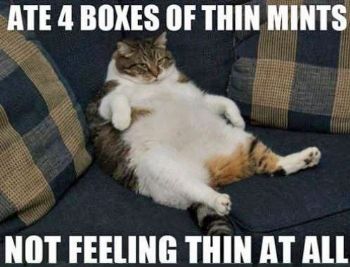 We are down to crunch time here... 68 days left in 2013! If I was forced to sit down and really decide if I am where I want to be at this point this year, I would probably say I came up short of where I wished I would be. But you know what, I'm not going to do that. This is a lifetime journey and I am moving forward, getting into smaller sizes and losing weight... at the end of the day that is a victory to me!

With that said, the year is flying by, and before we know it we will be ringing in 2014!

But before that we have that dreaded time of year where the pounds try to creep up on you!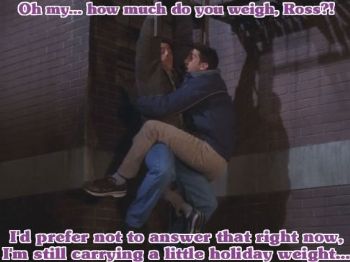 The holidays are great, it's a time of family and fun! But it's also the time of massive amounts of food, and every single get together revolving around it! If we just "ate poorly" ON the actual holidays, it would just be a handful of days. But it's not that simple. Everyone is offering you baked goods or candy, wanting to have you over for dinner on other days, and wanting to feed you all sorts of food. It can be really hard to say no to so much yumminess! It is so easy to get sucked into the mentality that "It's the holidays, and I'm going to ENJOY IT!" By all means we all deserve to enjoy the yumminess of the holidays with everyone else, but there has to be a line somewhere. Imagine if we started that attitude on Halloween? That is over two full months that we could have to pack on the pounds.

With 68 days left I feel like I have 3 options, I can gain, lose, or maintain. Gaining would be the easy and obvious choice, it's the holidays! They only come once a year, right? Why not enjoy and eat every yummy treat that crosses my path? But no, that path is not for me. Maintaining doesn't sound too bad, I can't lie to you. Indulging in SOME treats but keeping a good eye on it so that I can maintain... things could definitely be worse. But I will have a lifetime to maintain when I get to my goal weight... so now is not the time for that. I am choosing to take my power back and LOSE weight during the holidays. I am going to actually set some very realistic expectations for me based on some of the things I have coming up. With about 10 weeks left this year I want to lose 10 pounds. Some may say that is "ONLY 1 pound a week", but to me that sounds fantastic, especially during the holiday times. Not to mention I have another trip to Vegas coming up (still recovering from the first one), and I have a 3 week total vacation. The majority of the time I do better at work because I can't get up and eat whenever I want... but I also have a lot of tempting food at work that can make it hard. It will be interesting to see how I do when I am home for a couple weeks. But I am just going to push forward and do the best I can.

So how about you? What is your action plan to make it through the holidays? It might sound early to be worrying about but it doesn't hurt to plan!




Countdown to 2014: 68 days!
Current weight: 193 (Up a few pounds after vacation)
Goal weight: 179


(I said I wanted to lose 10 pounds but I am not including my "extra Vegas pounds" in the grand total).



First Page
1
2
3
4
5
6
7
8
9
10
11
12
13
14
15
16
17 18 19 20 21 22 23 24 25 26 27 28 29 30 31 32 33 34 35 36 37 38 39 40 41 42 43 44 45 46 47 48 49 50 51 52 53 54 55 56 Last Page

Get An Email Alert Each Time STEPH-KNEE Posts