| | |
| --- | --- |
| | STEPH-KNEE's Recent Blog Entries |



Saturday, August 31, 2013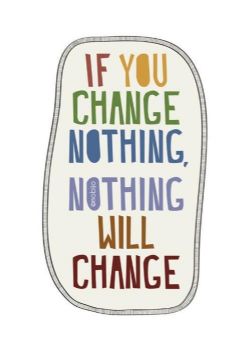 When I started off losing weight, the smallest of changes were able to get the weight rolling off. Although there is nothing easy about weight loss (at any size), small changes in my eating, and being slightly more active resulted in big losses. As time went on, I walked more and more, and I lowered my calories and made even better choices, and the weight continued to come off. I overcame many plateaus, and I started walking farther and farther, but I've never consistently made big changes to my plan.

The plan that worked for me when I was over 200 pounds does not work as effectively now. Sometimes I think my body is so confused... I am around 195, there is still PLENTY of weight to lose, especially in my stomach, but my body seems to worry that we are wasting away. I've known for a while now I need to up my game. I've known I've needed to do additional exercise to add on to my walking (Because Sparky needs his walks no matter what

), but I've been all talk! Just as I often am with my strength training. I know first hand that my arms need work, and more importantly I know how important strength training is but for some reason I refuse to get on board and do it consistently.

So September is going to be the month of change for me. I have gotten too comfortable in my routine, and despite my "feeling fat days", I am quite enjoying my 195 pound body. But I am not done losing weight, for health reasons and vanity reasons (hey, at least I'm honest

), There is nothing wrong with being comfortable, I have worked really hard to lose 77 pounds and I definitely deserve to be happy and comfortable in my own skin... and I definitely am. But as my buddy Annie on here says, good things happen when we get a little uncomfortable. Uncomfortableness can drive us to change and push even harder, and I'm ready for that next step in my journey.

I recently ordered Hip Hop Abs and I love it! Absolutely love it! At my weight abs are the least of my worries, but getting in an awesome work out and working on my core strength (which I really need to work on) is definitely my cup of tea!

For the first time ever I printed up a workout schedule, and September is going to be my month of actually doing what I say I'm going to do!

I am also working on cooking more healthy meals and relying less on processed food. I took the time to plan out my calories, because I know with more exercise comes more calories, but not so much so that it undoes all the efforts put in with exercise. I am going to work on tweaking the calories until I can find the sweet spot.

Here is my calendar and my goals for September: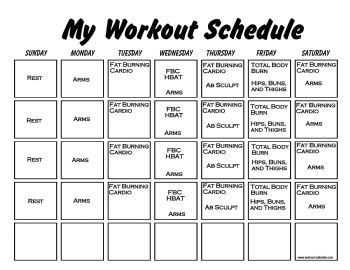 One thing not on the calendar is my walking, that happens everyday with Sparky or at work, it's a given and I didn't need to put that on there, but it is still a huge part of my goals.


Hit 2,000 Fitness Minutes for the first time ever! I came close this month but didn't push it, so I fell short.



Continue to try new, healthy recipes until I get a good amount that I can rotate and incorporate into my weekly routine.



To follow my workout calendar the best that I can, with special attention to the strength training for my arms... that is what always seems to get forgotten.



Pay attention to my body. I have arthritis in my knees, a metal plate in my leg and screws in my ankle... I need to listen to my body and if I feel like some of the exercises are too much or I'm facing a flare up, I will scale it back.



I also want a huge focus to be paying attention to my body in terms of hunger. Eating when I'm hungry, stopping when I'm full, you know, all that good stuff.



Let's all join together and make September a good month! If August was great, use that momentum to propel you right into September! If August wasn't everything you hoped it would be, or was just down right horrible, let's just forget about it and start off fresh for September!







Wednesday, August 28, 2013
I have been having a rough week! When I say rough, I mean disaster area type stuff.

I have eaten, and eaten until I was overly full

, and then eaten some more! I have not done that in several months. I have probably gained 2 pounds this week (will know the damage Wednesday afternoon at weigh in), but more importantly I feel bloated and sluggish. This has ended up affecting my dog Sparky

, because instead of our regular 2-3 mile walks, he's been getting jipped with measly 1 mile walks. He definitely doesn't deserve that... if I won't turn things around for me, I at least need to turn things around for him.

So my girl Susan and I were talking about how lately I've been eating like 272-pound-Stephanie. This means 3000+ calories a day in some cases. Other days maybe 2400, but far more food than I (or anyone for that matter) needs. For a brief second I thought to myself, 272-pound-Stephanie had it GOOD. I mean she could eat whatever she wanted, whenever she wanted. She never EVER worried about how many calories were in something or "if she should eat that". She didn't have to worry about finding time to exercise because she didn't exercise. But then I thought there was a lot more that 272-pound-Stephanie had to deal with that I was blocking out. I was forgetting about all of those things. So Susan suggested that I have a quick chat with 272-pound-Stephanie, make a list, and then send her on her way. No offense to her but I don't want her sticking around.



So of course I started off asking her how great it was to be able to eat whatever, whenever with 0 consequences. This was her response:

"Food is great! I eat almost nothing other than fast food and I love eating chicken strips, burgers, and french fries all the time."

I couldn't lie, she had me intrigued... not worrying about food or calories ever? How great is that? She saw the twinkle in my eye, and just as I responded "That sounds great!" She cut me off right there and she gave it to me straight!

"You aren't seeing the big picture. Eating whatever, whenever is the ONLY redeeming quality about the way I am living, and to be honest that is what is causing me the most damage. It is physically exhausting carrying around all this weight. I get winded walking up the 7 stairs to my bedroom. Tying my shoes is a struggle, doing the dishes hurts my knees and my back from all the standing. I can't walk through Target without breaking into a sweat. Each night before I go to bed, and I struggle to turn over, I say to myself I wish I could find the strength to lose this weight. The extra weight sits on my chest, and sometimes it is uncomfortable even just laying down. Having to buy bigger and bigger clothes because I am growing out of them makes me feel even more defeated. So trust me when I tell you, all of that food comes with a lot of consequences."

I immediately remembered how all of those things felt. I chose to block out all of the negative things and focused on the 1 thing that I thought was fun (back then). I had already learned my lesson but before 272-pound-Stephanie left, she let me know all of the things that she was jealous of... and reminded me to be thankful for what I have, and that I need to FIGHT to keep it.

"You do many many things I wish I could do. You can walk up and down the stairs with ease, doing dishes is no big deal for you. You can walk your dog Sparky 3 miles and I can not even walk him to the corner. The physical and emotional exhaustion that comes from carrying this weight is no longer a burden for you. You also have grown much more confident not only in your ability to lose the weight, but in life in general. You do not want to go back to where you were, so stop eating like you want that life back. We both know that it's not the life you want and it is not a place you want to return to. Keep your head up, dust yourself off, and work on getting deeper into Onederland!"

Okay okay, so that might have been a silly way to approach things, I didn't actually have this conversation with myself... but seeing the huge difference between the way I used to live and the way I live now made me realize just how far I have come. I will never forget what it was like to be so far overweight, but sometimes if we don't tap into that part of ourselves and give ourselves a gentle reminder, we can let that part slip away. We have to remember it is worth it and we have to continue to fight for what we want. We didn't set out on this journey because we didn't want to change something, and sometimes we have to go back to the very beginning and get in touch with why we are doing this.

So whether I have a 1-3 pound gain at weigh in, I will take that number, and I will do the work to get the weight off, and to keep doing the work to get to my goal weight. THEN I'm going to do the work, for a lifetime to KEEP the healthier body that I have worked so hard to get. This is going to be a lifetime struggle, but I don't mind struggling to keep something that I truly want.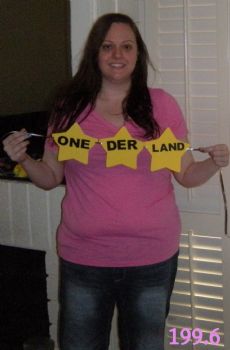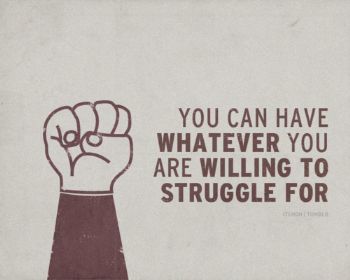 Tuesday, August 27, 2013

This is just an update, because I had so many fellow sparkers reach out with support and advice on the feral kittens Lilo and Stitch. They are doing wonderfully! I was able to pick them each up and put them back in their crate with no problem. The first time Lilo jumped out of my hand, but not in a mean way, but the second time she was fine. At first we were only petting them from the side when they weren't looking, but now even if they see your hand coming they will let you pet them.

They will still need some work of course, but they are definitely going to make good pets for someone at some point. We are trying to catch the last feral kitten tonight, so wish us luck because each day out there is another day older that kitten is getting. I think the fact that there were always lots of people at my work and the fact that these kittens already kind of associated humans with food has helped us in the taming. :)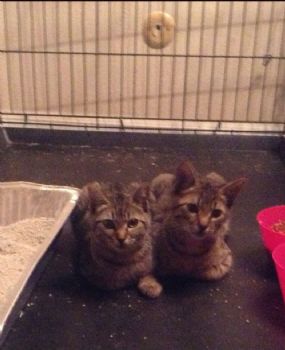 Monday, August 26, 2013
As BLC comes to a close, I am conflicted about how I feel. I have done great for the majority of the 12 weeks, but this last week has been a struggle and I may very well have to post my first gain on the final weigh in. To go 11 weeks without gaining only to mess it up in the last week really messes with me. I'm trying not to dwell on it because BLC doesn't change things, this is still LIFE and we all have our ups and downs. It happens to everyone and I have to keep my head up and just keep on pushing. My team has opted not to take 4 weeks "off" between rounds because this is a lifestyle change and we have to keep pushing towards our goal weights 24/7. I also have not been able to redo my fit test which has me bummed, but between the kittens and walking Sparky and other shenanigans it just wasn't my first priority unfortunately. :(

So let's focus on the positives...
I've lost 16ish pounds. I can't say for sure because right now I am 196 but hoping to get back to at least 195.something by weigh in. Eek.



I've lost over 20 inches from all over my body!



I've had a ton of fitness minutes over the 12 weeks!



I've struggled but I've never given up!



My flexibility has also increased!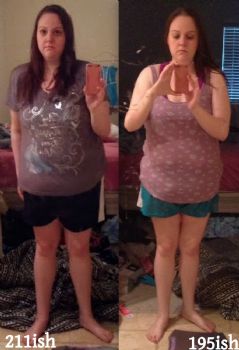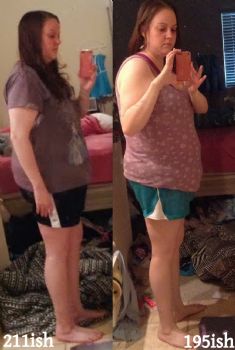 I can actually see differences in those photos which is always nice, my face has changed so much and my legs get smaller while my stomach just hangs there... but that's part of the process I guess lol. Next round I will wear the same clothes to get a more accurate comparison. :) Live and learn lol.

I really need to get my head in the game and get focused, I received my Hip Hop Abs and I am looking forward to getting more exercise other than walking into my routine. Someone pointed out that nutrition is more important when trying to get abs, so just for the record I am not looking to get abs, I am looking for a fun way to burn some extra calories. ;) I will never be small enough to SEE abs and that is not one of my goals, not even by a long shot.






Friday, August 23, 2013
Does anyone have any experience with feral cats?

I think I got myself in over my head, and I am regretting it big time. I have my mom's help, but this just ugh...

Basically I've worked at my job over 5 years, there were 2 cats. A couple ladies there feed them. Over the years the momma cat has had litter after litter, and all the kittens would always end up dying. I should have done something about it then, but no one seemed to care so I ignored it. Well finally she had a litter of 3 cats survive. Which meant 5 full grown cats. 2 wandered off but 1 recently returned. Then both the momma cat and one of her full grown babies had a litter. One litter completely died, one had 3 survivors and are now 4 months old (give or take).

So of course everyone is complaining because there are 7 freakin cats, it's ridiculous. No one wanted to do anything about it so my mom and I are getting them fixed. The goal was to take home the 3 kittens, but we only caught 2. We have 2 adults fixed, still need to fix 2 adults, and the last kitten might end up just getting fixed and released. There is a Sgt there that wants to have the cats euthanized but I am not taking them to their deaths. I just fixed them, and released them. That has been their home and they are also doing their part to keep away any other cats. Apparently YEARS ago the same thing happened, and they had the cats taken away and these new ones moved in not long after.

I am just so frustrated because everything says after 4 months old you shouldn't try to tame them. I know I have to be patient, I know it takes time and it's only been 2 days. I read that you should have a spoon attached to something long, like chop sticks and try to get them to eat off the spoon through the crate and they refuse to even do that right now. Then on top of it, we gave them flea meds as soon as we got them but of course there are still fleas EVERYWHERE in that bedroom and it is the room with my guinea pigs. My mom is coming over in the afternoon and this is all just a mess. I vacuumed up a bunch of fleas but they are everywhere, and I don't want my guinea pigs getting eaten alive because I brought these stinkin kittens in.

I'm gonna watch some youtube videos on taming feral kittens and doing more research tomorrow, just curious if anyone had any experience with that? I guess I'm just looking for someone to say I did it and it was worth it, it just took time. My worry is that we do this for weeks and they don't get any better, and no one would adopt nasty cats, and I don't blame them. I am not even a cat person, isn't that funny? I guess I am just venting because I am just freaking out, especially over the fleas/guinea pig situation.

Sometimes I wonder why I do stupid crap like this, but I didn't want those cats to have 829038290 more cats and I know I've done the right thing, I love animals, I just wish the right thing didn't have to be so stressful!

Anyways, this is Lilo & Stitch *SIGHS*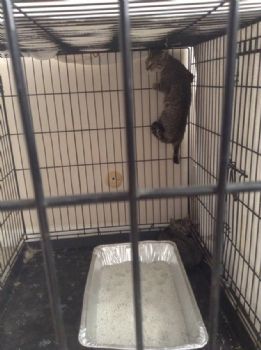 I just wanted to say as a disclaimer, I am not freaking out because they haven't made progress in 2 days, I am prepared for this to take weeks, I think I'm just overwhelmed because I have 0 experience with this, plus the fleas/guinea pig thing is bothering me so much.




First Page
1
2
3
4
5
6
7
8
9
10
11
12
13
14
15
16
17
18
19
20
21 22 23 24 25 26 27 28 29 30 31 32 33 34 35 36 37 38 39 40 41 42 43 44 45 46 47 48 49 50 51 52 53 54 55 Last Page

Get An Email Alert Each Time STEPH-KNEE Posts