| | |
| --- | --- |
| | STEPH-KNEE's Recent Blog Entries |


Tuesday, July 30, 2013
I am taking a page out of my girl Susan's (IMSOOZEEQ) book... and I took a photo of the size 16 shorts I don't fit into yet. I started off as a size 24, and am currently in size 18's. Now more then ever, I carry the majority of my weight in my stomach... and I wear my pants at my belly button... so while my size 18's are a little big, I am not quite ready for the 16's. I will try them on periodically and see how much closer I am getting until they finally fit! Then I will move onto the 14's! Sometimes the scale doesn't always show the whole story, so I'm hoping to find motivation from the shorts! :D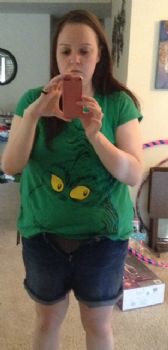 I will say this, I have not worn shorts since high school, bet that was pretty apparent from my pale skin.

So this would be a big deal not only to fit into them, but to feel comfortable and confident enough in myself to wear them in public!












We are now in week 8 of BLC! The time is just flying and before we know it we will be doing our week 12 final update. I will be the first to admit I haven't been working on all of these things as much as I should... but I am doing a lot more than I have been! My 30 day dumbbell challenge is also still in full swing. As far as weight loss, official weigh in is tomorrow, but I'm still around the same weight I was last week. My goal for the challenge was to lose 16.6 pounds and get to 195, and I believe I will hit that by the end of the challenge.

Fit Test Results (Week 1/Week 4/Week 8):
Crunches: 50/75/100


Wall Sit: 50/70/110 (seconds)


(Modified) Squats: 15/25/30


(Wall) Push Ups: 25/40/50


Walk 1 Mile: 19:37/18:50/18:06


Hula Hoops: 3/3/14 (minutes)



I will say that my squats are getting farther down, so I wasn't that disappointed in the minimal increase. Everything else I was pleased with. I will say the hula hoop is just for fun and just something I like to improve on for me. That is hit and miss though, sometimes I do good and sometimes not so much. I also had a personal record walking with Sparky, and it's actually faster than I walk by myself! 17:20 for a mile!

That little booger really pushes me to walk faster... or maybe he PULLS me to walk faster, either way.




And without further ado, the stretching photos... and can I just say despite the unflattering angle, and the fact that there are still visible rolls on my body... I actually looked at the positives! Like how tiny my arms and legs look and the fact that I see some muscle (or something) on my outer thighs! Amazing!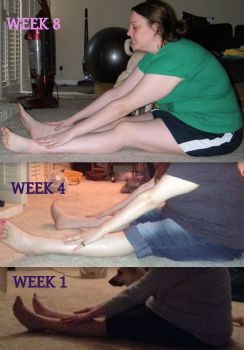 Saturday, July 27, 2013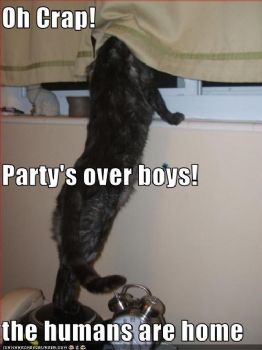 First off, a million billion

's to everyone who made my Onederland Party a fantastic experience!

That is something I am going to remember for years and years to come!

I have never been one of those people with a "Featured Blog Post", and I was always lucky and felt excited if I got 20 comments... so that was quite the experience for me! I felt super happy and honored to share that milestone with all of you!



But I will say there was a moment, where I got so caught up In the partying, I almost forgot the journey wasn't over!

That's right, Onederland is amazing, it's got quite the view... but Onederland isn't a free place to live. I can't walk around eating like I did when I was 272 pounds and think I'm going to get to stay in Onederland. This community is a great one, but it takes hard work and persistence to make sure you don't have to move out of here!

I had a girls night out on Thursday, and I ate exactly how I expected to... over my calories for the day but a maintenance type range as to not flush everything down the toilet. But then Friday came, and I found myself wanting to overeat yet again!

Um, wait a minute... you are not at your goal weight, you are NOT done losing weight... and even if you were at your goal weight, it is NEVER okay to go back to overeating! DUH! I know that is common sense, but that evil voice that used to tell me "You can't do it! You'll always be fat! You will never get to Onederland!" ended up losing, because I've lost weight and I got to Onederland. I thought that voice had been defeated but that voice actually came at me with a whole new motive!! Instead of the mean, nastiness it usually brings... it came to me and said "Look at you, you have worked so hard, done so well, you got to Onederland like you said, so why don't you take a break? Why not lighten up a little and have some fun... have an extra scoop of ice cream, eat when you aren't hungry, it's not a big deal, don't worry about it, you worked so hard that it's okay to ease up!"

I had never had it come at me like that... so I was really taken back... I almost gave in, and I almost went back for more ice cream, but then I realized the sabotage and had to rearrange my thoughts and my actions to make sure my eyes were still on the prize!



Journey Still In Progress! Upcoming Goals:
192 - 80 Pounds Lost
182 - 90 Pounds Lost
172 - 100 Pounds Lost
170 - Goal Weight (Really going to be an evaluation if I want to consider 160ville or not).

Lots to look forward to, and lot's to WORK towards!







Tuesday, July 23, 2013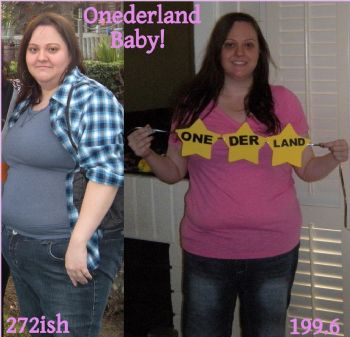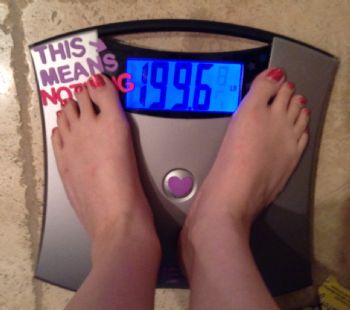 That's right, this is not a drill, Onederland is officially upon us!! As of this morning I'm 199.6! I originally had a bunch of stuff I wanted to say about how this was a long hard journey, but that after 9 years out of Onederland I am so excited to be back and move back in! I even made it into a cute little story about how 16 months ago, I decided I wanted to pack up my bags, move out of Twoterville and move right into Onederland.... but that story was more serious, and right now I am feeling like a party animal!

The emotions inside me are just nothing but

's and

's! It just feels like a huge party and you are all invited!!



















On a serious note... I will tell you that I have had bumps in the road and fallen into the pit of despair MANY MANY times, but the important thing is that you always get back up and you keep pushing! I have gotten here through the support of Spark People and all my amazing Spark Friends! I heart you all and I am so excited that you have been with me throughout this journey and reminding me to keep my eye on the prize!

I heart all my Spark Friends, but special shout out to Susan (IMSOOZEEQ) and Shelby (TheShelbster) who have been with me on this journey for what seems like ever!!



The journey of course is not over, my goal weight is going to be 170ville, and that is where I am headed to, but for right now let's celebrate!

199.6, just over 72 pounds lost!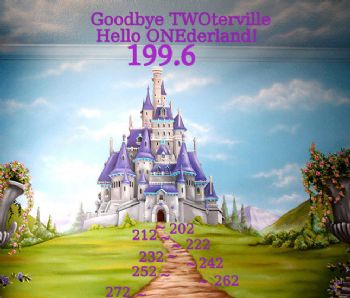 Monday, July 22, 2013
Knowing when to ask for help and support!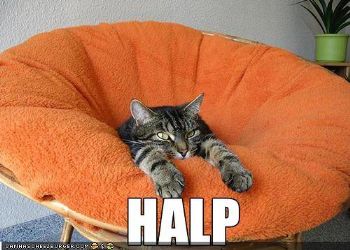 I firmly believe that the successful people on here who have lost great amounts of weight have done so because they know when to ask for help! There might be some exceptions to the rule that have done this solely on their own with 0 support system, but most of us have learned when to speak up and reach out.

When I lost 40 pounds on Spark people years ago, the second I hit a bump in the road I went running for the hills, and hiding in the cleverest of spots so that NO ONE could find me. You could Spark Mail me, you could post comments on my page, but nothing could bring me back to Spark People. I was too ashamed, and embarrassed that things were going downhill fast, and I didn't want to face the music.



Years later, I am here to tell you that is the wrong way to handle things. The reason that Spark People works is because it is the biggest, strongest support system anyone could ask for. At all hours of the day or night there are other Sparkers online, and I guarantee you they'd be more than happy to offer you some encouragement... but they can't help you if you don't ask for it!

I have 2 close Spark BFF's that I can turn to for help, I can talk to my mom or Grandma, I can talk to my Sassy Shamrock Gals

(My BLC team on Spark)... or I can just post a status or a blog and get support from Spark Friends or maybe people that I never even interacted with before. Spark is a great source of positivity if you let it be! But just like any other tool, you have to put in what you get out of it. There are more people on here that care about you and want you to succeed than you might even realize, so never be afraid to ask for help!

That is what I learned through my years on and off Spark, and while I love celebrating my successes and victories on here, I also talk about my struggles... and I don't think showing our struggles makes us look weak, I think it makes us human.








Thursday, July 18, 2013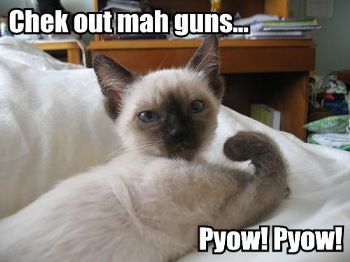 So I have seen tons of people who have been posting and talking about a 30 day squat challenge. I thought that was a super neat idea, the only problem is I am not a squatter. I have arthritis in my knees, and I am always worried about possible flare ups. I have been doing wall squats with a

in between myself and the wall, but that is about as good as it gets.

I have been on this journey 16 months, and have cardio

, eating/tracking calories

, drinking water

, and sleep

down to a science... but the strength training always gets left out.

Before you tell me how important strength training is, I totally and completely understand. My brother is always good about reminding me that I don't want to see big losses on the scale because I'm losing both fat AND muscle, and I know what I should be doing. I don't know why I don't do it regularly, I don't really enjoy doing it, but it's really not awful, so I don't know why I resist.

So I decided to search for a 30 Day Dumbbell Challenge

, and this is what I found...
wholelifestylenutrition.com/category
/coaching/30-day-dumbbell-challenge/

The only thing that worried me a little bit was the squat/lunge type things, but I will work on it. I am excited about this, and completed

tonight. I am doing it just on the beginner level and with a 5lb weight, but everyone has to start somewhere, right? I mainly want to do this to prove to myself that I can stick with consistent strength training for 30 days and complete a structured program. If I can do that, I will do it again at the intermediate level and see about adding more weight... and not to mention maybe I will see some toning in my arms.



In other news, I weighed in at 201 today, and am right on the edge, peering into Onederland! I got to celebrate my 70 lbs down and receive my

! I have no idea why a virtual trophy excites me so much, but it does. I really feel like Part 1 of my journey is ending, and Part 2 is just beginning. When I was 272 pounds, not thinking I could do this, I would tell myself just get to 199. That was never my goal weight, but it sounded slightly less daunting then losing 100 pounds to get to 170. Now that I am finally there (well, nearly), I feel like Part 2 of my journey is starting and I feel excited and upbeat about weight loss again. I'm ready to push forward, I'm ready to take fitness more seriously (that's where the challenge comes in), and I am just ready to push on to goal and then maintenance. After many struggles during my 16 month journey, and a life long struggle with weight, I finally feel like I am in a good place, with

's and

's and I am really feeling in control of this journey!




First Page
1
2
3
4
5
6
7
8
9
10
11
12
13
14
15
16
17
18
19
20
21
22
23
24
25
26
27
28
29 30 31 32 33 34 35 36 37 38 39 40 41 42 43 44 45 46 47 48 49 50 51 52 53 54 55 56 57 58 59 60 61 Last Page

Get An Email Alert Each Time STEPH-KNEE Posts