| | |
| --- | --- |
| | STEELKICKIN's Recent Blog Entries |


Tuesday, December 25, 2012
About a month ago I was caught admiring this leather jacket at our local Harley-Davidson shop...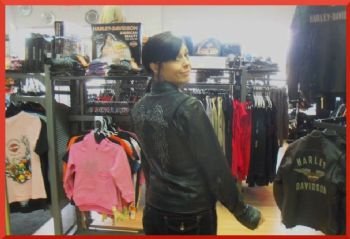 Then this showed up in my stocking this morning!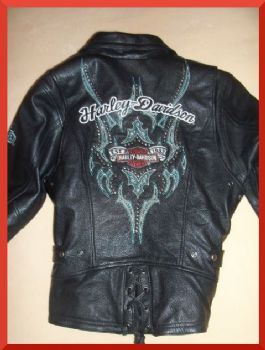 I LOVE it and can hardly wait for milder weather for when I can put it on and ride my Lowrider down the highway. :)

But some of my biggest reasons for loving this time of year are below. At times I had to sit back in silence and quietly admire the banter, the laughter, the poignant moments, that make me thankful for being a part of this beautiful family. I have almost a hundred photos...I'm known for wanting to make a memory of every little thing...but have chosen just a few that gave me a chuckle or touched my heart in some way.

Welcome to my family.

These are Bre's cupcakes she made for our little party.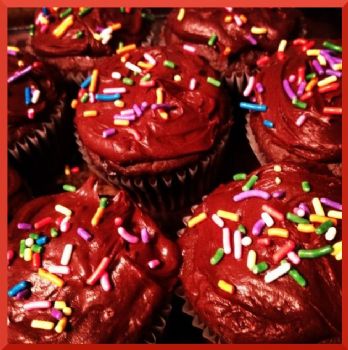 This is Bre and her boyfriend Cory.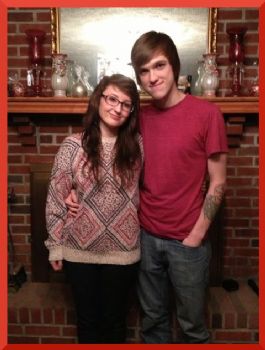 Bre and Cory staging a "caught-off-guard" look at the table. :)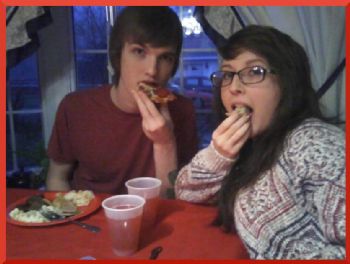 My oldest daughter Brook and her fiance Mick.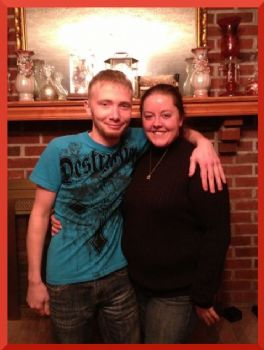 Brook stealing a kiss from Mick...I don't think he minds. :)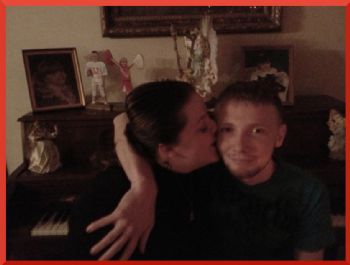 Brook, my grandson Dylan, and Bre.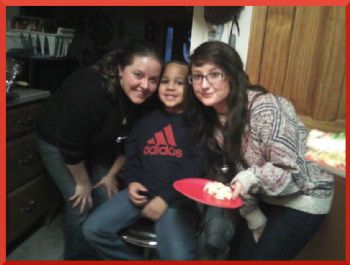 Again in front of the fireplace...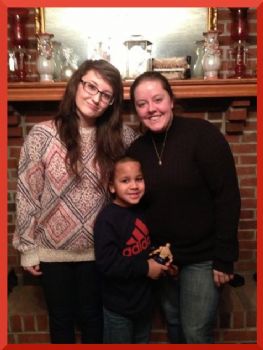 My niece and her husband on leave from the USAF. :)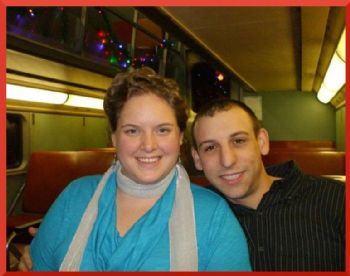 My grandbabies...sent via phone from Oklahoma...oh, how I miss them.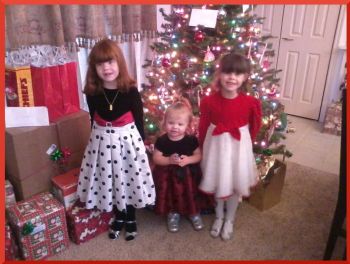 Random shots...

Yes, it's time to eat...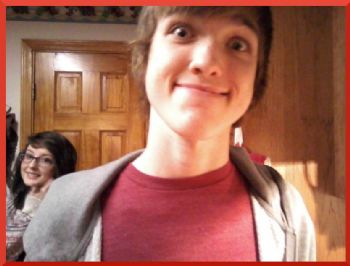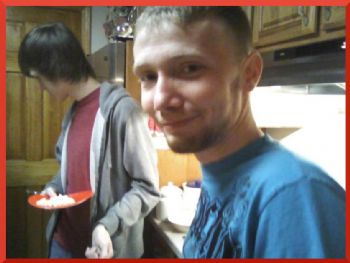 No, Bre, put that down!!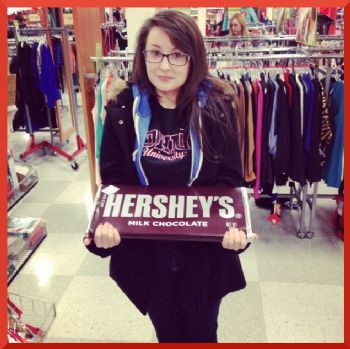 Ah, young love...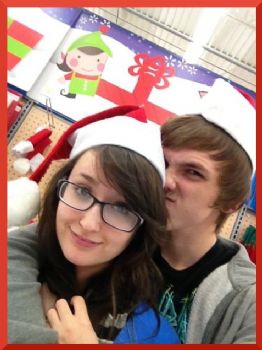 Bre and her grandfather on Brian's side.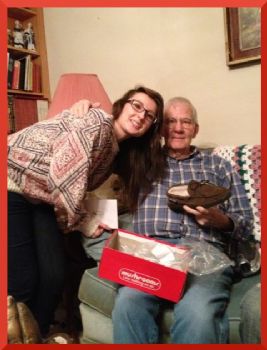 Bre and her grandmother on Brian's side.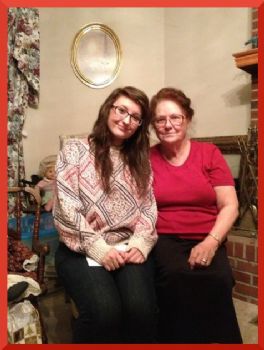 There were some missing faces this year. My youngest son Paul and his wife. But we are going up to see them this Thursday and I will hold my newest granddaughter for the first time. My brother Steve, who will have been with the Lord for three years this coming January 2nd. My mother and father. My oldest son Bobby, his wife and three beautiful granddaughters who live in Oklahoma but shared during our time with pictures and a very long phone call.

I am counting my blessings. And plan to do so each day with the new year approaching.

May God bless each and every one of you today and each day thereafter.

You are loved.






Saturday, December 22, 2012
If I could visit each one of you this holiday season, I would. I would arrive at your doorstep, knock loudly and unceasingly at your door and smile broadly as you opened it. I would then, most likely in a loud and exuberant voice, (some call it 'obnoxious') say, "Waail, hello, sweet thang, ya just gonna stand there?! Invite me in and let's have some fudge!!" And as you stand there in your curlers and house slippers, wondering what the heck just happened, I would blow right by you and make myself at home in your kitchen. I'm sorry. Really. But just give me about ten minutes and you'll either be ready to hug me or throw me out. If it's the latter, you might have a little trouble getting rid of me anyways. Again, sorry. But I will just want you to know how much I appreciate you and love you. I'm just that way. But I'm harmless. Really. (No, really.)

After the initial shock of my arrival wears off (it is, after all, midnight) and you realize I am rummaging in your cabinet for your coffee, you will shake the ringing from your ears and hand me the filters. I will ask about your family, how they have been. I will compliment you on your decor, ask about your pictures on the mantel and ask to see your photo albums. Trust me...before you know it, you will be excited right along with me seeing pictures of days gone by. It will stir memories of Christmas's past. It will bring tears to your eyes, a smile to your heart and a sense of melancholy for the years your babies were born. Soon you will be showing me their special ornaments on your tree and the significance attached to each of them.

It won't take me long to see the light in your eyes.

Then you will be telling me what you got your spouse, mother, father, son, daughter, etc., for Christmas and why. You will begin to tell me why THEY mean so much to you. It wouldn't surprise me if you tell me how you and your spouse met or what day your children were born. You will begin to brag about their accomplishments and the days they did something special for you and how it made you feel. At this point I can feel the adoration you have for them. I am happily silent as I watch the look of peace and joy flow over your face.

See, I know you guys. I've known alot of you since 2009, when I first joined SparkPeople (under a different name). I've grown to love you, appreciate you, understand you. We have grown, like a family. And I know, even in the hustle and bustle of this holiday season, as we are vowing not to eat this or eat that, that you all have huge hearts and souls that make you all SO very beautiful. I know that you all love your families intently, deeply, richly and abundantly. That's good stuff. If I could visit each and every one of you, I WOULD, just for the sole purpose of giving a hug and getting one back from you, because you are just my kind of people. Because you ARE who you ARE.

And maybe to aggravate you. Just a little. And be all up in your coffee and photo albums.

Merry Christmas, sweeties. Thank you for being here as I have grown as a person. (Yeah, I realize I was the rebel child who took awhile to get where I am but it's because of you that I did.) Let's hug our families tighter this year. Let's be free with the hugs and praise. Let's just slow down and take that extra minute or so to linger over our children.

And open the door when I knock. I'm persistent. Really. (No, really.)

God bless. Peace to you and yours this holiday season.







Tuesday, December 18, 2012
I really wanted to lick the spoon after stirring my holiday fudge. I had it in mid-air, almost to my lips, when my brain screamed, "3.5 pounds! On your badonkadonk!" The spoon inched a little closer, my mouth salivating, when the phone rang, jarring me back to reality. It was a telemarketer. "Would you like to purchase a water filtration system?? No?? Well, why not?? Do you LIKE drinking dirty water??!" Back to the pan. By then the fudge had hardened and there would be no licking involved. Maybe nibbling. But I didn't. Sighing, I flung the spoon in the sink and unbuttoned the top button of my jeans so I could breath a little better.

!$@%$!!&!

MY fault. Family illness, new job, the holidays, have all added up to the perfect storm of time restraints, Reese's Cups and good-old-fashioned "just one won't hurt" thinking. I was so proud of myself. I was wearing Bre's jeans she wore in middle school. When they pulled up my thighs with ease a few weeks ago, I grabbed my hair brush and held it to my mouth, waving to the fantasy crowd before me. "Thank you, thank you. This would not have been possible without you, the little people, the Nature Valley people, the Special K people, the treadmill people!" Then I had to spit because I got a hair in my mouth. Then I felt stupid. But happy. Happy stupid.

Now I'm 3.5 pounds over. Ick. But doable to get off. I got this.

Ummm, let's see, what else has been happening? Brian is free of cancer. He still has to get a cat scan of his kidneys but we are confident that it is nothing too serious. My brother-in-law Shane is home after heart surgery with a heart monitor (being sassy but his wife is keeping him in line). Bre is home for the holidays. And I have two GLORIOUS weeks off of work! Oh, I like my job and my coworkers but I would much rather look at my family. And not have to wear a hard hat and steel-toed boots during meals and taking a whiz in the bathroom!

Other than that, life is treating me very well. I am going to be another year older here in a few weeks and I'm not liking THAT too well, but if I were to be honest, I'm not freaking out about it like I have done in the past. Well, except for last Saturday evening when I stopped at the market and got some Mike's Hard Lemonade. When the time came for me to get out my license to show proof of age, the young man behind the counter waved me off and said he didn't need to see it. I speechlessly froze. What??! I said, "Young man, you should always card when in doubt." "But I'm not in doubt." Putting my license back in my purse, I looked at him and said, "Just how old do you think I am?" Looking at me from side-to-side, he pursed his lips and quietly said, "35?" I will take that. But it still stung. Then I stopped at Walgreens on the way home and bought some Estee Lauder Synchronized Recovery Complex and Mirra Retinol Cream. And some Ben Gay. For my aching back.

Which reminds me of what happened the other night. I stood up from the recliner and my knees popped so much they made their very own break dance song. It didn't hurt at all but Brian got up and said, "Aww, baby, what's going on down there??" I suddenly grimaced and bent over to rub my right leg but he rubbed it for me. Smiling inwardly, I "hobbled" to the couch and allowed him to give me a foot massage. Mhm. It was like that. I might be getting older but I ain't no fool. I'll milk it. But not too much. I don't want to give it away.

I hope that you all are doing well. I have held you in my heart, thoughts and prayers even though I do not get much time to be in SparkLand anymore. I also hope that your holidays are off to a great start. With the craziness that is going on in the world, especially Connecticut, perhaps we will draw our friends and family a little closer this year. We need to remember what this time is really about anyways. It's not the gifts or the food, nor the decorating or the tree. It's Jesus and the fact that He was born to give us life. And it's our family and our friends. January 2nd will mark three years now that my brother was taken from us. What I wouldn't give to have him back for the holidays this year. To help me celebrate my birthday the next day. So, let's cling to the ones we have in our lives RIGHT NOW. Smooch their cheeks and tickle their ribs, stroke their hair and laugh at their silly jokes.

Just simply tell them, "I love you."

May God bless you all.

YOU are loved. Alot. By me. And don't you forget it.

Merry Christmas, angels.








Saturday, November 24, 2012
It's been awhile since I've blogged. Time has been whizzin' by so quickly these last few weeks that at certain points I've forgotten to breath. A new job, a newly-found excitement in my relationships here at home have all taken up the majority of my time although I still sneak in here and spy on yer all's pages from time-to-time. Yeah, it's like that. It's my way of staying connected and keeping an eye on all of you trouble-makers, lol.

Another Thanksgiving has come and gone but this year's holiday was a different. It was the first time in SEVERAL years that I spent it with my father-in-law and mother-in-law and it was not a disappointment. We seemed to be able to flawlessly pick up where we left off and it was a treat in itself, aside from the vast array of "goodies" that were on the holiday table spread. (Bre has been down, too! We are putting up the tree during the Michigan/Ohio State game as we do every year.)

My job is different/weird/exciting. Fast-paced. Requiring alot of manual dexterity which I don't have but I AM LEARNING very quickly. My co-workers have come to appreciate my awkwardness and get great joy out of watching me walk into coat racks, losing combustible cans into the machines and sliding across the catwalks like they're made of ice. I am moving to second shift this coming Monday and they each have hugged me tightly and told me they are going to miss my one-woman comedy act. Lol. But the coolest thing about my job is the fact that this place really cares about the community and gives back, especially to the younguns. I was "all over that" the third day I was there and have joined two organizations that serve 23 community agencies. It is very satisfying. :) Plus I get to wear a hard hat!

Mr. Steelkickin and I have enjoyed several days off together. We have been blessed with this time in more ways than one. It saddens my heart to say this but he has to go for a biopsy on December 10th. I can't seem to get a few things straight out of him because I did not go with him for his follow-up on the bloodwork he received. He is not very good with medical terminology, but he is internally bleeding. It has something to do with his bladder, prostate and/or kidneys so I ask that you keep him in your prayers. It is a humbling reminder that we are human and things can go wrong. His side of the family has been plagued with cancer. Perhaps our "reconciliation" has came for a reason. I plan on being on my knees alot in prayer. I plan on sticking steadfastly by his side. I plan on fighting with him all the way if "fighting" is what we need to do. I plan on and WILL be the strength that he needs.

I hope that you each had a blessed Thanksgiving. I hope that you are enjoying your weekend and getting to spend as much time with your loved ones as possible. There is nothing more magnificent than relishing in the warmth of family, holding hands, hugging and just being present in the moment. We are never guaranteed another holiday. We are never guaranteed another day PERIOD. So I ask that you do YOURSELF a favor and kiss the lips that are smiling at you. Reach out and touch the cheek of your child, husband, mother, father, sister, brother, friend. Melt in the warmth of their embraces and laughter. Devour each precious second of their presence. Give thanks EVERY day for their life and the role that they play in YOURS...

God bless you. I love you. Most of all, I give thanks for you and the blessings that you have brought to me. You are all beautiful and precious in God's eyes and mine.







Thursday, November 08, 2012
I had no idea.

I had no idea that my lifestyle has felt "threatening" to my husband.

I had no idea that my time writing, painting, hiking, has left him feeling so ignored, unneeded and often times, unappreciated. I've spent so much time trying to find MYSELF that I left HIM behind. I had no idea. Until he TOLD me. Allow me to rephrase. Until he screamed it at me. Out of frustration. MANY hurtful things were said on both sides. I felt at the end of my rope. I left two weekends ago. For two and a half days.

But he called and asked me to come home for the Steelers game. WTH? He hates the Steelers. But I drove home and we barely spoke to one another until today. My heart was literally breaking into a million pieces inside. Were the things he said true? Was what I said true? Were we seriously growing apart on every level, not caring about the other, two worlds drifting apart, no longer attracted to one another, no longer willing to bend with the tide?? I was deeply scared. He and I have been through alot in our twenty+ years together and I was beginning to think that we were not going to make it through this one intact. In fact, for the last five years we have been mimicking our former selves...braving a face in front of others, tolerating each other at home.

But this morning...thank God for brand new days...he came to me. Before I knew it, he threw his arms around me, lifted me from the floor and squeezed so hard that it took my breath. I was flabbergasted; if truth be told, I was at a loss for what to do. I eyed him suspiciously as he sat me down and that is when I noticed the tears in his eyes. He asked me if I still loved him. He asked me if I was changing so I could leave him. He asked me if I thought he was too old for me. He asked me why I spent so much time writing, painting, doing the things that he couldn't do with me...it all came rushing out in a torrent of anger, sadness, incredible honesty. He ended by saying I "left" him the day he almost died on the operating table in 2006.

God, that hit home.

Reeling, I couldn't think of a single thing to say. I had to excuse myself and I ran on my hiking trail, trying to make sense of what was said. But then I had to face the realization that what he said WAS true. And I had to face the fact that I DID "leave" him that day. I realized it was because I feared the day he WOULD leave me in that aspect and it was an incredible selfish act of self-preservation. Then suddenly, as if a movie projector was playing in my head, my mind started to replay the moments that he was reaching out to me over the years and I did not reciprocate. I sat under a tree and cried until I was literally gasping for air. Incredible shame enveloped me. Incredible pain shot through my heart...

I arrived in the back door and he was drying the dishes that I was washing before I left. He looked at me and he saw my swollen puffy eyes; laying the dishtowel down on the counter he held his arms out to me.

I ran into them so hard I almost knocked him down. He buried his face into my hair and I soaked the front of his shirt with slobber and more tears. Then he told me he was sorry. Gut wrenched with shame I whispered, "No...no...I AM SORRY..."

We spent the rest of his time home before work glued to one another. Like, two really silly kids that just found a friend in each other. Oh, we have alot of work to do, but suddenly I don't feel so alone. I don't feel so alienated. I don't feel the need to worry if I am loved...or if I love him...

I had no idea.

But now I do.

And now I can rebuild. Allow me to rephrase once again...now WE can rebuild.

It suddenly isn't so lonely anymore.

God bless you all today. Don't take anything for granted. Don't withhold love or hugs from the person in your life. Make every effort to appreciate them, understand them, but MOST IMPORTANTLY, listen to them...

By the way, this is Mr. Steelkickin...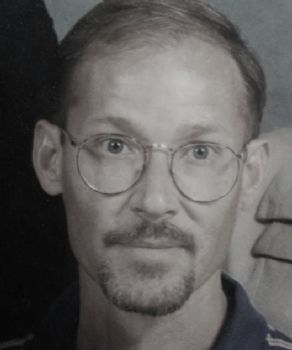 I'm happy to have met him today.





First Page
1
2
3
4
5
6
7
8
9
10 11 12 13 14 15 16 17 18 19 20 21 22 23 24 25 26 27 28 29 30 31 32 33 34 35 36 37 38 39 40 Last Page

Get An Email Alert Each Time STEELKICKIN Posts