| | |
| --- | --- |
| | STEELKICKIN's Recent Blog Entries |


Saturday, November 24, 2012
It's been awhile since I've blogged. Time has been whizzin' by so quickly these last few weeks that at certain points I've forgotten to breath. A new job, a newly-found excitement in my relationships here at home have all taken up the majority of my time although I still sneak in here and spy on yer all's pages from time-to-time. Yeah, it's like that. It's my way of staying connected and keeping an eye on all of you trouble-makers, lol.

Another Thanksgiving has come and gone but this year's holiday was a different. It was the first time in SEVERAL years that I spent it with my father-in-law and mother-in-law and it was not a disappointment. We seemed to be able to flawlessly pick up where we left off and it was a treat in itself, aside from the vast array of "goodies" that were on the holiday table spread. (Bre has been down, too! We are putting up the tree during the Michigan/Ohio State game as we do every year.)

My job is different/weird/exciting. Fast-paced. Requiring alot of manual dexterity which I don't have but I AM LEARNING very quickly. My co-workers have come to appreciate my awkwardness and get great joy out of watching me walk into coat racks, losing combustible cans into the machines and sliding across the catwalks like they're made of ice. I am moving to second shift this coming Monday and they each have hugged me tightly and told me they are going to miss my one-woman comedy act. Lol. But the coolest thing about my job is the fact that this place really cares about the community and gives back, especially to the younguns. I was "all over that" the third day I was there and have joined two organizations that serve 23 community agencies. It is very satisfying. :) Plus I get to wear a hard hat!

Mr. Steelkickin and I have enjoyed several days off together. We have been blessed with this time in more ways than one. It saddens my heart to say this but he has to go for a biopsy on December 10th. I can't seem to get a few things straight out of him because I did not go with him for his follow-up on the bloodwork he received. He is not very good with medical terminology, but he is internally bleeding. It has something to do with his bladder, prostate and/or kidneys so I ask that you keep him in your prayers. It is a humbling reminder that we are human and things can go wrong. His side of the family has been plagued with cancer. Perhaps our "reconciliation" has came for a reason. I plan on being on my knees alot in prayer. I plan on sticking steadfastly by his side. I plan on fighting with him all the way if "fighting" is what we need to do. I plan on and WILL be the strength that he needs.

I hope that you each had a blessed Thanksgiving. I hope that you are enjoying your weekend and getting to spend as much time with your loved ones as possible. There is nothing more magnificent than relishing in the warmth of family, holding hands, hugging and just being present in the moment. We are never guaranteed another holiday. We are never guaranteed another day PERIOD. So I ask that you do YOURSELF a favor and kiss the lips that are smiling at you. Reach out and touch the cheek of your child, husband, mother, father, sister, brother, friend. Melt in the warmth of their embraces and laughter. Devour each precious second of their presence. Give thanks EVERY day for their life and the role that they play in YOURS...

God bless you. I love you. Most of all, I give thanks for you and the blessings that you have brought to me. You are all beautiful and precious in God's eyes and mine.







Thursday, November 08, 2012
I had no idea.

I had no idea that my lifestyle has felt "threatening" to my husband.

I had no idea that my time writing, painting, hiking, has left him feeling so ignored, unneeded and often times, unappreciated. I've spent so much time trying to find MYSELF that I left HIM behind. I had no idea. Until he TOLD me. Allow me to rephrase. Until he screamed it at me. Out of frustration. MANY hurtful things were said on both sides. I felt at the end of my rope. I left two weekends ago. For two and a half days.

But he called and asked me to come home for the Steelers game. WTH? He hates the Steelers. But I drove home and we barely spoke to one another until today. My heart was literally breaking into a million pieces inside. Were the things he said true? Was what I said true? Were we seriously growing apart on every level, not caring about the other, two worlds drifting apart, no longer attracted to one another, no longer willing to bend with the tide?? I was deeply scared. He and I have been through alot in our twenty+ years together and I was beginning to think that we were not going to make it through this one intact. In fact, for the last five years we have been mimicking our former selves...braving a face in front of others, tolerating each other at home.

But this morning...thank God for brand new days...he came to me. Before I knew it, he threw his arms around me, lifted me from the floor and squeezed so hard that it took my breath. I was flabbergasted; if truth be told, I was at a loss for what to do. I eyed him suspiciously as he sat me down and that is when I noticed the tears in his eyes. He asked me if I still loved him. He asked me if I was changing so I could leave him. He asked me if I thought he was too old for me. He asked me why I spent so much time writing, painting, doing the things that he couldn't do with me...it all came rushing out in a torrent of anger, sadness, incredible honesty. He ended by saying I "left" him the day he almost died on the operating table in 2006.

God, that hit home.

Reeling, I couldn't think of a single thing to say. I had to excuse myself and I ran on my hiking trail, trying to make sense of what was said. But then I had to face the realization that what he said WAS true. And I had to face the fact that I DID "leave" him that day. I realized it was because I feared the day he WOULD leave me in that aspect and it was an incredible selfish act of self-preservation. Then suddenly, as if a movie projector was playing in my head, my mind started to replay the moments that he was reaching out to me over the years and I did not reciprocate. I sat under a tree and cried until I was literally gasping for air. Incredible shame enveloped me. Incredible pain shot through my heart...

I arrived in the back door and he was drying the dishes that I was washing before I left. He looked at me and he saw my swollen puffy eyes; laying the dishtowel down on the counter he held his arms out to me.

I ran into them so hard I almost knocked him down. He buried his face into my hair and I soaked the front of his shirt with slobber and more tears. Then he told me he was sorry. Gut wrenched with shame I whispered, "No...no...I AM SORRY..."

We spent the rest of his time home before work glued to one another. Like, two really silly kids that just found a friend in each other. Oh, we have alot of work to do, but suddenly I don't feel so alone. I don't feel so alienated. I don't feel the need to worry if I am loved...or if I love him...

I had no idea.

But now I do.

And now I can rebuild. Allow me to rephrase once again...now WE can rebuild.

It suddenly isn't so lonely anymore.

God bless you all today. Don't take anything for granted. Don't withhold love or hugs from the person in your life. Make every effort to appreciate them, understand them, but MOST IMPORTANTLY, listen to them...

By the way, this is Mr. Steelkickin...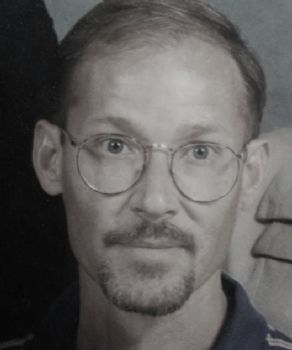 I'm happy to have met him today.







Tuesday, November 06, 2012
You know it's gonna be one of those days when you wake up and give yourself a black eye. Shuffling around in the dark at 5:30 a.m. is never a good idea especially when your intent is to make a cup of tea. That means leaving the cabinet door open, forgetting you leave it open, then turning around and driving your eye into the corner of it. What made it really scary for a moment is the fact that when the pain shot through my socket, I fell back and stepped on a grape on the floor. Pop and squirt. (Check to see if the eye is still in your head before you scream.)

I spent the next 50 minutes on the treadmill with a bag of frozen corn of my face.

Since I wanted to go early to vote to avoid the long lines, I hurriedly got dressed and headed to Liberty. That's when I ran over the squirrel. I wasn't too happy. (Neither was the squirrel.) Shoot, it bothered me so bad, I can't even remember who I voted for.

On the way home, though, Ms. Storts from the Motorcycle Ranch called and informed me that she sold one of my paintings yesterday. I was so ecstatic that I barely missed the guard rail turning onto my road. Quickly hanging up, the phone rang again and it was Evil Derrick and his Cohort Mary. My hiking buddies. No. I do not feel bad for calling them Evil and Cohort. These people are out to get me on every level imaginable but oddly enough I like them. And since Derrick had to be at work earlier today could I meet them at Pine Ridge as soon as possible for our hike??

Evil thought my eye looked funny. Cohort took compassion on me. Then they switched. Evil said, "Aww, poor baby..." as Cohort tried to poke it with a twig. Gasping, Evil swatted it away and told us to get our butts in gear. These people are relentless. You either keep up or you're left to get eaten by the deer and snakes. In my case it was a beetle or a beetle-like creature. But it didn't eat me...I ate it. And I gagged. And I choked. Then I SWEAR TO YOU it came out my nose. I caught up to Evil and Cohort and they were standing with arms around each other. Whispering, giggling and staring at one another off to the side of the trail. My heart wrenched. I stopped and watched quietly as they sweetly kissed each others cheek and tears came to my eyes. Such a loving and tender display....

Hugging my goodbyes and a "see ya guys soon" I headed toward home. Entering the house I was dumbfounded by pieces of corn peppered from the gym room, to the living room, into the kitchen. WTH?? Then I realized it was from the bag I had earlier that morning and it had sprung a leak. Cleaning it up I looked at the empty house and listened to the subtle hum of the refrigerator....

I listened to the messages on the home phone. One was Barack Obama urging me to get out and vote for him. A little late for that, buddy. Oopsie.

Then silence. Again. But if I listened hard enough, I swear, I could almost hear the laughter of Bre and Paul through the walls. From years gone by...

I busied myself with painting until my eyes began to cross. I was too keyed up anyways to make any sense of the canvas before me so I decided to make some spaghetti. I realized I made too much so I put some in a dish and took it down to my neighbor across the street. He is mentally challenged, living alone and I worry about him sometimes.

Now I am home. Anxiously awaiting Monday when I will be going back to work. It will be a good diversion. I haven't been going through the best of time as of late but I'm hoping that will change. If not...well, I am trying not to think of the "if nots." I'm just going to take it one day at a time and praying the "if not" won't happen...

One day at a time. As messed up as it can be sometimes, just one day at a time.

God bless all. Wishing you all a beautiful day.





Sunday, November 04, 2012
So many times...

So many years I've given to bettering myself. I've been on journey after journey to find my personal Nirvana, longing to find that tender balance of spiritual, mental, physical stability that we ALL crave as soulful creatures. Even as I write this I am still searching for my place in this big wide open world...

I could tell you who I am until my voice is hoarse and my face turns seven shades of blue. I can tell you my favorite time of day (and night), my favorite color, my favorite music or why I like to get lost in certain romance novels when I have had a trying day. I can also tell you, while I'm practical and methodical most days, I like giving in to the whimsical spiritual side of me, enjoying utterly sweet spontaneity.

But I think it is who I am not that gives me a clearer definition of the person I see each time I look into the mirror.

As I look back on my life I see the moments, sometimes the not-so-wondrous-moments, that could have changed the way I see life. Or worse yet, altered the way I LIVE life. But there is something in the deepest part of me that refuses to give up the notion, that in the end of all things said-and-done, that I will stand before a Higher Being. One who will ask me, judge me, on how fair I've weathered the storms...

I realized that I am not someone who can lie down and allow life to pass me by. I cannot watch from the sidelines and not long to join in. I want to somehow, some way, make my world a better place to be, not just for me, but for others who share it with me.

I am not someone who cannot forgive. The hardest part, I've learned, is not forgiveness of others. It is the forgiveness of self.

I am not someone who cannot see past my own pain to be there for others during their own.

I am not someone to truly hate. I've been angry, yes, but to hate? Hatred to me is little deaths to the soul that can eat away at the most precious part of you...

I am not that person you will find talking behind your back. I will laugh with you but never at you.

I am not someone who can say all the right things to make you feel better. But I will listen with an open heart and let you find a soft place to rest in the solace of my arms.

I am not just "that girl" with lupus. There are times I cry in private because the make-up can't conceal the rash. There is a place in the smallest part of me that is still frightened of what you might think when you look at me...

I won't become someone I am not just so you will like me better.

I am not a triathlete. Oh, I would like to be! But I have given birth to what I am and I thank God, when I hike, I am able to take the time to see the beautiful things around me. They are creations on His canvas, given the breath of life to be all things great and small.

I am not a person who places much emphasis in material things. I like nice things, yes, but I can't take them to Heaven with me. I can also appreciate the appearance of a handsome man or a lovely woman but that is not what I value. It isn't what makes me want to know you. It is your heart inside of you that makes me ache to love you more...

I am not an option. You either love me, accept me, and trust me. Or you do not. I only ask that you do not discard my compassion while you are trying to make up your mind.

I am not someone who can forget you. If you have passed away, moved on or forgotten ME, your presence made an imprint on my soul. It still lingers in my life and will for years to come...if not for an eternity.

I am not able to deny that our greatest existence lies in the purpose of giving ourselves to others, in the most quiet and gentlest of ways. I am the person who will give you my whole heart as long as you use it to love others more because of it. (But you cannot have my soul for that is God's).

I am not your enemy. I only ask that you eat well, exercise and take care of yourself so that I may have you in my life for a very long time. Why? Because I love you and I cannot imagine my life without you.

I am not impatient.

I am not weak...for I have found my strength.

I am not indecisive...for I have found my focus.

I am not frozen...I have exhaled.

I am not someone who has given up on you even if you have given up on yourself. If you yell at me I will cry for just a bit but will still hold out my arms to you when you feel bad for doing so.

I am not just anybody.

I am ME.

I am Michelle.

Your wife.

Your mother.

Your sister.

Your friend.

You are the sculptors of who I have become. But most importantly, you have shaped me into the person that I am NOT. For that, I am deeply grateful to you.

God bless you abundantly today.

You are loved by many and always loved by me.





Tuesday, October 30, 2012
I was awakened at 4:30 a.m. by a loud "crash" that sat me straight up in bed...my heart pounding, I shook Brian awake and saw a bright light burst through the bedroom blinds. We both jumped to the window. Brian said it was snowing and I pulled the slats down to see for myself. "But what was that light," I asked and the "explosion" happened again. Lightening. I've seen it only once before during snow and it has always struck me as odd. Yet, for some reason, I found it beautiful and unable to tear myself away from the magnificent display of power. Our electricity flickered and went out, then slowly whirred back to life again. I managed to get back to sleep about an hour and a half later once I was satisfied the power might stay on...

It's difficult to believe that it was in the 80s just last week. Indian Summer, nonetheless, but it was delightfully warm. Then this occurred...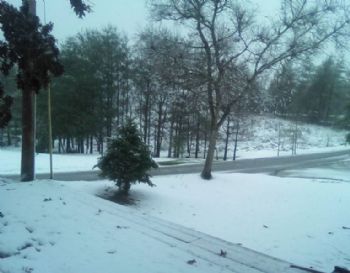 Freddie looked really ticked off and demanded an answer to why it was snowing in October...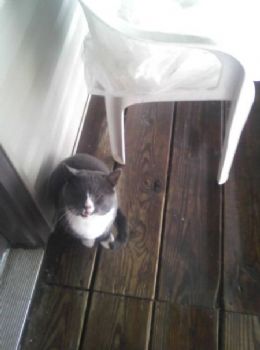 You can't see it in these lousy cell phone pics but the snow is really coming down. I couldn't believe the wind...it was a constant moan.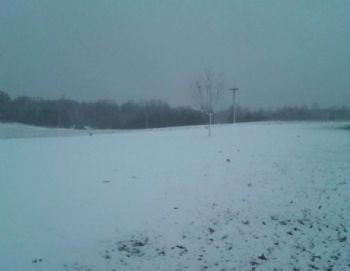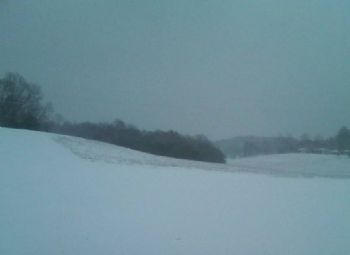 I took to the "dreadmill" today for my daily exercise, all the while praying for my friends who live along the east coast. They are all okay, thank God. However, I feel for those who have lost so much during this time...

It is a reminder of how truly "small" we are on this planet, physically. It puts my mind into perspective that we are no match for Mother Nature and her constantly changing mood. It reinforces my belief that we are all in this world, this life, together; needing one another. It is a shared thread that is woven into our spirits...which is why we feel compassion for one another in a time of need, or when our hearts skip when we hear a child's laughter.

Being "small" gives way to doing big things, though. Whether it be just to reach out and hold the hand of someone else. To lend encouragement, pursue our dreams or helping someone else pursue theirs...being "small" is the tie that binds us all.

I wish you strength to continue pursuing your dreams today. There is no dream too big, no hill too high to conquer, no goal too minuscule. Be the wonderfully awesome Titan and Titaness that you are. Be the lightening in the window that awakens a sleeping soul...whether it be someone else's or your very own.

God bless and I pray for you all today. You are loved. Dearly and deeply. :)





First Page
1
2
3
4
5
6
7
8 9 10 11 12 13 14 15 16 17 18 19 20 21 22 23 24 25 26 27 28 29 30 31 32 33 34 35 36 37 38 Last Page

Get An Email Alert Each Time STEELKICKIN Posts