| | |
| --- | --- |
| | STEELKICKIN's Recent Blog Entries |


Thursday, September 08, 2011
Okay. It's official. I'm over the hump of Breanna's departure. To her delight, I have stopped texting her every five seconds to check on her whereabouts and if she's eating properly or not. I knew it was time when the last text from her said, "MOTHER, I swear...." Guess that's my sign to stop being a helicopter mom....

I guess it's time to start doing what I have kept saying I was going to do. Be me. Find what makes me tick, what makes me happy, what makes me ME. I have been writing, pouring my heart into articles and getting them out there for whoever will listen. I bought a whole new set of paint supplies. A few new outfits. I've recently taken on meditation and "centering" myself, going to a place of calm within myself that I didn't know I had before. I kinda like the new me. I'm not so bad after all. At least, I don't think so. (There are a few at work, though, who would beg to differ but they'll get over it. Haha...)

I got my nose pierced a few months ago. It was a mother/daughter thing. I liked having it but after it snagged on my blankets for the upteenth time, I knew it was time to let THAT bird fly. It has grown over and I happily bury my face in the covers each night, realizing that 42 year-old-women shouldn't have to worry about ripping steel out of their nostrils. It was something that I always wanted to do. Okay, did it. Didn't like it. Moving on...

My son is almost non-existent. He is going through a time of regret for his past actions and struggling against the pull of returning to his past behaviors. He is trying to shut the people out of his life who have cared for him. I think I understand why. I went through a period of deep shame and trying to push people away from me...all because I didn't believe I was worthy of their forgiveness or love. He is so much like me. So, I understand why he is doing that. I won't ever give up on him and realize that prayer is what makes the pain less painful. So I ask that you continue your prayers his way...

Life is a never-ending journey of ups and downs. I've had my share of downs and I am moving on my way up now. I can only control what I can control and I now refuse to be brought down like I was a few short months ago. I'm stronger than that. I'm smarter than that. And by golly, I'm going to live now.

I'm actually going to be "living" in Florida for a week with my two sisters starting Saturday. That's a start, isn't it? What happens in Florida, stays in Florida. Right? I can hardly wait. My sister bought me a new bathing suit. A one-piece that goes to my knees. We're going to have to do something about that!

So, I will see you guys in a few days....I might even bring back some pics and post them. But until then, I love you all and plan on being more active on Spark soon. It's on my list of must-dos to get myself back in the game of life. AND I MISS YOU ALL SOOOO MUCH!

All my love and prayers.....





Saturday, September 03, 2011
Yep. I just sent my baby girl off to college again for her sophomore year. I reflect back on the memories of this past summer; concerts, the wisdom teeth fiasco, 2 a.m. key lime pie thefts from the fridge, a house full of laughter at all hours of the night with friends (my adopted sons and daughters). Suddenly, once again, the house is silent and there are remnants left of her presence. She forgot her phone charger. Her birthday cards still adorn her dresser along with her eyebrow tweezers. (She's going to have to get a new pair quickly! Like mine, her eyebrows grow into a unibrow!) The barren spot in the driveway where her car used to sit sends tears to my eyes...

She took her car this year. THAT MEANS SHE CAN COME HOME WHENEVER SHE WANTS. Okay, that makes me feel a LITTLE better but still....

Ugh. I'm not looking forward to coming home from work to an empty house. I'm more upset for myself. She's happy and well-adjusted. She's excelling. She possesses a positive and nurturing personality and has the most outrageous and engaging sense of humor of anybody that I know. I must have done something right with this kid. I thought it would be easier the second time around sending her out into the world but it feels so much more difficult this time. What's up with THAT??

Okay, center yourself, Michelle. Breathe. One day, one breath, one step, one heartbeat at a time. (My new life motto.) There is one thought that keeps entering my mind. "When I grow up, I want to be just like you." That's what Bre has said to me through-out the years, almost from the time she could talk. But I'm not hearing it in her voice anymore. I'm hearing it in mine...saying it to HER.

Dearest Bre,
I want to be just LIKE YOU. I want to look at each moment as a new adventure, an opportunity to reach beyond my own self-imposed limits. I want to find laughter in the small things and learn how to be content in the MOMENT. Just like you. I want to grab the small beautiful moments by the tail and ride with them, like you have done, and share them with the people around me. I want to be able to share a smile with others even when my own heart hurts, to hold out my hand to help another who has fallen, just as you have done all of these years. Your heart is bigger and fuller than my own. It has always been given to others with so much fervor and grace, so much love, that it cascades over its own walls.

As much as I want to sit here and allow the tears to fall from my face and retreat to my bedroom to wallow in my loneliness, I will not. You would not do that. I imagine that you are giddy with excitement, fixing up your dorm room and sharing time with your friends.

But I miss you. And I love you more than what a human being could possibly love another. I truly believe you do not experience earthly love so fervently and real until you hold your babies in your arms. So, just wait. The true gift of love is yet to come for you when you hold your OWN baby beanie in your arms.

And I will be there. Right beside you...both.

But until then, enjoy being you and learning everything new and exciting about yourself. I will be here when you miss home. I will be here when you need someone to talk to. I will just always be...

HERE for you.






Thursday, August 11, 2011
I feel bad for laughing at her now....but, I gotta tell ya, she was just so daggone funny that I laughed until the tears ran down my face. This morning was Beanie's oral surgery to remove her two upper and two lower wisdom teeth. Although I was filled with worry and trepidation, I couldn't help but giggle when I walked into her recovery room.

She was lying beneath the covers, jaws plumped out with gauze...and the most amazing, widest smile I've ever seen. One eye tended to wander while the other stayed in place and her face beamed when she saw me walk in...

Although I couldn't understand most of what she was saying, I did make out several key words.

"Need more of this stuff...so freakin' awesome!" then she burst out in laughter.
"Baby, are you feeling alright?" I asked.
"Are you freakin' kiddin' me??? When is...doctor coming to take out my teeth?"
"You're done, sweetie!"
"(Laughing uncontrollably) Spifffffy! (Laughing uncontrollably)"
"(Laughing uncontrollably) Not feeling any pain?"
"(Laughing uncontrollably) Shoot! Tell 'im to get back here and take out some more!"
"Nooo, you can keep what you have now. We wanna keep that beautiful smile."
"(Taking her hands and mimicking biting with her fingers...) "Ight!"
""Ight'?? You mean 'bite'?"
"Ask if I can get some to take home with me...I will share. 'Ight??" (Winking...)
"OOOkay, young lady..."
"(Squealing in laughter) I should have worn pants today!" (She DID.)

I was laughing so hard that I couldn't see. But I managed to get out my phone and take a few shots...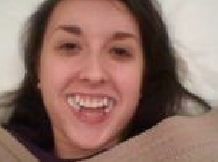 "I can't believe you got me without my glasses!"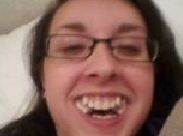 "You usually want pics taken WITHOUT THEM."
"I doooOOOO????"
"Oh dear, you're a handful today."
"That's what HE said."
"WHAT??"

Now I feel bad for laughing, however. She's lying in bed, jaws swollen, waking every hour. Sometimes a little moan will escape from her lips and I will jump to her side. Even at 19, she's my little girl. She always will be. And when it comes right down to it, no matter how old my kids get to be, they always seem to want me, need me by their side when things just aren't "'ight." It makes me feel amazing, loved, and honored...

But, oh, we are sooo gonna get to the bottom of the "that's what HE said" comment when she feels better.



Trust me....





Wednesday, June 08, 2011
I am cancer-free.

I AM CANCER-FREE.

Hearing those words this morning made me feel a number of things. Joy. Exhilaration. The mother-load of relief. I swear, I think I even had an out-of-body experience. I hung up the phone, looked at Brian and burst out crying. I don't think I have ever seen him rush to me so quickly and throw his arms around me. He kept whispering, "What, what, what...what did they say???" and I could finally blurt out the words I've been longing to say.

"It's not cancer. I am okay."

A very sweet man recently told me about the "dark night of the soul" and how it is God's way of making us who we are, how it can serve as a catalyst to draw us closer to Him. I always thought God and I were on the same page during my journey with Him. I always thought that we pretty much wanted the same thing for my life. When I was told about my lupus and heart defect, I accepted it for what it was and placed my trust in His ability to take care of me. But when I was told about the possibility I may have cancer, I became angry with God and almost felt a sense of betrayal. I started to push Him away when what I should have REALLY done was draw Him closer to me.

Even though I was feeling this way, almost to the point of shutting Him out of my life, He STILL wrapped His arms around my soul and took care of me. Imagine that.

Our God is an awesome God.

Someone else told me that I have to allow my friends to be there for me. It's funny how I know that it is true deep inside my heart and yet, I was almost afraid to let it out. Maybe out of fear of being seen as a drama queen and not wanting to bother everyone with my problems...you guys have plenty of dilemmas of your own and I did not want to add to them. But MY GOODNESS I am glad I did because I am sure...NO, I KNOW...your prayers are what helped to pull me through this. And it gave you all an opportunity to reach out and do what your heart longed to do. I owed you that. And I benefited in the end.

NOW, what am I going to do with the rest of my life? Now that I am cancer-free? It feels like the whole world has suddenly opened up before me and there is really nothing to get in my way. I don't have to worry about the "what-ifs." I don't have to lay in bed and worry and go through the thousands of scenarios a cancer diagnosis could bring. But I gotta tell you, it gives me a taste of what those who DO have that hideous disease are going through. I can't even begin to imagine the feelings that they have. It gives me a new appreciation for their tenacity and strength. It gives me a deeper respect for those who have battled it and won back their lives. And it gives me a sadness in my heart for those who couldn't persevere, who lost their lives and left behind broken families who are asking the same questions. "Why MY mother? Why MY daughter? Why MY FATHER or SON?

Valuable lesson learned. MANY valuable lessons learned.

The biggest one is that my God never left me even when I pushed Him away.

"What can separate us
From the love of Jesus Christ?
Nothing this world can even change.
I thought I once was lost
But now've been given grace...
It's a mystery that I will not chase..."
--Jeremy Camp

Thank you for your prayers. And thank you for being a patient and loving part of my journey...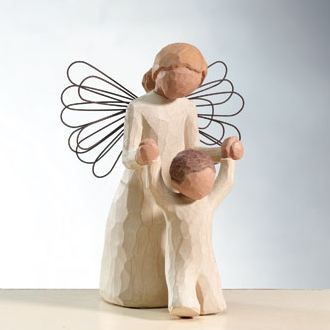 ...For I believe the wings of angels are often found on the backs of our closest friends.








Thursday, June 02, 2011
I've been gone so long, I almost forgot how to navigate through SparkPeople. Shoot, I almost forgot my password and had to dig out the notebook where I keep such things. (There must have been a half inch of dust on it.) I am a mess, to be totally honest. I am so used to being able to be the happy one, the one with some sort of "learned lesson" to share with others. Yes, there were alot of times I would have struggles and blog about them but usually, at the end of it, I would find a way to make it okay. To realize something profound. And hope that in some way it would help someone else.

But lately I haven't had any of those experiences. I've been numb, going through the motions of day-to-day life and wondering why I feel the way I do. I've been lost. My feet have felt like they are stuck in muck and mire. And when I logged on the other day and saw that Willow passed away, I wanted to do nothing but cry. She was a selfless soul, constantly giving of herself, exuding nothing but hope and faith to all those who knew her and they rejoiced in her presence. I immediately logged back off and tried to desperately understand why life is so unpredictable and cruel. At times. I know that life is that way and that is when we must rely on our Lord's understanding and not our own. But it still hurt.

I am looking forward to Beanie's homecoming next week. Maybe that will help.

I've been working unstable, sometimes long, hours. To be blunt, my job sucks because it has sucked the life out of me on so many different levels. One day I love it, the next I hate it. Some days I am widely appreciated, some days I am looked at as if I am a witch. I was offered a management position and I looked at them like they were on drugs. I am being offered a couple of training courses specifically tailored for another position in the company, which would give me a pay raise, but I can't seem to give them a definitive answer. My latest evaluation was graded "exceeded expectations" so why do I feel so empty? I don't care about the money. I don't care about the title it would give me. I just want to go home and sleep before I have to turn around and do it all over again.

I'm sorry, guys. I really am. I think I am depressed. So many of you have given me goodies, written emails and showed so much love and concern toward me. I am deeply touched. I am sorry that I have been non-existent here and I MISS YOU ALL SO VERY MUCH. Before I know it, one day turns into two, two turns into four and then twenty three days later after my last post I decide to write a blog about how yucky I am. I'm sorry I don't have much good to say. I'm sorry I can't make you smile.

Please pray for me that I will snap out of this, if you can find it in your heart to do so. And while you're at it, please pray that the results of my biopsy will come back okay. I have two growths on my cervix that the doctor said are not typical and she was very concerned. That's kind of got me bugged out, too. I can honestly say that I love you all just the same, if not more. And that I miss you beyond all understanding.

And I really am very, very sorry for being away so much. With all my heart, I am very much missing you and feeling terrible for not being here for my friends.





First Page
1
2
3
4
5
6
7
8
9
10
11
12
13
14
15
16
17
18
19
20
21
22
23 24 25 26 27 28 29 30 31 32 33 34 35 36 37 Last Page

Get An Email Alert Each Time STEELKICKIN Posts