| | |
| --- | --- |
| | STEELKICKIN's Recent Blog Entries |


Friday, February 11, 2011
I'm beginning to think I've given my kids a bad rap over the years when they lived here. From damp towels laying in the bathroom floor to the overflowing laundry basket to crumbs on the floor, I would, for the thousandth time, lecture them over their sloppiness and demand that they take the initiative to pick up after themselves. Usually Brian would stand by my side and tell them to listen to their mother, because, after all, I "WASN'T THEIR MAID." When Bre left for college, I was sort of looking forward to only having to clean my house once every other day or so. Surely the load would be lightened. Right???

But weird things have been happening. For example, just this week, I've found these things occurring in my house:

1) A pair of mens' crusty socks in the love seat. A pair of men's crusty socks under the couch. And a pair of men's underwear under the kitchen table. (??!)
2) Five used razors on the bathtub in the bathroom by our bedroom.
3) In the middle of the night while reaching for the toilet paper, I've found an empty cardboard roll on the t.p. holder.
4) A milk carton with two teaspoons of milk left in it in the refrigerator.
5) Dried hard salt around the buttons of the remote control.
6) Cashew dust on the t.v. stand.
7) Dried toothpaste in the bathroom sink...and toothpaste spatter on the bathroom mirror. Along with dried Scope dribbled down the side of the magazine rack.
8) Two of my new plush washclothes stiff-as-a-board underneath Brian's shiny clean motorcycle.
9) A damp pair of Dr. Scholl's sticking out of the slats of the heating vents in the living room floor.
10) Floss tied around the doorknob. I'm STILL trying to figure that one out.
11) A screwdriver stuck in the dirt of my aloe vera plant. SERIOUSLY???? Plus, a wrench in the fork drawer.
12) Toenail clippings on my jewelry box.

Don't ever let your Old Man put the laundry away either. I found my potholders in his underwear drawer and my bras in the filing cabinet.

Plus, I couldn't understand why my eyebrow tweezers were always "weird" on the ends until I walked in and found him sticking them up his nose. I still have nightmares about that...and have promptly removed all of my grooming utensils from his reach. And when Breanna was home last weekend, I heard her scream, "Dad, that is SOOO GROSS! Get that away from ME!" I didn't ask. I was to the point where I just didn't wanna know anymore.

Tonight, though, while he was getting ready for bed, I followed him to the bedroom and turned the covers down for him. I fluffed his pillow, like I have done every night for the last 20+ years and laid out his clothes for the next day. I watched him slowly change into his pajamas, tired from a long day at work, and abandon his socks, pants and shirt on the floor. Raising one eyebrow, he wearily looked at me and said, "Don't worry about those. I will get them tomorrow." and fall heavily into bed. Suddenly, I didn't care. I sat down beside him on the bed and pulled the covers around his shoulders, watching his eyes slowly close. I stroked the hair back from his forehead and touched his cheek; he smiled and grasped my hand and pulled it to his chest.

My goodness. With tears stinging my eyes, I reached down and picked up his clothes which were still warm from his body and cradled them to me as I made my way to the laundry room. Suddenly I didn't care about the muddy bootprints on the rug at the front door entrance. It is material evidence that this man is HERE WITH ME as he has been for the last 20+ years. I felt myself being pulled back to the bedroom to his side of the bed; I laid down beside him as he drifted off to sleep, his arm tightly wound around my waist. The sound of his heart echoed in my ear as I snuggled my face into his chest; that same heart that almost stopped beating on him and me almost five years ago after his heart attack.

I think I like ice cream smudges on the freezer door....and freshly-laundered gum wrappers in the dryer.

It's kind of a "small price to pay" for the love he has given ME for so long.

But he's still not getting my brand new set of tweezers.

I'm just sayin'.....





Thursday, January 27, 2011
I wish someone had sent me an email or SparkMail telling me not to get up today. A phone call would have sufficed, too! It's COLD. I've layered my layers and cranked up the heat to no avail. My painting that I'm currently working on for a dear friend in California, her sweet little puppy, has ended up looking like Cujo because of my shaking hands. I think it's best that I put THAT aside until tomorrow when it's supposed to get up to a balmy 43 degrees.

So, I decided that I would start the meatloaf for dinner this evening. I carefully sliced the onions and the green peppers. Mixing it in with the ground lean beef, I added some salt and pepper...but what was that smell?? Why did I smell CINNAMON?? After careful examination of why the pepper's color seemed a little off, I bowed my head and sighed. Have you ever tried to scrape cinnamon out of a ball of meat?? That you've already slightly mixed?? I'm keeping my fingers crossed that Brian won't notice. Maybe he'll like it. Or maybe he can kiss my...

No, no, no, I'm not in a bad mood! I'm just wondering why we have days like this?? When you go to check your mail, wave at your neighbor and your fly is unzipped?? Or you answer your phone and they want James Weaver...you politely tell them that they have the wrong number and they tell you ANYWAYS to tell James Weaver to take a flying leap into an abyss far, far far from here? Or worse YET, they want Brian; you tell them he's at work and she says, "WHO are YOU??" Explaining to her that you are his wife, she replies, "He didn't tell me he was married, that moron." After fifteen minutes of heart-stopping inquiries you both come to the realization that THIS Brian she is speaking of is 26-years-old and the last time YOU checked you were married to a 50-year-old. It almost got ugly. I wanted to wring her neck just for scaring the bejeebers out of me. (I'm still slightly ticked at Brian just over the THOUGHT of him being with Miss SARRRAAAHHHH.)

I climbed on my stationary just a while ago. I was getting a good burn going when the seat suddenly tilted to one side and I heard something hit the floor. It was a bolt. Before I could get off and pick it up, I heard the snap, mentally said, "Oh crap..." and hit the floor. It was karma telling me that exercise wasn't necessary today, to enjoy my day off, right? Then I slung the bolt at the telephone. Don't worry, Betsy, I missed it. The new phone lives to see another day. Or will it???

Other things that's happened today:

The light burned out above the sink.

The toilet almost over-flowed.

The washing machine went off kilter and I found it in the middle of the floor.

I spread-eagled my toes on the dryer trying to get the washing machine back against the wall.

I said a bad word.

Several times.

I lost the checkbook and found it fifteen minutes later in the freezer. (Kind of gives a new meaning to the term "cold hard cash," doesn't it?)

I found Brian's crispy sock stuffed down between the cushions of the love seat. It didn't matter that it was the love seat. I wasn't feeling any.

OH!! And for those who were wondering about the cat in the toilet episode I mentioned in my last blog, TRUE STORY. I'm not supposed to, but there are times I bring my cat, Freddie, inside the house during the day.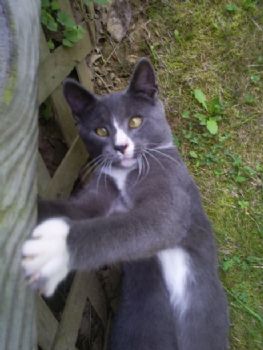 He likes to play with the toilet paper on the roll, spinning it off at top speed, while I'm getting ready for the day. So, I took it off and placed it on the toilet tank, not thinking twice about it. He jumped for it, missed, and landed in the toilet bowl. I don't know if you can see by the above picture that Freddie's eyes are slightly crossed. Sort of like mine first thing in the mornings.

It's only 12:30 in the afternoon and I feel like I've lived nine lives.

I think I'm going to go to town for a cup of good coffee. And score some hookah.

That should do it.

Have a great Thursday, guys. At least someone should.







Tuesday, January 25, 2011
I've been trying to blog for three days now. I'll start one, get halfway through, then think to myself, "Do these people REALLY want to know why the cat got into my toilet?" Or "If I put this in black and white and something REALLY happens to Brian, will I get the blame??" Usually huffing, I will delete everything and go off to my painting corner. It's amazing what frustrated streaks of blazing red will do for a painting...or black. After that I usually wash my brushes, lay them out to dry, grab a magic marker and black out all the teeth of the models in the Elder-Beerman flyer. Or put horns on the guys in the motorcycle magazines.

I've just been...what's the word I'm looking for...disjointed in my thoughts as of late. Restless. Not so much "angry" just searching for something of which I don't know what I'm searching for. I keep telling myself that it will pass. Especially when winter is over and I can climb on my bike and take off like a bat out of heck on the highway. THAT'S my problem. I like heat. I like SUN. I have a feeling that my Vitamin D levels are pretty much non-existent. My skin has turned vampire-white and my recent hair dye job has made me look gothic. I woke up the other morning to Brian holding his finger under my nose checking for air output. When I opened one eye. he practically jumped out of his skin; he had the nerve to tell ME I scared HIM???

Sigh. I envy people who live in the tropics. Or southern Arizona. Like where my 28-year-old son lives. He has to call every weekend and say, "Do it! Guess! Guess the temperature here today!" The last time he called and said that, I hung up on him. He immediately called back and I let the phone ring until the answering machine picked up. It was then he screamed, "74! CAN YOU FRIGGIN' BELIEVE IT??" Some days I STILL threaten to give him up for adoption.

Breanna is doing well. She texted me at 2 a.m. the other morning telling me she discovered a great place to hang out with all of her college friends. It was called "The Hookah Bar" and, half asleep, I texted back, "That's so great, honey. Enjoy." At 4 a.m. I shot up out of bed and Googled "hookah." HOOKAH??? The NAME just sounds wrong. BAR??? Oh, HECK no!! After 45 minutes of texting to a person who did not answer back, I was getting pretty spastic. Finally at 5 a.m. she texted back and said, "No, Mom, I'm not at the bar, I'm in BED! Some of us have class today!" She finally reassured me that she did not ACTUALLY GO TO THE BAR, but to the little game room ABOVE the bar. Now, would I please allow her to sleep... and not tell Dad?? What?

I'll be fine. Nothing that a few days of rest can't cure. And a seventh Super Bowl win can't take care of. Oh, it's gonna happen! Yessirree!! I've already got my guest list made and made a list of all snacks I'm going to prepare. No cheese, though. Cheese is prohibited.

Hookah?? Maybe. Depends on how the half goes.








Wednesday, January 19, 2011
Just a little update on things...I've just come off of a flare-up and have slept my brains out for the last few days so it has done me well. I think I needed it! Anyone with insomnia will tell you that these little reprieves are a total-Godsend and you take them when you can get them. I can't help but wonder if BT contributed to my sudden illness. I've taken a break from that as it has caused me to have a poor appetite although my energy levels went out of control. Any sudden change in my normal routine not only screws with my lupus or OCD but causes me to feel disoriented and out of control so perhaps it's not a good thing for me. Which really sucks because I was seeing immediate results but, in my opinion, it's not worth what's left of my mind.

Uncle Larry is stable. They have inserted a feeding tube and he is coherent from time-to-time. It still doesn't look great but, in my experience, I've seen the elderly bounce back from the brink of death and go for another few months or years. He has the support of his family and his church and the prayers that he has received has certainly aided in his perseverance and hopeful attitude. Shane is still waiting on word when he may be going to Afghanistan. I've been comforted by your comments on how things are slightly better there for ones who are serving or helping to rebuild. In all honestly, I'm still slightly sick over the thought of it, but he is in God's hands. By all accounts, that's the best place that any of us could ever be.

I'm still going to be absent here and there but will get on every-so-often to see how much trouble you all are causing. Once things calm down, I will come and visit each of you personally and hand out the appropriate punishment. Haha....or give you kudos.

Love you guys. Each and every one of you! Thank you all for bearing with me...





Thursday, January 13, 2011
I'm sold, guys. I slept last night ALL NIGHT, for the first time in two years. After my BT yesterday morning, the rest of my day was energized. That evening I took a leisurely 45-minute stroll on my stationary bike followed by a hot bath. Once my head hit the pillow, I was out like a light. For me, the fact that I slept like a baby, had me up and at 'em to do the same thing today. I am appreciative of the concerns some of you have while I do BT. With my healthcare knowledge and background, it doesn't seem as if exercising this way before breakfast would be a positive thing. However, I will carefully keep close scrutiny on my body and make needed adjustments. I am aware of my limitations and promise to not push past them.

This morning I was biting at the bit to get started. After warming up with a moderate pace on the stationary for approximately 10 minutes, I cranked it up until I was in the "zone." By "zone" I mean the place where my body adjusted nicely to the increased speed where I was to remain for 40 minutes. I have settings on the bike tension that range from 1 to 10. I use nine because it works the muscles in my legs as well giving me the "oomph" for my cardio push. I could feel my body getting used to that speed and my lungs and heart rate became used to the "high;" I was not out of breath, I was not feeling any discomfort. I easily kept the pace until I had to remind myself that my pre-set limit today was for 40 minutes only. I could have went farther, harder, longer. But I will maintain a steady increase over the next few weeks so that I don't burn out.

I slowly decreased my speed over the next ten minutes. I actually felt more energized than before I began. A little sidenote of information here: I am not a breakfast person by nature. I've always had difficulty with nausea eating first thing in the morning so most days I DO NOT eat it. On this program you are REQUIRED to eat it, no ifs, ands or buts. I've noticed the past few mornings that I do NOT have the nausea while eating and, for me, that is a HUGE plus to this program also. I slept, I'm eating breakfast. So far that's two things in two days that have been positive for me.

Here's the biggie for me. This morning I had a decrease of muscle and joint pain. My left arm and left shoulder are constantly afflicted with discomfort and, at times, burning pain. My right foot is the same way, as well as my hips. That's my lupus. When I got out of bed this morning, I had to shake my head and wonder why I felt "weird." It was then I realized I didn't hurt as bad and the steps to the bathroom weren't nearly as stiff and painful as they were the day before. I'm not saying at this point it's the BT, but time will tell. If the BT will lessen my pain and give me relief, it is a Godsend and an answer to my prayers. So, keep your fingers crossed for me. I'm sure it isn't a cure by any stretch of the means, but if the pain lessens it is the manna I've been looking for.

So, so far, so good, guys. I gotta go now because it's killing me to sit here! I have a lot to do and the energy to do it! Have a great Thursday and God bless!




First Page
1
2
3
4
5
6
7
8
9
10
11
12
13
14
15
16
17
18
19
20
21
22
23
24
25 26 27 28 29 30 31 32 33 34 35 36 37 Last Page

Get An Email Alert Each Time STEELKICKIN Posts