| | |
| --- | --- |
| | STEELKICKIN's Recent Blog Entries |


Wednesday, April 06, 2011
I am convinced that you can't find better friends or confidantes than here on SparkPeople. Yesterday and today I have received goodies with words behind them that brought tears to my eyes and joy to my heart. There are good people here. No, there are ANGELS here and I will always believe that from the bottom of my very touched heart.

I haven't exactly been the best of a friend back, though. I have allowed myself to exhibit and harbor a very short temperament in the last weeks that have passed, a very short fuse in the way of family and friends whom have only had my back and were looking out for me. Even as I was being grumpy, I realized that I was being that way yet didn't want to put out the energy to change it. I have been laying my head down at night feeling regret and remorse, making a mental note to try to do better tomorrow. Tomorrow would come and it would be no better than the day before. I was just tired of trying to be the "nice" one when everything in MY life seemed to be going wrong for me.

What a ridiculous and shameful attitude. If that isn't the epitome of laziness, then I don't know what is. It's almost like I was punishing everyone else because things weren't going right for me. That is really lousy and, although it felt "good" at the time to just let mean words fly, later I would cry and want to just fade away. That lead to more shame and more anger in the fact that I wasn't exhibiting any self-control for ANY emotion that I was feeling. So, I've been putting my heart and soul underneath a huge microscope. I've been re-examining my intentions and goals and making sure I include God in every aspect of my life. An amazing thing happens when you do that.

You don't feel so quite alone anymore.

Suddenly you feel like you don't have to carry the weight of the world on your shoulders. Even though you may be surrounded by the most understanding and caring people in the world, you suddenly have a realization that there is Someone who can help you carry the load, from the smallest of tasks to the giant ones. And you can find rest. In your mind AND in your heart.

I've always been a big believer in the Golden Rule. Do unto others as you would have them do unto you. And I have always tried to put myself in other people's shoes. If the person on the other end of phone was grouchy, then I told myself that they might be having a terrible day. If someone cuts me off in traffic, then I told myself they may be going to visit a loved one in the hospital who doesn't have much time. But lately I have been looking at everyone and trying to see past the exterior plane. I have found my heart reawakening and have felt a connection to everyone I meet. I've realized we are all on this unfair and sometimes cruel earth together. I've also realized that, at the end of the day, we all put our heads down at night hoping to see the dawn of a brand new day.

Some of us don't get that chance. Some of us may even be on borrowed time and we have to make the most of what we have at this very moment. Which means that what we do today has to COUNT. It has to mean something to US and to OTHERS. And if that means watching what comes out of our mouths in the heat of the moment, isn't it worth it to take the few extra seconds to think before we speak?? I'm speaking from a personal standpoint here. I've mouthed off everybody from my old man to my managers at work. I'm surprised I still have a job!

"Have you been walking on a surface that's uncertain?
Have you helped yourself to everything that's empty?
You can't live this way too long.
There's more than this, so much more than this.
Have you been holding on to what this world has offered?
Have you been giving in to all these masquerades?
It will be gone, forever gone.

Sooo...

Let this old life crumble, let it fade.
Let this new life offered be your saving grace."

Each day can be a new beginning, a new life to be explored, to be taken as a gift from God. A new day, a new beginning, the opportunity to see the sun rise in the morning is not a thing to be taken lightly. We can squander our minutes or we can make them count for something. We can waste precious seconds by being the ultimate grouch, to make someone feel like crap over something minuscule in the grand scheme of things, or we can move ourselves to be there for them in the true heart of understanding. Believe me, everything we say or do has a backlash. It can either come back to "haunt" you or it can lighten the load of the heaviness in your heart.

Let your old life crumble. Let it fade. Are you carrying the weight too much? Are you running from the true call in your life? Are you squashing down the light within you that could be touching the heart of another? Let it shine. Let it out. There are those out there who need to see what only YOU can give. Trust me, in the end, you'll be the one with the greatest gift when you realize what you are truly capable of doing...

and giving.

By the way, I know for a fact that you can really touch someone's life who really needs it. How?? Because you've all touched mine.

More than you will EVER know.





Tuesday, April 05, 2011
Somewhere along the line we tend to lose the child-like wonder of the world around us. We become so burdened with LIFE. We become "programmed" to keep up those around us, to have the have-nots, to stay in the clique, to be in the "in" crowd. Or maybe we just don't care anymore and find ourselves "dropping out," or maybe even pulling ourselves into the proverbial fetal position, closing our ears and hearts to the caring and outpouring of love around us. Meanwhile, in the back of our minds, there is a steady knocking, a whisper that says, "But are you REALLY happy? Is this what you REALLY want?"

I had been doing both. Physically and mentally I've been playing a spiritual tug-of-war with myself. But through this mini-battle, which isn't quite over yet, I've come to realize things about myself and my views of life in general. It's been a journey of self-realization, a re-awakening that, I believe, God has placed upon me to get my feet firmly planted back on the path that leads to Him. He never gave up on me. Even when I gave up on myself. Even though there are still times I want to throw in the towel of self-defeat and sigh, "Whatever, ya know? It's all just too much for me to handle." I've managed to raise my head during those times and see the outstretched arms of my Father, a smile on His face that says to me, "Here I am. Don't give up because I haven't. Just rest here. Let me take care of the minutes, hours and days before you."

There is a song by Jeremy Camp that goes something like this...

"I take a look at my life and I wonder why I go through the things I do.
Then I see everything in a different light and understand Your promise isn't through."

"I see that it's best for me to go through the struggles that I have.
To help me to clearly see and to shape me and mold me as I am.
The purpose sometimes we may not know and the hope may not be clearly seen. There are many things He wants to show and He wants EVERYTHING at his feet."

The chorus explains why:

"To make me a (wo)man, wholly devoted to You...and keep a childlike faith."

So maybe this is why we have struggles, whether it be financially, mentally, spiritually, or whatever. These struggles are what makes us into the people we are today. We can either allow them to harden us, overtake us or make us better people. Perhaps it will help us to better understand those around us so that we may be there for THEM in THEIR time of need. I don't really know. But my personal journey through my little health crisis has had me riding the roller coaster of uncertainty. It dawned on me this morning while I had the massive chest x-ray machine rolling circles around my upper body that this life doesn't have to be lived pefectly...it just has to be LIVED. And LIVED in such a way that we can lay our heads down at night with a clear heart and clear mind. If that means reaching out to others whom we might not have otherwise reached out to before, then so be it. Even when our own mind screams, "But I'm going through a personal crisis here!!! I don't have time for anyone else's drama...."

Coming home, I passed a girl walking the side of the road. She was roughly the same age as my Beanie, with tattered clothes, a thin jacket that was trying desperately to warm her body against the bracing cold. My heart broke into a thousand pieces and I thanked God that my daughter was warm in her college classroom at that time. But my heart still anguished because this was SOMEONE'S daughter, someone who didn't appear to have had the same opportunities my baby did. Her frail body struggled to climb the hill, her face turned down as it looked at the concrete underneath her ragged shoes. I slowed the truck and asked her if I could give her a ride home. She pointed to a house just beyond the trees and said "thank you" but she was already there. But something struck me with a lightening reality...there was suddenly a LIGHT in the shadows of her face. Just enough to remind me that within this person was a soul who needed kindness just as much I do...as much as you do....

I wish for us all to do one thing EVERY DAY that might give a spark to someone's soul. It just might surprise you how many will take a kind word or action and make a mountain out of it. For all we know, they might fabricate a tapestry of wonderful things in their lives from those few seconds or minutes we offer to share with them. How many of them will we eventually see entering the gates of heaven because we showed them a little bit of Jesus in that moment?? Who may otherwise have not been show Him before?

Give a little bit of yourself even when you don't feel you have anything left to give. You'll be surprised at how much lighter your own burdens feel after that....

God bless and happy giving.





Sunday, February 13, 2011
Nope. He doesn't possess the ability to wait until the ACTUAL day to give gifts. The day before Christmas he will give me a present or two, the day before Thanksgiving he will steal a piece of pumpkin pie from the fridge and my birthday is usually celebrated the day before. He is like a little kid who can't wait and, amidst the "No! No! No!s" will shove the impending present before me with wide-eyes and an elfish smile. Today was no different. This evening, before me on the kitchen island, was a pretty red cellophane heart-shaped box adorned with the name "Russell Stover." I told him that TOMORROW was St. Valentine's Day and he nodded impatiently and pushed the box a little closer...

The hand-written words on the card jumped out at me:

"Just a reminder that I love you...
not just during the good times but during the hard times as well. Maybe even more now than when we first met. I need you and want you by my side all the days of my life.

I will love you always,
Brian."

When the tears welled-up in my eyes, he seemed satisfied that he had touched the part of my heart that always spills over with such sentiments. Then he stuck his hands in his pockets and said he was going to go change the oil in the truck.

I don't want to change that about him. Well, let's put it this way, I wouldn't be able to if I tried. When he and I first met, this little idiosyncrasy used to get on my last nerve and we even fought about it a few times. Not only does he do this with me, but he used to do it with the kids, too. They obviously didn't see a problem with it, but I always wanted to stay close to tradition. I was raised to wait for the day and I didn't like navigating from those routines. He was raised the same way, too, so I could never understand why it was so difficult for him to wait for the appropriate day for gift-giving.

He knows that I'm a stickler with dates and will give him his gifts tomorrow, a small box of candy (he's not a huge chocolate-lover) and a Harley-tee. In fact, when I tried to give him his gifts tonight, he backed away and said, "No, I can wait until tomorrow." as if it were ME who couldn't wait in the first place.

I asked him this past Christmas why he does it. His answer?

"We're not guaranteed tomorrow. So don't put off doing tomorrow what you can do today."

I guess that can apply to just about anything, right?? Like smiling at your neighbor, a surprise touch or hug to the ones you are closest to in your lives. Maybe we should all just CHILL OUT and REACH out to our loved ones a little sooner than expected. I'm not saying we should all go nuts and give our Christmas presents on Thanksgiving or celebrate Thanksgiving on the Fourth of July, but maybe we can give of ourselves a little more "freely" as if we ARE celebrating a "holiday" that very day.

So, I'm sure that Russell Stover was pretty popular with the ladies back in his day and he's still invoking lust in us chocolate lovers today, but I think my Old Man is a little more fly than he is.

Maybe a little wiser, too!





Friday, February 11, 2011
I'm beginning to think I've given my kids a bad rap over the years when they lived here. From damp towels laying in the bathroom floor to the overflowing laundry basket to crumbs on the floor, I would, for the thousandth time, lecture them over their sloppiness and demand that they take the initiative to pick up after themselves. Usually Brian would stand by my side and tell them to listen to their mother, because, after all, I "WASN'T THEIR MAID." When Bre left for college, I was sort of looking forward to only having to clean my house once every other day or so. Surely the load would be lightened. Right???

But weird things have been happening. For example, just this week, I've found these things occurring in my house:

1) A pair of mens' crusty socks in the love seat. A pair of men's crusty socks under the couch. And a pair of men's underwear under the kitchen table. (??!)
2) Five used razors on the bathtub in the bathroom by our bedroom.
3) In the middle of the night while reaching for the toilet paper, I've found an empty cardboard roll on the t.p. holder.
4) A milk carton with two teaspoons of milk left in it in the refrigerator.
5) Dried hard salt around the buttons of the remote control.
6) Cashew dust on the t.v. stand.
7) Dried toothpaste in the bathroom sink...and toothpaste spatter on the bathroom mirror. Along with dried Scope dribbled down the side of the magazine rack.
8) Two of my new plush washclothes stiff-as-a-board underneath Brian's shiny clean motorcycle.
9) A damp pair of Dr. Scholl's sticking out of the slats of the heating vents in the living room floor.
10) Floss tied around the doorknob. I'm STILL trying to figure that one out.
11) A screwdriver stuck in the dirt of my aloe vera plant. SERIOUSLY???? Plus, a wrench in the fork drawer.
12) Toenail clippings on my jewelry box.

Don't ever let your Old Man put the laundry away either. I found my potholders in his underwear drawer and my bras in the filing cabinet.

Plus, I couldn't understand why my eyebrow tweezers were always "weird" on the ends until I walked in and found him sticking them up his nose. I still have nightmares about that...and have promptly removed all of my grooming utensils from his reach. And when Breanna was home last weekend, I heard her scream, "Dad, that is SOOO GROSS! Get that away from ME!" I didn't ask. I was to the point where I just didn't wanna know anymore.

Tonight, though, while he was getting ready for bed, I followed him to the bedroom and turned the covers down for him. I fluffed his pillow, like I have done every night for the last 20+ years and laid out his clothes for the next day. I watched him slowly change into his pajamas, tired from a long day at work, and abandon his socks, pants and shirt on the floor. Raising one eyebrow, he wearily looked at me and said, "Don't worry about those. I will get them tomorrow." and fall heavily into bed. Suddenly, I didn't care. I sat down beside him on the bed and pulled the covers around his shoulders, watching his eyes slowly close. I stroked the hair back from his forehead and touched his cheek; he smiled and grasped my hand and pulled it to his chest.

My goodness. With tears stinging my eyes, I reached down and picked up his clothes which were still warm from his body and cradled them to me as I made my way to the laundry room. Suddenly I didn't care about the muddy bootprints on the rug at the front door entrance. It is material evidence that this man is HERE WITH ME as he has been for the last 20+ years. I felt myself being pulled back to the bedroom to his side of the bed; I laid down beside him as he drifted off to sleep, his arm tightly wound around my waist. The sound of his heart echoed in my ear as I snuggled my face into his chest; that same heart that almost stopped beating on him and me almost five years ago after his heart attack.

I think I like ice cream smudges on the freezer door....and freshly-laundered gum wrappers in the dryer.

It's kind of a "small price to pay" for the love he has given ME for so long.

But he's still not getting my brand new set of tweezers.

I'm just sayin'.....





Thursday, January 27, 2011
I wish someone had sent me an email or SparkMail telling me not to get up today. A phone call would have sufficed, too! It's COLD. I've layered my layers and cranked up the heat to no avail. My painting that I'm currently working on for a dear friend in California, her sweet little puppy, has ended up looking like Cujo because of my shaking hands. I think it's best that I put THAT aside until tomorrow when it's supposed to get up to a balmy 43 degrees.

So, I decided that I would start the meatloaf for dinner this evening. I carefully sliced the onions and the green peppers. Mixing it in with the ground lean beef, I added some salt and pepper...but what was that smell?? Why did I smell CINNAMON?? After careful examination of why the pepper's color seemed a little off, I bowed my head and sighed. Have you ever tried to scrape cinnamon out of a ball of meat?? That you've already slightly mixed?? I'm keeping my fingers crossed that Brian won't notice. Maybe he'll like it. Or maybe he can kiss my...

No, no, no, I'm not in a bad mood! I'm just wondering why we have days like this?? When you go to check your mail, wave at your neighbor and your fly is unzipped?? Or you answer your phone and they want James Weaver...you politely tell them that they have the wrong number and they tell you ANYWAYS to tell James Weaver to take a flying leap into an abyss far, far far from here? Or worse YET, they want Brian; you tell them he's at work and she says, "WHO are YOU??" Explaining to her that you are his wife, she replies, "He didn't tell me he was married, that moron." After fifteen minutes of heart-stopping inquiries you both come to the realization that THIS Brian she is speaking of is 26-years-old and the last time YOU checked you were married to a 50-year-old. It almost got ugly. I wanted to wring her neck just for scaring the bejeebers out of me. (I'm still slightly ticked at Brian just over the THOUGHT of him being with Miss SARRRAAAHHHH.)

I climbed on my stationary just a while ago. I was getting a good burn going when the seat suddenly tilted to one side and I heard something hit the floor. It was a bolt. Before I could get off and pick it up, I heard the snap, mentally said, "Oh crap..." and hit the floor. It was karma telling me that exercise wasn't necessary today, to enjoy my day off, right? Then I slung the bolt at the telephone. Don't worry, Betsy, I missed it. The new phone lives to see another day. Or will it???

Other things that's happened today:

The light burned out above the sink.

The toilet almost over-flowed.

The washing machine went off kilter and I found it in the middle of the floor.

I spread-eagled my toes on the dryer trying to get the washing machine back against the wall.

I said a bad word.

Several times.

I lost the checkbook and found it fifteen minutes later in the freezer. (Kind of gives a new meaning to the term "cold hard cash," doesn't it?)

I found Brian's crispy sock stuffed down between the cushions of the love seat. It didn't matter that it was the love seat. I wasn't feeling any.

OH!! And for those who were wondering about the cat in the toilet episode I mentioned in my last blog, TRUE STORY. I'm not supposed to, but there are times I bring my cat, Freddie, inside the house during the day.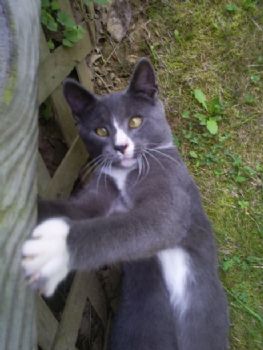 He likes to play with the toilet paper on the roll, spinning it off at top speed, while I'm getting ready for the day. So, I took it off and placed it on the toilet tank, not thinking twice about it. He jumped for it, missed, and landed in the toilet bowl. I don't know if you can see by the above picture that Freddie's eyes are slightly crossed. Sort of like mine first thing in the mornings.

It's only 12:30 in the afternoon and I feel like I've lived nine lives.

I think I'm going to go to town for a cup of good coffee. And score some hookah.

That should do it.

Have a great Thursday, guys. At least someone should.





First Page
1
2
3
4
5
6
7
8
9
10
11
12
13
14
15
16
17
18
19
20
21
22
23
24
25
26 27 28 29 30 31 32 33 34 35 36 37 38 Last Page

Get An Email Alert Each Time STEELKICKIN Posts