| | |
| --- | --- |
| | STEELKICKIN's Recent Blog Entries |


Friday, December 17, 2010
Today I have been fighting the almost uncontrollable urge to devour the refrigerator. It's not like I have anything in there that's worth eating. There's a can of crescent rolls, olives, ketchup, frozen chicken, milk, a gift box of beef and cheese sticks and a jar of Vlasic pickles. (Okay, there might be some cinnamon rolls and chocolate milk, too.) I'm eating enough, getting my calories in for the day, but my stomach is screaming, "FEEEED ME!" What is its PROBLEM? I'm usually pretty good at ignoring its moaning and groaning, but the voice has become deafening today. I'm unusually hyper, my house is getting the work-over from my incredibly OCD-ish mannerisms and I chased my neighbor around the yard yacking his ear off. Could it be....

THAT I'M GOING TO BE A GRANDMA AGAIN for the fifth time!? YESSS!! It's TRUE! I'm so excited, so happy that I could burst from the seams! My oldest son, Bobby, the father of my two gorgeous, incredible grandtwins is having another baby...I knew that his wife was pregnant, but we were waiting with bated breath to find out what the sex is going to be. IT'S A GIRL!! After making sure there weren't two or three more in there, he called me this afternoon and told me the news. To think that a few years ago I was sad because all of my kids were growing up and I was feeling sorry for myself because there were no babies around. Now, I am drowning in them. Life is good!

My problem is, however, that my emotions have always guided my life and my stomach. Years ago, when I was sad, I ate. When I was happy, I celebrated with food. When Breanna passed calculus, I was baking a cake. When my brother passed away, I was eating the WHOLE THING. I've become diligent about not allowing that to happen lately. Sure, I've had a few setbacks, but for the most part, I've been a very good girl. But today has been a little weird/happy for me. I'm usually okay before 4 p.m. but after that, I'm looking for cookies. Or cookie crumbs. ANYTHING. I was even eye-ing up the melted ice cream on the front of Brian's shirt this evening. Not good.

So, this is a cry for help. I'm asking for an intervention. If anyone out there has a tip on how I can curb this night-time/emotional-eating dilemma, PLEASE SHARE! Please keep in mind that I live with a guy who eats anything he wants because he's thin and can get away with it. He also shoves Mallo Bars in my face and says, "It's okay, hun, you can have one." It doesn't help to not buy the stuff because he gets his own. It usually doesn't help to threaten him either. Soooo, any tried and true solutions that will help me stop this urge at night, other than taping my mouth shut or throwing Brian out of the house??

I'm all ears! Let 'er rip! ˇDelo a mí! Give it to me!










Thursday, December 16, 2010
(This is my third blog which details an individual who touched my life....)

I was in seventh grade. Wanda always sat next to me in American History class. She was a solemn girl and she always held her head down, afraid to meet the eyes of someone else when they spoke to her or walked past her. It was rare when someone DID speak to her; most treated her like she was a plague to be avoided. To be totally honest, I was afraid of her. Not because she was different, not because I was afraid of what others might think if I befriended her. It was because I didn't want to know what "secrets" were hidden behind her sad and seemingly-angry face that took solace behind her long, dark hair.

One day she came to class, shoulders sagging, hair unkempt, clothes that looked like they had been slept in. Many of my peers made unflattering comments that fell on deaf ears; she looked as if she were a million miles away. She took her seat next to mine with an appearance of the weight of the world on her. I caught a glimpse of her face. Her bottom lip was swollen and her eyes were red from crying. My heart jerked, I couldn't stand it. I tapped her on the shoulder and asked her if she was alright. She jerked from me and then looked at me, square in the eyes. If misery had a face it would be hers. I quietly asked her if she was alright. Eyes filling with fresh tears she quickly shook her head "no" and put her head back down. My heart filled with grief and uncertainty. I passed her a note and told her to meet me in the restroom.

Minutes passed. I was surprised that she actually came. At first, she acted like she didn't want to talk to me; yet when I placed my hand on her shoulder and crouched down to look into her eyes, she fell into my arms. It was then the torrent of emotion rocked through her and the dam broke. She was pregnant. She was beaten by her father when she told him the news, hence the busted lip. She didn't know what she was going to do, but she wasn't getting an abortion like her mother screamed at her to do. Her "boyfriend" who was in his twenties, broke up with her and told her he never wanted to see her again. The heartbreak kept pouring out unabashed, free-flowing. I was just a young kid myself. I didn't know how to respond but I found myself crying right along with her.

A little while had passed and the storm within her was spent. We were standing in the middle of the restroom holding hands when a teacher came in and firmly told us to get to class or risk being sent to the principal's office. Wanda scurried off and I numbly stood there. Mrs. Yeager repeated her order and I looked at her, shaking my head. Before I knew it, I was blurting everything out to her. One part of me was afraid that Wanda would be hurt that I shared her secret, but the other part of me knew that I was not able to help her on my own.

Wanda wasn't there the next day. Or the day after. (In fact, she never returned to school that year.) Afraid I had done something terribly wrong, I sadly sat throughout class each day, not listening to my teacher, scared that something had gone terribly wrong. I heard my classmates making snide remarks about the "crazy" girl and why they thought she was gone. They were soooo way off.

It was a year later when I ran into Wanda in the grocery store while with my mother. She was with her mother and carrying a small baby. She looked at me and smiled. Timidly, I smiled back and walked close to her and looked at the child in her arms. I asked her his name. I asked her where she had been. She said the day I talked to her, social services had came to her house. She had been angry at me for "narking" but they ended up protecting her AND HER MOTHER from the father who had beat them BOTH. In cooperation with them, they had allowed her to keep her baby and she was going to school in another town. She made friends, she was doing better in school, she actually felt hope for the future. I could see the look of love in her eyes for her child. I could sense her liberation from the abuse at home.

Today, Wanda is a legal secretary. She is married, happily. Every time I see her, she gives me a smile brighter than the sun itself. She went on to have two more children later in her life and is now a grandmother, like me. I have to wonder what would have happened if I never told that teacher that day what Wanda confided in me. I have to wonder what would happen if EVERYONE spoke up for someone that was in trouble.

Wanda changed my life. She made me realize that everyone needs a shoulder, an advocate when it seems there is none. We are often quick to turn the other way, to pretend that we don't see turmoil going on around us. We can't change the world but we CAN change the world of someone else. Sometimes just helping one person, even when it is uncomfortable in the beginning, helps US to become more tolerant, less judgmental, more aware to the possibility that just ONE change in our circumstances could have put us in the same position as "that OTHER" person.

Wouldn't we want someone to speak up if it were us?

Let's give thanks for who we are and where we are today. If there is a "Wanda" in your life, speak up for her.

God bless you all...for it is by His grace that we are who we are today.







Sunday, December 12, 2010
With a winter storm quickly approaching, I am reminded of the ice storm we had two years ago. It knocked out our power for two weeks; not fun, especially since we live in the boonies and our wood stove is operated by electricity. We were heating up soup on the kerosene heater and finding new and unexciting ways to keep ourselves entertained. By the third day we were ready to strangle one another. (Beanie even threatened to run away from home because her iPod finally ran out of juice.) The trees were bent over by the humongous amounts of ice on their limbs and our part of the world was eerily quiet. Laundry quickly piled up, we were worried about our pipes getting frozen and, with the exception of a battery-operated radio, we were cut off from the outside world.

By the middle of the second week, we started becoming accustomed to the simple way of life. We were talking more. We were laughing more. We even started reading the Bible more and having discussions on how God's love is there even in the middle of crisis. Perhaps, we surmised, this was a test on how we were to be thankful for the comforts that we normally have in our day-to-day lives. Transformations were taking place on a whole different level. Brian was calmer. Beanie was humming a song long forgotten from her youth. My hyper-ness was replaced by an easy feeling of solitude and peace. It was almost a disappointment when we heard the whir of electricity firing up through-out the house and our lights suddenly beamed to life.

At first, my daughter was ecstatic and ran to her room to fire up her television and XBox. Brian donned his coat to run to the grocery store to buy some steak and potatoes. Everybody was scattering in all different directions. It was exciting, yes, but it seemed almost sad to me, to be honest. I continued to sit on the couch, trying to hold onto the unbelievable closeness that we shared when there were not other things to grab our attention. Sighing, I closed my eyes and thanked God for his blessings and for keeping His arms around my family during the past two weeks.

A funny thing happened, though, when Brian returned from the store and I prepared dinner. Beanie turned off her television. Brian turned off the lights. He lit a candle and put it in the middle of the dining room table. We joined hands and said grace. We realized that it didn't take a power outage to be close; to talk, to laugh, to enjoy one another.

With the storm quickly approaching this year, with the snow clouds on the horizon of our town, I am oddly calm. I know that if we lose power, we won't lose each other...

...in fact, we might just get to know each other a little bit more once again.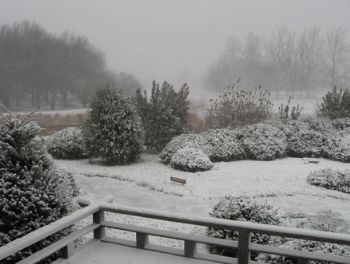 God bless you all. Let's all give thanks for what's REALLY important in our lives today.







Tuesday, December 07, 2010
I'm not sure, but I think I was meant to live somewhere warm all year round. If it drops below 80 degrees my body goes through warmth withdrawal and my nose and toes feel like they are blocks of ice. I don't understand how there are some people who can ride their motorcycles all year around in weather like this! I guess I'm not a "true biker." I'm a "poser" but I like to believe I'm a SMART poser. NOT SAYING THAT cold weather bikers aren't smart, but I think they're a few fries short of their Happy Meals.

It doesn't help matters that I am getting old now. Thank you, ONEREALLYBIGDOG, for the early birthday wishes the other day, but you got me thinking about the impending 42-dom! My ears used to get piqued by the catchy tunes on advertisements about iPods or things of youth; now they perk up when they show Depends or Oil of Olay. I want to fight the seven signs of aging...whatever they may be. One of them might be the stubborn muffin tops that have adorned my middle since two years ago. I wonder if Total Effects will work on them?? I've even been wondering about that LifeStyle Lift they talk about for your face. I wonder if they can do it for your whole body? Okay, so it's not been done on anyone before but I will be first in line when they offer it.

I'm not bitter. I love it when my grandkids call me Grandma. Not so much "the old lady" that my grandson Dylan called me two days ago, but the little snipe was just kidding. It appears that he has inherited the off-the-wall humor that my family possesses. He won't say it again, though. Trust me. He learned. "The Old Lady" still has enough strength in her arms to hang him upside down by his feet and scream, "Say it again, you little whippersnapper! I dare ya! DO IT!" I should be ashamed that I gave him an atomic wedgie. But I'm not.

Okay, so maybe I'm a little slower slapping the alarm clock off the stand these days, but I can still make it fly with pizzazz. And maybe my left eye is a little slower to open than the right one in the mornings, but it's nothing that a little poking and prodding won't take care of. If I bought stock in Miss Clairol years ago, I would be rich. I saw a gray LEG hair the other day. IS THAT NORMAL?? I wasn't concerned until I saw one on my chin yesterday. Right in the middle. And it had looked like it had been there for A VERY LONG TIME. I have to wonder why Brian never mentioned it. Maybe it's because he's too busy plucking the wiry ones out of his own ears.

Oh well. I'm still young at heart. That's all that matters anyways, right?? I can still get jiggy with it. I might be hunched over the next day with sprained neck muscles, but while on the dance floor, I can put those uncoordinated little girls to shame. The last time I went I noticed that people stared at me. I was quite proud. Brian said they might have been thinking I was having a seizure and were contemplating calling 9-1-1, but I think it was just because they couldn't believe the moves I was busting all over the place. Yeah! It's like THAT.

Now excuse me while I go cut out my coupons. They're having an awesome sale on BenGay and orthopedic shoes inserts at Walgreens this week. (Not for me, pfffft! FOR BRIAN!)

Have a great day, guys!





Thursday, December 02, 2010
(This is my second blog on a person who made a difference in my life.)

My brother Robert is six feet and three inches of pure intimidation. All he has to do is walk through the door and you automatically feel like you should mind your manners and say your prayers. At 5'3", my neck has been strained to look up at him during a conversation. In fact, there have been times to this day he has picked me up and sat me on the kitchen counter just so he doesn't have to look down at ME so much. By the way, he is 22 years older than me, protective of his family and smart as a freakin' whip.

Once people get to know him, however, they realize that he is just a big bear. Quiet in nature, he will let you talk his socks off. He's never been much for telephone conversations either. He would rather make the trip up from Alabama to talk to you face-to-face rather than use one of those.

The only time I have seen him angry is when someone says something detrimental about his family. Then he'll curse like a sailor.

When my father passed away when I was three, he stayed home from the funeral to be with me. Mom thought it was best that I did not go and Robert said he would watch after me. He threw me up on his shoulders, ran like a mad man to my room and played "Barbie" with me. A man, distinguished in the U.S. Army, playing dolls with his baby sister; I've never really thought about that until now. But that's just the kind of guy he was and still is today.

I can remember him coming home on leave. It was during the time of the Vietnam War and he had served there for two years. I remember him walking through the door, looking gaunt, walking gingerly with every step. I ran to him, arms up in the air, waiting for him to pick me up. Mom said, "NO, NO, he CAN'T!" and ran furiously to pick me up and set me on the edge of the dining room table. Robert sat down on the chair in front of me and smiled softly, kissing my forehead. I started crying because I sensed that something was wrong. I took my hand and patted his cheek and he took it in his giant palm. I asked him, "What's wrong??" then I noticed the sutures in his chest from the opening at the top of his shirt. Pulling away, I was confused. Scared. He saw my fear. "I'm okay, little Chelle. Really! I kinda fell apart out there but I've got a great friend who cared enough to put me back together again." I began unbuttoning his shirt and saw that the sutures ran all the way down to his stomach. I became intrigued that such a thing was possible. I counted each stitch. Felt each bump between them. I asked him if it hurt and he said "Just for a few minutes." I can remember being five-years-old, jumping from the table and running to get my mother's medical books and devouring each of the pictures over and over again. Thus began my love of the human body and how it worked. And Robert didn't have to go back to Vietnam after that, either.

It's an odd thing. After my father passed away, he became a father to me of sorts. He was certainly old enough to be. I can remember him taking me for rides in his hot rod truck, braiding my hair, playing hide-and-seek with me. He even tanned my hide a few times when I did something ridiculous. Like the time during one of our hide-and-seek games and I hid in the old refrigerator in the barn. I had climbed in and shut the door behind me. After he found me and I was gasping for air, he raised cain and let me have it. But then he softly held me to him and cried. I didn't know what the heck was going on. All I knew at the time was that I was very sorry I made him mad. But even sorrier that I made him cry.

He is in his sixties now, but still very much absorbed with life. He owns his own heavy equipment business and travels the U.S. But he is never too busy to make a pit stop here. I've noticed, however, that he calls me from time-to-time now. He doesn't say much but let's me do all the talking. At the end of every conversation he says, "I love you, little sis. I will talk to you soon." Well, he may not talk, but he likes to think he does.

He changed my heart. He gave me the vision that I have today. If it weren't for my big brother, I don't know where I would be now. So thank you, Robert. You've given me more than you'll ever know.





First Page
1
2
3
4
5
6
7
8
9
10
11
12
13
14
15
16
17
18
19
20
21
22
23
24
25
26
27
28
29 30 31 32 33 34 35 36 37 38 Last Page

Get An Email Alert Each Time STEELKICKIN Posts