| | |
| --- | --- |
| | SP_STAFF's Recent Blog Entries |



Monday, July 02, 2012



We're excited to introduce you to SparkPeople Deals: Hand-Picked Deals from SparkPeople Experts.

This new program allows us to provide SparkPeople members with great discounts on health, fitness, family, and food products for your healthy lifestyle. We've teamed up with national partners to bring you products that will help you reach your goals and live life to the fullest!

By signing up today, you'll receive an email each Wednesday with weekly deals that have been hand-picked for SparkPeople members by our experts. You'll even get SparkPoints for checking out our Deal emails!

Here are just a few examples of some of the great products you can get discounts on through SparkPeople Deals:

• Workout gear like clothes and accessories
• Personalized items – show your spark!
• Fitness DVD's and equipment
• Beauty items to keep you looking your best

Need another reason to sign up? How about a chance to win some awesome prizes? WooHoo!

Sign up for our weekly SparkPeople Deals email before July 15 and you'll automatically be entered into our drawing to win an Amazon Kindle Fire or one of five $25 Amazon.com gift cards!
(view official giveaway rules)


Click here to sign up today and be on the lookout for your first SparkPeople Deals email in mid-July.

SparkCheers!







Monday, June 25, 2012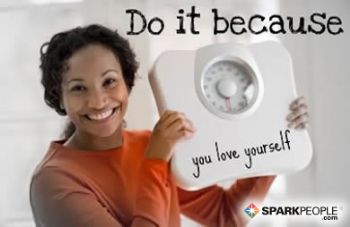 Happy Monday, SparkPeople!

Today we are so excited to announce an upgrade to our popular Motivational Quotes feature. We have created and added HUNDREDS of new quotes to inspire you to reach your goals and live a fit, healthy life. And we've renamed the feature, too. It's now called Healthy Inspiration from SparkPeople. The image above is one example. Here's another example of one on its page.

You'll be able to access these fun quotes in all of the same places as before: from the Motivation Resource Center (under the "Healthy Lifestyle" tab at the top of the site), via our Best Of SparkPeople newsletter each day (sign up here), and from the WebSearch page. Now you can find inspiration any time you need it.

You can easily save our Healthy Inspiration quotes to your SparkFavorites and share them socially, too via simple links to "like," tweeted, pin, email on the left side of each quote. These are great ways to inspire others and Spread the Spark! Feel free to share your own comments on the quotes below each one, too.

We love our new Healthy Inspiration feature and we think you will, too. Please share your feedback and comments below!







Wednesday, June 20, 2012



Update April 2013
We made a change to the site so that all members get our new Fitness tracker. We have made a lot of improvements to the new tracker, so it should only add to your experience. However, if you have any problems or issues, please email support@sparkpeople.com.


Original Announcement in June 2012
Hi everyone,

We are happy to announce we made some upgrades to our Fitness Tracker, adding more tracking options plus making everything more streamlined.

A quick summary of the changes are:

- There is now just one "unified search" box where you can search for cardio, strength, and other activities all in one place. (Previously, you searched for and tracked all of these activities separately.)
- You now can see and track calories burned for all activities, including strength training. This has been a long-standing request from our members.
- You can copy exercises to another day and also create exercise groupings, much like you would "food groupings" in the Nutrition Tracker. This makes it easier to track a group of exercises you tend to do multiple times a week, for example.

Here is a new tutorial video that showcases the changes.



If you have any questions or feedback, please leave a comment below. We hope you enjoy this simpler way to track your fitness—and the calories burned for more of the activities you are doing!

Dave H.
SparkPeople.com






Tuesday, June 12, 2012


Join SparkPeople's very own Registered Dietitian, Becky Hand, this Thursday, June 14 at 8 p.m. (EST) for her first SparkPeople LIVE! Special Event. During this live, hour-long presentation, she'll be sharing tips on how to Avoid Mealtime Mayhem!

In our hurried and over-committed society, mealtimes have all but vanished and the kitchen often goes unused. In this special presentation, Dietitian Becky will share 10 simple tips to help bring your family back to the table. Here are just a few of the topics that will be covered:

• How to save yourself hours each week by designing and utilizing a menu plan and grocery list.
• How to organize your kitchen workspace for efficiency and speed.
• How to get the whole family involved in mealtime.

SparkPeople LIVE! Online Support and Motivation Meetings take place in an online video chat room, so you can join right from the comfort of your home! These meetings allow you to see other SparkPeople members, all while chatting, laughing, and learning together.

NEW! Now you can try an entire week of SparkPeople LIVE! meetings for free—no credit card required. What do you have to lose? Gain the support, motivation and inspiration you need to reach you goals! Click here to get started today.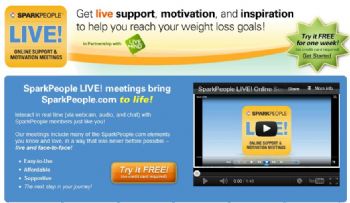 We hope to see you in Dietitian Becky's meeting on Thursday night!

SparkCheers!

The SparkPeople Team







Friday, June 01, 2012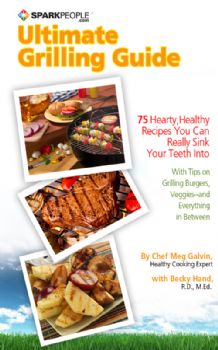 It's hard to believe that it's already June 1, and that means it's officially grilling season! As the temperatures continue to rise, preparing meals outside on the barbecue sounds more and more appealing.

But many times, grilling results in burned hockey-puck burgers and undercooked, bland chicken. Learn how to avoid these mistakes and make your grill work for you—and your healthy living goals– with our newest e-book: "SparkPeople's Ultimate Grilling Guide."

With 75 hearty, healthy recipes, this e-book is a must-have for the grill master in your house.

More than just a collection of recipes, for just $3.99 you'll get:

• Tips on grilling burgers, veggies--and everything in between
• 13 ways to top your burger for 100 calories or less (including bacon!)
• Step-by-step instructions for perfect steak, burgers, chicken, and more
• Dozens of sauce combinations, plus 10 ways to spice up leftover grilled chicken
• Advice on which meats are healthy, tasty choices for the grill
• Tips for staying on track at BBQs, potlucks, and picnics
• Answers to all your toughest BBQ questions
(Plus your purchase supports SparkPeople and helps us keep the site free!)

Click here to download the book from BarnesandNoble.com.

Click here to download the book from Amazon.com.




First Page
1
2
3
4
5 6 7 8 9 10 11 12 13 14 15 16 17 18 19 20 21 22 23 24 25 26 27 28 29 30 31 32 33 34 35 36 37 38 39 40 41 42 43 44 45 46 47 48 49 50 51 52 53 54 55 56 57 58 59 60 61 62 63 64 65 Last Page

Get An Email Alert Each Time SP_STAFF Posts