| | |
| --- | --- |
| | SP_STAFF's Recent Blog Entries |



Thursday, December 16, 2010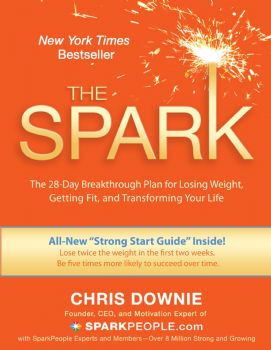 Last year, SparkPeople reached a major goal and milestone when we released our first book, The Spark, and subsequently landed on several best-seller lists thanks to the support and sales that were largely driven by our members.

We are proud to announce the release of the paperback version of The Spark , which is now available at online and brick-and-mortar booksellers. There are three great things that really distinguish this paperback version from our original hardcover:


An everyday low price. Paperbacks are always less expensive than hardback books, making them more accessible for a wider range of people. Currently this book is selling online for less than $10, and we expect that price to stay low for the long-term.


The addition of a brand new, 30-page "Strong Start Guide." We wanted to make the paperback special, so when we discovered that 50 percent of people report losing their momentum within two weeks of starting a diet, that's where we focused. We conducted a new survey of over 2,000 members and found that "strong starters" lost twice as much weight in the first two weeks and were five times more likely to reach their goal than "false starters" because of seven key habits that helped them get off to a good start. You can learn about these surprising findings in the paperback only!


New free bonuses. To sweeten the already great deal, we're including some free bonuses for those who purchase the paperback: 500 bonus SparkPoints, membership to our online book bonus program (only available to book buyers), and a free copy of a special "SparkPeople" issue of All You magazine, which features more than 100 pages of additional recipes, tips, workouts and stories from SparkPeople's coaches and members! This is our only and best offer for free bonuses, so don't delay—only available while supplies last.
We hope you will consider treating yourself—and your friends and family members—to the gift of a lifetime of health and fitness by
purchasing The Spark in paperback
this holiday season.
Help yourself get off to a strong start on your goals for 2011 by acting now!






Monday, December 13, 2010
Check newsstands tomorrow for another SparkPeople member in the news!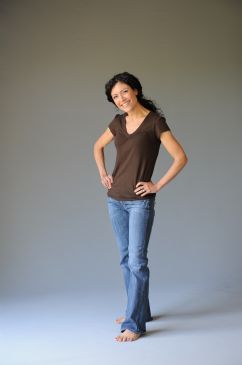 30-year-old SparkPeople Motivator Roni Yonka (RONIROO2U) reached her 100-pound weight-loss goal with help from SparkPeople, and Woman's Day magazine was so impressed by her story that they will be featuring it in their January 2011 issue, which hits newsstands tomorrow (Dec. 14). Inside, you'll see Roni's amazing before and after photos, along with details about the ah-ha moment that started her weight loss journey, and how she did it.

Please join us in congratulating Roni by commenting below or on her her SparkPage , and by picking up a copy of Woman's Day starting tomorrow so you can read her story.

Thanks Roni for helping us Spread the Spark by sharing your story with Woman's Day readers!







Wednesday, November 24, 2010




Thanksgiving is tomorrow, and before you know it the rest of the winter holidays will be upon us. You know that means: cookies, and lots of them!


SparkPeople is here to help. We've rounded up 12 of our favorite (healthier) cookie recipes just for you. Whether you like gingerbread men or chocolate chip cookies, sugar substitutes or the real deal, we have a recipe for you! They'll be featured in the "Recipe of the Day" newsletter starting one week from today (Wednesday, Dec. 1), and--new this year--they'll also be featured on the dailySpark, our healthy living blog. Each day from Dec. 1-12, we'll feature a different recipe.


If you don't currently subscribe to the "Recipe of the Day" newsletter but would like to receive the "12 Days of Holiday Cookies" recipes, click here to change your email settings. (Note: You must subscribe to "Recipe of the Day" in order to receive these holiday issues. When making subscription changes, be sure to click the "Save & Submit" button at the bottom of the page.)



And be sure to stay tuned to SparkPeople.com, The Weekly Spark newsletter, and the dailySpark in the coming weeks for even more NEW and useful nutrition, fitness and wellness tips for the holidays.



Cheers--and don't forget the milk!







Thursday, October 07, 2010



Happy Thursday, SparkPeople!

Are you in a food rut? In a hurry but don't know what to cook quickly? Then we have a new food feature for you!

We're happy to announce today's launch of a cool new feature in the Nutrition Resource Center of the site: The Mix and Match Meal Planner! This new tool will help you create healthful, tasty and portion-controlled meals that fit your calorie range. Introduced in our groundbreaking book, The Spark, these interactive plans will help you calculate calories and come up with new recipe ideas.

Here's how it works. You can find the meal planner by clicking on Nutrition under the Healthy Lifestyle Tab. Look in the center column of that page for the Meal Planner tool.

Once there, simply select the meal you want to build from the tabs (breakfast, salad, sandwich or dinner), and then choose one option from each drop down to create a balanced meal! It will calculate calories and other nutrition facts as you go, so you can see how various choices affect your meal, and find the best options to suit your calorie and nutrient needs! Once you've finished your recipe, click "Add to SparkPeople Nutrition Tracker" to track it! Note that you can use this meal planner even if you aren't logged in, but you can only track the meal you created after logging in (the feature will prompt you to do so if necessary).

We hope you enjoy using the Mix and Match Meal Planner! Please leave your comments about this new feature below.







Monday, September 27, 2010



Hi everyone

A company named Withings sells a scale that sends your results online after you weigh-in over the wireless internet network in your house. SparkPeople worked with Withings to make it so you can synchronize your Withings weigh-ins to your SparkPeople account. We know that a number of members have purchased this scale so we encourage you to connect your Withings and SparkPeople accounts now.

For those who do not have a scale, the price is $159. We realize this is expensive, and SparkPeople receives no financial benefit when you purchase the scale. But if you are interested, we have found the scales to work very well and found them to be easy to setup and connect to your SparkPeople account.

To learn more, or connect your SparkPeople account to Withings, you can visit sparkpeople.com/myspark/wifiscalesubscribe.asp


Dave H.
SparkPeople.com



First Page
1
2
3
4
5
6
7
8
9
10
11
12
13
14
15
16
17
18
19
20
21 22 23 24 25 26 27 28 29 30 31 32 33 34 35 36 37 38 39 40 41 42 43 44 45 46 47 48 49 50 51 52 53 54 55 56 57 58 59 60 61 62 63 64 65 Last Page

Get An Email Alert Each Time SP_STAFF Posts