| | |
| --- | --- |
| | SP_STAFF's Recent Blog Entries |



Monday, March 01, 2010



We hear amazing stories of transformation and weight loss every day at SparkPeople. Now it's time to for you to SHOW everyone how your hard work has paid off by entering our "After" Photo Contest! SparkPeople's Official "After" Photo Contest is looking for great photos that show how your hard work and weight loss has paid off!

The winner of the best "after" photo will receive a $250 Amazon.com gift certificate and 10 semifinalists will receive a special Trophy on their SparkPages.

Here's what you do:


Join this Official "After" Photo Contest SparkTeam. There, you'll find detailed instructions for sharing your photo and contest terms and conditions.


Grab your digital camera, enlist your photographer friend, or head to a local photo studio to reward yourself with some great new photos that you can share. While these photos do not need to be shot by professionals, they will be judged both on content (your amazing transformation or energetic pose) and on quality (high resolution, clutter-free backgrounds and vibrant colors). Good taste is a must and these photos must also abide by our community guidelines (i.e. suggestive photos will not be considered).


Upload your very best "after" photo by March 31, 2010 and you could win a $250 Amazon gift card or a special SparkTrophy for your SparkPage!
That's it! We hope you enjoy entering this contest and looking at the many photos submitted by other members, too.






Thursday, February 25, 2010



CNN.com recently profiled several SparkPeople members who met online and then decided to meet up in real life to take part in the Surf City marathon races in Huntington Beach, California.


Virtual Meetups Spark Real Fitness
We love hearing about members who set goals, support one another, and get together in real life to make their dreams happen! Here's a list of the members featured in this story:
BECCACOATS
(5K)
BSTAKINGACTION
(half marathon)
EVETROY
(5K)
JENNIFER124
(half marathon)
MARATHONMOM26.2
(half marathon)
PAMTHEDREAMER
(5K)
SORGIN
(half marathon)
We will feature more about these amazing SparkPeople members and their race day in an upcoming dailySpark.com story.
Congratulations to each member for completing her respective race. And thanks for Spreading the Spark by sharing your story with CNN!
How about a big WOO HOO for these great Sparkers!










Tuesday, February 23, 2010

Can you believe it's been almost one year since we launched the Friend Feed and Current Status updates on SparkPeople.com?

Your Friend Feed (which includes a "Current Status" feature that allows you to earn 1 SparkPoint per day by updating your status) allows you to keep up with your mutual SparkFriends and helps them to stay up-to-date with you. This helps you stay in contact, get support and better communicate with your SparkFriends and others in the Community. Think of it as one more way to get the help and support you need.

If you are unfamiliar with the Friend Feed or want to learn more about using it, you can read this informational article.

Upgrades to Friend Feed Launched Last Week
For those of you who enjoy following what your SparkFriends are doing by reading your Friend Feed, you may have noticed a few new features we incorporated last week, including:


You can now subscribe to comments on Status items! When you comment on an item in someone's feed, there is now a checkbox where you can subscribe (optional). This subscription will work just like the message board subscriptions do: You will get an email after the first comment, and then no more emails until you click the link in the email. This way, you'll know if someone answers your question or comments back to you!

"Current status" updates will remain in your Friend Feed for 30 days. Everything else (SparkPoints earned, blog posts created, etc.) will still be removed from Friend Feed after 7 days. Many members have requested this as a means of de-cluttering the feed, while still seeing what their friends have been up to.
We hope you enjoy using the Friend Feed and Current Status features on SparkPeople--especially with the new updates we just made to the features. Thanks as always for sharing your ideas and feedback about the site so that we can make it better for everyone!






Monday, February 22, 2010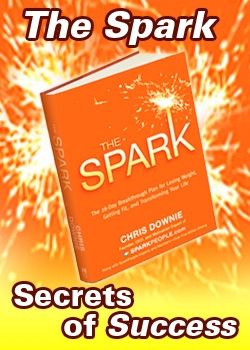 When we were researching and writing our best-selling book, "The Spark," we discovered 27 powerful secrets of success that thousands of successful SparkPeople members used to reach their weight-loss goals. And now we want to share some of these proven tips and strategies with you!

Next week, we're launching a special 15-day email series called "The Secrets of Success." Subscribers to our "Best of SparkPeople" email newsletter will receive one new secret each day, beginning Monday, March 1. (Yes, it's free!)

If you don't currently subscribe to the "Best of SparkPeople" newsletter but would like to receive these 15 secrets of success, change your email settings here. (Note: You must subscribe to "Best of SparkPeople" in order to receive these special issues. When making subscription changes, be sure to click the "Save & Submit" button at the bottom of the page.)

We hope you enjoy learning some of the secrets of SparkPeople's most successful members! Don't forget to subscribe before March 1 to get the entire series!

Did you miss a day? Don't worry! You'll be able to find each secret at dailySpark.com even after this promotion ends!

The SparkPeople Team






Friday, February 19, 2010
Happy Friday, Sparkers!

This morning, Coach Nicole appeared live on Cincinnati's FOX 19 station to share The Spark and talk about her new workout DVD, Fit, Firm and Fired Up.

During the segment, she dishes two of the "Secrets of Success" from our SparkPeople members and demonstrated a couple quick and easy exercises that you can do at home. You can view the video below or at FOX 19's website.



Good job, Nicole! Thanks for Sharing 'The Spark' with Cincinnati and everyone else who has the opportunity to see this video.




First Page
1
2
3
4
5
6
7
8
9
10
11
12
13
14
15
16
17
18
19
20
21
22
23
24
25
26 27 28 29 30 31 32 33 34 35 36 37 38 39 40 41 42 43 44 45 46 47 48 49 50 51 52 53 54 55 56 57 58 59 60 61 62 63 64 65 Last Page

Get An Email Alert Each Time SP_STAFF Posts