| | |
| --- | --- |
| | SP_STAFF's Recent Blog Entries |


Tuesday, January 13, 2009



Good morning, SparkPeople!

For a long time now, members have been able to comment on our articles to add their own tips, commentary and ideas to our stories. Member comments on our articles can be great sources of innovation and motivationónot only to our other members, but also to our editors, who read every comment you make!

Today we launched the ability for members to add comments to two more SparkPeople features: Polls and Slideshows. (Remember that you must be logged in to make comments.)

To comment on a poll, you first have to take the poll. On the poll results page, scroll down (below the "Get Your SparkPoints" button) and you'll see other member comments and, at the bottom, a box to submit your own comment. Commenting on a poll is a fun way to discuss what you think about the results, why you chose the answer you did, or what answer choices you wish were available, for example.

To comment on a slideshow (click here to see an example), you can scroll down to see member comments and to leave your own. You can add a comment to a slideshow on any slideónot just as the end. You can let us know what you think about slideshows, what other tips and ideas you have that the slideshow didn't mention, and more!

Please keep in mind that comments allow you to share your own tips, experiences and ideas about SparkPeople's articles, slideshows, and polls. All comments must abide by SparkPeople's Community Guidelines. Comments are not the place to ask or get answers to questions. If you have any questions, please post them on the Message Boards in order to get a response.

We hope you will take advantage of the ability to comment on polls and slideshows!






Monday, January 12, 2009



We made a few changes to our Terms and Conditions and Privacy Policy this week. Nothing major, but a few things that we wanted to make things more clear for everyone. You can read the Terms and Conditions and Privacy Policy to see all the changes, but below is a quick summary of some of the changes:

- We reinforced that you should never disregard professional medical advice because of something you read on SparkPeople, and if you are having a medical emergency you should call your doctor or 911.
- By registering for and/or using the site you agree to our Terms and Conditions.
- If a user violates our terms their permission to use the site terminates.
- We reinforce that SparkPeople can use any information you submit to the community (User Generated Content) in any media, including our websites or print.
- If we link to another website we are not responsible for the privacy practice on the other site.
- We reinforce that information you post on our community may be viewed by other users and the general public.
- We state that we use multiple firewalls and security to keep our data safe.

Please post a comment here if you have any questions. Thanks!






Wednesday, January 07, 2009



Don't forget! The first ever Show Your Spark Day is Friday, January 16, 2009. This is your chance to show others that you're part of a worldwide movement in fitness, nutrition and healthy living!

As many of you know, one of the biggest reasons that SparkPeople is free is because our members do such an amazing job of Spreading the Spark! This allows us to keep our costs low and keep resources focused on making the site better for you and your friends. That's why we encourage you to tell others about SparkPeople. Show Your Spark Day is an easy way to get the word out and find even more SparkFriends to share your journey.

If SparkPeople has helped you make positive changes in your life, then please join millions of members from all over the globe on this special day! Here are 5 easy ways you can Show Your Spark on January 16:


Wear a SparkPeople T-shirt. If you have one, sport your SparkPeople T-shirt on January 16! We encourage everyone who owns a SparkPeople T-shirt to wear it, so be on the lookout wherever you go.


Tell a Friend about SparkPeople. We have several easy emails you can send to your friends on January 16. And remember, you'll earn 10 SparkPoints every time one of your friends joins!


Hand out SparkPeople cards. We've created some printable cards and flyers that you can use that Friday to spread the words to your employer, co-workers, clients and more!


Spruce up your email signature. Change your email signature on January 16 to include a link to SparkPeople.com, a SparkTeam, or your SparkPage. Include something like "Reaching my goals at SparkPeople.com" or "Join me at SparkPeople.com" each time you send an email from work (if permitted) or from your personal account.


Update your Facebook and/or MySpace status. Tell others about SparkPeople by updating your status on January 16. Be sure to include "SparkPeople.com" in your status update so that your friends know where to go. You can talk about reaching your New Year's resolutions, getting healthy, or something else that you want your friends to know about SparkPeople.
For more Spread the Spark ideas,
visit this page
. And to Show Your Spark every day of the year, check out our branded products and apparel at
SparkPeopleStore.com
. We hope that we can count on you to
Show Your Spark on Friday, January 16, 2009
. As always, thank YOU for making SparkPeople such a positive place!





Wednesday, December 31, 2008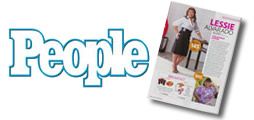 SparkPeople member Lessie Alvarado (FlabbyAsian) is featured in the annual People Magazine "Half Their Size" cover story that is currently on newsstands. You can find out more about Lessie's success by picking up a copy of the magazine and checking out the online story at People.com.

Lessie was also interviewed by the Today Show last week (watch the video) along with People Senior Editor, Galina Espinoza, who later mentions SparkPeople in an interview with Fox Dallas.

Leave a comment below to join us in saying congratulations to Lessie for her inspirational weight loss success and her tremendous help "spreading the spark" within the pages of People Magazine. If you learned about SparkPeople from this or previous People articles let us know how your goals are going with a comment below as well.







Tuesday, December 30, 2008



Can you believe that 2008 is winding down and that a new year is just around the corner? Start 2009 off on the right foot and reach your goals with healthy living products from the SparkPeople Store!

We have a number of great fitness products that will help you get fit on a budget. The SparkPeople Fitness Starter Kit, complete with a stability band, resistance band, pedometer and workout DVD, is just $24.95. Check out our other great fitness products, including Coach Nicole's new workout DVDs!

Our 2009 calendars are fun, visual ways to stay motivated and track your goals. Both calendars are 50% off for a limited time! Get yours today!

Check out SparkPeoplestore.com for these and other great deals.

Happy New Year!




First Page
1
2
3
4
5
6
7
8
9
10
11
12
13
14
15
16
17
18
19
20
21
22
23
24
25
26
27
28
29
30
31
32
33
34
35
36
37
38
39
40
41
42
43
44 45 46 47 48 49 50 51 52 53 54 55 56 57 58 59 60 61 62 63 64 65 Last Page

Get An Email Alert Each Time SP_STAFF Posts