| | |
| --- | --- |
| | SP_STAFF's Recent Blog Entries |


Thursday, April 10, 2008


Hi everyone

We're happy to announce that we re-launched some of our key tools so they can be used on mobile phones that can connect to the internet. We basically simplified the tools so they work on smaller screens.

You can login to use our food and cardio trackers, helping you keep up with tracking while on the go. You can also do a quick food lookup or browse foods from popular restaurants, for when you quickly want help to make a better food choice.

You can access this by going to mobile.sparkpeople.com on your mobile phone. You can click here to learn more about our mobile site, including finding out how to interact with other mobile users on SparkPeople.

Finally, even if you don't have a mobile phone, if you know someone who does you can let them know about this! As with everything else on SparkPeople, it is totally free.





Monday, April 07, 2008



Hi everyone

We're excited to announce a small feature called SparkSounds, where you can listed to streaming music while on SparkPeople and on your computer. Some are upbeat for motivation and energy, while some are relaxed for concentration or reflection.

Right now we just have a handful of playlists that were created by our experts, members, and staff. In the future we may do more with music on the site, partly based on how much all of our members like SparkSounds.

You can access SparkSounds by going to our Health Lifestyle/Motivation tab, then finding the link at the bottom center of the page. You can also click here to access SparkSounds directly.





Monday, March 31, 2008


Members also featured in Health Magazine, Fox 5 NYC & More.

Once again SparkPeople.com members are making headlines! If you head to the newsstands today you can find Heather (KEEGANDLILY) on the cover of Woman's World Magazine and Melissa (FUMBLING) featured inside Health Magazine.

These members are shining examples of what you can accomplish with hard work and encouragement from your friends at SparkPeople! Heather has lost an amazing 111 pounds, and Melissa has lost an equally impressive 125 pounds! Read more about how Heather lost 111 pounds.

Additionally, you can find other members featured in regional coverage. Members in the New York City tri-state region were able to catch an interview of SparkPeople founder, Chris Downie and three great members on the Fox 5 Evening News. Those members: Thomas (WILDSTAR67), Diane (CRAZILITTLEDI) and Lani (SUCCUBUS) did a great job illustrating how SparkPeople.com has helped them lose over 150 pounds collectively. You can watch the video online at MyFoxNY.com: Online Weight-Loss Communities.

If you're interested in watching a few other videos featuring members in recent coverage, check out the videos we've highlighted from the Spark Your Health series from WSIL TV 3.

Just miles from the SparkPeople headquarters, two members (AMSXU04 & MEWIEGELE) who have lost 60 and 40 pounds respectively were interviewed for an article about online weight loss that was featured in the Cincinnati Enquirer.

Great work to all of the members featured in these stories & articles; your help Spreading the Spark is crucial for SparkPeople's continued success. Additionally, your example will serve as inspiration and motivation for thousand of people across the country to take control of their health!






Wednesday, March 26, 2008




SparkPeople.com's founder, Chris Downie and several amazing members from the New York area will be interviewed on Fox 5 WNYW during the local Evening News (which starts at 5pm) on Thursday, March 27th. We're asking all of our members in the tri-state area to tune in to show their support for SparkPeople!

Leave a comment or word of encouragement below!





Friday, March 21, 2008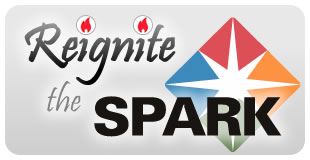 We're kicking off a new project here at SparkPeople. As an active member of the Community, your help is crucial to its success. We're calling it Reignite the Spark and the goal is for you to strengthen the connections you've made with other members and to provide encouragement for members that might be having trouble.

We want everyone to know that our Community is so strong and positive that even if you don't explicitly ask for help, someone from the SparkPeople community is going to reach out and offer a kind word or motivational thought. We want everyone to know that SparkPeople.com is not just a free weight loss website—it's a global movement of people taking control of their health and helping others do the same.

As an active member of SparkPeople, you have probably supported or received support from a lot of members. (If you haven't had a chance to connect with others yet, you can learn why our community improves your likelihood of success.) But sometimes you lose touch with members that you've created friendships with. So we're asking every member to reach out to SparkFriends that you've lost contact with and see how their doing.

If you're going to reach out to old friends, it might help to look over the some of your personal archives to figure out whom you've lost touch with. (Make sure you're logged in for these links to work). You can do this by going through your SparkMail sent folder or by visiting your Recent Message Board History.

If you've stayed in contact with all of your friends or you'd just like to reach out to a few other members that might need a helping hand, then we'd suggest browsing SparkPages to see who hasn't updated their page in a while. Once you identify who you'd like to reach out to, the best ways to connect with new friends is to send a SparkMail or a SparkGoodie, or add a comment to their SparkPage or recent blog posts.

The key is that you do something—anything—to let others know that you want to see them succeed! Help yourself and others to Reignite the Spark!




First Page
1
2
3
4
5
6
7
8
9
10
11
12
13
14
15
16
17
18
19
20
21
22
23
24
25
26
27
28
29
30
31
32
33
34
35
36
37
38
39
40
41
42
43
44
45
46
47
48
49
50
51
52
53
54
55
56 57 58 59 60 61 62 63 64 65 Last Page

Get An Email Alert Each Time SP_STAFF Posts