| | |
| --- | --- |
| | SPUNKYDUCKY's Recent Blog Entries |


Monday, August 09, 2010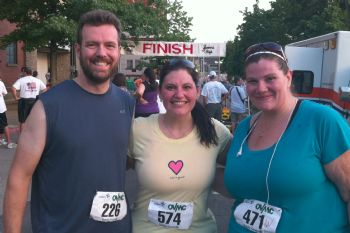 I had a delightful surprise at my 5K yesterday: meeting a Sparkie and her supportive hubby. I had been following Esther (Callikia's) blogs for some time and was cheering her on toward her first 5K walk. Imagine my surprise when I read on her page the day of the race that she was also driving from several hours away to compete in the same race as me. I was so excited!

It was perfect Kismet! As soon as we arrived we ran into her and hubby Shane. We spent the entire 90 minutes prior to the race hanging out and getting to know each other better. This was her first race and I was so excited for her. She was exactly the positive, enthusiastic, friendly person I had expected after reading her page for several months.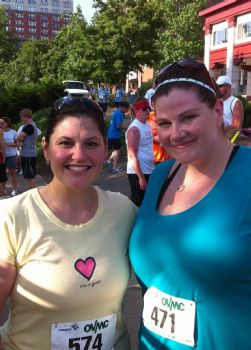 This was a relatively large race with about 1250 runners and walkers, which was truly invigorating. It was nice to be somewhere in the middle of the pack finally. Not sure how much time I lost getting through the pack to cross the start line, but I am sure this was the fastest I have run (whoo-hoo)...Live bands and music along the course was a great addition and helped me keep the pace up. After we crossed the finish line we ran back abit to find Esther so we could cheer her on. It made it so much more special to share the experience with another Sparkie. Prior to this all of you have existed only on the digital page, meeting her in person was incredible.

As all were near the finish line, Ron got a picture of the gorgeous sunset over the river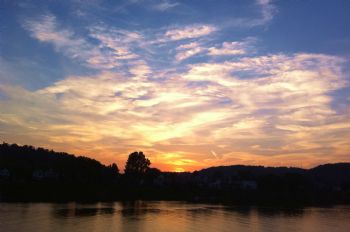 Afterward the 4 of us sat on the stone bleachers along the river bank, relaxing and eating some of the goodies that Ron packed up: turkey wraps and strawberries beat the overfried, overoiled free things being offered.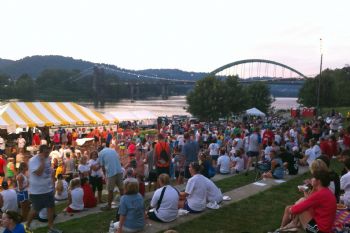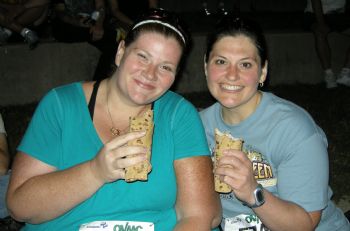 So what did I learn from this race:
1. Music and large crowds definitely make running easier and more festive for me
2. Crossing the finish line continues to make me glow from within
3. Sharing the experience with friends enriches the experience to a completely new level. I am grateful to Esther for sharing her first race experience with us. It put tears in my eyes to watch her cross the finish line ahead of her estimated time, smiling and fulfilled. Plus she and Shane were great to hang out with before and after the race.

Check out her blog about this race for great perspective
http://www.sparkpeople.com/mypage_public
_journal_individual.asp?blog_id=3515290

Next up: Race for Homelessness in 2 weeks
Only 20 days left until the triathlon

I can do this!

Hug a Sparkie,
Hollynn






Wednesday, August 04, 2010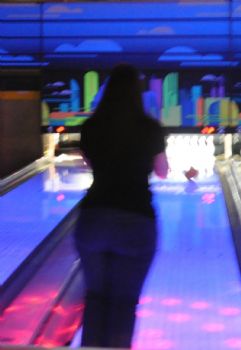 So despite some cool things in my recent blogs (reaching my Sparkversary and accomplishing several fitness goals) one thing I have NOT blogged about recently is my weight. That is because despite making huge life accomplishments, the scale has been ignoring me

Not for a week, not for a month....65 days of PLATEAU
Between May 30th and today the scale has gone up and down from 191-195
After 10 months of steady weight loss, my scale started to ignore me
I broke one of my cardinal rules and started weighing myself more frequently -surely today there would be a change?

I promised myself that I would not let this plateau ruin my mood and drive me back into old habits. You know what? Living on a plateau is HARD. It makes you question everything you are doing.

So here is how I outlasted/outwitted and survived my plateau:

1. I put the scale away. I had my husband hide it again. Seriously. He brought it out once a week. Otherwise I was torturing myself

2. I returned to basics: 8 glasses of water every day (not just most days), calorie logging (which I hate, but need to keep me honest) and I worked to increase my exercise intensity.

3. I focused on the positive. There is always something positive. Most weeks I focused on the fact that I was NOT gaining and that I was at least maintaining. I focused on how fit I felt. I bought a lot of new clothes (something I have not done often, because of rapid size changes) and I had FUN doing it. I looked at pictures of myself and admired my form. Example pic from bowling last week above. Instead of focusing on my classic thunder thighs and ample derriere, I focused on my waist. There is always a positive...you just have to find it.

Final advice: Don't live for the number on the scale. My scale said 190 today and it is one measure that I am making good choices. But it is not the only measure. It doesn't reflect all of the good choices I made over the past 65 days of plateau. It is not a measure of my worth and quite frankly, it is not all that important

Every positive change you make changes your path (and sometimes the scale takes awhile to catch up)

Keep the faith,
Hollynn aka SpunkyDucky






Monday, August 02, 2010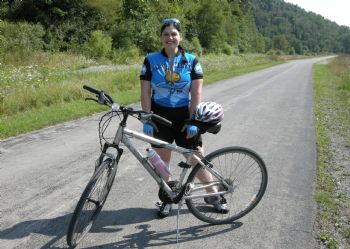 Last week I completed my 365th day of consecutive exercise.
Yes, I felt like a superhero, but that is not how it started.

At the beginning, I just wanted something (anything) to keep me linked to this journey. I had a history of several years of "full court press" diets, but it never lasted because my motivation would wane. The key to my success this year was to leave motivation behind. Yup, motivation is important (and I get mine from all of you when I need my Spark battery recharge)...but it is UNRELIABLE!!! Motivation is fleeting. One moment you feel invincible, you KNOW you can do it. The next day you struggle to hang on and remember why you started in the first place. Motivation is wonderful, but it was not the source of my success. My secret weapon was CONSISTENCY.

Hence the exercise. I made an a bargain with myself: exercise at least 30 minutes a day for a month. That was something I had never done before. Each night before bed, I would think about when I was going to exercise the next. Consistency + Prioritization was even better than consistency alone.

The 30th day came and I was so overjoyed. Keeping my goal felt better than anything I had seen on the scale. It became my link to my journey. So I set the next goal- could I really keep this up for 100 days?

100 days came and I was 40 lbs lighter! I wrote a blog about my success and several Spark members told me they wanted to try it as well. Me? Inspiring others? Who are these people and how can I help them! I decided to start the 100 day challenge team and I am happy to say, several other people have completed this personal challenge. See below for link if you are interested in joining

So I journeyed forward. 200 days passed, then 300. That was when I knew I was going to make it to a year. Nothing could stop me! Along the way I hit several barriers as you will see in my old blogs: migraine headaches (they actually get a little better with exercise for me), 18 hour work days (3-4 ten minute sessions instead of one long session), a month in Ghana (lots of water and lots of walking) and finally in May the removal of my gallbladder (elliptical before surgery, then walking for a week with gradual return to normal levels of core intensity 2 weeks out). Was it easy to exercise every day for a year? Nope, it was one of the hardest things I have ever done. Will I do it again, probably not, but I will exercise consistently and use it as a way to keep connected to my healthy, fit and athletic lifestyle.

So here is what I did for 365 days:

Stationary bike: 107 hours
Treadmill: 68 hours
Stairmaster: 14 hours
Elliptical: 51 hours
Hiking: 33 hours
Cycling: 32 hours
Walking outside: 112 hours
Running outside 15 hours
Rollerblading: 2 hours
Exercise DVDs: 15 hours
Yoga: 8 hours
Snowshoeing: 6 hours
Cross Country Skiing: 8 hours
Downhill Skiing: 28 hours
Swimming: 8 hours
SCUBA: 7 hours
Kayaking: 6 hours

Total number of hours spent in exercise: 520 hours
Average min per day over 1 year: 85 min/day
(for the record, most days were only 45 min-1 hour, the average is thrown off by the days I spent all day skiing, hiking or kayaking)

So there it is: my biggest secret on the Spark
Find what makes you consistent, prioritize it and follow through
It really is that simple

Oh, and for the record, I took the day off on July 27th
It is important to know when to stop and take a breath.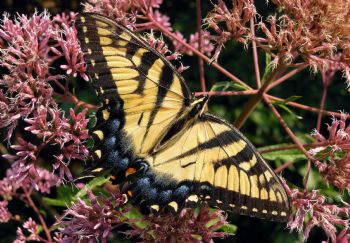 Spark on!
Hollynn aka SpunkyDucky


Below are links that may be of interest to anyone who is inspired by this blog:

Link to the 100 Day Challenge Team - you can do it!!!
http://www.sparkpeople.com/myspark/group
s_individual.asp?gid=37460

Link to my blog from the 1st 100 days:
http://www.sparkpeople.com/mypage_public
_journal_individual.asp?blog_id=2525622

Link to my blog from day 200:
http://www.sparkpeople.com/mypage_public
_journal_individual.asp?blog_id=2876144

Link to my blog from day 300:
http://www.sparkpeople.com/mypage_public
_journal_individual.asp?blog_id=3271436








Tuesday, July 27, 2010


Pictures not enough?
Here are some numbers:

July 27, 2009 --> July 27, 2010

Weight 286 lbs --> 191 lbs *** -95 lbs

Neck 15.25 in --> 13.0 in *** -2.25 inches
Arms 18.0 in --> 12.5 in *** -5.5 inches
Chest 50.0 in --> 38.0 in *** -12.0 inches
Waist 43.5 in --> 29.0 in *** -14.5 inches
Hips 56.0 in --> 43.75 in *** -12.25 inches
Thigh 35.0 in --> 25.75 in *** - 9.25 inches
BMI 47.6 --> 31.8

Numbers not enough??
Here are some words:

When I began this journey on July 27, 2009 I had just seen the picture above which had been taken 2 days earlier on my way out bowling. I didn't recognize myself anymore and no matter how much I used photoshop to "thinify" the photo, it didn't look right. I had just ordered my first set of XXXL scrubs for work. My pants were a size 24 and I was wearing XXL tops. Bras were difficult to find in size 44DDD. I felt ashamed on airplanes to ask for a seatbelt extender and I got short of breath walking up a single flight of stairs in my house. I broke a plastic chair that I sat in on vacation and was constantly aware of "fragile" furniture. I wanted to go kayaking but was afraid of how I would fit in the boat and my rollerblades no longer fit on my thick calves. I was tired of crying about how I looked, avoiding mirrors and worrying about what people might be saying.

July 27th, 2009 I joined the Spark
I had started exercising 2 days earlier and I continued every day for the entire year. I bought new walking shoes and got on the treadmill. 2.8-3.0 was about my limit that first week and lets not even talk about the stairmaster. I bought a journal and started short terms goals, rewards and recorded my thoughts. I realized that every positive change I made would change my path.

July 27th, 2010 I am celebrating my One Year Sparkversary
My scrubs are size L on bottom, M on top. Pants are size 14, shirt size M. It is easier to find a 36DD! My husband can pick me up. I wear cycling shorts and jersey happily (bikini next year)! I have an extra 5 inches of room on a regular airline seatbelt and I sit in any chair I want. I have run three 5K races and my first triathlon is a month from tomorrow. I biked 150 miles in a weekend last week. I kayak, ski, rollerblade and hike regularly. I am far from perfect, but I am happy...so happy

Thank you to everyone on the Spark who inspired me to continue on, to find consistency and to believe I could do it. Thank you to everyone who told me that I inspired them, you made my day with every comment. This journey would not have been the same without all of you.

With love,
Hollynn aka SpunkyDucky









Sunday, July 18, 2010

Me this weekend biking 150 miles of the Great Allegheny Passage

I bought my bike 4 years ago. I had just returned from a trip to Cozumel where I rented a bike and remembered how much I used to like it when I was young. Then it sat in the garage for 3 years...

Last summer, feeling energized by healthy eating and weight loss, I looked at it sitting there in my garage. I worried that I was "too big" to bike. I saw HarmonyBlue's blog on biking and her pictures. I was inspired by the fun she was having and wanted to expand my exercise beyond the baseline stationary bike.

August 25th was my first day on the bike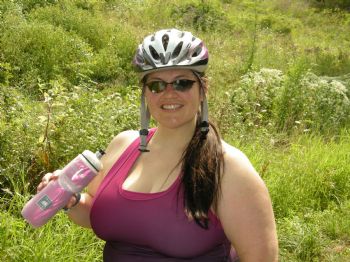 I wore my new exercise clothes and we rode 15 miles. I was so excited about being outside and I felt like I had really accomplished something! You can tell in this picture how fun the ride was. Although I will admit that my bottomside was sore for the next week!

November 11th was a monumental day for me.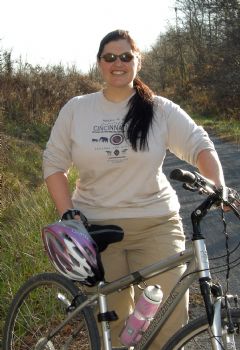 This was one of those days when I felt so athletic. My husband and I did a 30 mile ride - the farthest I had ever been on a bicycle. By then I had lost about 40 lbs and was starting to really feel the difference in my body

July 16-18th, 2010
The Great Allegheny Passage!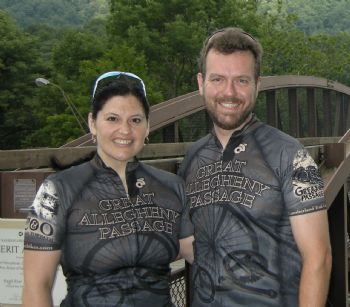 This leads me to this weekend. Our long weekend plans were cancelled in Southern WV due to rain, so I was looking for something to do around home. My husband and I had just been up to Ohiopyle State Park earlier in the week and I picked up a brochure on the 150 mile Great Allegheny Passage running from Pittsburgh, PA to Cumberland, MD. My husband and I thought biking a portion of it this weekend would be fun. 27 miles later, I wondered if we could do the whole thing. I had never done more than 30 miles in a day. Despite the fact that I am very fit, I still hesitate to think of myself as an athlete because I am not thin yet. I tentatively set up ride arrangements for today and yesterday, at 63 miles and 60 miles respectively. And then we set out.

Here is what I learned this weekend:
1. I am an athlete. Anyone who bikes 150 miles in 3 days is fit. Period.
2. I am strong. The first 38 miles of the 2nd day are all uphill, the grade is small, but after the first 15-20 miles I could feel it
3. I am committed to this journey and to my own health.

I am no different than you. My inner whiner tells me it is "too hot" (it was 90 degrees and sunny for 60 miles of biking today). I get tired and my knees hurt. The insecure part of my brain tells me I can't do things. Don't go ride 150 miles tomorrow (because you will be really sore!) but do something that puts you a step closer toward your goals. Believe that you can be fit. Believe that you can do it. Our bodies WANT us to succeed.





First Page
1
2
3
4
5
6
7
8
9
10
11
12
13
14
15
16
17
18
19
20
21
22
23
24
25
26
27 28 29 30 31 32 33 34 35 36 37 38 39 40 41 42 43 44 45 Last Page

Get An Email Alert Each Time SPUNKYDUCKY Posts