| | |
| --- | --- |
| | SPUNKYDUCKY's Recent Blog Entries |



Sunday, July 18, 2010

Me this weekend biking 150 miles of the Great Allegheny Passage

I bought my bike 4 years ago. I had just returned from a trip to Cozumel where I rented a bike and remembered how much I used to like it when I was young. Then it sat in the garage for 3 years...

Last summer, feeling energized by healthy eating and weight loss, I looked at it sitting there in my garage. I worried that I was "too big" to bike. I saw HarmonyBlue's blog on biking and her pictures. I was inspired by the fun she was having and wanted to expand my exercise beyond the baseline stationary bike.

August 25th was my first day on the bike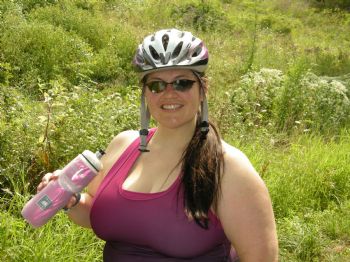 I wore my new exercise clothes and we rode 15 miles. I was so excited about being outside and I felt like I had really accomplished something! You can tell in this picture how fun the ride was. Although I will admit that my bottomside was sore for the next week!

November 11th was a monumental day for me.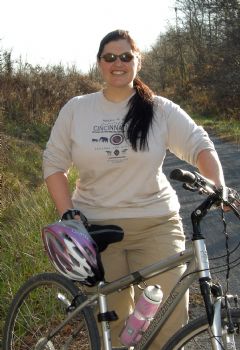 This was one of those days when I felt so athletic. My husband and I did a 30 mile ride - the farthest I had ever been on a bicycle. By then I had lost about 40 lbs and was starting to really feel the difference in my body

July 16-18th, 2010
The Great Allegheny Passage!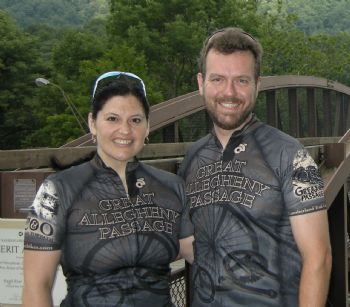 This leads me to this weekend. Our long weekend plans were cancelled in Southern WV due to rain, so I was looking for something to do around home. My husband and I had just been up to Ohiopyle State Park earlier in the week and I picked up a brochure on the 150 mile Great Allegheny Passage running from Pittsburgh, PA to Cumberland, MD. My husband and I thought biking a portion of it this weekend would be fun. 27 miles later, I wondered if we could do the whole thing. I had never done more than 30 miles in a day. Despite the fact that I am very fit, I still hesitate to think of myself as an athlete because I am not thin yet. I tentatively set up ride arrangements for today and yesterday, at 63 miles and 60 miles respectively. And then we set out.

Here is what I learned this weekend:
1. I am an athlete. Anyone who bikes 150 miles in 3 days is fit. Period.
2. I am strong. The first 38 miles of the 2nd day are all uphill, the grade is small, but after the first 15-20 miles I could feel it
3. I am committed to this journey and to my own health.

I am no different than you. My inner whiner tells me it is "too hot" (it was 90 degrees and sunny for 60 miles of biking today). I get tired and my knees hurt. The insecure part of my brain tells me I can't do things. Don't go ride 150 miles tomorrow (because you will be really sore!) but do something that puts you a step closer toward your goals. Believe that you can be fit. Believe that you can do it. Our bodies WANT us to succeed.







Saturday, July 17, 2010
357 days ago I started exercising for real
2 days later I joined the Spark

That means I have 2 exciting things to celebrate soon
In 8 days I will have my biggest accomplishment in years, I will have successfully made it through an entire calendar year (July 25, 2009-July 24, 2010) without ever missing a day of exercise. The least I ever did was 45 minutes of cardio, the most was probably one of my biking or hiking endurance days. Most days it was me and the treadmill, or the stepper, or the stationary bike. As the year moved forward I stretched out into crosscountry skiing, downhill skiing, snow shoeing, kayaking, cycling (every new activity was like a new world of what I could do.

Then 2 days later on July 26th I will celebrate a year on the Spark. Over the next 10 days I hope to reflect on my journey thus far over several small blogs. Thank you to my many Spark buddies, who have made this journey so real for me, and so much fun







Friday, July 16, 2010
So despite NO weight loss in 6 weeks (AaaaarrrrrggggggghhhhhH!), I am trying to focus on the changes in me. I was feeling bad about my relationship with the evil scale, and my husband pointed out how much I am able to do this summer, compared to last summer. This week I ran a 5K (my third) on Saturday, hiked 6 miles in 2.5 hours in the heat on Sunday and went kayaking on Thursday...A little different than the 2nd week in July 2009.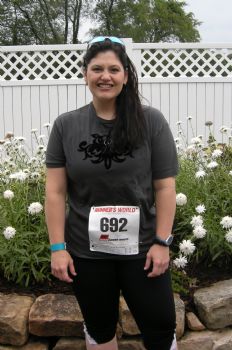 This was my favorite race of the three I have done since May. The day was cool and misty and I was well rested. The course was over lightly rolling hills in buccolic West Virginia.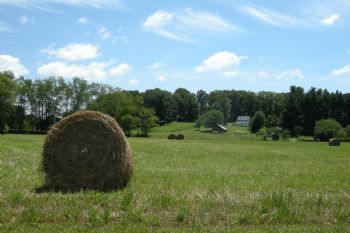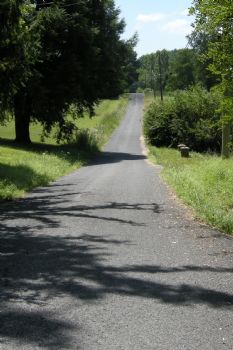 It was a small running group and I was once again toward the back of the pack (but not last this time!) My breathing is still loud and raspy sounding but I was actually breathing ok in terms of how I was feeling. So energized on crossing the finish line!

The next day, Ron and I decided to hit the trails and I trolled through some hiking books looking for a place nearby. I discovered a little Pennsylvania state park called Ryerson Station. We hiked through gorgeous hills, past a
cemetary from the 1800s, and through several meadows.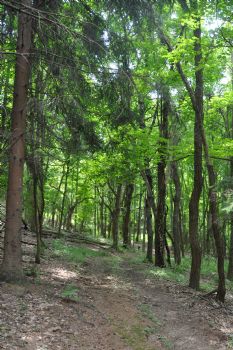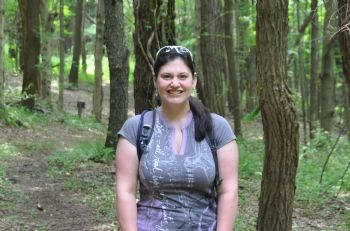 We didn't see another person all day. The only other "hikers" on the trails were hundreds of butterflies flitting around in the sunshine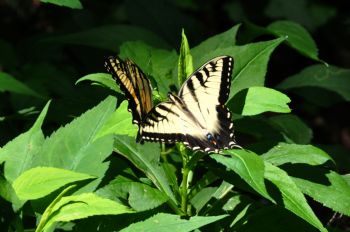 Finally, today was a perfect day for spending time on the river. We drove an hour north to the Yough River and rented "duckies" - little yellow inflatable kayaks. I wish I had pictures to show you what a beautiful day it was and how much fun I had, but no camera, so you will have to imagine my smile at the end of the day.

Hope next week brings a new world of activities as well!
Some things are more important than the scale...






Sunday, July 04, 2010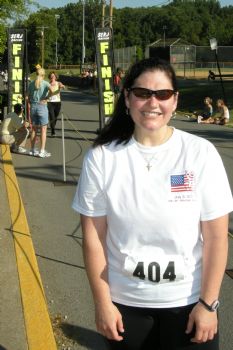 I completed my 2nd 5K race today! It was a local small race, only 54 people in the 5K race, and another handful in the 10K. Unlike my first 5K in Pittsburgh (Race for the Cure) which had 70,000 people this was a small group of dedicated runners who were truly there to race. Me, I am there to try to run and to complete the race. Winning, not on the agenda, at least not in the classical sense. Right from the start I was at the back of the pack, two otherr women were in the back with us at a 5mph pace. Unlike my last race where I "saved" my energy, I came out a lot faster (for me anyway) in this race, clearing the first mile in under 12 min, 2nd mile at 24:36 and I was like yeah, baby - I've got this! Then mile 3's big butt hills took the wind out of my sails. I died on the last hill, but I did not give up. I kept putting one foot in front of the other, knowing that the seconds were ticking past. So in the end, I came in about 15 seconds slower than my first race last month. I was disappointed because my goal was to beat that time. Some days you just have to be satisfied that finishing the race is enough. Yeah, I can be plenty proud of that. Last summer the longest running I did was across my yard, chasing the dog...this summer I intend to do a formal 5K each month. For those of you who fear you can't do it, I am the WORST runner in the world, and I am living proof that you CAN do it.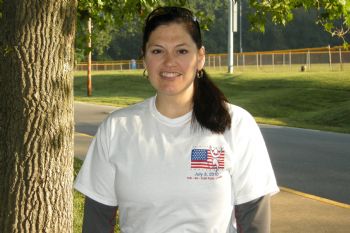 Above is me before the race, calm and relaxed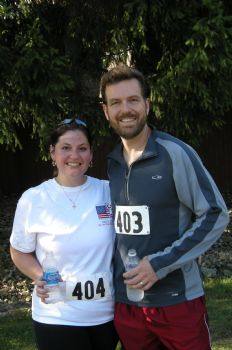 Here I am with my husband post race, check out my cheery face! You can tell I got a workout!






Tuesday, June 29, 2010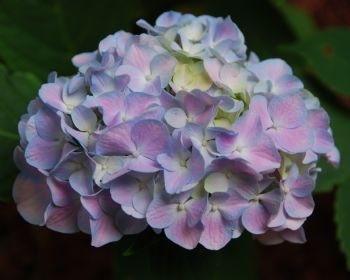 Today was hard - the M&Ms were calling their siren song, but since I am on my 30 day visionquest they are not an option! I worked overnight in the Emergency Dept last night (imagine donuts, doritos everywhere, overnight shifts are very challenging). After shift I spent time sorting out some new landscaping for a few hours. Love hydrangeas like the one in the picture above. We put in a lot of new landscaping this week including several colorado blue spruce, flowering plum trees, black-eyed susans, spirea and cone flowers. I can't wait see the landscaping mature in a few years. I caught a nap but still struggled to wake up the rest of the day. When I am tired or not feeling well my instincts are to eat, but I wasn't hungry so I resisted. I realize how ingrained some of these patterns are in my life. So my small victory today is that I didn't give in to my instincts, I logged every bite that crossed my lips and I stuck to the plan. Some days small victories are worth a lot!




First Page
1
2
3
4
5
6
7
8
9
10
11
12
13
14
15
16
17
18
19
20
21
22
23
24
25
26 27 28 29 30 31 32 33 34 35 36 37 38 39 40 41 42 43 Last Page

Get An Email Alert Each Time SPUNKYDUCKY Posts