| | |
| --- | --- |
| | SPUNKYDUCKY's Recent Blog Entries |


Wednesday, May 26, 2010
At the beginning of this week I was panicked about losing my exercise streak. Consecutive exercise has been a theme for me and a way to keep linked to my journey to a healthier me. After the first 100 days, I was down 40 lbs and had inspired several other to join my 100 day challenge. Now over 200 days later, many people have successfully completed the 100 day challenge and are now inspiring others. What began as very difficult for me, became routine over time. Before I go to bed every night I think about when I am going to exercise the next day: do I have to get up early to do it? Do I need to bring gym clothes to work? Do I need to do five 10 minute segments at different times during the day? No matter what challenges the day offered me I was always able to get it done. The hardest days were days I was feeling sick (interestingly though, it never made me feel sicker, it is just harder to motivate yourself when you don't feel well). Most days were enthusiastic, but yes, there were plenty of days I was just doing it to get it done.

So when I found out I needed surgery one of my first thoughts was: oh no! what about my exercise? I talked to my surgeon about it and her suggestion was that I exercise the morning of the surgery before coming to the hospital and then the next day in the evening so that I would have some time to recover. She also gave me strict limitations: no running, no jogging, no elliptical, no lifting weights, no jumping jacks, no sit-ups, no jumprope, no swimming, no true core strengthening activities. What does that leave: walking... So that is what I did. The morning of my surgery I got up super early and put in 45 minutes on the elliptical. It was a great workout because I knew it was my last killer workout for at least 2 weeks. Next came the surgery and it's complications which I have already blogged about. Waking up and being told that your heart stopped during surgery is truly scary. Other than a broken rib from CPR, and small scars from the laparoscopic surgery, I feel the same. After initial heart workup was negative, I was cleared to walk. So days 305 and 306 (today and yesterday) I walked...5 miles yesterday, 7 today. That leaves exactly 59 days to make a consecutive year. I may just make it yet....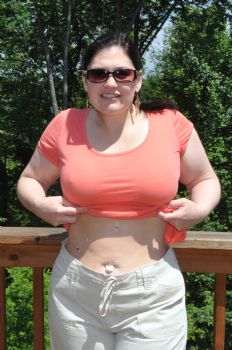 Here is me today, post-op day 2 from my laparosopic gallbladder surgery. Belly is still really distended and tight, but look how small the scars are! Small broken rib is on the lower right side near the last cut. I feel lucky to be healing so quickly and I think it is largely due to being fit. My journey toward health has been so much more than weight loss.





Monday, May 24, 2010
Today I am thankful to be alive.

I was scheduled for a routine laparospopic gallbladder surgery today and had a rare complication when they put air into the abdomen: my heart stopped for over a minute. Both of the surgeons operating on me are friends of mine and I think their hearts stopped as well. I rec'd CPR and medicines to restart the heart and it started seconds later.

I don't think I have totally processed this event yet. It is a RARE, unpredictabe event. It is a chance to reflect on how lucky I am for so many blessings in my life. I realize that 93 lbs ago my body may have reacted very differently, so most of all I am grateful to be the healthy person I am today, healthy heart and a chance to wake up and continue on my journey today. Life is the ultimate reward.





Monday, May 17, 2010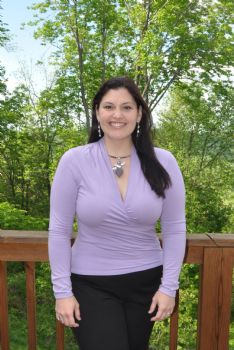 So I have been speeding forward on the weight loss train until recently. Then two months ago I started having stomach pains. To make a long story short I found out that I have gallstones. Since I am a certified ultrasonographer and have seen my (previously empty) gallbladder many times on ultrasound, I was shocked to see those stones. Where did they come from?

Interesting answer actually. How many of you knew that high rates of gallstone formation are associated with low calorie diets and significant weight loss? I didn't know it and I am a physician. So I did some research on this subject for my Sparkies. In contrast to the general population in which many gallstones are asymptomatic, persons with gallstones secondary to weight loss are much more likely to be symptomatic and require surgery. Caucasians and women are especially high risk for development of gallstones. Other risk factors include increasing age, pregnancy, use of oral contraceptives or estrogen replacement, family history of gallstones and ironically, obesity (can't win if you are heavy, can't win if you lose weight - not fair!!!)

Symptoms of gallstones (cholelithiasis) include right sided upper abdominal pain, sometimes with pain radiating to the right shoulder or to the back between the shoulder blades. Pain usually occurs withini 60-90 minutes of eating and lasts for 20-30 minutes in mild attacks and then gradually improves. People may have nausea and vomiting. Pain does not improve with antacids, positional changes or vomiting. Severe attacks can last for hours. Fatty foods are more likely to cause attacks.

Can gallstone formation be prevented in weight loss? The answer is maybe... A medicine called Ursodeoxycholic acid (UDCA) 600 mg one daily at night can reduce rates of gallstone formation according to at least one study (Annals of Internal Medicine 1995: 122:899). I am not giving medical advice here, simply suggesting that if you have lost > 20% of your body fat and are still losing more, consider discussing it with your doctor.

So where does that leave me?
Yup, surgery next Monday, May 24th to have my gallbladder removed. Ultrasound shows over 40 stones in my gallbladder so it is too late for me to prevent it. On the upside - I bet it weighs at least 5lbs with all those stones in it :)

Closing thoughts: I was complaining to one of my friends about having to have surgery and how unfair life can be (shouldn't I get rewarded for losing over 30% of my body weight?) Here is what my friend replied: "Which would you rather have the stones or the weight?"

Easy answer...I'll take the stones every time

This is just a bump in the proverbial road!







Sunday, May 09, 2010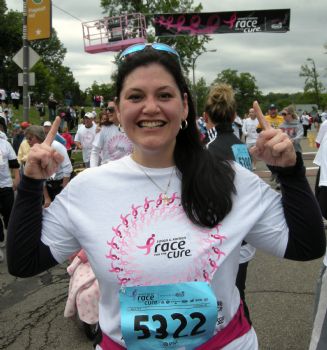 I did the impossible today: I ran an entire 5K race!

February 19th I posted a blog about running. I had just accomplished my first 6 minute run and I felt like I had conquered the world. Later that week I joined the Couch to 5K team and started training in earnest. I always thought people who ran (on purpose) were crazy and here I was setting out to do it myself.

My next running "breakthrough" was making it for 15 consecutive minutes on March 10th. I remember putting the movie Top Gun in and turning the sound all the way up. The time passed quickly and I started to believe I could do it.

So onward, onward...but I was a treadmill girl only. I made up excuse after excuse for not running outside. Too hot, too cold (you would think I was Goldilocks waiting for the three little bears to come home)...And as I was coming up on the end of training for C25K, I still had not selected a race. Again, more excuses (I am going out of town, the race is too soon, the race is too far away). Completion of the training period came and went and still no race day planned. I had to admit to myself I was intimidated by the prospect that I might not be able to do it. What if running outside was harder? ( I think there are HILLS out there and hills look like they might hurt!) On top of it all was the fact that I have not been feeling well, so I was not really even running on the treadmill for the past 2 weeks much (more on this fun little issue in my next blog)...

Then, this past Tuesday night I got really fed up with myself.
I did NOT run all those hours so that I could NOT run a race. I trained to run a race and I am not interested in excuses. I am not interested in the limitations that my innner whiner wants to place on me. I yearn to feel that sense of accomplishment and joy that other Sparkers have described when they completed a 5K. And most of all, I do not want to give up.

Spontaneously that night I signed up for a race only 6 days away - the Pittsburgh Race for the Cure. My goal was not to run the whole thing. My goal was toTRY to run it - because not trying was not acceptable in my mind. Trying is WINNING. Trying is saying "Hell NO!" to limitations and TRYING is what I committed myself to doing.

Fast forward 5 days...Yesterday my DH and I arrived in Pittsburgh, checked into a hotel and decided to pick up our race shirts and drive around the race route. GULP...it starts at a base of a hill? (my brain feels scrambled...why would anyone start a race on a HILL...hills are evil). The hill goes for the first 0.5 mile and then downhill (ok, I am thinking, this is more like it)...around the corner...is that another hill? Ummmm...Ok, now we are on a straightway again but where is the halfway makrer? Oh...wow, is that only 1.5 miles (seems farther doesn't it?) Turn onto Serpentine Road (ohhh...ohhh...ohhh, this is definitely a hill, with swichbacks, isn't that fun?)...and then down to the finish line

After my initial panic, I remind myself of my goal: to TRY to run the entire race. And it really does relax me because I realize that by trying I will meet my goal of proving to myself that I AM NOT AFRAID.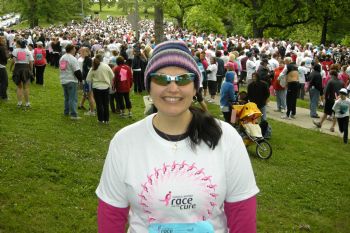 Here I am at the start line at 8:30 this morning. It is 40 degrees out and I am ready to go! It feels surreal to be standing in the crowd. I felt so PROUD to wear that little blue racing bib - I am a runner! Even if I only make it up the first hill. My husband promises to verbally cheer me on every 50 feet or so (and god bless him, he does it). 5....4....3...2...1...GO!

As the crowd surges forward, I try to find my pace. And I totally ignore the hundreds (thousands?) of people passing me. I find a rhythm and just focus on breathing...is that the 0.5 mile marker?- wow- I have passed the first hill...running. The next part was easy and I caught my breath, then onto to hill 2. I am feeling more confident now (I actually even bet my husband I can run all the way to the half way marker...) The crowd is thinner, but I am surprised to find that I actually pass people from time to time. I ask my husband where the halfway marker is and he tells me we passed it a few minutes back. I am ELATED! Ohhh...ohhh, look at that hill coming up. My husband reminds me it is the LAST hill on the course. Surely I can make it up one more hill? Lot of people walking now (some of them as fast as I am jogging -never said I was fast) but I keep going. One foot in front of the other. I can barely breathe, but I am RUNNING. And then it happens...I reach the top and I know that I am homefree. I barely remember the rest of the race because I was filled with joy and excitement. We sprint for the final 100 yards I am pass the finish line nearly in tears.

Am I a winner because I ran the whole thing?. Nope, it is a bonus (huge bonus), but no. I am a winner for commiting to the race (finally) and for not giving up. I am proud of myself for TRYING to run a race this morning, the fact that I actually ran it is secondary (but also pretty cool).

So there it is...the story of my first 5K...I did what I thought was impossible.
So can you...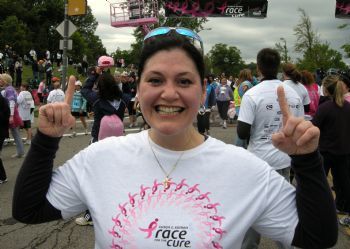 Me grinning after crossing the finish line!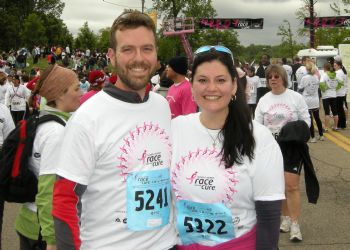 Finally, I want to finish with thanks to my husband, Ron. Ron, thank you for supporting me in this journey every step of the way (emotional steps and the physical ones). Thank you for believing in me. You rock honey!






Tuesday, April 27, 2010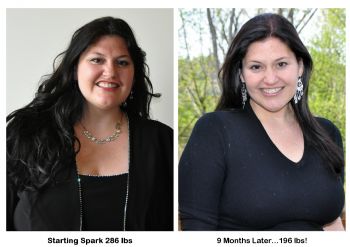 Today was the best day in years...

Not sure how well I am going to be able to communicate this, but at the beginning (exactly 90 lbs and 9 months ago) I didn't recognize the person in the photo above (left). Yesterday, when I was looking through my photos from Ghana the same thing happened...I did not recognize the person in the photos as myself. In fact, I felt guilty posting the one I did post (in the green shirt) because I didn't think it looked like me. It was simply a great picture in my mind (undoubtedly shot from an impossible angle). Someone commented how "teeny" I looked and I commented back that it was just a "great pic" and not what I really looked like in person.

Then something happened today...

Today is my 9 Month Sparkversary (July 27 --> April 27) and I always take pics on my monthly Sparkversaries so that I can see and document progress. So today I went out on the back deck and had my husband take the photo on the right above. He took 15-20 photos and I was excited to see them. Imagine my surprise when I noticed that I looked smaller in all of the photos...I actually looked thin-ish (is it possible??) I wonder if part of this lack of self-recognition is the fact that I haven't seen a mirror much in the past month while on medical mission in Ghana. However, if I am honest, I know it is more than that. I still have a mental and psychological picture of the fat girl and it is hard to overcome. Much of this journey is psychological, which means I need to accept this new person (no hiding behind my weight, no using it for excuses). I think I am ready to do that...

Usually I have a nice reward for myself for reaching a milesone, but I think the understanding of who I am becoming and what a struggle it can be is reward in itself.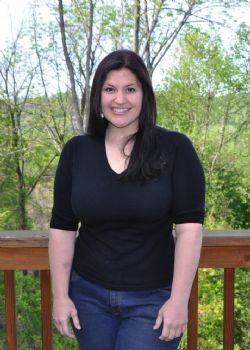 First Page
1
2
3
4
5
6
7
8
9
10
11
12
13
14
15
16
17
18
19
20
21
22
23
24
25
26
27
28
29
30 31 32 33 34 35 36 37 38 39 40 41 42 43 44 45 Last Page

Get An Email Alert Each Time SPUNKYDUCKY Posts