| | |
| --- | --- |
| | SPUNKYDUCKY's Recent Blog Entries |


Monday, March 08, 2010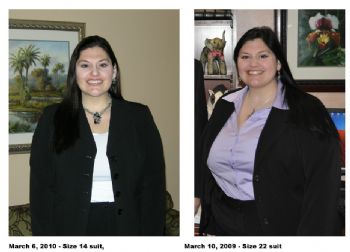 One of the things I love about my job is SCRUBS!
I never have to decide what to wear, I am usually happy to just find some nice jewelry to match. However, every once in a while, I have to wear a suit. Usually it is for a conference of some type. This past week I was an invited speaker on Team Building and on Annual Assessment of Medical Education Efficacy. Sounds fun right? LOL, but it is a free trip to Orlando and a chance to wear a suit. I realized that the last suit I wore was exactly one year ago when I was speaking at the same conference....and it was a size 22, a size I am happy to say does not even pretend to fit me anymore. I went for my first shopping expedition to a "normal" store. I was surprised to find a nice, plain black suit in size 16. Imagine my surprise when the size 16 was TOO BIG! (so sad, tragic really). Alas, there was one 14 remaining, so I left the store giddy. Above are pics of me in my suit this weekend at the conference compared to a larger suit last year. It is wonderful to finally like how I look in professional clothes.

Next up is the bathing suit challenge as my trip to Exuma, Bahamas is only 3 weeks away...wish me luck!








Saturday, February 27, 2010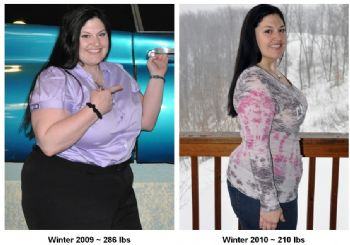 Today is my 7 month Sparkversary and it is an appropriate time to reflect on my journey so far. Below is my starting measurements next to my current ones (as you can see from the picture above, I've come a long way!):

7/27/09 2/27/10 Difference (in inches)
Neck 15.25 --> 13.0 = - 2.25 inches
Top of Arm 18.0 --> 13.75 = - 4.25 inches
Chest 50.0 --> 41.0 = - 9.0 inches
Waist 43.5 --> 32.0 = - 11.5 inches
Hips 56.0 --> 46.75 = - 9.25 inches
Thigh 35.0 --> 28.0 = - 7.0 inches
Calf 19.5 --> 17.25 = - 2.25 inches

Weight 286 lbs --> 210 lbs = 76 lbs

Last week I reached my halfway point to my goal. I started at 286 and dream of being 140, so halfway was -73 lbs at 213 (I am 5 foot 5 inches, medium size frame). I remember how overwhelming that goal was at the beginning (I know most of you recognize this feeling), and I have to admit I still feel overwhelmed when I think about having another 70 lbs to lose to reach my goal. I quickly learned that short term goals are more important than the long term ones. If I can suggest anything to those of you who still have a long way to go it is: "don't think about it!' Come up with a goal for the month. I mark time with events (graduations, weddings, anniversarys, birthdays, vacations) and choose reasonable goals. For example I am leaving on vacation March 26th, and I would like to be down to 202 by then (ok if I am honest I would like to be 199...the infamous ONEDERLAND, but I would be happy to be close). Achieving short term goals leads to feelings of accomplishment and yes, even some pride. Sometimes I hit my goals, sometimes I fall a bit short, but it gives me something to shoot for!

Final word of advice: CONSISTENCY
Many Sparkies have emailed me asking how to keep motivation alive. My answer: you can't. Motivation is fleeting. For the first 2 months I had TONS of motivation, I felt almost invincible. Then suddenly, it wasn't there everyday. Despite great progress, I discovered that some days I just didn't want to do it...didn't want to eat healthy, didn't want to exercise etc. My journalling helped because I could look at my goals and my progress. Spark buddies helped as well, cheering me on during days that I just wanted to curl up with a bag of M&Ms...Then like lightning, I realized something: I can't depend on motivation. No matter how much I want it, some days are flat. But I can control my consistency. So when the motivation wave is present, I ride it as hard as I can, but when it is hiding I depend on my consistency. Not eating right? - NOT an option. Not exercising? NOT an option. Don't want to do it today? - Too bad, get over it and get it done.

In conclusion, I want to thank my Spark friends. You have made this journey so different from other ones in the past. Every day I look forward to your blogs, your updates and cheering you on! Thank you for being there for me during the past 7 months. Spark people ROCKS!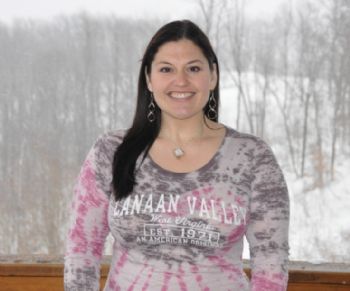 February 27, 2010 ~ 210 lbs






Tuesday, February 23, 2010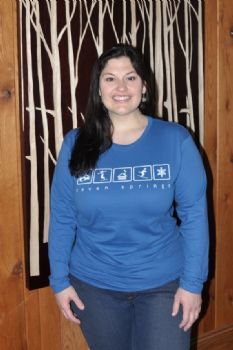 Is it strange that I feel self-conscious typing that title "I am a skier" ??

I am trying to own who I am now, not who I used to be
Inside of me is a person who still feels clumsy, slow, big, and conspicuous, but I know that I am not that person anymore. I skied on my new skis & boots yesterday and I felt so graceful, fast and smooth on the snow - I need to look in the mirror and see that person. The athlete inside of me is getting out more and more often and I want to embrace her.

I think buying new skis helped because I don't feel like a spectator like I did at the beginning of the season. I actually feel like I belong on that hill and I feel like someone might actually look at me and say "look at that girl ski" and not "look at that fat girl" Isn't it awful that those same feelings are still swirling around in there? But truthfully, they are quieter and relatively easy to ignore. Because, deep down I know who I am and who I want to be...and that girl CAN ski!







Friday, February 19, 2010
One of my arch-enemies in life has always been running.
In high school I played varsity volleyball and basketball, and running laps around the court was something I literally dreaded. I have been married for almost 15 years and my husband is a "natural" runner. In college we used to run around the NYC reservoir (let's be honest, I only did it to spend time with him, ie we were still dating and I was trying to impress him)...Since then, not too much running.

When I started this journey nearly 7 months ago, just walking on the treadmill was hard. I tried various "weight loss" pre-set programs on my treadmill and found out I couldn't do them yet. So I set it to 3.0 and plugged away. Eventually I got up to bursts of 4.0 and even 1-2 minutes of joggging here and there. Then about 2 months ago my treadmill broke (arrrgghhh!) and finding the right spare part took forever to replace. So I just kept working out on other equipment until it was fixed this week.

Today, I got up early to get in my exercise before work (for those of you who don't know me -"early" is anytime before 9am. I didn't have to work until noon). LOL! Anyway I got on the treadmill and found myself wondering if I could run for 2 minutes still. I got engrossed in the movie we were watching and then looked down...What? 5.5 minutes? Seriously??? So I finished out that minute and walked for a few minutes. Then I did it again - harder to get to the 6 minute marker the second time, and even more so the third. But I DID it! I didn't do it fast, or with any particular grace, but today was the first time I believed that I could run since I was in college.

To anyone out there who thinks they CAN'T do it - just keep working at what you CAN do. The human body will sometimes surprise you, even when you don't expect it.

Get out there and get it done!







Saturday, February 13, 2010
When I began this journey 200 days ago, exercise was a way of reminding myself every day that I could do something positive for myself. It was my way of proving I could "stick with it." I logged every day's cardio in my journal and as the weeks passed I had a growing sense of accomplishment. Even when I had been thin before, I had never exercised every day. 30 days passed, then 60 and suddenly when I hit one hundred days, I was overcome with happiness. And other people were inspired, leading to a feeling of hope for helping others. I started the 100 Day Challenge team, which now has over 80 members trying to prioritize exercise in their lives. Everyone has different goals but it has been truly amazing to watch others reach the same goal: staying true to themselves.

So what did I accomplish in the second 100 days of my journey?
Days 101-200:
Stationary bike: 32.7 hours
Treadmill: 2.8 hours (it broke and took nearly 2 months to get fixed!)
Stair stepper: 6 hours
Cycling: 4.5 hours
Walking outside: 30.5 hours
Elliptical 29.6 hours
Circuit training: 7.7 hours
Yoga 3.8 hours
Snow shovelling: 3.3 hours
Snowshoeing 5.6 hours
Cross country ski: 8 hours
Downhill ski: 11 hours

TOTAL: 156 hours

More important:
My resting heart rate is 60
I can do the things I want to do: ski, dance, yoga
I feel fit...I don't feel thin yet, but wow, feeling fit is an amazing feeling

So now I am onto my 3rd 100 days. Can't wait to see what days 201-300 will bring!
Can I make it for a year? I think so...I really do

Below are some pics along the way...
Anyone wishing to see my blog on days 1-100, here is the link to paste in your browser:
http://www.sparkpeople.com/mypage_public
_journal_individual.asp?blog_id=2525622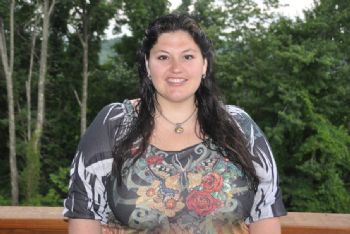 This is me July 25, 2009 ~286 lbs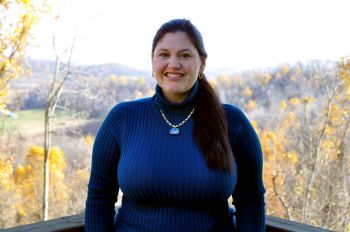 Picture of me November 1, 2009 after 100 days of exercise ~ 246 lbs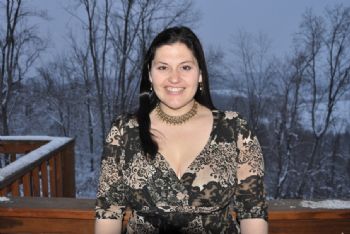 This is me Feb 9, 2010 after 200 days of exercise ~214 lbs

I like that you can see the seasons in these photos: Summer, Fall, Winter...
Can't wait to see Spring!





First Page
1
2
3
4
5
6
7
8
9
10
11
12
13
14
15
16
17
18
19
20
21
22
23
24
25
26
27
28
29
30 31 32 33 34 35 36 37 38 39 40 41 42 Last Page

Get An Email Alert Each Time SPUNKYDUCKY Posts