| | |
| --- | --- |
| | SPEEDY143's Recent Blog Entries |



Monday, December 27, 2010
I've buried the ghost's of Christmas Past this year, not with a shovel but with all the Sparkpeople tools that I've been honing for the last 6 months. There were several ghosts haunting me…. including December 23rd of 1957, when I was 10 and my Grandpap died unexpectedly. Then there was the week following Easter of 1975, when my husband was killed in an accident leaving me with two sons' age 4 years and 18 months. And finally December 24th of 2007, when I lost my dad to cancer just 16 months after my youngest brother past away after several years battling cancer.

Sad memories associated with the holidays that filled me with pangs of quilt if I enjoyed myself too much. So I learned to use food because there were always plenty of goodies to fill up those empty feeling in an effort to sweeten the bitter pain. Like so many others I began to associate the holidays with food. Even when there wasn't a lot of money for gifts, sweets were cheap and plentiful and encouraged. So I indulged, perpetuating the inner belief that there was always tomorrow and my health could wait. And as our family grew and the months filled up and overflowed with all kinds of celebrating… birthdays and anniversaries, graduations and showers, weddings and christenings'… along with all the "traditional" holidays there were fewer and fewer windows to slam on my weight gain. Just one more food filled celebration and then I'll cut back… after our family vacation. Once the memorial is over…. After Girl Scout cookies and Boy Scout popcorn sales, family movie night, lunch with the girls, Bunko, bingo, cards. Tomorrow I'll stop over eating, tomorrow will be easier…. but tomorrow never came and the over eating continued. I stuffed myself to fill the emptiness and never felt satisfied.

It takes a long time to know thyself. And once I was ready I think my biggest fear of finding out why I used food to suffocate my inner child was finding out something I didn't want to remember. It scared me so much that I chose to be miserably fat until my health was so jeopardized that I felt like I was going to die.

Then by the grace of God and like so many others I found SparkPeople. I believe in miracles and having prayed for strength and guidance I know I was lead here. This journey has turned my life around. The weight loss has been a bonus to the emotional healing that has occurred. And from something as simple as a nutrition tracker. That's all it took to get the ball rolling for me. Then a few streaks here and there. A couple challenges with small goals met… cashed in a reward and then I took that leap of faith and blogged. Wow, the responses were instant… the

and

from all my new Sparkfriends kept me focused. Finding out I was not alone and I could encourage others just by sharing my tears and laughter made the secrets not so dark. As I used more and more SP tools my successes multiplied. I'm far from done but I know SparkPeople works if YOU work it. It's not magic… it takes a tremendous amount of time and effort, in the beginning. Then it becomes second nature and those tentative baby steps turn into huge strides. Weeks turn into months and if you've listened closely to that inner babbling that goes on when you reach for a second helping or start to reward yourself with food… if you really, really listen and stop long enough to ask "Why?" The answers will be there.

My answer was so simple.

"Love yourself more than food."

This past holiday season I learned I can enjoy any celebration with out over eating. It's not about the food. It's about living a life that's worth living. I don't have to repress my emotions by stuffing myself… I can honor my ghosts by celebrating… it's ok to be happy and successful. My grandpap, my high school sweetheart, my brother and my daddy would want me to be. So as I honor them by taking better care of my health I also put them to rest. It's time for all of us to move on and for me to really live.

My dear husband and I have our 30th Wedding Anniversary to celebrate tomorrow as well as New Year's Eve and Day to welcome in with friends and family…. so there's plenty to rejoice in. Which is exactly what I plan on doing. There's too many wonderful things ahead to ignore or avoid. 2010 was

2011 will be even better

The biggest difference between both years will be all the marvelous things I've learned about myself.

Now the old me can RIP along with all the Ghost's of my past. I do not fear what I might find out as my journey continues and I will not put off another year or month or week or even a day to live joyfully. I deserve all the wonderful things that await me and so do YOU.



Remember... "Don't let your life slip through your fingers by living in the past or for the future. By living your life one day at a time, you live ALL the days of your life."~Brian G. Dyson






Friday, December 24, 2010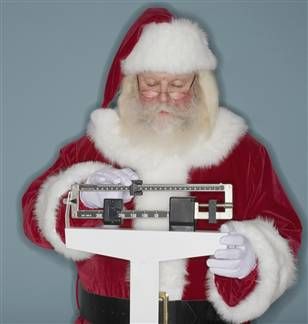 He's overweight, overworked — and what's up with his red nose? Could Santa be a closet SparkFriend of yours????

Overall, Santa's in good health, says Dr. Rachel Vreeman of the Indiana University School of Medicine. But he does fall into the the "obese" category, and his large waist-to-hip ratio could reduce his life expectancy — if he wasn't immortal, that is.

Cute article about Santa and his jolly belly below… ENJOY

and Merry Christmas


www.msnbc.msn.com/id/40785461/ns/hea
lth-healthy_holidays/





Sunday, December 19, 2010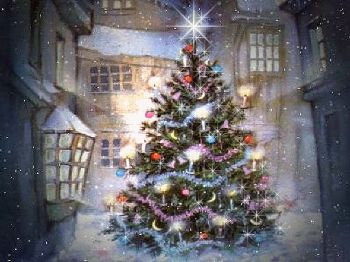 We are all on a journey to discover a healthier and happier life. My Christmas wish for you this year is to awaken each morning, this holiday season, and truly see yourself for the wonderful gift you are. Imagine yourself as a portable present ready to take part at any given moment. It may be by giving a smile or by simply being patient. While one person has the gift of laughter, another person blesses us with silence and peace. Please remember each one of us is a work in progress, beautiful, and an essential part of the universal soul.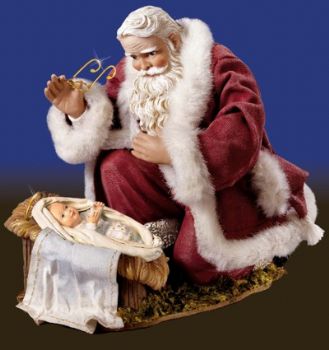 As we continue this journey into the New Year focusing on emotional growth and renewed physical stamina remember….

"For attractive lips, speak words of kindness.
For lovely eyes, seek out the good in people.
For a slim figure, share your food with the hungry.
For beautiful hair, let a child run their fingers through it.
For poise, walk with the knowledge that you never walk alone.
And remember people, even more than things, have to be restored,
Renewed, revived, reclaimed and redeemed; never throw out anyone.
And as you grow ever wiser, you will discover why we have two hands…..
One for helping yourself and one for helping others." ~ Audrey Hepburn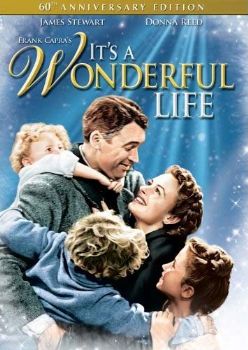 It truly is a Wonderful Life when you count your blessings… May God continue to bless you and your loved ones today and always.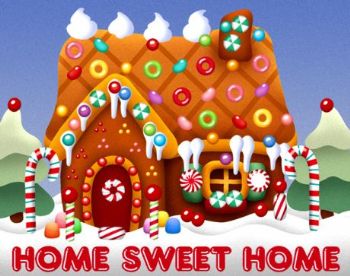 From my house to yours......

Peace & Love,
Linda





Thursday, December 09, 2010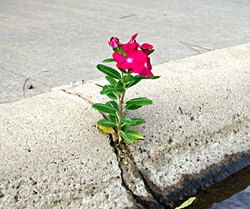 If I were to start a SparkTeam, and who hasn't toyed with that thought now and again? It would definitely be called…..

"Bloom Where YOU Are Planted"

This adage speaks volumes for me. Anyone who's lived long enough to take that 20/20 hindsight peek will tell you the same thing.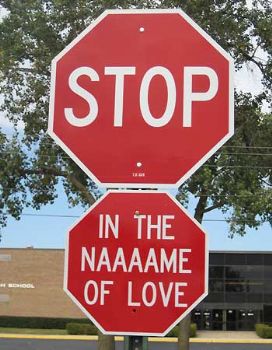 Stop waiting for that perfect year, that perfect day, that perfect moment, when you have the ideal job or marriage or home or life.

Stop waiting… PERIOD. And bloom where you are planted.

Believe me it's not greener on the other side of the fence. All the problems that you blame for keeping you immobilized will travel with you as you try to escape. Every "if only" will continue to empower your long list of excuses for not making changes. The first step is NOT away from where you are stuck but towards the realization that you are exactly where you are suppose to be and everything you are waiting for is here and now. So dig in and Bloom where you are planted.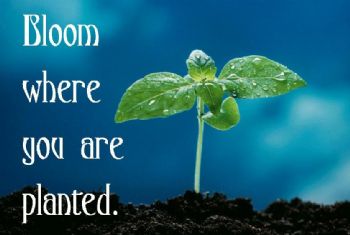 Let all the "if onlys" go. Stop blaming and take responsibility. Stop wishing and make it a reality. Stop running away from yourself and fully embrace who you are. You are no less deserving than anyone else. Forgive and forget.

Don't wait until time is no longer on your side to make life changing decisions and never, never give up on your dreams.

Today is all you have. So begin now.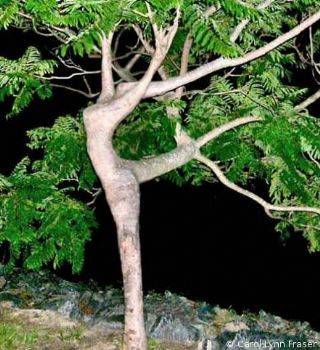 And when your actions begin to blossom into bouquets of opportunities then and only then may they take you wherever YOU want to go.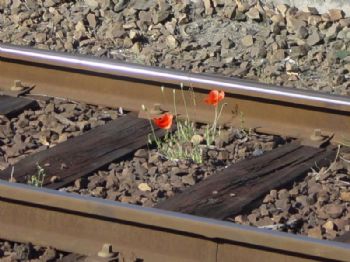 Make today the beginning of a beautiful new you and begin blooming where YOU have been planted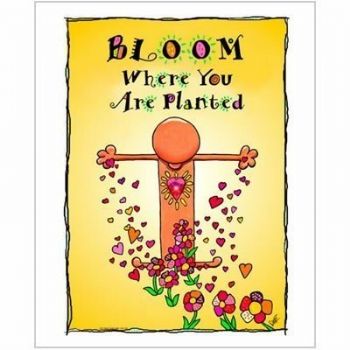 Thursday, December 02, 2010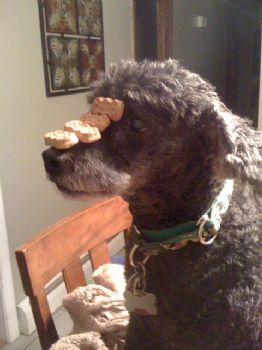 It's exhausting but it can be done!!! And yes, I'm speaking from experience because I'm the old dog and SparkPeople know all the tricks.

I can't believe its December already. Where did 2010 go? Well the last half of MY 2010 was spent learning a lot of "new tricks" and enjoying all the benefits. Having survived Halloween and Thanksgiving I'm looking forward to all the joys of December. I know I am prepared now to make good choices and continue to practice portion control by allowing myself to eat what I want while staying within my 1200-1500 calorie range. I do this by tracking every thing I put in my mouth and drinking enough water to sink a small boat.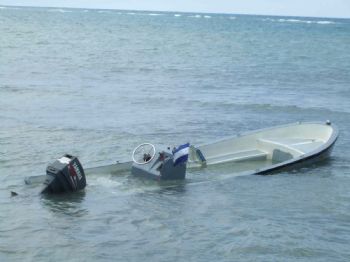 I weigh every day and record it in a journal that I share openly with my most trusted confident. The same person I kept my true weight from for decades… Mr. Wonderful, my dear husband and best friend. The guy who (sometimes pretends to) listen to every moan and groan when I'm struggling and gladly joins in with every WooHoo when I succeed. The same guy who's been paying a lot of attention to calorie and sodium content the past couple of months even though he doesn't have an ounce to lose. My hero, who quit smoking 5 months ago in solidarity making the whole SparkPeople experience a win-win for EVERYONE!!!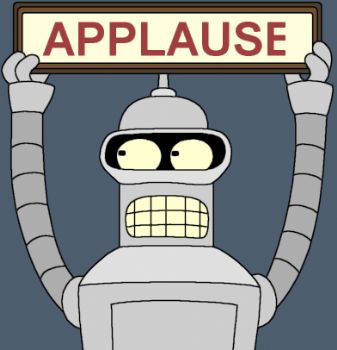 Fortunately, my journey has been about more than just weight loss. There's been tremendous emotional healing and spiritual growth. I've found my voice and I'm raising it in praise of a life worth living. So please join me in raising your water glass in a toast to "old dogs and new tricks!!!"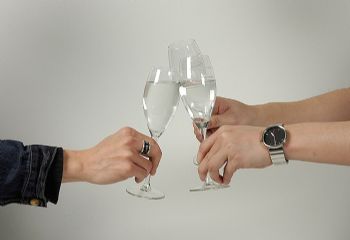 **********CHEERS!!!*********

And may all YOUR goals for December be realized as we all march confidently towards a healthier New Year!!!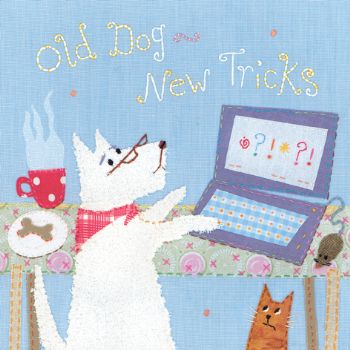 First Page
1
2
3
4
5
6
7
8
9
10
11
12
13 14 15 16 17 18 19 20 21 22 23 Last Page

Get An Email Alert Each Time SPEEDY143 Posts