| | |
| --- | --- |
| | SPARK_UK_NICOLA's Recent Blog Entries |


Wednesday, October 31, 2012
Two British hypnotherapists tell us how to lose weight using the most powerful tool available to us – our mind!

This approach is very appealing to many as people tend to think that you don't have to do anything - Paul McKenna will do it all! Well it's true that the hypnotic approach won't have you doing push ups at 8am on a Saturday morning in the park and you won't have to exist on nothing but fresh air and cabbage soup for a week but the hypnotherapy approach shouldn't be thought of as easy either. To succeed you have to be willing to push yourself out of a comfort zone that is even more alluring than your bed on a Saturday morning and work to change your mind set and thought patterns.

There is an air of mystique when it comes to hypnotherapy, we're so used to seeing hypnotic techniques played out on stage for our entertainment and there is a sense of magic or wizardry that accompanies the 'look into my eyes' approach but modern day hypnotherapy is different to the old school stage days. Its more conversational and systematic and involves other psychological techniques as well as hypnosis. The two books (and techniques) I'm talking about in this post are Paul McKenna's 'I Can Make you Thin' and Marisa Peer's 'You Can Be Thin'. Both books take you through what seem like very practical and straight forward steps but both also claim to be written in what they call 'hypnotic language' There is that mystique again! Both come with a hypnosis CD, which for best results should be listened to regularly.

First up, here is what Paul McKenna sets out as his 'I Can Make You Thin' guidelines:

1. Eat when you are hungry
Starving yourself can actually make you fat. Not eating slows down your metabolism, which makes you feel tired. It can also lead to false hunger signals and subsequently, binge-eating. You need to train yourself to eat only when you're hungry

2. Eat what you want - not what you think you should
As soon as you tell yourself to avoid certain foods, you upset the balance of your relationship with them. By eating what you want, you establish a balanced diet. Your tastes change and you may find yourself craving the very foods you're "supposed" to be eating. If you want it, eat it. Resistance is futile.

3. Eat consciously - enjoy every mouthful
People who are overweight often eat too quickly in order to get a serotonin high. Eating "subconsciously" can expand your stomach and cause weight gain.
Eat what you want, whenever you want, so long as you enjoy every bite. Chew every mouthful, slowing your eating speed down to a quarter of what it used to be, and you'll automatically eat less and feel better.

4. When you think you are full, stop eating
When you've eaten enough, your body should receive a signal in your solar plexus, which says it's satisfied. The more you pay attention to this, the more satisfied you will feel and you'll know when to stop eating. You need to re-sensitise yourself to your 'inner thermostat' so you stop eating food when you're full.

Marisa Peer adds in some other little tricks which I found really interesting, focusing a lot on NLP (neuro-linguistic programming) techniques:

1. Change your language.
Changing the way you speak to yourself and the words you use everyday will make you change the pictures in your mind. This is important as the pictures we have in our mind can quite easily become our reality. Whatever we tell ourselves the mind absorbs and accepts. I have experienced this with my clients too. I remember a few years ago a client telling me that she changed the password she used to access her computer several times a day from 'fat pig' to 'slim and happy' and she believes this had a profound effect on how she saw herself and helped her to lose weight.

Taking ownership of things is also a powerful mind tool. When we use 'my' and 'mine' our minds form an attachment to those things, believing them to be something valuable and important to us. Most things we call mine are important to us, like 'my baby', 'my career', 'my home' but what about 'I hate my fat thighs' and 'I wish my fat belly would disappear' We're also taking ownership of the things we don't want my saying 'my'. Marisa advises that anything you want to be free of you should prefix with 'the' rather than 'my'.

Overeating can stem from a general feeling of lack. Tell yourself you are enough with positive affirmations several times a day.

Choose to be thinner by replacing 'I can't' with 'I choose not to have that'. This assertion is stronger than willpower as your brain believes you to be making a choice. Make your brain believe that you want this and it will ultimately give you power. This moves you away from denial and resistance.

2. Change your mindset:
Accept certain restrictions. You don't stay at home when you should be working or go out when taking care of children, or go on dates with people you're attracted to when you're married – life is full of restrictions that we naturally accept without difficulty so you can also accept that this is reality when it comes to deciding what to eat too.

Think about how much it costs you to eat cheap food. Not the amount of money it costs to buy but the real cost of eating unhealthy food. What are you missing out on by continuing to eat food that makes you unhealthy and overweight? Quality of life, self esteem, love life, career? Many of us also have a weakness for free food when it offered, despite it being healthy or not. One way to convince yourself not to eat it is to say to yourself, 'I have my whole life to eat, its not free, it will cost me a lot to eat it.'

3. Positive Visualization.
Thinking positively about weight reduction can activate neurons that secrete endogenous opiates, which make us feel good and allow us to stop comfort eating. The opposite is also true – thinking negatively activates the release of stress hormones like cortisol, which encourages over-eating and weight gain. Spend some time visualizing yourself as the person you want to be, feel how happy it would make you and make it as vivid and real as you can. As well as forming the right picture in your mind, tell yourself the right words. Don't use negative words like 'I'm not' and 'I can't'. Instead use 'I am', 'I can', 'I always', 'I do'.

I believe all of these techniques work if they are practiced over and over again until they become habitual. Changing the way your mind works and undoing negative thought patterns can take a lot of time and effort but if it gives you back the power of control over your eating habits, weight and ultimately health then surely it's worth the effort? I'd be interested to get your feedback on this one. Have you read either of these books yourself, or any other hypnotherapy weight loss books? Have you had a hypnotherapy session? Please share!







Wednesday, October 17, 2012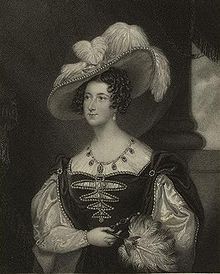 Anna Russel, the 7th Duchess of Bedford (above) is thought to have invented what we now know as 'afternoon tea' in the early 1840's so getting peckish in-between meals is nothing new. The Duchess had small plates of sandwiches and cakes brought to her in secret as she feared ridicule, but once the idea was out, it caught on fast! As lovely as it would be to have afternoon tea everyday, I don't think my body would like it very much. I like my snacks to fill the gap between meals without overloading me with calories. I do best with snacks that contain plenty of protein to keep me satisfied and help balance my blood sugars and manage my appetite.

Here are my favourite 11 on the go snacks:

1. 100g of Sainsbury's Organic 2% Natural yoghurt with chopped up seasonal fruit.

Low fat, organic and delicious. Sainsbury's is my favourite brand of natural yoghurt and it's only £1.12 for a large pot! Yoghurt and fruit is a perfect combination of protein, fat and carbohydrates. This snack is filling, satisfying and really nutritious. To read about why its better to add your own fruit to natural yoghurt rather than buy fruit varieties, see my previous blog post on '4 Healthy UK foods that can turn into a Diet Disaster' www.sparkpeople.com/mypage_public_jo
urnal_individual.asp?blog_id=4848306

2. Ploughmans Roll Up.
Take a slice of turkey, a lettuce leaf and a slice of cheddar cheese, spread with Branston pickle, roll it up and you're good to go! High protein, delicious snack!

3. Home-Made Trail Mix
You can add just about anything to your trail mix, I've been known to add Milky Way Magic Stars to mine! Perfect way to treat yourself with a little chocolate whilst not overdoing it on the sugar and unhealthy fats. Milky way is already lighter and lower calorie than most chocolate and one fun size bag goes a surprisingly long way when mixed with nuts, seeds and dried fruit.
In my trail mix have: dried cranberries (or sometimes goji berries), pumpkin seeds, sunflower seeds, a handful of wholemeal cereal flakes, cashews, almonds, walnuts, pecans and maybe a fun size bag of Milky Way Magic Stars!

4. Chili in a Hurry
This chili really can be made in a hurry. No cooking involved at all. Just take some beans (black eyed beans, black beans, kidney beans all work well), and top with hot salsa, cottage cheese, a few slices of avocado, some chopped up fresh tomato, a few jalepenos, a few drops of Tabasco chipotle sauce and a dash of chili powder.
This recipe is from my new book '7 Days of Superfoods on a Budget' and makes an ideal, high protein, low fat, low calorie, low budget snack which is high in fibre, calcium and B vitamins.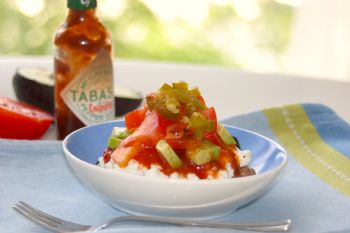 5. Ants on a Stick
This Childrens classic works for me every time! Take a stick of celery, fill it with nut or seed butter (almond butter or sunflower seed butter are healthiest but any will do.) and top with raisins or dried cranberries. Yummy!

6. Cheese Sticks
Step back to the 80's and get your cheese sticks out. Cubed cheese, pineapple, pickled onions on cocktail sticks is the classic combo but it's worth getting creative with different kinds of cheese and fruit. How about feta, basil and watermelon?

7. Crudites and Houmous
Take some of your favourite veggies, I like a rainbow of veggies on my plate - carrots, celery, bell peppers, broccoli and cherry tomatoes, chop them up and dip! If you want a transportable crudités and hummus snack then take a portable coffee cup (or something similar) and add a couple of dollops of hummus to the bottom of the cup. Slice your veggies into sticks (broccoli and cherry tomatoes won't work!) and place the sticks in on top of the hummus. Great snack to take away, and extra points if it prevents you from filling that cup with a grande latte!
Low fat supermarket houmous isn't bad but it's not as good as the home made stuff. If you have a blender then its so much better to make your own. You'll save calories, cash and you'll know that it doesn't contain any flavours and preservatives. See my recipe here: www.thedailycalorie.com/2/post/2012/
09/5-reasons-why-you-should-make-your-
own-houmous.html

8. Sliced Apple and Peanut Butter
Perfect combination of carbs, protein and fat. Well balanced snacks like these don't spike your blood sugar and so keep you satisfied until the next meal...and an apple a day keeps the doctor away! If you don't like this combination then banana is also great with peanut butter and it makes the perfect post work-out snack.

9. Hard Boiled Eggs
Eggs for me are the ultimate fast food. Hard boiled in the shell and it makes the perfect high protein snack. You might get a few funny looks if you choose to eat it on the bus though! ☺

10. 1 Minute Apple Crumble
It's not really an apple crumble but the cooked apple, cinnamon and crunchy topping will have you fooled. See the link for a picture and my secret recipe!
www.thedailycalorie.com/2/post/2012/
10/sneaky-peek-at-one-of-the-e-book-re
cipes-1-min-apple-crumble.html

11. Banana, Cinnamon, Honey
Chop up a banana, sprinkle with cinnamon and drizzle with honey. Instant dessert or post work-out snack!

In my snack shopping basket you'll always find:

Pumpkin seeds
Sunflower seeds
Almonds
Peanut butter (I like meridian as it only contains whole peanuts and no added salt, sugar and oil)
Natural Yoghurt (Sainsbury's Organic 2% fat as above)
A selection of fruit
A selection of raw veggies
Nairns oat cakes
Chickpeas (to make houmous)
Eggs
Green tea
Dark chocolate (Don't gasp in horror! I'm not adverse to a little dark chocolate. If you buy the good stuff then it's got lots of health benefits and a little goes a long way in providing a lot of flavour. A couple of pieces with a hot drink is sometimes just the ticket on an afternoon. Better than a handful of biscuits anyway! To read more about the health benefits of chocolate, how to enjoy chocolate as part of a healthy lifestyle and what kinds to buy, have a read of my previous post www.thedailycalorie.com/2/post/2011/
06/chocolate-review-part-2-its-good-ne
ws.html )

Or you can also have your snacks delivered in calorie controlled portions! Graze do some really tasty snacks and your first box is always free!
www.graze.com/signup/promotion

My snacking tips:

Before you snack, drink a large glass of water and wait 20 minutes. We often confuse thirst for hunger as our bodies can take water from food or drink – it doesn't care which it gets! This is a bit of a gross side note but hard stools and/or constipation are signs of dehydration. If you're not drinking enough water than your body will draw out all the fluids from your foods, leaving you constipated or in pain on the loo!

Are you really hungry for a snack or is it something else? Use the HALT method to find out. The HALT method makes you stock and ask yourself a few question before acting on an impulse:
Am I...
Hungry?
or
Angry?
Lonely?
Tired?
If you believe its genuine hunger, have a snack but remember that tiredness or emotions are not satisfied by a quick bite so if its something other than physical hunger then you'll most likely be wanting to go back for seconds or thirds.

It's getting to that time again...afternoon tea and a healthy snack anyone?

Nicola










Friday, September 28, 2012
The evenings are drawing in sooner, the weather is getting colder and I'm starting to want more comforting foods. It's at this time of year when we feel that we have less time (and inclination) to cook and we naturally crave more substantial, autumnal food. All of a sudden those light salads are no longer cutting the mustard! But before you open that top drawer and try to decide between Chinese, Indian or Pizza have a read of this…It may very well just be the saviour of your diet!

Take away food is quick, convenient and satisfying but it's a guilty pleasure that can be damaging to your diet, bad for your health and leave you out of pocket! There are healthier option take-aways these days, but it's the comforting classics that I want and it's all too easy to order in, get cosied up in front of the sofa and wait for your diet disaster to ring the doorbell.

What if I told you that this week I ate chicken tika masala on Monday, pizza on Tuesday, fish and chips on Wednesday and Chinese beef and broccoli on Thursday? You're probably gasping in horror and getting ready to delete me from your Spark Friends, but before you do let me tell you that all these dishes were my own home-made and remarkably healthier versions of the classic take-away favourites.

I decided that I'd go on a 'make your own healthier version take-away at home' mission, which is why this week I have made and eaten four of the take-away classics. In doing so I have saved time, money and calories. This weeks challenge has shown me that you can have a quick, tasty and convenient meal whilst saving 100's of calories, pack in lots more nutrition, save some cash and still feel wholly satisfied with a home-made version of your favourite take away classic.

Its quicker and easier than you think to whip up some of these tasty meals in your own kitchen. Your home-made version will be ready and eaten before the delivery man has even started his engine. If you've built up a solid friendship with the guy on the other end of the phone at the local take away, then prepare to sacrifice that relationship as these four recipes may very well change your mind when it comes to ordering in.

The Challenge

My take-away made better at home recipes have to meet the following criteria:
1. Convenience. They must be quick to make and require easy to find ingredients (many of which you probably already have in your fridge)
2. Contain substantially fewer calories than the take away version
3. Add more nutrition
4. Be as tasty and satisfying as the take-out version

by golly I did it! Here are my favourite, make your own take-out meals at home. I costed them up too to show you that you'll not only lose pounds off your thighs but will gain pounds in your purse.


Monday - Chicken Tikka Massala




The new national dish of the UK, I made this dish for friends for a movie night. The girls were expecting take out, so I surprised them with this instead.

Time to prepare: 5 mins
Time to cook: 10 mins
Cost of ingredients: less than £4 per serving

Total calories of take-away version: 960 calories (680 for the curry and 280 for pilau rice)
Total calories of the home-made version: 421 (A generous helping of curry served with 45g portion of basmati rice)
Calories saved: 539 calories!

To see my recipe, click here:
www.thedailycalorie.com/2/post/2012/
09/save-over-500-calories-on-a-home-ma
de-chicken-tikka-masala.html

Verdict – Success! Tasted very similar to the real deal, but lighter and less greasy. We didn't have that heavy feeling that you're often left with after eating take-away curry. It was really quick and easy to make too.


Tuesday – Pizza night




Time to prepare: 5 mins
Time to cook: 3 mins
Cost of ingredients: less than £2 per serving

Total calories of take-away version: 200 calories a slice/ 1600 for a 12" pizza (200 calories a slice)
Total calories of the home-made version: 150 per mini pizza
Calories saved (Considering that 3 pieces of pizza is a standard portion as is 2 pita pizzas): 300 calories!

I was eating alone on Tuesday night so a good opportunity to try out my own healthy pizza. Verdict – I loved it. Fresh, clean and healthy food that is delicious and super quick to make. It was thrown together in minutes. Also there was hardly any clearing up to do!

Ingredients (serves 1, makes 2 mini pizza's)
1 wholemeal pita
1 tbsp houmous (made my own, see recipe here: www.thedailycalorie.com/2/post/2012/
09/5-reasons-why-you-should-make-your-
own-houmous.html )
a few slices of red onion
1 tbsp halved, black pitted olives
1 tbsp of peppadew, chopped (can substitute with any roasted red pepper)
A sprinkle (about 12g) of feta cheese
A few leaves of fresh mint and fresh basil

Instructions
Place your pita in the toaster until heated through
Slice the pita in two so you're left with two circular halves
Top with all the ingredients apart from the fresh herbs and place under the grill for 3-5 minutes.
Sprinkle on your fresh herbs and enjoy!

Or you could always buy in from the supermarket. Here are my favourite supermarket pizza's. Share them with someone else and fill the other half of your plate with salad greens for a healthy dinner.
Pizza Express La Reine Italian Ham & Mushroom £3.99
Per pizza: 614kcal, protein 26.6g, carbohydrate 83g (of which sugars 6.2g), fat 19.6g (of which saturates 7.6g), fibre 7.4g, salt 1.8g

Tesco Finest Italian Style Sausage Pizza with Char-grilled Artichoke £3.49,
Per pizza: 610kcal; protein 32g; carbohydrates 82.5g (of which sugars 10.1g); fat 16.8g (of which saturates 6.9g); fibre 9.3g; salt 2.8g.

WeightWatchers Thin & Crispy Garlic Mushroom Pizza £2.28 (Asda), 220g
Per pizza: 410kcal; protein 26.9g; carbohydrates 69.1g (of which sugars 7.2g); fat 3.1g (of which saturates 0.7g); fibre 7.2g; salt 2.3g.


Wednesday - Fish and chips with mushy peas. Traditionally eaten on a Friday but I couldn't wait to try out this healthy fish and chips recipe!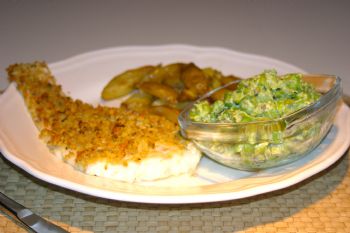 Time to prepare: 15 mins
Time to cook: 40 mins
Cost of ingredients: less than £5 per serving
Total calories of take-away version: 1100 calories (plus 173 for mushy peas)
Total calories of the home-made version: 400
Calories saved: 700 calories!

This isn't my recipe, I adapted it from the 'cook yourself thin' girls. See the original recipe here: www.channel4.com/4food/recipes/tv-sh
ow/cook-yourself-thin-recipes/fish-and
-chips-with-mushy-peas-recipe
Mine took slightly less time as I did a more simplified version of the chips. I simply brushed the chips with a tbsp of olive oil, sprinkled with salt and baked them for 35 minutes. I followed the fish recipe, but didn't have parsley and so left this out and it worked out perfectly. I made this dish for my husband, great candidate as he is very particular about his fish and chips and he absolutely loved it! I was worried that he would miss the deep fried batter, as this is his favourite bit but he loved the breaded version. Success!


Thursday – Chinese beef and broccoli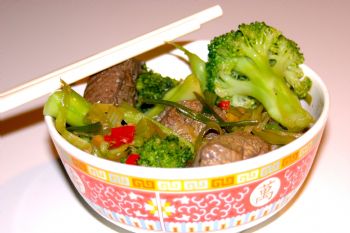 Time to prepare: 10 mins
Time to cook: 5 mins
Cost of ingredients: less than £4 per serving
Total calories of take-away version: 660
Total calories of the home-made version: 244
Calories saved: 416 calories

This recipe was taken from
www.bbcgoodfood.com/recipes/9276/bee
f-and-broccoli-stirfry

I made this for my husband and I last night and have to admit that it wasn't our favourite out of the four dishes. Although the flavours were good, the beef was tough. This could be down to my cooking or the cut of meat but it wasn't a melt in your mouth kind of dish, you had to work for this one. Verdict: try it with teriyaki salmon instead!

So if you're considering ordering take-out this Friday night, give one of these a try instead. The calories you'll save are equal to one hard or two moderate work-outs and having control over the ingredients that go into your meal mean that there won't be any harmful oils (trans fats!) or hidden sugars that will wreak havoc on your health. If you do give one of these a try, I'd love to hear what your verdict is. Or if you have any good recipes of your own, then please share.

Adios for now!
Nicola








Wednesday, September 19, 2012
It's true what they say, we're a saucy bunch us Brits. Be it breakfast, lunch or dinner we'll have some kind of sauce on it. Problem is most condiments are made of unhealthy fats, sugar and salt and don't contain any nutritional benefit for your calories but let's face it, sometimes the condiments make the meal and we're not about to give them up without good reason and an adequate substitute. Good job I've had my experimenting cap on then. Here is your comprehensive guide to the no-no's, the little bit once in a while won't hurt and the condiment royalties.


Each condiment will be given a verdict of one of the following:

Harmful To Your Diet
A bad condiment adds nothing but nasties. Light on the nutrition side and heavy on the unhealthy fats, sugars and salt.
If the condiment is labelled 'Harmful' it adds nothing but flavour in the form of salt, sugar and unhealthy fats. Best avoided

The Nutritional Zeros
A condiment that doesn't add anything in the way of nutrition but will add flavour without too much sugar, salt and calories, unhealthy fats etc. This kind of condiment may not spoil your diet but it won't provide any nutrition either.
Use in moderation

The Heroes
Full of flavour, won't ruin your diet and actually good for you.
Yay!

1. Tomato Ketchup
Probably our most commonly used condiment. People don't often think of it as a sweet sauce but each tablespoon has about a teaspoon of refined sugar. The calories in tommy sauce are not shocking – there are just 15 calories per tablespoon but the trouble is, those who like it tend to lather on more than just a couple of tablespoons onto their plate.
Verdict: Nutritional Zero
Alternative: fresh salsa

2. Brown Sauce
Whether yours is a Daddies or HP, no Sunday morning UK breakfast table would be complete without it. It's very similar to ketchup in terms of basic ingredients and sugar content, with slightly more calories at 20 calories per tablespoon.
Verdict: Nutritional Zero, use in moderation.

3. Barbeque sauce
I bet this one didn't get much use this summer! Oh well I suppose there was one or two nice days back in May. Another high sugar sauce, nutritionally equivalent to brown sauce.
Verdict: Nutritional zero, use in moderation.

4. Mayonnaise
I've got a couple of quibbles with mayonnaise. For a start it's a hefty 90 calories per tablespoon. If you have a couple of tablespoons on your sandwich then you may as well eat a doughnut for lunch. My second issue is the kind of oil that is used in commercially produced mayo – its full of highly refined vegetable or soya bean oils which can lead to health problems. The lighter varieties, which are available are also poor substitutes. A healthier option would be to make your own or find a variety made using extra virgin olive oil.
Verdict: Harmful to your diet.
Alternatives:

Home made mayo with olive oil: www.guardian.co.uk/lifeandstyle/word
ofmouth/2010/jul/01/how-to-make-perfec
t-mayonnaise

Shop bought made with olive oil: www.realfoods.co.uk/product/10236/bi
ona-organic-mayonnaise-with-olive-oil-
250g

Garlic aioli: Mix togther the following ingredients:
• 2 tbsp light mayonnaise
• 2 tbsp fat free greek yogurt
• 1 clove garlic, crushed


5. Salad Cream
Shares many of the same issues as mayonnaise but to a slightly lesser extent. Mayonnaise contains up to 70% vegetable oil and salad cream up to 25% and salad cream contains fewer calories at 50 calories per tablespoon. However salad cream contains more sugar than mayo, especially the lower vat versions, which just replace the vegetable oil with sugar and sweeteners and so are poor substitutes.
Verdict: Nutritional zero
Alternatives: Fresh Coleslaw, houmous


6. Tartar sauce
In the same league as salad cream. (it's starting to become clear to me that all sauces are made up of pretty much the same ingredients with different flavourings!) Coleman's tartar sauce is 22% vegetable oil, contains sugar and comes in at about 45 calories per tablespoon.
Verdict: nutritional zero
Alternative: The good news is it's so easy to make your own version of tartar sauce. Here is a ridiculously simple one that uses yoghurt in place of mayo and is very healthy:

grated zest and juice 1 lemon
small handful of parsley leaves, chopped
1 tbsp capers, chopped
2 heaped tbsp 0% Greek yoghurt
lemon wedge, to serve
Mix the capers, yogurt, remaining parsley and lemon juice together, set aside and season if you wish

Or if you make your own mayonnaise you can just add 1 tbs chopped capers and the finely grated zest of ½ lemon to 2 tbs of your extra virgin olive oil mayonnaise


7. Branston Pickle
The classic ploughman's would be incomplete without some Branston pickle, but at just 16 calories per tablespoon (not heaped) it's probably not the worst element in a ploughman's sandwich. Its main drawback is that it contains a lot of sugar, but there are some pickled vegetables in the mix and no sign of unhealthy fats.
Verdict: It's not a nutritional zero but not quote hero either. I'm on the fence so will provide a few healthier alternatives:
Alternatives: The tangy flavour comes from the pickles and you can have this without the added sugar. Gherkins and other mixed pickles are virtually calorie-free. (check ingredients for hidden sugars). Sauerkraut is another great alternative.


8. Piccalilli
Belongs with the pickles but deserves a listing all of its own. Piccalilli is just 11 calories per tablespoon and although it contains sugar, it has slightly less than Branston Pickle and again no fat. As always home-made versions are the best (especially my Nana's!) but a good quality shop bought piccalilli isn't all that bad considering a little goes a long way in terms of flavour!
Verdict: Hero!


9. Vinegar
Vinegar is another ancient condiment made from fermentation (sensing a theme? Fermented foods are some of the healthiest on the planet). It's full of minerals, vitamins and amino acids and has zero calories and fat. But not all vinegar is made equal. The healthiest vinegar is Apple Cider vinegar.
To read more on the amazing health benefits of Apple Cider Vinegar, including how it can help you lose weight read: www.thedailycalorie.com/2/post/2011/
11/the-wonder-of-apple-cider-vinegar.html
Verdict: Hero! But bear in mind that distilled vinegar doesn't contain the same health benefits, stick to the traditionally fermented versions.


10. Soya Sauce
An oriental classic that is great with noodles, salads and sushi. Soya sauce is an ancient condiment and providing that it's made in the traditional way –by fermenting soya beans it can be considered a healthy food. It is protein dense and contains lots of antioxidants, however it is very high in sodium. Whether this is an issue or not is currently a hot topic of debate as inconclusive research is looking at how the sodium in soya sauce may effect us differently that other high sodium foods. Sodium is known to raise blood pressure but when soy sauce is fermented in the traditional way, many of the proteins found in the soybeans get broken down into peptides. Peptides act to inhibit the activity of an enzyme that constricts our blood vessels. If this is true then soya sauce wouldn't have a negative effect on our cardiovascular health but until this is proven, it's best not to OD with the soya sauce!
Verdict: Hero! (providing you buy traditionally made soya sauce which is additive free)
Alternatives: If you are gluten intolerant then Tamari is a wheat free version


11. Mustard
Mustard seeds are incredibly healthy and have a strong medicinal history. Mustard packs in a ton of flavour for a measly 5-15 calories per tablespoon and best of all mustard is a known for fighting cancer! Can't ask more than that from your condiment.
Verdict: Hero. I love it!


12. Tabasco Hot sauce
Zero calories, zero fat and the only ingredients are red pepper, vinegar and salt (less than 2%). Apart from that there are other benefits to adding some fire to your meals. It can momentarily raise your metabolism helping you burn a few more calories (every calorie counts!). Spicy foods also helps you feel more satisfied after a meal, meaning you consume fewer calories overall.
Verdict: Hero!


13. Black Pepper:
Probably the most widely used spice in the world, black pepper has been used as a medicine, a digestive tonic, a currency and a gift to God in ancient times. Today we're satisfied by just grind it up and adding it to our food for flavour. Keep doing it too as the verdict is:
Verdict: Hero!


14. Olive Oil
Olive oil is a heart healthy monounsaturated fat that is full of potent antioxidants. Extra virgin is the key phrase when it comes to olive oil, as it's only the extra virgin that retains all of the good stuff. Extra virgin is derived from the first pressing of the olives whereas all other olive oil has had the delicate health giving compounds damaged with processes that use heat, solvents and machine harvesting to extract the oil.
Verdict: Hero! But it's still an oil and at around 100 calories per tablespoon, the calories can soon add up so use moderately.


15. Tahini
Tahini (or sesame butter) is made from blended sesame seeds. We get used to hearing that the more refined a food is, the worse it is for our health however this is not true of the sesame seed. Refining sesame seeds to extract the oils actually increases health properties by releasing more antioxidants. It is these antioxidants that enhance vitamin E absorption, improve lipid profiles and help normalise blood pressure. Fat burning potential increases too when eating Tahini as it bumps up the activity of liver enzymes that actually break down fatty acids. Its is also thought to naturally lower cholesterol.
Verdict: hero! But bear in mind that despite the health benefits, Tahini is still a high calorie and high fat food and should be eaten in moderation when trying to lose weight.


16. Shop bought salad dressings (even the low fat ones)
Most creamy dressings, even the ones labeled "light," have 45 to 70 calories per tablespoon (and people tend to dump several onto their salad). Salad dressing also contain sugar, sweeteners, vegetable oils and additives.
Verdict: Nutritional zero
Alternative: Stick with balsamic vinaigrette, or try making your own dressing using olive oil, lemon juice, vinegar, or hot sauce.


17. Horseradish Sauce
Horseradish is a very healthy food but shop bought horseradish sauce contains only around 30% horseradish and also includes vegetable oil and glucose-fructose syrup. It's very low in calories (around 15 calories per tablespoon) and fat but a home-made version without the nasties would be much better.
Verdict: Nutritional Zero
Alternative: Try making your own by following this recipe: www.simplyrecipes.com/recipes/how_to
_prepare_horseradish/


18. Mint sauce
Similar story to Horseradish. Shop bought versions such as Coleman's contain 25% mint and have added sugar and glucose-fructose syrup. Only 20 calories per tablespoon and hardly any fat at all but the home-made version would be nicer on your lamb!
Verdict: Nutritional zero
Alternative: Real mint sauce recipe: www.bbc.co.uk/food/recipes/realmints
auce_67706


19. Worcestershire sauce
Free from artificial colours, preservatives and sweeteners, Worcestershire sauce isn't all that bad! It contains very little fat but does contain sugar (which is better than glucose-fructose syrup at least!). A little goes a long way and at just 16 calories per tablespoon (its rare that you'd ever use this much!) it's not going to impact on your diet.
Verdict: Not quite a hero but certainly not a villain!


Over to you:
Any that I've missed?
Traditional glass or squeezy plastic bottles?
Fridge or cupboard?

Please feel free to add your own comments and suggestions.

Nicola






Thursday, August 30, 2012
Did you know that September is national organic month in the UK? National Organic Month is a month-long celebration of everything organic. It aims to bring farmers and consumers together and encourage them to give organic food a try. It's organised by the Soil Association, the UK's leading membership charity campaigning for healthy, humane and sustainable food, farming and land use.

The celebrations promise to include lots of food festivals up and down the country where everyone can try organic food. There is also "The Big Organic Eat-In" where chefs will post some of their favourite, organic recipes on the soil association website and consumers are encouraged to organise their own organic feasts. There will also be many opportunities to visit your local organic farm, as more than 100 organic farms will be opening their gates to the public, running special events and open days.

What is your take on organic? I value organic over non-organic for reasons of ethics, environmental sustainability and health. True organic farms are in balance and harmony with nature, and I like to think that by supporting organic farming and eating organic produce I can have a piece of that balance and harmony for myself. I'm a true hippie at heart but yoga pants and incense aside, lets talk about the benefits of organic farming. It's good on so many levels:

In terms of the environment, organic farming methods help to sustain the environment by creating and preserving healthy soil life for generations to come, encouraging biodiversity, helping to prevent water pollution, keeping our carbon footprint down and preventing farm workers and their neighbours from being exposed to harmful toxins. It's better for the animals as legally enforced welfare standards are imposed on the rearing of livestock and despite recent reports that organic food is no more nutritious than non organic, I believe it's also better for our health. I'd rather not eat crops that have been sprayed with a barrage of nerve toxins, fungicides and herbicides. On top of all that – it tastes better too! So this blog post is a celebration of UK organic farming in recognition of our national organic week!

It's all good and well to extol the virtues of an organic lifestyle but this website is about weight loss and I was curious to find out if there is a link between eating organic and losing weight. We're taught to think that when it comes down to it weight loss is a simple sum of calories in versus calories out – but this is far too simplistic in its assumptions and as anyone who has ever tried to lose weight before knows, there is much more at play than this simple equation. Not only are we are emotional beings with thoughts and feelings which effect our desires and self discipline but we are also slaves to our hormones and when these go awry, it's anyone's guess what might happen. Hormones dictate every aspect of weight loss, from appetite cravings to energy levels, fat burning and fat storage. Our hormones are key players in dictating how we look and feel and I often worry that the hormones and chemicals pumped into our food can disrupt our endocrine system.

Here are some ways in which non-organic foods could be preventing you from losing weight:

One type of chemical used in non-organic farming is obesogens. This can disrupt the function of the endocrine system and cause weight gain. These chemicals are phytoestrogenic and xenoestrogenic, meaning they mimic estrogen in the body. This eventually causes the body to become more insulin resistant and produce more fat cells.

Atrazine is another common pesticide that mimics estrogen as well as disrupting testosterone and androgen levels. This chemical is often used in animal feed for farmed meats and fish. This chemical can increase food cravings and cause water retention.

The steroids that are fed to animals in order to make them grow and gain weight faster can also have an effect on humans. Estradiol, progesterone, testosterone, trenbolone acetate, melengestrol acetate and zeranol are some of the steroid hormones used on animals to make them bulk up. I wonder what effect those drugs have on us?!

Compare this to the animals that are drug free and able to move and eat in their own environment. Taking in sunlight, getting exercise and eating the food their bodies were designed to eat (not corn and soya!). These animals produce real, nutritious food – the meat from an organic, pasture raised cow provides a great source of healthy omega 3 fatty acids and conjugated linoleic acid (CLA). Eating foods rich in Omega 3's and CLA are known to help reduce body fat.

I'd like to point out that not all organic food is beneficial to weight loss – you could eat organic crisps, biscuits and ready meals and although they might be better than the non-organic versions, these foods are not going to improve your health or help you on your weight loss journey.

I'm not an endocrine doctor and my views are based on what I read, people I talk to in my industry and my experiences with my own body and the clients I train, but if you're eating well, exercising regularly and still struggling to lose weight then a switch to cleaner foods may be worth a try and when better to try than national organic month?

National organic month will provide you with lots of opportunities to find out more about organic produce in your area. I'm a big fan of the locally grown and seasonal organic produce as opposed to the more industrialised 'anything at any time of year' organic supermarket produce. I can't help but feel that there is a contradiction in the term organic when used in conjunction with industrial, mass market and out of season produce. Your local farmers are always the best source. If you are a city dweller and there isn't a cabbage patch in sight then take advantage of the box schemes that will deliver to you from your nearest organic source.

www.abel&Cole.com and www.riverford.co.uk/ are the two that I often use.

Even if you think that pesticides and hormones from food are not doing you any harm, switching to a more organic way of eating may sway you in the direction of buying more in-season, whole-food produce from local sources, which will encourage more home cooking and put you in direct control of your diet, which is a substantial advantage when it comes to weight loss.

The main issue for most of us is that eating organic can get quite expensive, so it's worth knowing that some foods are less toxic than others. The dirty dozen is a list of foods that are ranked according to how much pesticide residue they have, which can come in useful when trying to work out what's worth buying organic and what's not.

The Dirty Dozen 2012 list:
(These foods are in order of the dirtiest first)

apples
celery
sweet bell peppers
peaches
strawberries
nectarines
grapes
spinach
lettuce
cucumbers
blueberries
potatoes
green beans
kale, collards, and leafy greens

The Clean 15 are foods that contain less pesticide residue – these are the items that you can take short cuts with if you're organic budget doesn't cover it.

onions
sweet corn
pineapples
avocado
cabbage
sweet Peas
asparagus
mangoes
aubergine
kiwi
cantaloupe melon
sweet potatoes
grapefruit
watermelon
mushrooms

Avoiding the dirty dozen can make a big difference as apparently your exposure to these toxins will be reduced by 80% when avoiding the dirty dozen.

If you do want to get involved in National Organic month and find out what's happening in your area just visit the Soil Associations website:
www.soilassociation.org/
Watch out for events up and down the country on organic farms, in shops, schools, and restaurants and your local high street.

You can even take the organic pledge online at:
www.soilassociation.org/organicsepte
mber

What is your view on organic?





1 2 3 4 5 6 Last Page

Get An Email Alert Each Time SPARK_UK_NICOLA Posts