| | |
| --- | --- |
| | SPARKYCARLEY's Recent Blog Entries |




Friday, February 27, 2009
Well, today was my weigh in day. I lost one more pound this week! That brings my loss to a total of 53 lbs! That leaves me 32 lbs until my goal weight!

For the last two weeks or so I've been doing about 30 minutes of cardio per day. I was doing 60 minutes and recording my calories based on calculations by databases I found on various websites, which I'm sure you're all familiar with. I have several that I use. Between them there's pretty much any activity you can think of listed... from Aerobics to Shopping! The basis being you type in your current weight next to the activity you've selected from the list, then the amount of time you've spent doing it and it gives you the estimated calories burned.

Well, a couple of weeks ago I splurged on a heart rate monitor. Not a fancy one, but it seems to track the heart rate pretty accurately, and it has a few extra features besides. It's like a watch that you wear on your wrist. It's the one endorsed by Dr. Phil that he uses in his weight loss program. I'm not one to consider a celebrity endorsement, but when I was standing in the store trying to decide on which one to buy, it was either Dr. Phil, or a model that cost twice as much! lol When I wondered if the cheaper one would be a good idea, I noticed Dr. Phil's name on the side of the box and figured... any other celebrity on this thing would have no effect on my decision, but Dr. Phil, being a real doc, should be a trustworthy guy for a recommendation!

Anyway... turns out by using these website databases may not be as accurate as I'd thought 'cause according to the monitor I can burn the recommended number of calories that SparkPeople suggests that I burn in 30 minutes instead of closer to 45 - 60 minutes. So I've been doing 30 minutes for since I got the HRM instead of 60 minutes. The thing is now... I'm loosing 1 pound per week instead of 2 or 3. Right now I'm OK with that as long as I'm loosing, though I suspect when the warm weather finally hits and I can go outside I'll go back to doing more. I so much enjoy the walking outside!

Other than that, today, at least in the morning, I had a bit of a depression episode. Not a really bad one, but much worse than I've been having for quite some time. I'm not sure where it came from or why. I don't know if something triggered it, or if it was just a freak wave of emotion that hit me. Either way by mid afternoon it was pretty much gone.

It still amazes me how fast I can fight these things now compared to how it used to be. There was a time when I felt it coming on, I would feel the downward slide for days, as much as 2 weeks before I'd hit rock bottom. Then the actual episode would last as much as 2 or 3 months, then there was an 'upward slide' when I could feel myself leaving that dark place which would last about another 2 weeks. Now... it's all over in one day. I'm so happy about that and still so shocked. I credit it all to quitting the medication, exercising, eating healthy, cutting out processed foods, EDUCATING myself about anything 'health' (physical & mental) and most of all the wonderful support here on SparkPeople.

Love you guys.
BIG hugs for you. Keep Sparking!











Sunday, February 15, 2009
One day last year.... I'm not sure when exactly but it was many months ago... I was watching Oprah (not a regular thing for me) and she had guests who were talking about a number of things that all had to do with improving yourself in a number of ways. Things you could do to improve your life and help yourself. One lady talked about a project that helped her put her dreams into reality, helped her with her self-esteem, and all around good improvement of her life This project was called a Vision Board.

A number of people talked about such things. It's like putting the whole idea of affirmative thinking (which I heard about for the first time that day) into a physical project that you can see. The idea behind the affirmative thinking is that you can 'make' good things happen just by picturing them in your mind as actually happening. I had never heard of such things before, but it really intrigued me. But then I just started learning about positive thinking and such things. There's so much to learn and grasp when it comes to learning those things. It's definately not a natural instinct or 'common sense' as I've so often been told by others. It's like everything else in life... it has to be leaned!

Anyway, this Vision Board, the lady had contained lots of pictures that she had cut from magazines. Each little item or picture represented something in her life that was a dream, a wish, a goal of some sort. She had pinned them all to a large poster board. As her goals & dreams happened or changed she could change the pictures thereby always keeping it up to date.

Well, I thought "I just have to do this". I got out a bunch of old magazines, and went through and cut out a lot of photos. I also found some online and printed out. Though, the problem is that I didn't have an extra cork-board like the lady on the show recommended. I found a very nice cork-board at Winners with a beautiful frame around it. The cost... $30.00. Well... that doesn't sound like much to most people, but for me, trying to break my bad spending habits, this is a lot of money. I figured I'd wait until "I could afford it". So I placed my photos into a folder and set them aside.

This morning, I felt God talking to me so strongly about this Vision Board and the cork board. I thought... "well, this is an investment in my health because it's something that is meant to help me improve myself". When I saw the cork board at Winners last year they had only one on the shelf. This morning when I felt God talking to me saying that I should finish this Vision Board I figured "the chances of them having another cork board like that one available is slim", but I'll go next door to the mall and if there's one there than I'll know for sure that it's God's way of saying "finish your Vision Board in the vision you see it as being completed". Well... I went there and they had lots of cork boards... and it 2 different styles this time!

Well, I got the board... I spent the afternoon completing the project and placed my photos of my dreams & goals all around it. I pinned them on with some fancy thumb tacks, and some fancy pins that came with the board. I placed the word "God" at the center to represent God being the center of my life and the point at which everything comes from. Closest to that I placed pictures and words that represent the most special and most important of my dreams. Around that close to the frame I placed other pictures. Each one having some special meaning and representation to me. All of them being tied together in some way... everything from meeting Mr. Right, to traveling, to the type of relationship I need with Mr. Right when he comes along, to relationships & friendships that I'd like to fix, to dreams I've had, and SO much more.

The final thing I did was to write a special "prayer", or request, to God and place it in the box I wrote a blog about on here last week... my "Stuff for God to do" box. I asked God to lead me in making these visions on my Vision Board come true.

I've placed a pic of my Vision Board below.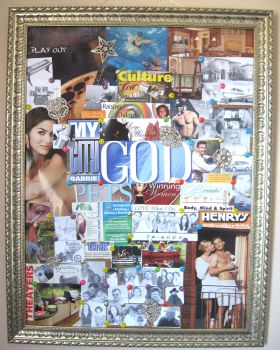 This project was another small step in so many I've taken that's all about trying to change my way of thinking, trying to change my bad habits, trying to change my life for the better by learning so many new things. Eating well & losing weight is just one of those steps and goals to getting to a good life for me. I've been reading so much about anything that involves improving myself whether it be about my weight, my health issues, my spirituality, my faith, everything!

I've been tracking, for at least a couple of years now, a lot of things in a daily journal trying to find patterns. In addition to the journal and blog here on SP, a journal that I often actually write in about my feelings and such, a software program called Optimism (meant for helping depressed people find patterns, and helps me track a lot of factors that I don't track in my other journals), I use a daily calendar type journal (like an appointment book). I write down what I've been doing all day as the day progresses. In a column on the right side of each page, I have codes that I've made up myself (just for the purposes of saving space on the page) and I use them to track my mood swings, my stress level changes, my energy level changes, how sleepy or tired I am, and my libido (for me a big sign that something is really, really wrong is when my libido drops to rock bottom). I also track how many hours sleep I had (whether it was broken sleep or straight through), the weather patterns & temperatures, my bowel movements, my menstrual cycles, and the moon phases (because they affect my mood so drastically).

I use colored highlighters to highlight a number of things each day that affect my moods, so when I want to go back later & see how many times they've happened I can see them quickly without searching each page. Each color represents something. For example... pink is used to highlight meditations or relaxations, purple is used to highlight daily bible devotional times (because I've noticed when I don't do a daily devotional, my moods can drop drastically), yellow is used to highlight fitness activity, blue is used to highlight times I've been crying, and green is used to highlight sexual activity. After that ran out of colors! lol

By writing everything down... including when I've had meals, and I can see patterns in my moods, and try to avoid these things in the future. By using my meal planner here on SP and comparing what Iíve eaten to the times my mood swing happened I've managed to find patterns within the food items I've eaten and how they affect my moods. I've found several things that I have to completely avoid and keep out of my diet. By cutting these things I've changed my mood swings dramatically. Now instead of a constant swing from one extreme to the other as often as every 15 minutes... I can now go days at a time with no mood swings!

The reason I do these things is to do my own research on how to help myself 'fixí myself to the best of my ability. I've said before that I don't trust the medical industry any more. I quit my medication at a time when I figured it could be THE biggest mistake of my life. But I did it. It was one of the most terrifying things Iíve ever done. Really! They say those meds arenít addictive. DONíT believe it! It was HARD. I went through withdrawal, had to wean myself off, and it was a struggle to quit. But quitting has turned out to be a great thing. Since I'm not a medical professional in order for me to help myself I needed to know certain things... in order to find out the answers to these questions, I have to do research. Otherwise I can never know.

So by researching I can see patterns. By reading I can learn new things. With these tools I can change my life and get my life back on a good track finallyÖ which I am doing. Every little good thingÖ is a big good thingÖ like the Vision Board. Now I can look at it every day above my desk as I sit and Iíll never forget my visions, my dreams, and Iíll never forget that God is in charge and that I canít give up faith.






Saturday, February 14, 2009
This week, I had a few of steps that I think of as progress. Very small steps... but forward just the same.

The first being that I lost another 2 lbs this week! Yeah.... Go me! lol

The next was that I noticed that I'm starting to 'bounce' back from depressive episodes faster than I used to. Things that upset me this week that I was over in a few hours, sometimes less, used to be the kinds of things that would take me days or weeks to get over. I'm getting better... slowly to say the least... and that's as frustrating as all hell... but I'm getting better!

The third thing... I went to a baby shower this morning. I actually went out and socialized with people. Not only that there were only 2 people there that I knew and one of those I only met a few days ago!

The baby was born to my best friend of 20 years, Graham, and his new girlfriend, Tina. I only met Tina earlier this week. She's very nice. It's nice to finally see Graham in a happy life. He's long over due. I just hope he can hold this one together. Though having me... another female for a best friend hasn't always helped his situation with girlfriends. He's lost a few to the fact that he's loyal to our friendship.

For me, well today was good & bad. The good part, as I mentioned... I went out and socialized with people, and I actually had a good time. I haven't socialized in a very long time, outside of my family. The bad part was; well, first, that it happened on Valentine's Day which is any single person's worst day of the year. It's like society's way of laughing at single people. Then there was the fact that Tina... and all her friends there... who are day care teachers... spent the whole time, of course, talking about babies (duh.. it's a baby shower), and about their lives, with husbands, homes, and career's. All the stuff I've tried struggled and dreamed about for so long, and have come to avoid 'cause I just can't handle those discussions... because I feel like I've screwed up life so bad that I just don't fit in anywhere. Everything I've ever wanted and everything I never seemed to get. I won't even watch TV shows that involve babies or weddings!

But... Graham, being, well, Graham, came to my rescue yet again for about the billionth time in our lives. Keeping in mind Graham is a biker-type of guy and that this is the last thing he'd normally consider doing, he actually stayed through the whole shower... with a house full of women & kids...just to be with me in case I needed support. He's been my best friend since he was 18 & I was 21. I honestly don't think I'd know how to live life without him.

When it was all over he took me home again, and I spent the rest of the afternoon working out and by the time I was done I felt great! Tonight my mood has dropped some just because I'm picturing the rest of the world out celebrating with a loved one & I'm stuck home alone. But, again, on the bright side, my mood didn't drop as dramatically as it has every other year on Valentine's Day when I've been single. I'm not a super depressed and in a mess at the moment like I always have been in the past. I'm just a little down and a little sleepy.

Ok... I think that's enough rambling for me for now. If I look at this screen much longer and do any more typing, I think my eyes are gonna pop right out of my head. Not only that my doggie is getting hungry! hehe... gotta go now. Love you guys.



First Page
1
2
3
4
5
6
7
8
9
10
11
12
13
14
15
16
17
18
19
20
21
22
23
24
25
26
27
28
29
30
31
32
33 34 Last Page

Get An Email Alert Each Time SPARKYCARLEY Posts