| | |
| --- | --- |
| | SPARKGUY's Recent Blog Entries |


Friday, December 26, 2014
Hello Everyone

Thanks for visiting from my weekly email -- I hope you like the theme I'm working on for 2015!

Here is the blog I mentioned in the email that was a tribute to Robin Williams that I wrote earlier this year if you are interested in using this for motivation for next year:
www.sparkpeople.com/mypage_pu
blic_journal_individual.asp?blog_id=57
59019

I'll be sharing more about the Challenge Prize Money Fund as this develops. As mentioned in the email, we will take an amount equal to 10% of any earnings from Amazon and use that for a prize fun for SparkPeople members. All you need to do is use this link when shopping at Amazon: sparkpeople.com/amazon

Thanks for your support -- I hope this will be a great 2015 for everyone.

Feel free to start listing any highlights this week or goals for next week. I can't believe the year is almost over!

SparkCheers!

Chris (SparkGuy)








Friday, December 26, 2014
Hi Everyone

Here's a quick update from yesterday:

We celebrated Christmas at our house and my Mother-in-law, Mom, and brother joined us.

My fitness highlight was playing football with the kids and my brother. It was a fun way to get outside with the family on a chilly day.

We added 4 goldfish to our household yesterday that now includes: 2 parents; 2 boys; 2 guinea pigs, 6 chickens, and 4 goldfish.

There are now 6 days until 2015 -- let's all get ready to make it a great year!

I hope everyone who celebrates had a great Christmas and all other holidays being celebrated!





PS To answer a couple of questions below:

* Thanks for asking -- I'll make sure to post some photos of our guinea pigs. Their names are "Vanilla" and "Pudding" given by the boys.

* They did also want to name the goldfish, but so far we are having trouble telling the difference between the four fish :).








Thursday, December 25, 2014
Merry Christmas and Happy Holidays everyone (to all celebrating some form of holidays this time of year)!

Here's a quick update from yesterday because I was feeling a bit under the weather and went to bed early.

I only did 10 minutes of fitness yesterday, but they were memorable minutes. My youngest son received new rollerblades for Christmas at his Grandma's house and naturally wanted to test them out. So, I agreed to take him outside in the windy, dark, chilly weather and he rollerbladed around the block (on the sidewalk) while I tried to keep up running behind him.

It was a fun way to check off the 10 minutes for Day 255.

Hope you are having a great day. I'll be back later for an update on today. Happily, I slept a little over 9 hours last night and feel great today. I did a healing bath yesterday (hot water infused with 35% food grade hydrogen peroxide and epsom salt).

SparkCheers!

Chris (SparkGuy)








Tuesday, December 23, 2014
Hi Everyone

Today is Day 254 of my 10+ fitness minutes streak. Obviously, that streak is going really well.

So, I decided to spice things up and do a "streak within a streak" to build on this success.

Specifically, I set a goal to see if I could do at least 15 minutes of exercise bike most days and track my ongoing percentage of that.

With the great foundation built up from the main streak, this has been pretty easy so far. My current amount for this streak is 22 of 24 days or 91.67% of days. I'm not sure yet what my goal will be for the percentage, I'll see how this goes. I think it might be to stay above 75%.

Also, for this streak, I don't count business trips or vacations since it's harder to find access to an exercise bike. I'm fortunate to have one at home that I bought about 8 years ago -- I've definitely gotten my money's worth from that purchase :).

I also like to print out really long emails and some newsletters and read those on the exercise bike (or a book). This makes it even easier since often I would have spent this time reading those materials at my computer anyway.

Hope everyone had a great day -- SparkCheers!

Chris (SparkGuy)








Monday, December 22, 2014
Hi Everyone

I hope you are having a great Monday!

Today is Day 253 of my 10+ fitness minutes streak. I've just done 10 minutes so far to get another day in the books!

Someone on my team just shared the horrific image below. I joked that this now ruins Elf-on-the-Shelf for me. The person in the photo is Dave, our Chief Operating Officer.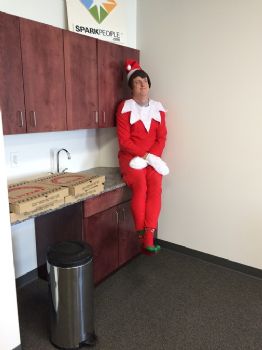 Yes, I'm aware of what this could say about SparkPeople as a company, so I decided to share a message about that. As many people know, despite having an enormous website and mobile apps, we have a very small team.

One of the main reasons this works is that our team is really smart and efficient at what they do. We also like to have fun as a team. All of this combines to lead to many people on our team staying with the company for a long time because it can be a great place to work with the culture we build and the mission we're on to SPARK millions of PEOPLE to reach their goals using health and fitness as a springboard to success in all areas of life.

The "having fun" goal actually fits well with our goal to be very efficient. We like to say that if we continue to be efficient, then we're "allowed" to use some of the time saved from that efficiency to do goofy things like dress up as Elf-on-the-shelf and other fun activities -- like the team once re-assembled Dave's desk in the bathroom including a working phone line. They bragged about how it only took a short time to do this prank. He just worked from there for the entire day to "show them". I don't think this really "showed them". In fact, I think the team probably anticipated this response from Dave, so it just added to their joy :). Laughing is healthy, right?

Of course, this all makes it more fun to work with each other and keep trying our best to help more people.

SparkCheers!

Chris (SparkGuy)





1 2 3 4 5 6 7 8 9 10 11 12 13 14 15 16 17 18 19 20 21 22 23 24 25 26 27 Last Page

Get An Email Alert Each Time SPARKGUY Posts