| | |
| --- | --- |
| | SOPH1218's Recent Blog Entries |


Saturday, July 12, 2008
We are back from vacation, got back on Monday. I've been busy everyday trying to catch up on my to-do list, things certainly seem to get backed up when you aren't around to do them. Go figure!

I've done good to stay in my calorie range since we have been home, only I did go over yesterday by about 14 calories. Not stressing about that much.

I made a new recipe today - my own low cal ranch dressing. It was VERY good, fooled my taste buds into thinking it wasn't diet food. Not something I've been able to say with the store bought ranch dressings I've tried. Mine was good though, and I will definitely make it again, no more yucky tasting diet ranch. I'm a wee bit excited about this, and I'm sure it seems insane to some, but I can't live without ranch. I gave up a lot of things for the low cal options out there, and now I feel my world is complete. No more guilt over needing that high cal food. I shared the recipe on SP for those interested in trying it.

Things I've learned along the way, and really didn't think I'd ever say... I like light mayo Hellman's brand is the best (tried Kraft, & Duke's first). Walmart's Great Value brand fat free sour cream is not bad. I like fat free and low fat cheeses at least the Kraft brands. Sara Lee Delightful Whole Wheat bread is very yummy, and good for me. I like whole wheat tortillas and whole wheat pasta. Orville Reddenbauker's 94% fat free popcorn, rocks! Special K makes a mean and lean cereal bar, yummy! You can still enjoy life while eating right. I still enjoy beer, tequila shooters, and other cocktails, we are just learning to drink skinny. I like Starbucks skinny coffees, frapes, and cappuccinos. Finally I'm looking forward to my next cholesterol test! LOL

I've lost 15 lbs so far, and my back hurts less, and I feel better. Most days I feel like I can keep this up long term, maybe even forever. Make it a lifestyle rather than a diet, which indicates something more short term. Of course I have days when I think it's a pain to always be careful. Setting my goal at 80/20. Good healthy lifestyle 80% of the time, and the other 20% is for times when I'm not so good. No guilt over the 20% as long as I stick to my guns the other 80%. So far its working for me! I'm losing steadily.






Saturday, June 28, 2008
I've been MIA from SP cause we are on vacation. We finally arrived at our destination, luckily no major troubles along the way. Kids fighting was one of our biggest problems, it was expected because that is how they are all the time.

I didn't track any food for the past three days or so, and I've likely done horrible at keeping things low cal. Obviously eating on the road and in hotels isn't the ideal situation. I have also lacked exercise, with the exception of swimming for leisure. It does build muscle though as I feel sore from it.

I won't be able to weigh in again till I'm home as I don't have a scale with me. I was quite pleased with my weight loss the week before last though, I was down to 173, 2lb less that the week before.

I've not slept incredibly well as being in a strange environment always throws me off. Maybe I'll get used to it before the time we have to leave.




Friday, May 30, 2008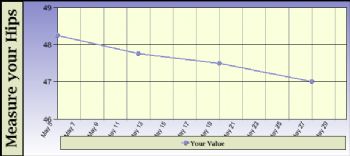 I'm only half a pound away from reaching 10 lbs lost. It's been just slightly over one month since I returned to SP and I'm so glad I did. I will weigh again tomorrow since tomorrow is officially the last day of the month, perhaps that half a pound will be gone.

Just think if I hadn't had those bad days of eating fast food and depression, I could have surpassed 10 in one month. According to my SP reports I'm right on goal. And the best part of this whole thing is that in the same month my measurements went down by 1 inch or more on both hips and waist.




Monday, May 26, 2008
My bad started on Friday. My son stayed home due to a bad ingrown toe nail. So that day after running to the doc and getting him back home, we discussed him needing a haircut. I decided to run him to the Great Clips. While I waited I stopped at the coffee house next door and had a grande caramel frappe, that put me over that day.

Saturday was race track day, I figured I had some room for extras that day cause we'd be walking a lot and our section was 4 levels so some opportunity for stairs. Well we stopped at McDonalds for lunch, and since I don't eat there often I decided to get my all time favorite the quarter pounder with cheese, I got the combo so had those greasy fries too. To top that off my daughter went and got Starbucks, another grande caramel frappe.

Sunday was my best day this weekend, but still likely over indulgent. We had fellowship group, which is sort of pot luck. There were chips, biscuits, and dessert, I had only half the biscuit, and a small sliver of the cake, and only a few chips.

My body feels uncomfortable after the fact, its like I can feel the fat infiltrating my cells. Sad isn't it? I've not had as much time for my bike rides either cause I've been on the go a lot. I do give myself credit for trying to work in at least short rides despite being so busy.

I also have to say the race track was indeed some extra exercise. I took the stairs on more than one occasion at least one level's worth. I tried not only to take them but to jog up, boy were my lungs complaining by the time I got to the top. I also did walk a lot, and I did add in a little garden work on Sat morning before heading out to the track.

Praying the weigh in tomorrow won't be a total bust since some of my activity will cancel out some of my poor eating choices. And I'm hoping today I can get back on track, no plans. Just a nice relaxing day at home. Much needed after being so busy running all the other days this weekend.




Friday, May 23, 2008
Okay today I gave in to a craving. It was very yummy, but it put me SO over my calories. Without it I may have been pushing the edge, but probably would have squeaked by just under the wire. My sin today was a grande caramel frappucino with whipped cream, i asked for skim milk but denied the skinny powder and the sugar free caramel. Wikipedia says my drink was 380 calories, practically the same as some meals I eat.

I have been crazy busy and running all day long so I didn't do any cardio today, but will likely be able to do some this eve. I will get a ton of exercise tomorrow working at the race track (Charlotte Motor Speedway - Coca Cola 600). From what I understand I'm working a section with four levels so lots of stairs. Killer on my knees but sure it's a big calorie burner.



First Page
1
2 3 4 Last Page

Get An Email Alert Each Time SOPH1218 Posts