| | |
| --- | --- |
| | SONORANARIZONAN's Recent Blog Entries |


Friday, June 17, 2011
I'm approximately one third of the way home on my virtual walk.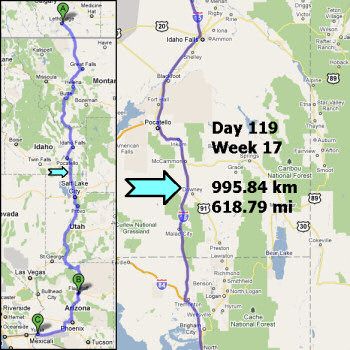 Here's a picture of the landscape in the area. Credit to Google Earth for both pics.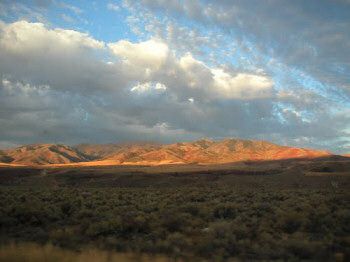 I'll probably cross the Idaho/Utah border in a week to ten days from now.

This past week was wonky for me getting my walks. It rained, plus other things came up that kept me off schedule. I still got walks in, just not long morning ones.

I had gained weight the previous week. I think this was because I burned way more calories than I had guessed, and perhaps I didn't eat enough to match. I tried taking an average and tweaking my goals for this week so hopefully I've lost weight again. I'm not upset though. I saw three ladies looking at me and talking quietly at each other on Sunday. But it was a "wow, doesn't she look good with that weight loss" kind of conspiracy. (I know this because one of the ladies confirmed it later that morning).

So the scale did not bother me on Monday.

Well, those are my updates for today. Maybe more later on. See ya!



Wednesday, June 08, 2011
Hard to believe, too. Bitter sweet month for me. Mostly sweet though. But when the 22nd comes around, and it's the longest day of the year - it's hard to keep from thinking that now the days will get shorter again. That said, I'm still going to enjoy the summer.

This walking has been so good for me, mental-health wise. I suffer Seasonal Affective Disorder, and by walking, I seem to get my money's worth of sun and warmth. I'm not just slugging around in the house all day having the season slip by. I'm a little sunlight sponge!

Another benefit is I get to enjoy the flowers more. My goodness, the lilacs! Lilacs, I tells ya! I could happily walk through an enormous forest of them.

June is the month of my wedding anniversary. Mr. Sonoran and I will complete our thirteenth year of marriage later this month.

Did I mention that I walked all the way to Shopper's Drug Mart on Monday? Well, I did. The one on the south side. No small walk either, as the whole trip there and back was 10.15 km. I couldn't find the notepads that I want. I bought myself one when I joined Spark People, to use to write down my daily nutrition, my exercise minutes/calories burned, my steps and how many cups of water I drank. Also, I write down my weight and BMI each Monday.

It's a tall notepad, with a magnet on the back. I also take notes of my food measurements in there. I have gone through three of these notepads, 50 pages each. To my sadness, I can't find them in any of the stores now. :( I had to get some second rate, dull notepad (doesn't even have lines) to replace it. Oh well, I'll bide my time. Same with a grown-up sized yellow umbrella. Why do they always have to be black or dark? Meh!

youtu.be/O6Fw8DgvTQA

I'll play that song at church on Sunday. Time for my ocarina. Haven't played that for awhile. See ya!


Saturday, June 04, 2011
On Thursday, I completed 15 weeks of my virtual walk. I was next to a little place called Roberts, Idaho.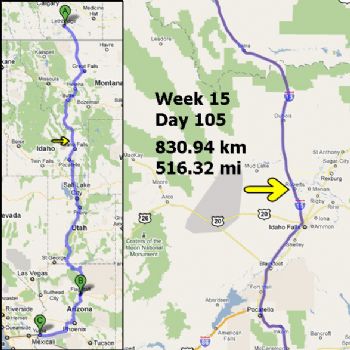 And here's a little picture of the area around there. (Credit to Google Earth.)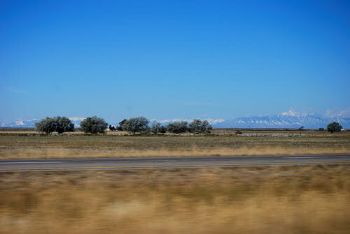 All three kids now have pedometers, plus a virtual route mapped out to their hometown in the Yukon. I figured that the three of them would contribute to an overall daily total instead of going individually down the route. I picture one of them walking while hauling a wagon carrying the other two behind them, always staying together.

Mr. Sonoran, the little Sonorans and myself all went to Henderson Lake for the Hike for Life walk this morning. They went around once (it's about 4.1 km around), and I went around a second time. They were offering a hot dog BBQ there, so after walking 8.2 km, I was rather hungry. I had one and a half. :D I almost had a doughnut, but resisted the temptation.

I walked twice to the mall this past week, although the first trip also included a trip to the library. I've also walked to the Wal-mart with my older boy. On a different day, the boys and I walked to the bank. This walking to lots of different places in town is real fun. Who knows where I'll go next?

Anyhow, have a wonderful week, everyone!




Friday, May 27, 2011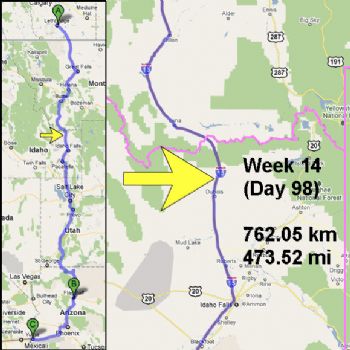 I finished Day 98 of my Virtual Walk yesterday. This week has not been very good for me in terms of distance or step amount. It has been raining for over 7 days and though I did manage to get my walks in, they were pretty short in comparison to my usual ones.

Also, I walked my 5K route to church on Sunday. I tried to beat my last record and subsequently strained my foot somehow. It was hurting all day Sunday and Monday, and while it feels better now it is not up to snuff yet.

Today is too windy and rainy and I only have an umbrella, not rain coat & pants. So I'll do my walking in the house.

Hopefully, the rain is almost done with and we can get back into sunny times. Stay warm and dry, everyone.




Sunday, May 22, 2011
I thought to wade into the strength training pool finally, as most my exercise is cardio. I tentatively had the SparkFitness thingamajiggy generate some workouts for me. I printed them out - and . . . within 10 minutes crumpled the printouts and chucked them.

Way too hard. Don't know why it plugged in the advanced exercises like that. After I manage to relax and be calm again, I may poke around and try to find exercises that I can actually DO.

I want to wade into the shallow end of the pool at first, not get chucked into the deep end and subsequently drown.
First Page
1
2
3
4
5
6
7
8
9
10
11 12 13 14 15 16 17 18 19 20 Last Page

Get An Email Alert Each Time SONORANARIZONAN Posts