| | |
| --- | --- |
| | SONGS415's Recent Blog Entries |


Friday, January 24, 2014
He Restores My Soul
By Brenda Craig
• January 8, 2014



Word of the Day
Like sheep, My children go astray, even the most devout of all struggle and turn aside to have their own way many, many times (Psalm 119:176). This is nothing new to Me beloved. I am not taken by surprise at anything. Cast your cares upon Me that you might not be weighted down by the things of the world. Don't let the burdens you bear weigh you down like a sheep whose wool has become full of all manner of things. When sheep are weighed down they become de-habilitated to a point where their movement is incapacitated.







My yoke is easy so cast your sin and your cares upon Me, for I care for you (Psalm 42:11). You must be disciplined in your pursuit of Me and not become comfortably complacent. This is dangerous and makes you oblivious to the approach of the enemy. Remember; I see the beginnings from the end so don't be dismayed. I always go after the one who has went astray or turned aside to their own way (Luke 15:4).



Know this, I always come after you. Through My great mercy, I bring you back to your proper place of relationship with Me. Not only do I bring you back but I do it in a way so as to create a better place than the one you left. I do this as a demonstration of My great love and to build a faith which encourages you not to wander so easily.



I am restoring your vigor, your strength in these days ahead. The enemy has wanted you to advocate your position in Me and I will not have it. Salvation is more than just being saved or born again. It is to be rescued from danger, to be restored to a previous state of being, to be healed, delivered and set free from besetting sins. I restore everything at all times and in every way imaginable. I restore you from the inside out through the transforming work of My Word, by the Spirit. I am transforming you, changing you, restoring you, mind soul and body.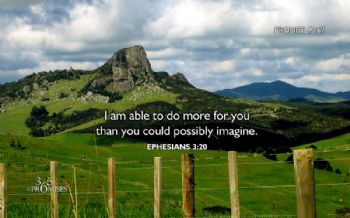 Remember, I have always been. I was the Word and I still am. The Word engrafted is able to save or restore your soul in every possible way (James 1:21). I, the Word, restore you. Or you could say, The Word restores my soul as it is ingested, meditated on and applied to My life. Though you fall into sin, wander to other things; turn aside to your own wants and desires, I will not allow you to stay there.


Today I am increasing the restoration of all things in your life. Things long forgotten, things hidden are coming forth into the light of restoration. Do not run, or push aside these promptings. Let Me have My way in you and behold the re-establishment of your life as it is brought to complete and perfect order. The latter rain will be greater than the former. I bring you new wine, new vigor, new discernment and new hope. All I can say is new…Sozo…all things are restored…


"He refreshes and restores my life (my self); He leads me in the paths of righteousness [uprightness and right standing with Him--not for my earning it, but] for His name's sake" (Psalms 23:3 Amplified)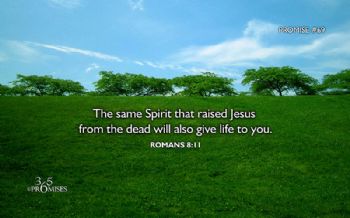 Prayer
I am saved, healed, delivered, and set free in every area of my life. All the years the locust have eaten are restored in Him, restored to His perfect plan of love and grace. The Word is engrafted into the very fibers of my being and I am changed, renewed, restored. Every time I turn my head in the wrong direction or my heart in the wrong way, Holy Spirit draws me back to a place of communion and relationship with the Lord.

I hear His voice and I do not follow another. The Lord is my Good Shepherd and does not let me get lost along the way. All things in my life are restored and being restored. The latter days will be greater than the former for I am increasing day by day in Him. All things in my life are made new. My soul is restored by and through the Word. Amen





Friday, January 24, 2014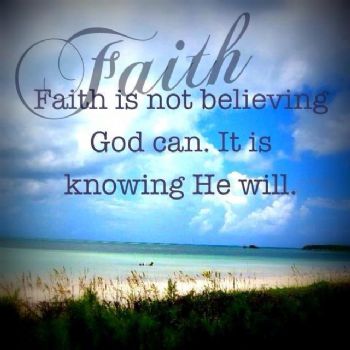 Meditate On

It was by faith that even Sarah was able to have a child, though she was barren and was too old. She believed that God would keep His promise.
Hebrews 11:11, NLT


God Keeps His Promises

How do you continue to believe God for the breakthrough that you need when you don't feel that you have the faith to go on?

My friend, the answer lies in today's scripture. Sarah was "barren and was too old" to have a child, but "by faith" she received strength to conceive and gave birth to Isaac. Her faith was involved. How did Sarah exercise her faith to receive her miracle? She simply "believed that God would keep His promise." In other words, she banked on the faithfulness of God. Her eyes were not on her faith or lack of it, nor were they on how tough her natural circumstances were. When you feel that your faith has run out, just rest in how God is always faithful! Count on His faithfulness, not your faithfulness. Lean hard on the fact that He remains faithful even when you're wavering in faith (2 Timothy 2:13). Beloved, once God gives you a promise from His Word, it's not for you to struggle and conjure up faith to make His promise come to pass. You cannot make the miracle happen—only God can. You are to rest in Him who has promised, rest in His faithfulness, and you will experience your miracle!
Joseph Prince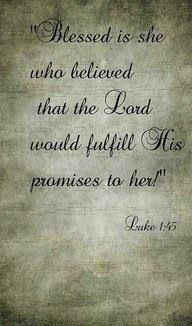 Meditate On

And when the dew fell on the camp in the night, the manna fell on it.
Numbers 11:9

Grace For Your Darkest Moments

Look at today's verse and notice that the manna fell on the camp of the Israelites during the night.

My friend, night speaks of the darkest moments in one's life. This means that in your darkest moments, God is still supplying you His "manna" or grace. He has not abandoned you and left you to your own devices. No, He is still there with you, caring for you, watching over you and working things out for your good.

So beloved, rest in God's love for you and let Him sort things out for you. Stop trying to solve the problem in your own strength and wisdom—let God be God to you. He is with you, for your success and will provide for your needs. His grace for you falls afresh every day. His mercies that are new every morning will also see you through the darkest nights!

Today, just see His grace upon you and all around you. Be conscious of it, thank Him for it, and see His grace do wonders for you! Joseph Prince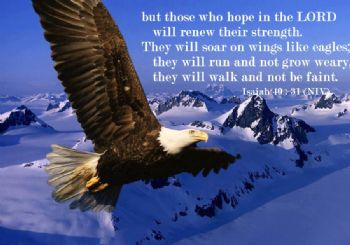 Friday, January 24, 2014




Pastor Mark Leonard
I will walk this day in faith, God is on my side. Fear will not guide me. I will not listen or pay attention to my fears today. I refuse to be driven by fear in the name of Jesus. I decree and declare I am driven by faith. Something Good is Going to Happen!






Joyce Meyer Ministries
The devil brings storms into your life to intimidate you. You glorify God when you continue to do what you know is right anyway.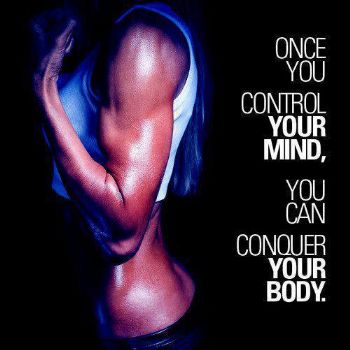 Today's Topic: Neither Be Of Doubtful Mind... Fear Not...

Author: Jerry Savelle

Verse(s): Luke 12:32

Today's Confession: I am not afraid. He knows my every need and will take care of me!


Devotional:
Have you ever noticed that the things that Jesus said belong to us are the very things that Satan tries to get us to worry about the most? He tries to make us doubt that God will ever give us the necessities of life. Just before Jesus left the earth, He said, "Lo, I will be with you always (Matthew 28:20)." He also said, "I will never leave you nor forsake you (Hebrews 13:5)."


In spite of what Jesus promised, many Christians still suffer from insecurity, which is one of the greatest of all fears. Satan wants the Christians to be insecure, and he attacks them with everything imaginable in order to cause them to worry and fret.



Deuteronomy 8:18 says, "But thou shalt remember the Lord thy God: for it is he that giveth thee power to get wealth, that he may establish his covenant which he swear unto thy fathers, as it is this day." Yet, many people still greatly fear that they are not going to have enough to meet their needs.



Fear is a spiritual force that will destroy a right mental attitude. That is the reason Jesus said, "Take no thought ...fear not ...Be not of doubtful mind." He said, "Don't you know that your heavenly Father loves you and will take care of you? There is no need for you to worry about anything. Oh, ye of little faith" (author's paraphrase).



If Satan can create fear in your heart and cause you to have a wrong mental attitude, he can stop you from receiving the blessings of God. Satan comes to kill, to steal, and to destroy. Fear is what opens the door of your life for him.



In Luke 12:32, Jesus said, "Fear not little flock; for it is your Father's good pleasure to give you the kingdom." Fear is the parent of three great diseases that infect the human mind. Apathy, inertia and procrastination are brought on by fear. Apathy means "becoming indifferent, having a lack of motivation." Inertia is "inactivity and passiveness." Procrastination means to hold back and to put off until later."

Jesus said, "Take no thought." Why does He say this?

Somebody said, "Well, I just can't do that. I can't live on this earth without thinking about my needs, without thinking about what I am going to wear, and without thinking about food and shelter." He didn't say, "Don't think!" He is implying that we shouldn't worry about anything.

Jesus is talking about "doubtful thinking" here or "negative thinking." He said, "Take no thought for these things for your heavenly Father knoweth that you have need of them." And He said, "Fear not ...it is your Father's good pleasure to give you the kingdom."

So don't worry today. Don't be afraid. Take no thought. It's your Father's good pleasure to give YOU the kingdom!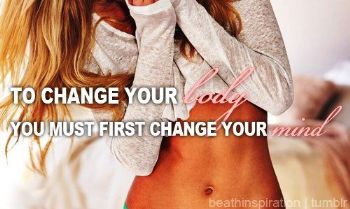 Sandi Krakowski
Disbelief is a negative power. When we doubt our mind builds up reasons to support our disbelief. The will to fail is then born! #BEMORE

Dr. Caroline Leaf
Through our senses we receive Satan's lies, but we don't have to believe those lies. If we do, we process them into physical realities!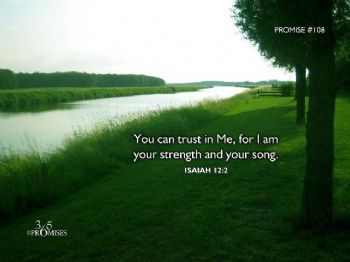 June 6, 2013. Let Me disengage you from the seemingly endless cycle of frustration you are in. Only you and I know the depth of inner struggles you encounter on a daily basis. Stop receiving the lies Satan holds over you. He knows your areas of weakness and constantly bombards you with tempting, tantalizing and alluring thoughts. Allow Me to usher you to a safe place, to a position of unequivocal peace. In your heart and mind, return to where you surrendered to My saving grace. Accept My forgiveness. Receive freedom. Believe My truth.



Romans 8:2 (NLT) "And because you belong to him, the power of the life-giving Spirit has freed you from the power of sin that leads to death." Kevin Robinson






Friday, January 24, 2014
Jerry Savelle Ministries International
When you sit under the Word of God, your soul is going to be flooded with positive thoughts. God's Word is positive. It always says, "You can!" Not, "You can't." or in my case "it won't work no matter what I do." Lies, lies, lies from the father of all lies.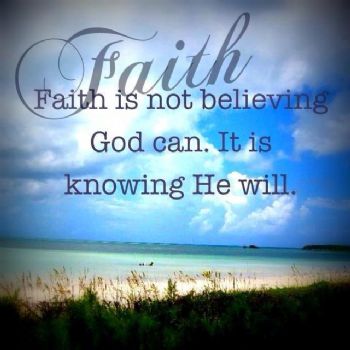 Sandi Krakowski
When God plans your future He doesn't plan for defeat. He always plans for victory! There will be trials on the path, but press through!



Dr. Caroline Leaf
Intense prayer and meditation change numerous structures and functions in the brain, thus changing the way you perceive reality.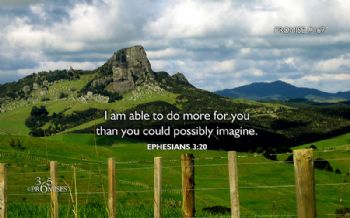 Be Transformed
Posted on April 24, 2013 by Gregory Dickow

Why is it that we have such a strong desire to change, to improve, to become better? It's because every Christian wants more than anything to experience God's perfect will, His purpose and plan for their life. I love the verse in Jeremiah 29:11 where God says, I know the plans I have for you. That's how the New American Standard version reads.

Yet, I noticed that in the New King James Version God says, I know the thoughts I think towards you. Thoughts of peace not evil, to give you a future and a hope. So I asked, Lord is it thoughts or is it plans? God said to me, It's not one or the other; it's one that leads to the other. God is trying to tell us that these 2 things go hand in hand. When we understand God's thoughts, then we begin to experience God's plan. It's His thoughts that lead to His plans.

Your thought life is the gateway to your destiny. The main gateway into God's plan for your life starts with God's thoughts for your life, which are found in His Word. Renewing your mind to God's way of thinking leads, guides and carries you into God's plan.

Romans 12:2 says, Do not be conformed to this world but be transformed by the renewing of your mind. To be transformed, describes what is done TO YOU. It literally means to be changed from the inside out. It is where we get the word metamorphosis from. When a caterpillar is transformed on the inside into a butterfly; it's not something that the caterpillar does for himself. It is something that is DONE TO the caterpillar.

As Christians, we're working so hard to change, yet God says this is not something done by you. It's something that happens to you, it's something that happens for you but it not something that happens by you. You can't bring yourself in to God's perfect plan for your life.

Just do what the caterpillar does. He spins a cocoon and rests inside. The creator takes it from there. What is our cocoon? The Bible.

Instead of striving to change, get in that cocoon. Change the way you think and this transformation will happen to you!












Monday, June 11, 2012
I tried setting up a blog on other sites and it's much too complicated for me.

Well, it is time to start EXPECTING good things...I realized I have been expecting this to be too hard, always be tempted and not able to say no. I have to change my expectations because I sure been getting what I've been expecting!

I am keeping track of my eating on My Fitness Pal just because some others from fb are doing that.

My thought for today -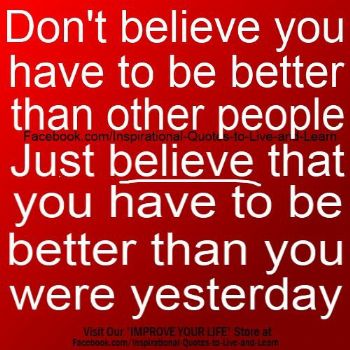 6/12
Have to stop this pity party and listen to something good!

Doing some stretching and exercising throughout the day. Stretching HAS to help....

Made juice with blueberries, apple, grapes, mango, green magma, kale, cucumber and spices. Not bad, will suck on it all day.



1 2 3 4 5 6 7 8 9 10 11 12 13 14 15 16 17 Last Page

Get An Email Alert Each Time SONGS415 Posts