| | |
| --- | --- |
| | SOFT_VAL67's Recent Blog Entries |


Sunday, March 23, 2014
Havent blogged in a few days.
Last night I was invited out to dinner by a good friend, and we went to the chinese buffet.
I had a nice salad and was hoping for some sushi, there was no sushi.
But I enjoyed some coconut chicken and orange chicken and all the other kinds of chicken.
I only had one small potato and one small nearly bite size piece of cake, peanut butter.
Mostly I stuck to the meats, two spareribs on a stick.
I guess this food was high in salt content or something, because the back of my mouth, past the gum in the main back, has been so sore, raw, painful even.
But it was worth it, I would walk back there today for some more of that coconut chicken!!
and even though I said I wasnt going to, I did drink 1 beer.
After dinner we went to a neighbors house where they had a backyard bonfire going and drinking beer, I had one, out of courtesy to the host.
I am glad I didnt have more.
So yesterday I went to the park, even though it was somewhat windy, I decided it was way too pretty out to waste the day and not walk.
The park was full of people, more than I have seen there.
Walking was great, until this one group of younger women walkers showed up.
Maybe I am just not used to sharing the track with so many people, but, these girls, ranging in age from maybe 14 to early 20s, dressed in cowboy boots, tight jeans and flip flops and not walking, but more like strolling.
I was courteous and stepped to the side when they strolled around, but the perfume was so overwhelming, I had to go sit down and allow them to go on around and get way ahead of me.
Maybe all of them were wearing perfumes that we co-mingling and making the stink, or one of them had on a ton of the most cheap, P U stinking perfume I have smelled.
And there I am, the wind blowing it back on me, and me trying to breathe as it was, had to stop and get tissues out of my car to blow my nose.
But I got my one hour walk in and enjoyed the sun.
At about 40 minutes the wind got more intense and I thought maybe I would stop.
But I pushed on, and it actually felt kind of good, I just kept reminding myself, shorts weather is only weeks away.
My shirts are all too tight.
I havent seen a big loss on the scale in a long time.
KEEP WALKING!
Then I came home and tanned and my friend had texted me wanting to go out to eat.
I had planned to fix an omelet as I was home alone last night, but was glad to get the invite, I really needed a night out of the house.
There was a young man at the bonfire playing the guitar and telling jokes and it was a really nice evening.
Took my mind off of alot.
Now, today is Sunday and its walking dead night.
and once again, the sun has hidden and gone way off to some other town. the sky is gray and cloudy and its cold outside.
Snow??? So I have heard.
This has been one long winter.




Wednesday, March 19, 2014
Someone suggested I write a poem about my friend, it might help me to write, to get out my feelings, and so I did, at least I tried.
I am feeling a little better.
And I did actually sleep last night, was sleeping so deeply when honey came in from work around 4 am, I neither heard him, nor understood what he was asking me.
Something about the tanning bed....
I guess it felt good to sleep and not wake every hour with him on my mind.
Sitting thru a little bit of the funeral, I had hoped to get some spiritual moment where it all dawned on me, life and death and such.
But the kind of funeral his family chose brought nothing but more pain.
Have any of you heard of "old regular baptist"???
If not, you are missing a great time, hell fire and damnation is our lot.
God is a vengeful God.
Woe is you who doesnt believe or kneel at the cross every Sunday, and so on and so on and boogie boogie boogie!!!
I know my friend would not have chosen such a funeral.
Had to be his family I guess.
To each his own.
I told my friend Amy last night that I want none of that when my time comes.
If there is to be any "preaching", I want it to be a biker minister, with a long braid and beard to his belly, with tattooes, and lots of piercings!!!
And I want him to say some sweet words about love and life and enjoying time here on this earth.
Then someone sing some Johnny Cash and everybody dance!!!
Lol....well, at least I didnt lose my sense of humor.
Here is the poem, such as it is that I wrote, I did it as a way of just releasing some of the pain inside, and put it in my writers workshop group feed.....
"An Ode to RDHJ"

""" We talked all the time...about nothing.
Sometimes, just to kill the time, or kill the silence of the time.
Sometimes he made me laugh, sometimes, he made me mad.
Most of the time, he made me happy, happy to have the friend I had.
Today he will be laid on a hill within the hills.....
No more will he message me to say did you hear that song?
No more will he ride his side by side all night long. Coveralls covered in all, dirt, mud, grass and sweat.
I have had many friends, but he was the best one yet!!!
and I watch you go....I watch my tears stream down, dripping onto my own shirt.
I watch a piece of my heart go with you as they lay you in that dirt.
and I whisper goodbye friend, and its picked up and carried away on the wind.
Maybe in time, it will come back around again.
I love you RDHJ, and I will never forget you young friend, I will stay behind and maybe one day I will see you again!"""""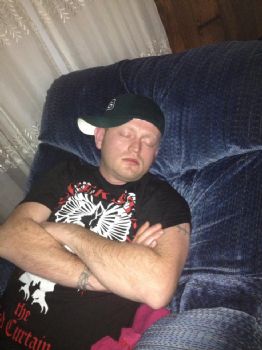 Tuesday, March 18, 2014
Having such a hard time dealing with the loss of my friend.
It isnt immediate family, so, I am not constantly hearing all the details and am just a spectator on the outside.
I have gone to the services both nights, tomorrow he will be laid to rest.
What does that even mean, laid to rest?
I know it means, HE will be laid to rest. He will give up his burdens, he has.
He has left behind his pain, his burdens, his memories.
Now they become ours.
The living, they become our memories, our pain to bear.
I am in pain.
This young man meant alot to me, he was that friend who never ever was too busy to talk.
Never showed his bad mood, always laughed with you and told you to stop crying if you did.
I havent felt so deeply down in the my soul the loss of someone in a very long time, the way I have felt this one.
But, as I said, I am not on the inside, I was just a friend, nothing more, so I have to go on each day with my life, sitting here tonight, wathcing Breaking Bad on Netflix.
Just some mundane act to keep my mind occupied.
Laid in tanning bed, fixed a bite to eat, cleaned house, took a shower.
Slept?
Not so much.
I keep waking up, wondering if this is real, is he gone for real?
Yes, is always the answer.
I hope to sleep tonight. I hope tomorrow once the funeral is over and I come back home, to stay busy, hopefully to walk.
But the wind is whipping something up outside.
Rain maybe. Snow? I hope not.
It is time for spring, time to clean out the old. and renew.
Time to get on with life.
Time to let go of the dead and be glad to be alive.
I hope I can live those words soon.





Monday, March 17, 2014
Saturday night a good friend of mine wrecked on a side by side ATV and was killed.
I was just talking to him a few days before that.
He loved to discuss music and I always shared any new songs I heard with him.
He had a drinking problem and me and him spent many days discussing that issue and how to find ways to stay sober.
He was a calm and gentle person, but he liked to have fun and I suspect wrecking his atv, he was probably whooping it up, going to fast and enjoying his night.
It is sad that it ends that way.
We are definetly not promised another hour or even another minute.
I hate that he is gone. I have felt the loss so deeply. And I havent known what to do with those feelings.
He was only 32 years old. Had two young sons and its just affecting me so much.
Other than that, I have been trying to decide about vacation. Paying down some bills to try to have that extra money.
And I lost 2 pounds since I was last on the scale!!!!





Friday, March 14, 2014
Didnt get to walk today, it was a nice warm day, but the wind just was so swift.
Have I ever blogged about how much I hate the wind?
I am sure I have, as I hate the wind so much I often talk about it.
What is it for anyway?
All I know is, if the wind didnt blow so hard, the sun would feel so wonderful, one could enjoy walking, or sitting outside, or working in the yard.
All I can do is look forward to the coming summer days when there will be more sunny days and less cold rainy windy days.
Back is achy today.
Laid in the tanning bed today.
Went to walmart.
Bought some cream for dry itchy skin.
Came home, watched the walking dead, had a salad, did laundry, watched more walking dead.
Now, gotta fold some clothes, then off to bed,



First Page
1
2
3
4
5
6
7
8
9
10
11
12
13
14
15
16
17
18
19
20
21
22
23 24 25 26 27 28 29 30 31 32 33 34 35 36 37 38 39 40 41 42 43 44 45 46 47 48 49 50 51 52 53 54 55 56 57 58 59 60 61 62 63 64 65 66 67 68 69 70 71 72 73 74 75 76 77 78 79 80 81 82 83 84 85 86 87 88 89 90 91 92 Last Page

Get An Email Alert Each Time SOFT_VAL67 Posts