| | |
| --- | --- |
| | SOFT_VAL67's Recent Blog Entries |




Tuesday, March 04, 2014
Does anyone ever really realize just how much we struggle? I do. Every single morning of my life, when I wake up, and go to the kitchen for my morning coffee, or orange juice, or even water. I am aware of the fact that I have gained weight. I look at my kitchen and I remember the foods I ate the day before and I tell myself, today will be better.
I recall the whole year of 2012 when I was in losing mode, losing 70 lbs from May to January.
Then it stopped.
Then I gained.
I used the excuse of a broken foot for awhile, because I couldnt walk, of course I had my recumbant bike, which I loved at one time, and then grew to hate.
Which I sold.
I have the weather as my excuse right now.
We suffered thru yet another blast of cold, rain, sleet turned to ice, it poured ice from the sky for hours.
It was the oddest thing to watch, it was like rain, only heavier and slower, I watched from my front porch for about 15 minutes til it got too cold.
Then the snow came on top of that.
We must have gotten 5 inches on top of the ice and the county called the roads to be shut for emergencies only.
Didnt stop people from getting on them.
I stayed inside.
I have been sick again.
My immune system must be weaker or I am just feeling the effects of too much heat and dry air.
Whenever I get sick it begins as a sore throat and within 2 days develops into a full blown head cold.
So far its just my throat.
I am on day 3 of the worst sore throat I have felt in years.
I cant take Nyquil or any of those tussins or anything like that, as it makes me jerk and jittery.
People say take Nyquil you will sleep. No, not me. I have just been taking alka seltzer for colds and drinking hot tea.
I hope it passes soon.
I have walked when the sun is out and produces some heat.
But have decided to start some at home workouts to get my butt back in gear.
As for the kitchen and the memories of the food I ate the day before, that is for me a never ending battle.
As each and every single day of my life, I start out good, eating healthy thru the early hours and by late evening I have eaten over my calories and usually end up having some sweet snack, ice cream the last few days, to help soothe the sore throat dont ya know!!!
I really need to get back into that mind frame I was in during 2012.
I never snacked, I ate high protein, yogurt, turkey, cottage cheese, eggs, beans.
I never ate carbs or breads, except a wheat sub from subway about once a week.
I know how.
I know what.
I just need to figure out when.





Thursday, February 27, 2014
Are not as many as they once were.
Right now, my biggest excuse is the wind. The collllldddddd collldddd wind.
I can tolerate a light rain, I can tolerate the heat, I can tolerate the chill, but I just cant tolerate the wind.
Even covering my head and ears with a boggan or a band, I cant do it.
So I have been seriously considering getting a treadmill. Despite my despise!!
I had one, and a few years ago, the belt began to wobble, so Honey, in his best Bob Vila or more like (Tim the Toolman Taylor) voice, says he can fix it.
Despite the instructions telling not to tighten the belt while the belt was moving, he did so, and the belt slowly began to shred down one side.
I could still walk on it, but it would lunge, I would be walking and suddenly it would slow to the point I could never feel comfortable to get a good walk going,
So I gave it away, I know it wouldnt have costed much to have the belt totally replaced, but by that time I had discovered my love of outdoor walking and thought I would never want to walk on another treadmill again.
And I really dont, but something has to give.
The wind seems to taunt me, I will look outside and see sunshine, open the front door and be hit full in my face with a bitter cold wind.
I know I need to be patient, I know warm, and even hot days are only weeks away.
I am doing pretty fair as far as my counting calories, carbs, fat, etc goes.
Have been upping my protein again and trying to get some cardio just around the house.
I walk when I can.
Which seriously, since the first of the year, I think I have tracked maybe 5 or 6 days only.
If we havent been under a foot of snow, we have been under ice, or rain, or freezing rain, or wind so bitter cold and today it is around 15 mph.
I look ahead to the days forecast to see where not only the temp reads, but the mph of the wind and the chill factor.
I will keep an update of the treadmill decision.
Today I have been trying to catch up on some much needed housework, the sun is shining so bright but the wind will not allow me to even attempt to walk.
So, instead, I have cleared out a corner of the spare bedroom, and have stacked up all the stuff I am going to try to sell or give away.
And I have cleaned out my hallway.
My back is absolutely killing me, and I know new bra shopping is in my very near future.
I really need to find an exercise plan that helps me focus on back issues.
and toning.
and strenghening.
So, back to my housework.
And a nice spinach and tuna salad, with apples, grapes, oranges, and cottage cheese for dinner.





Wednesday, February 26, 2014
I really did go to bed early last night. As soon as the Voice went off, I went to bed, and woke up at 2am.
This is the way it goes.
So maybe I will lay back down soon. Hoping the sleepiness comes back around.
I finally got some walking in this week, Sunday for about 40 mins and Monday for an hour.
The foot was really bothering me Monday night, I had switched back to my older shoes and put my ortho inserts in them.
My walk went well, no pain, til the end, then I felt some sharpness in the foot.
Just hoping its from lack of walking and not anything to worry about.
I sure do hope the weather improves soon for more walking days.
Yesterday I was exhausted, I dont know why, I spent the whole day in the salon chair.
Then picked up a few items at the store, came home, ate some Subway and didnt do another thing til bedtime.
Here I sit, shopping online for some type of doggie play pen.
My puppy is so mean and wild and tears everything in the house up, her favorite seems to be shoelace ends and almost anything plastic.
Fly swats. Paper of any kind, but especially paper towels. The living room is NEVER clean, no matter how much I pick up, she drags something back out.

And her new favorite thing is jumping up on the couch. And crawling up on my chest and just standing there.
I hate leaving her in the crate for so long when I go anywhere, yesterday she was in there for at least 5 hours.
But if I dont, she will have the house destroyed before I get home, I have baby gates up to keep her from going anywhere but the living room and kitchen.
But I am thinking the doggie play pen will allow her a little more freedom to move around while not being so confined in her crate.
Now the problem is, finding a place in the house to set it up.
We are currently under a winter storm warning.
Snow???
So far I havent seen any. and sure hope that I dont.
Yesterday was a kind of an off day for me, I ate a butterfinger in the car driving home from the beauty shop.
I guess that will teach me to skip breakfast, especially when I know I am going to be unable to eat for several hours.
It was 3pm before I had a chance to eat anything, and so you see, I went straight for the junk.
Then I bought a sub at Subway, came home and ate that, then I had a skinney cow ice cream and several glasses of milk.
That was the extent of my nutrition yesterday.
No veggies!!!!
Bad day.
But my hair looks pretty good.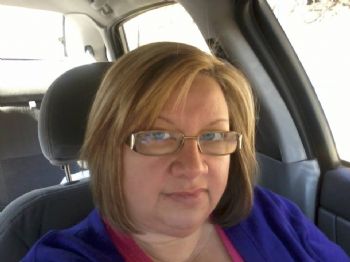 First Page
1
2
3
4
5
6
7
8
9
10
11
12
13
14
15
16
17
18 19 20 21 22 23 24 25 26 27 28 29 30 31 32 33 34 35 36 37 38 39 40 41 42 43 44 45 46 47 48 49 50 51 52 53 54 55 56 57 58 59 60 61 62 63 64 65 66 67 68 69 70 71 72 73 74 75 76 77 78 79 80 81 82 83 84 85 Last Page

Get An Email Alert Each Time SOFT_VAL67 Posts