| | |
| --- | --- |
| | SOFT_VAL67's Recent Blog Entries |




Wednesday, December 11, 2013
Tomorrow I go back to the doctor and am going to seriously have to find out what is causing my low vitamin d and how to change that.
Then I am going to the tanning bed, walking if its warm enough and maybe even if it isnt!!
Then finishing up some shopping and get home to a warm house.
The new year is so close now, and I have big big plans for this one.
Yeah yeah, I know, we all say it, I am gonna lose weight this year.
Well by golly I lost weight last year, and I am ready to get back to it.
Maybe evenly numbered years are better for me.
LOL.
But I do plan to get my goals lined out.
I plan to private journal more, maybe even go back into counseling to work through issues that plague me, but even those are lifting, going farther away from my mind each day.
I really need to focus on my physical health, eating right and taking my vitamins and working out.
These are my goals.
They arent very well organized just yet, but I plan to sit down and get everything lined out and figure out where to begin, AGAIN!!!
I think getting my vitamin d lined out and finding out why it is so low, again, and finding out what to do to get it back up to a much higher number, is the best place to start.
Vitamin d plays a role in so many areas, kidneys, skin, bone.
Time for me to take better care of myself.





Friday, December 06, 2013
Feeling down, but determined today. Got on the scale, against my better judgement and while I havent gained, I havent lost either.
Then I got to thinking, Jan 7th, the day before I broke my foot, I took a pic of me on the scale, It was a day of victory and celebration, as I was down a full 70 lbs from where I had started.
Now, I am only down 56 pounds, I have gained, in 11 months, a full 14 pounds this year.
No loss, so I was determined to lose that, or as much as I could, before next Jan 7th, which is a month away.
Under normal circumstances, losing 14 pounds would be hard for me in a month, but this is the month of cookies and candy and stopping off to eat after shopping, and turkey and dressing and ambrosias galore!!!! oh and of nog and rum drinks and candies made of peanut butter and bourbon!!!
And while I can refrain from over indulging in any of these, I cant guarantee I wont sample.
So, I know, or at least realistically I anticipate, going into 2014 heavier than I went into 2013!!!!
This angers me to the point, that I know I have to buckle down and get serious, again.
I have to do this.
There IS NO OTHER CHOICE!!!
Last night, I replayed in my head the visit to the surgeons office over a year ago and how I was determined when I walked out of her office that I would never return, I would never undergo lap band or bypass for weight loss!!!
And I worked my butt off, literally, my butt is alot smaller.
But I cant seem to lose with that same commitment, I cant seem to find my way back to that place.
So, the best I can do is watch my every bite, walk as much as I can, lift weights, use the bands, and workout at home as much as I can, because today, its in the 30s and pouring rain, pouring, literally, wet wet and wetter!!!
I can only do the best I can and just see where I am when the new year rings in, hopefully it will be alot closer to NORMAL.
Wherever that is.
2014 is going to be a year of renewal, renewal of hard work and commitment.






Thursday, December 05, 2013
Got my tree up, and then cleaned up the mess, mostly. Have done alot of my wrapping as well. Still have a few gifts to get, hopefully if the weather doesnt turn too bad, this weekend that will wrap it up for me.
Its raining here now, they say its only going to get wetter and colder.
So, I guess that means no walk, my foot has been bugging me a little the last few days, maybe its the colder wet weather.
Will find out if my vitamin d has gone up or down, I am betting down.
So, the bike is out of the living room and in the storage bedroom, so for the next few weeks, its walking and weights.
I just hope I can make it thru the shopping and holidays without over indulging in snack and sweets.
Keep me in line Spark friends!!!
A few pics of my ornaments and tree, my newest one, the pink dragonfly.
Someone asked me tonight what is it with me and dragonflies, so, I was reading that the dragonfly is a symbol for change, renewal, emotional growth, because the dragonfly spends so much of its life just growing and then only gets to fly for a short time of its life, it makes the most of its time and it sees so much, because 80 percent of its brain is used for sight.
So, to me, its about my finally seeing myself, finally seeing whats important, finally deciding to make the most of my life, and live. And the renewal, my broken foot, getting back to walking, healing, that is growth and renewal of my self. Pink, just cause I love the color pink.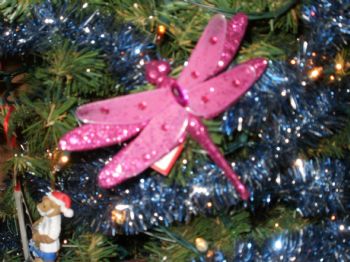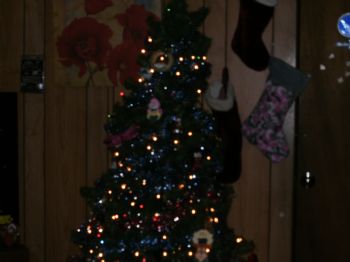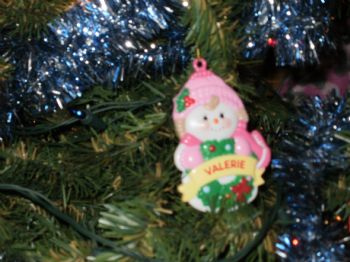 First Page
1
2
3
4
5
6
7
8
9
10
11
12
13
14
15
16
17
18
19
20
21
22
23
24
25 26 27 28 29 30 31 32 33 34 35 36 37 38 39 40 41 42 43 44 45 46 47 48 49 50 51 52 53 54 55 56 57 58 59 60 61 62 63 64 65 66 67 68 69 70 71 72 73 74 75 76 77 78 79 80 81 Last Page

Get An Email Alert Each Time SOFT_VAL67 Posts