| | |
| --- | --- |
| | SOFT_VAL67's Recent Blog Entries |


Friday, July 22, 2011
OH THE HUMIDITY!!!
My poor hair. I have stopped even trying to straighten it. Now, I just push it back with a head band or let it stand on its own!!!
I had to run and do a few errands this morning and planned to get out and get going early, but when the clock went off, I rolled over and loved another hours worth of sleep.
All the same, I got my errands in, which included buying a 20 oz coffee at the local gas station.
I didnt have a coffee yesterday and I really missed it.
I got in my little backyard pool today, since it was so steamy out and I was pretty much bored out of my head.
Since my leg and foot have been hurting so bad, I thought I could get in a little leg/water aerobics...the pool isnt very deep, 30 inches, but, its a good little pool for soaking and getting in a little movement.
I was really enjoying it for about 20 minutes or so, when I felt the first few drops of rain.
I thought it would pass and I was wrong.
So, I had to come back inside, by the time I turned the pump off, and put my cover up on and got to the porch it was pretty good rain, and within minutes of coming inside it was a full on gully washer, complete with thunder and lightening.

My dog seems to be doing some better, not so much leakage or blood today.
He is a smart little feller, and his master isnt as smart as he....I bought him an ecollar, and I got a small since hes so small, but maybe I should have paid the extra 2 bucks for a medium, cause this one doesnt come out far enough from his mouth....while he cant reach way back there, he can maneuver it in such a way as to get a little licking.
I have had to put the muzzle on him and now I am even having to keep a diaper on him at night.
Even though he is in his crate at night.
Just to try to prevent some licking. Hopefully the antibiotics and cleaning medicine we are using on him, will get this problem healed real soon.
I had a footlong hotdog for supper.
Yea, I know.....I know!!!




Tuesday, July 19, 2011
Woke up this morning feeling as if I had been drinking vodka shooters all night. Which I had not.
Had the worst hangovery feeling headache ever.
I dont remember taking any medicine out of the usual yesterday or drinking any alcohol at all.
I might have had something too salty.
But I do believe it was the way I lay all night.
I dont think I turned over or moved for at least 3 hours. And I was up pretty late.
Could also be sleeping with the ac on all night in the bedroom.
But, I have gotten addicted to the noise, I cant stand the hum of the overhead ceiling fan and I cant sleep without some sort of air.
My bedroom is small, so a fan just adds to the whirling noise that keeps me awake.
Honey says my hearing is way too sensitive, this from someone who could sleep thru a spaceship landing in the yard.
Sparky seems to be doing some better, he only had one bowel movement early this morning, which does concern me, I am giving him stool softeners, so I think he should have had at least one more.
I sure do not want him to get constipated or have a hard bowel movement with those stitches still in for another 7 days,
He has had some blood today, but not too much, I just checked him a while ago and there was a small spot.
But I did get him an e collar today, so hopefully he cant lick at it.
My left foot is killing me, I have to face facts, and get an appointment to find out what is going on with it.
A spur maybe....it hurts on the inside ankle bone and in the arch and ball of the foot.
And it isnt just when I am on it or walking....its getting to be a constant pain.
I can hear the doctors echo now....."looooseee someeee weiggghhtttttt"
I kinda wish I had left my surgery date alone, I would have had my surgery this coming Thursday.
But with the sick dog, and the septic tank going in, "HOPEFULLY" by the end of the week.
And getting some other things in order first....I know I did the right thing, pushing it back til August 30, but it seems so far away now.
I just want it to be over, get over the pain and recovery and get started on what I know is going to be a tough road, a long and winding search for my center and hopefully in the end, the right decision and a brand new life.





Friday, July 15, 2011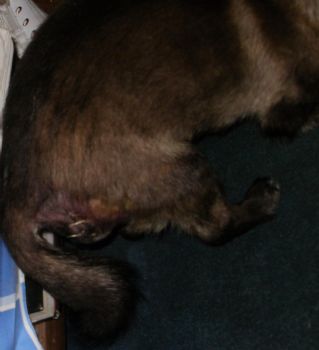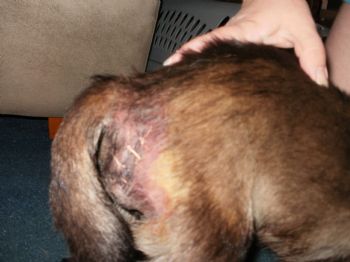 Do dogs personalities change once they have been neutered?? My dog is 8 years old, hes no spring chicken. Why I waited so long to have him fixed...Well, had it been left up to me, I never would have. Even though, I never tried to breed him.
But when he developed a hernia and couldnt go to the bathroom without pain and distress, and the help of stool softeners....The vet recommended the neuter to help relieve the swelling in that whole area.
So, now he is home, safe laying by my feet. Double set of stitches, from the neuter and the hernia....But seems to be subdued. He has pain pills and antibiotics.
I was surprised they didnt give me a cone to put on him to keep him from scratching or licking the area.
They told me if he does that it wont be til it begins to heal and itch and maybe the hair growing back will bother him some.
Time will tell how the hernia surgery went. Hopefully with very soft, high fiber food and mineral oil and if needed, stool softeners, he wont have to strain.
As for me....I had only slept, fitfully, about 4 or 5 total hours in the last 2 nights.
I nearly dozed off several times in the chair having my hair colored yesterday and wish I had rushed straight home to bed and made the most of the day, by sleeping.
Another early day to go pick Sparky up this morning and tried to doze after I got home, but worrying about leaving him in his kennel alone and the constant phone ringing and right back up I was.
But it began to pour down the rain at 2pm and I headed to bed for a good hour nap.
Not nearly enough and I am hoping tonight I can sleep thru til morning.
Honey has to work tomorrow, so right back up at 4, but at least I have no place to go and I can go right back to bed.
Hope each of you has a good weekend and thanks to all the comments and concern for my little dog.
I just wonder if he will be changed......





Thursday, July 14, 2011
I have been up since 4 am...if you call what I did last night sleep. Or, the night before for that matter.
I only slept about 2 hours last night, and was up at 4, I had to take Sparky to the vet for his surgery at 7. So, I am still up.
I am super stressed out over him.
I wish they would have called me and updated me on him. Why do they do people that way?
I mean I dropped him off at 830 this morning and did some errands, got my hair cut and came home.
I called at 3 to check on him and they said they dont do the surgeries until after regular clinic hours.
So, I dont even know at this point if hes had the surgery. If he came thru ok or what.
I wish they could understand that these pets are like family to us. I cant imagine just taking my child and dropping him off at the hospital and not even knowing anything for 24 hours!!!!

I came home and cleaned my kitchen and ate a Subway chicken sub. And the new Fiber One 90 calorie brownie.
These are very good, and I think I will end up eating 4 or 5 if my stress doesnt come down some.
I hope each of you has a good and pleasant stress free evening.





Wednesday, July 13, 2011
Tomorrow is the day I am supposed to take my dog to be neutered and have a hernia repair.
I am just as nervous as the night before my son had to have his appendix out.
And I keep saying, "maybe I shouldnt, its not my body, why should I make that decision for my dog??"

But they said it would help reduce the swelling, and maybe I wont have to give him stool softeners to help him go forever. And maybe he can gain some of his weight back, you can feel his bones now.
My own surgery has been postponed until August 30.....I had to focus on my dog and the work we are doing on our land.
I have a guy coming next week to do some backhoe work and trying to get water, etc going.
I just needed a buffer zone between all this and my surgery.
And besides, I read the article about how more surgical mistakes take place during the month of July.
Hope all of you have a good day tomorrow. I will be stressed to the max!!!



First Page
1
2
3
4
5
6
7
8
9
10
11
12
13
14
15
16
17
18
19
20
21
22
23
24
25
26
27
28
29
30
31
32
33
34
35
36
37
38
39
40
41
42
43
44
45
46
47
48
49
50
51
52
53
54
55
56
57
58
59
60
61
62
63
64
65
66
67
68
69
70
71 72 73 74 75 76 77 78 79 80 81 82 83 84 85 86 87 88 89 90 91 Last Page

Get An Email Alert Each Time SOFT_VAL67 Posts