| | |
| --- | --- |
| | SOFT_VAL67's Recent Blog Entries |


Tuesday, March 29, 2011
Had a good day.
Stayed in calorie range. Got in my workout and feel good. Cant wait to watch The BL tonight.
And am even looking forward to a good nights sleep.
Cant say the scale has moved very much, maybe just a point or so.
But days like this might get it moving.

It was announced on the local evening news, and the rumor I had been hearing for a few days, that a body had been discovered by fishermen in an area near where I live.
A place known as the high narrows.....a very whinding, curvy road leading from Ky to Va.
Dont know much else about it, it was discovered over the gorge, near the river.
For those of you not famaliar with this, its known as the Grand Canyon of the South, a very very deep area, off the beaten path.
Of course, people swim and fish and there is a hang out just down river. Of course, the area nearby is a place alot of ppl hang out to drink or other unmentionable things and it could have been someone down on their luck, who had no place to go, seeing that there are camp sites nearby and grills to cook on and a bathroom closeby......and there is the whitewater rafting folks who come in here at least twice a year. But I dont think it would have been any of them, as most of them are from out of town and would have traveled with others.

I got to wondering if it might have been someone who had gone fishing and wondered up the river and died a natural death.
Guess we will find out when and if the medical examiner is able to id the body and lets us know.
There are a few missing persons in this area, but I dont think anyone would have ever thought to look there.
Hope it doesnt turn out to be anything sinister.
Hope each of you have a nice evening.
Rain here tomorrow, might just spend the day inside again. the link is an area near where I am talking about.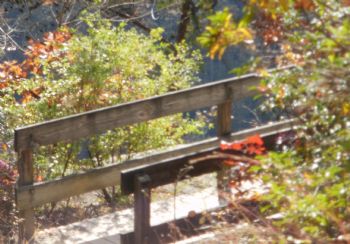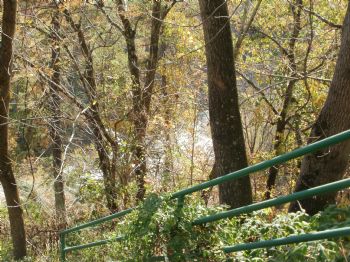 www.breakspark.com
the pics I included, I took back in October, a day of visiting the park and the area leading up to the park, the two pics I included where right near where the body was found, there is a bridge and a walkway, the railing in the pic, that leads down to the area, I wonder if this person might have gone down sightseeing and got sick?
Who knows.....Someone does maybe.....




Monday, March 28, 2011
Listening to music, today has been an AC/DC kinda day.

"I'm a rolling thunder, a pouring rain
I'm comin' on like a hurricane
My lightning's flashing across the sky
You're only young but you're gonna die
I won't take no prisoners, won't spare no lives
Nobody's putting up a fight"

Could be the struggle we all face everyday, in many different walks of life.
But overall it was a good day, went to the grocery store and got some delicious mangoes, I could eat one or two everyday!!!!
I am very sleepy, so I am turning in early, this new schedule has me all turned around, it will take some getting used to.
Hope each of you had a good day.....I may be here at 4 in the morning, haha, trying to get myself on a schedule.

I Forgot to tell ya'll, be real careful there is a new disease going around and its real easy to catch, there is a nationwide outbreak of "cat scratch fever"
.....they felt it in North Carolina yesterday....and they will all feel it in Houston too!!!!!

GO KENTUCKY WILDCATS!!!!!!





Saturday, March 26, 2011
It is raining outside. And my friend who lives in Northern Ky, near Cincy, says its snowing outside his house. Ok. I guess.
I dont mind it. After last weeks warm days....I can live with a few days of wacky weather.
Tomorrow is a day I have not been looking forward to.
But its not my day. So, I will sit back and wait and let the day progress and be glad when I am back home.
I had a bad day food wise, I wont even pretend.

Wishing each of you a nice Sunday and hope you enjoy the weather whatever it is like.
I will get my walk in and my weightlifting done tomorrow....regardless of what the day brings.





Thursday, March 24, 2011
Still dealing with this head cold, or whatever it is.
Right when I thought I was doing so much better. But today, I had to go and buy some Mucinex D.
Now I had to sign a book and give them my drivers license. I guess some people are buying it for other purposes.
My day was otherwise ok.
Have stayed on point food wise, and got in some exercise.
The day has been slosshy wet, and dreary and cold. Hard to believe just 2 days ago I was wearing shorts and even turned the air conditioner on for a while.
But could be alot worse, alot of folks got snow.
Congrats to my little town college Pikeville College Bears on their NAIA Mens Championship!!!!
And hopefully will be saying the same thing to the Kentucky Wildcats soon. On an NCAA Championship, fingers crossed.
I really do look forward to getting into a new routine, honey begins his dayshift job, same company, same location, same job, just new hours next week.
It will take some getting used to getting into this turned around schedule.
But I do think having him around in the nights will keep my mind off snacking. Going to bed earlier and maybe getting out of the house in the evenings to walk or find something to occupy our time.
I hope.
And I hope each of you have had a nice day. Cant wait for the warm days. But ask me that again when I have to go someplace with no air in my car!!!!
I would trade, but my car is 100 percent paid for and it is otherwise in good shape, just for some unknown reason, the air refuses to work.
I have had a new air conditioner compressor motor put on it , I have had it serviced twice in as many years.
I just gave up on it last summer and suffered thru the heat.
Maybe I will borrow my sons Lincoln Towncar....I would be willing to spend a small fortune on gas for the use of a good air conditioner haha.....
Good luck to all and have a peaceful night.





Friday, March 11, 2011
Songs.
How some of them touch us.
Someone of my friends on facebook had a poll, who is the best band....
Queen
The Rolling Stones
I forget the others, because after The Rolling Stones, who else is there?

Well, right now, Simon and Garfunkel...
"Fool, said I, you do not know, silence, like a cancer, grows
Hear my words and I might teach you, take my arms then I might reach you
But my words, like silent raindrops fell, and echoed in the wells of silence"

Sometimes people should just remain silent....But they dont.
I hate what happened in the world today.
I pray for those people, the survivors.
I hope each of you have a good weekend.
Try to laugh a little if ya can.



First Page
1
2
3
4
5
6
7
8
9
10
11
12
13
14
15
16
17
18
19
20
21
22
23
24
25
26
27
28
29
30
31
32
33
34
35
36
37
38
39
40
41
42
43
44
45
46
47
48
49
50
51
52
53
54
55
56
57
58
59
60
61
62
63
64
65
66
67
68
69
70
71
72
73
74
75
76 77 78 79 80 81 82 83 84 85 86 87 88 89 90 91 Last Page

Get An Email Alert Each Time SOFT_VAL67 Posts