| | |
| --- | --- |
| | SOFT_VAL67's Recent Blog Entries |


Monday, September 01, 2014
Here it is, September.
This month holds many dates for me. Some good. Some not so good and some I just as soon forget.
Well, not really. I think even the bad things that happen to us, happen for a reason and mold us and shape us.
I have often said I am going to get a tattoo of just the word September. Then I wont ever be able to forget the things that pain me so deeply. And the good things too.
It is a mixed bag.
I havent walked in a few days. It has either rained, or it has been steamy humid hot.
I have been getting quite a bit of work done, cleaning.
I am supposed to go spend some time later today with a friend, one I havent spent too much time with recently. I actually havent spent too much time with anyone lately.
I dont know what we will do, probably nothing. I visited her at home yesterday and all we did was sit and talk.
But sometimes I guess that is all ya need.
Havent been back on the scale this week. Dont really expect to see a big change. I havent really been diligent in my food plan.
But not too bad.
I had a piece of angel food cake with strawberry gooey sauce and whipped cream. I am sure that in no way, shape or form was a part of my food plan.
And I didnt even walk it off.
I try not to share too much about goals, I really dont want to have to own up to the failure in the end. But I have set a goal for September, being such a rough month for me, I have set a goal to lose 12 pounds.
I may or I may not, but I am sure going to work at it.
This I state here so that on my birthday, the last day of this month, I will have no choice but to own up to either the success or the failure.
But I guess its not really a failure if you really try and stick to the work.
Have a safe and nice, fun holiday.





Friday, August 29, 2014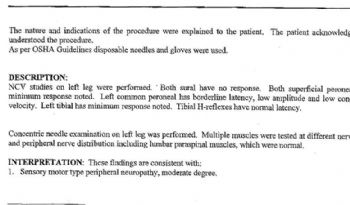 I still need to find a doctor to tell me what I need to do from here.
Basically, I guess it is telling me I have moderate neuropathy.
What is causing it?
Could be one of many things I read, weight, low b12, diabetes, which I do NOT have. poor thyroid function. metabolic disorder, which I know I do have.
But those would likely cause neuropathy elsewhere in my body.
Poor circulation, but my choice is broken bone related.
I mean it just makes sense, the same foot I broke 2 years ago.
No problems elsewhere.
So, my next thing is to find a doctor to explain all of this to me and tell me if there is ANYTHING I can do to help it.
From everything I have read, there is no CURE, it is just something one has to learn to try to allieviate, using compression socks, and exercise and diet and good circulation.
But I am going to find an endocrinologist and get tested yet again for diabetes and thyroid disorder, just to rule those out.
Today I am going grocery shopping and get a few things for the house.
and try to get in as much walking as possible while I am out.
So, after a month the results are in and I know no more today than I did then.





Wednesday, August 27, 2014
First, I am just going to say this, and this is just my own opinion, I do not care at all for the new format on SP.
I constantly have trouble finding my friend feed and I dont like these changes, I never liked the new start page.
It is getting as bad as FB to make changes when everything was working just fine.
Ok, that being said, moving right along.

I have been trying to add some personal touches to my home. I bought some little plastic bowls, filled them with the seashells I found at the beach and added a small candle for the center. I bought some pretty colorful picture frames, and printed off some of my own pictures from the beach.
I found an idea to use poster frames, with old newspaper as the background, and add a post card of my choice in the center, or to use several in a pattern.
But all of these ideas I came up with on my own, or just found while surfing online.
For the life of me I cannot figure out how to use Pinterest.
I created an account, but I go on it and see something I like, but I cant find the instructions and if I try to navigate to the page, it tells me I need Java.
I am not really computer savvy.

The last 2 days I have done really well. Today better than yesterday.
I have stayed almost to the point on my calories. I have walked, I have gotten my veggies, taken my vitamins, drank my water.
And I hope to be able to stay on this streak.
It is really is true, even the smallest bit of exercise can change your outlook on the situation.
I had forgotten how I used the walking track and that hour with my music to help me think, work thru problems and find solutions and try to also lose weight and get healthy.
I am finding that place again.
Also, I am just really feeling good.
Energized, coming home to clean house and do some much needed declutter-ing.
I am working on some small artsy projects for my living room walls.
Maybe if they turn out ok, I will post some pictures.
Next, today I called once again to check on the results of my foot tests.
I was told the doctor had read them and forwarded a preliminary report to my doctor.
But the nurse told me that all she got was a fax, saying that they would be sending the report, but they never did.
It would be funny, almost like the confusion and misunderstandings of Three's Company, if not for the fact that I am going on a month without any news.
All I can do now is hope they tell me something soon.
I want to ask how they would feel if it were themselves, or their mom or sister.
I want to say to them, why do these tests if no one there is competent to read them.
I want to say all of that, but, I try to hold onto my temper and stay calm.
Well, I will just walk it off.





Tuesday, August 26, 2014
So far today has been pretty good. Compared to yesterday. I called to ask, after 3 weeks if there were any reports back about my foot.
I was spoken to in a very rude manner by the woman at the Neurologists office. This was my own fault, I had my reservations about going there but I gave in and wanted fast results, well, lo and behold, still nothing.
I called my doctors office and asked her nurse to see if they could get any news for me. And as of yesterday, they were told the tests had not been read yet.
What good was it to perform a test on someone if you didnt plan on reading it for a month???
I have to be in that area on Thursday so I am going there and requesting the disc and the test results so I can take them elsewhere.
I will follow my instincts better next time.

But back to today. I walked 40 minutes, and my foot didnt hurt, but did get a little more numb about half way thru, so I stopped and took a short break.
I have no idea if I am doing further damage to my foot by walking. If I had those test results I might.
I cannot put my life on hold any longer waiting for them to get their act together.
Then I came home to find the county working on my driveway.
I had hoped they would and they did a fair job, but they only worked on the part that connects to the main roadway.
It is still broken off pretty bad on the inside, making the driveway much more narrow.
I stuck a reflector down into the area where its still broken.
The guy pulled a small dozer over it so I am sure it will hold my car, its just a very narrow turn already out onto the roadway and I fear my tires slipping off.
Hopefully my land lady will find someone who can come out and fix it.
I had a nice lunch of veggie burger and salad and now its time to get started on some housework.
Oh and I almost forgot the best part, I got on the scale and I was pretty happy with the number.
While I am still 20 pounds heavier than I was, I am happy with the results of today because I am down 6 pounds and that is a start.
I will be overjoyed once, IF, I get those 20 pounds off and I will begin from there.
I plan to reset my whole SP plan soon, I am slowly moving in on maximum points, levels.
I dont know what happens when you reach the top level. But once I reach 20 pound goal, I am going to begin all over again.
So, there is some good and some not so good but the good of today outweighs the bad and that is the way I hope to keep it.
and back up early again tomorrow for another walk.






Sunday, August 24, 2014
I havent been here much the last few days.
I have been dealing with a flooded driveway, that will need a new drain pipe across the creek to keep from future flooding. This is my landlords issue to decide upon.
I can not get to my place right now without parking across the street and walking. Not a far walk, but a nuisance all the same.
I was lucky, the drain could have clogged much worse and flooded my whole yard.
Also, I have been dealing with a jimminy cricket, the nicest word I can use to describe this nuisance!!
Maybe a whole colony of them, as the sound is so loud.
So, that is the next project, among many for the Honey doo list next week.
A list that is very much overdo!!!
To find and rid my home, or outside of my home, of the loud, annoying invaders!

So, as said, the rain has been terrible here the last few days and no walking for me.
Yesterday the heat was awful, after a night of downpours, steamy.
I am restless.
There is nothing to do around here and I am about to lose it from boredom and anger at the situation.
I need a plan.



1 2 3 4 5 6 7 8 9 10 11 12 13 14 15 16 17 18 19 20 21 22 23 24 25 26 27 28 29 30 31 32 33 34 35 36 37 38 39 40 41 42 43 44 45 46 47 48 49 50 51 52 53 54 55 56 57 58 59 60 61 62 63 64 65 66 67 68 69 70 71 72 73 74 75 76 77 78 79 80 81 82 83 84 85 86 Last Page

Get An Email Alert Each Time SOFT_VAL67 Posts