| | |
| --- | --- |
| | SOFT_VAL67's Recent Blog Entries |


Tuesday, August 19, 2014
Walked again today. For only 30 minutes, but it was ok. My problem wasnt my foot alone.
I had other things I had to get done this evening, namely cleaning the kitchen and getting things moved to get ready to paint next week.
I went to the cemetery to visit my brothers grave and had to check the mail and go to the bank.
So, while I was there I went ahead and walked since the track is right there.
and it was still very hot out.
I really need to try next week to do morning walks, early.
I was feeling really down earlier today, depression is a strange thing.
I posted a blog about how im struggling, but I took it down. It was a practice of sorts I guess, get it down where I can see it, and read it and figure out what to do about it.
So, no late evening snacking today.
I stayed busy all evening and that is something that has been on my mind alot lately.
If I can ever get my issue with my foot figured out and can get treatment and start healing from whatever it is, I really want to find a part time job.
I just really stay home too much and let too much play on my mind.
But getting outside in the sunlight today was just what I needed,
Walked just enough to get the blood pumping and came back and started getting things ready for painting.
Stayed in calorie range today and feel pretty good.




Sunday, August 17, 2014
I spark and I track and I track my food!!
and yet no matter what I add or change or exchange I can never get my fiber up on SP.
I think when those foods were added onto sp the fiber content wasnt added.
So, from now on I am going to manually add my own foods and spark from my food favorites list. It is the only way I can be sure I am tracking my fiber.
I know I am eating more than 2 grams of fiber. I have been adding ground flax to alot of my meals. I dont understand why so little fiber is being tracked. It is the same as recently when my calcium was OVER tracking. I was eating around 200 daily of calcium, more or less, and my tracker was showing around 600 daily. Something was way off with that.
Anyway. I have been doing alot better with my meals.

No late evening or night snacking. and the snacks I do have are planned, and are healthier, or at least not so very unhealthy.
For example, instead of a bowl of ice cream, I have a weight watchers 80 calorie fudge stick.
or if I am really craving something chocolately, I will have a fiber one bar.
But I am not having them late night as I might have before.
I am being alot more mindful of what I eat, however, I am seeing alot of my meals being taken up by carbs.
I really need to find a solution to this, I really need to cut some carbs out of my diet.

So, I have gone to the walking track the last 2 evenings.
Trying to start back slowly, 35 minutes does it for me. The foot is still pretty much numb all the time, but my new shoes feel good. No excessive rubbing, so far no blisters, they arent at all tight, they are comfortable.
I havent had them on any dirt roads or trails yet.

I have found myself a little out of breath after 15 minutes or so and that is from sitting in the house for nearly 2 months.
It is alot different to walk for exercise than it is to walk around in a store shopping.
If people dont believe that they should really try the track or trails and find out.
But I am feeling ok about it.
I hope this will be the week I will find out what my nerve/muscle tests show.

Hummus.....I tried it for the first time this week.
I find it to be an acquired taste. I see alot of recipes and alot of people on sp who seem to live on the stuff.
I tried some on a baked potato.
and I tried some on a piece of whole wheat toast.
I am going to look for some recipes on here that might have less carb content.

But today is a kind of a day where all I want to do is lay around and relax.
But I am going to lift weights today and get in some exercise.





Friday, August 15, 2014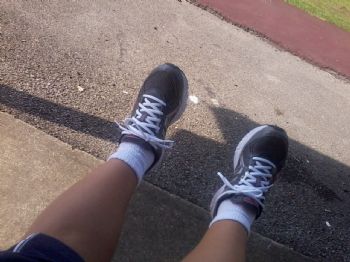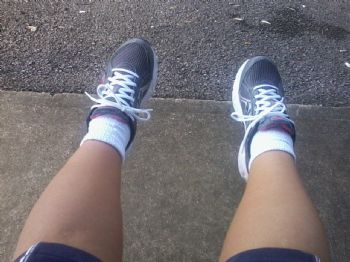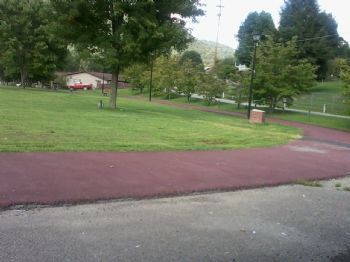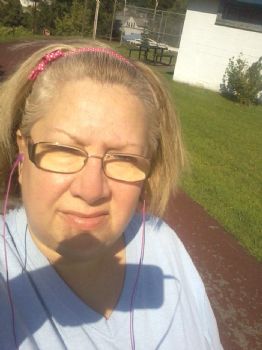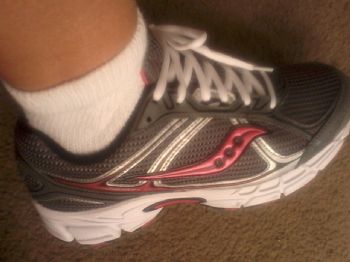 The new shoes arrived yesterday.
I had hardly heard of the brand, Saucony, until I seen them online, and only had online reviews to go by when I decided to order them.
I purchased, from Zappos, the Saucony Cohesion 6 neutral running shoe.
Gray and pink.

So far, only one day in, I am really liking them.
I ordered a size 9wide at the advice of the technician who fitted me for my orthotics.
She said the wider shoe would work better with my insert and not stretch the shoe out.
So, heres what I can say so far.
I wore them to the walking track today, without the orthotics.
I was afraid that the wide size might be too lose, but it wasnt, it was a good fit, the shoes feel really good.
I chose not to include the inserts, instead I put my Dr. Scholls gel inserts in them instead.
I have noticed alot of pain on the outside of my foot when I am wearing the orthotics, no matter which shoes they are in.
I seriously believe it was the inserts pushing my feet up and outward, leading to much more pressure on the outside of my foot, that lead to my broken bone last year.
So, I have decided not to wear them until I find out what is really going on with my foot.
It is still numb, but wasnt so bad today, being that I have only walked on the walking track 2 times in 2 months, I had a slow start.
After 10 minutes I had to sit down and take a break of about 4 minutes, then I picked up and walked the next 30 minutes, slow and careful of the foot, but I did it and I am glad I took the chance.
I hope to get some answers next week about the numbness in my foot.
I can almost, like a psychic, predict what they are going to say and if I am right, I will refer back to this blog.
So, as of right now, the shoes feel good, they fit well, no rubbing, of course 40 minutes on the walking track isnt the test.
It is how long will they wear, will the soles stay in good shape, etc.
I dont really care for the white shoe strings, so the search is on for a nice pair of pink or multi-colored strings.
After my walk, I picked up a take out sub from Subway and came home and now I am getting ready to get a good long soak in the tub and some Netflix.
My plan is to get up and go to the track again tomorrow, only early. Say around 8 am.
Hoping the rain has passed and I can get in another good walk.
I have stayed on track today and am feeling pretty good.
Looking forward to putting the past pains and foot issues behind me, getting some treatment for whatever is causing this and just keep eating healthy, and getting myself back to losing weight.
Happy weekend all.






Monday, August 11, 2014
Something I learned today doing some online research.
The shoes I had ordered and had to send back, due to the wrong size, wouldnt have been very good for me anyway.
As I was reading about shoes that work well with orthotic inserts, I read that instead of stability shoes, which I had been focusing on, I should be wearing neutral shoes.
The article said that stability shoes coupled with orthotic inserts, puts too much support on the foot from different angles and allows little to no give.
Which can in turn work against each other. Causing more stress on the foot.
I was unaware of this, so the article went on to stay that a neutral shoe would work bettr as it had less of an arch already allowing the insert to be the only arch you needed.
I dont know how true this is, it sounds right to me.
So, I have decided to try it and see.
And then I went to the doctor......One down and one more to go this week. Doctor appointments that is. Then one more in September and one more in November, shew!!
And hopefully there wont be any in betwix!
The news wasnt as dire as I had expected, I was 4 pounds less than I had anticipated and that was with my big heavy shoes on with my big heavy orthotic inserts.
I am guessing if I had weighed barefoot I would have seen at least 1 to 2 less pounds.
But it was ok.
She increased one of my blood pressure pills dosages, because once again, my bp was up.
Had blood work to test for vitamin b12.
So, we discussed my foot and she said I might have to go pick up the results at the Neurologists office myself and bring them to her, as they have a bad track record of sending them.
That is easy enough for me.
Then I went to Walmart and got some yogurt and stopped thru the drive thru for a big mcdonalds coffee. Yummmm, cant pass a mickey d's without getting a coffee.
Starbucks means nothing to me!!!

So, that is behind me for now and I can focus on the things I need to be doing. Like cleaning my house. And I am working on getting some of my beach pics copied and transferred into frames for the wall.
I found this great project online I am going to try.
You buy a poster frame and take old newspapers or, and this is even better if you can find them, old music sheets and put inside and then add over top of that a picture you like, or postcard and frame it.
I ordered some pink flamingo and dragonfly postcards online for 88 cents each and am going to make several of these for my bedroom walls.
My next project is going to be finding a mirror and making a frame with shelves and hooks on the bottom for keys and such, for the entryway. just working on the details on that.
Just trying to find little things to occupy my time and get the house in order.
I have decided if I can do nothing else, I can walk 10 to 20 minutes a day, as I walk at least that much and more when I go into the grocery stores.
So, whenever I have to go shopping, I am parking much farther away and getting my steps in as I can.
I am still unsure of walking on the track at a faster pace, I fear the numbness in my foot will cause me to misstep and twist or bend my foot and end up even worse off.
But I can work out at home, and that is where my focus is right now.
So, I wait for the tests to come back and as bad as it sounds, i am hoping they tell me its some kind of tendon or ligament or nerve that can be fixed with a simple surgical procedure, at least I will know that I have another option, other than a life time of a numb foot.
Hope everyone is having a good day.





Sunday, August 10, 2014
Calories?
Fat?
Carbs?
Whatever it is that you count, or spark. Do we really do it right? I am sure that most of us are off by a few calories daily.
Sometimes I know for a fact I am off by 100, and some days I know that I am off by even more.
Yesterday for example, I forgot to spark a sweet tea I had purchased in the supermarket and drank on the way home.
Completely forgot about it.
Today, I had a couple of spoonfuls of rice, and had forgot to spark it with my dinner.
So, it just got me to thinking, I added probably 200 calories to my daily intake.
I spark around 1300 a day, but in reality, most days I might be taking in up to 300 more.
So, should I cut my spark calorie limit to 1000??? For the ones I forget to spark?
I know I am eating way too many calories.
And breaking down my calories by meal, I see I am getting most of my calories in my latest meal of the day.
I feel I should change that and get my bigger amount of calories midday and less for dinner and leave calories for my snack.
That way I am not going over my calories later in the day.
Of course, that is the rational persons way of thinking and if one followed that, might be a good plan.
My fear is, I will eat all the calories for lunch, then still end up eating more later in the day so I end up going over anyway.
I exercised today, had a decent little workout.
Wonder just how many of those extra calories I even burned.
My guess, not that many.
But at least I am aware.



1 2 3 4 5 6 7 8 9 10 11 12 13 14 15 16 17 18 19 20 21 22 23 24 25 26 27 28 29 30 31 32 33 34 35 36 37 38 39 40 41 42 43 44 45 46 47 48 49 50 51 52 53 54 55 56 57 58 59 60 61 62 63 64 65 66 67 68 69 70 71 72 73 74 75 76 77 78 79 80 81 82 83 84 85 Last Page

Get An Email Alert Each Time SOFT_VAL67 Posts