| | |
| --- | --- |
| | SOCIALAPHASIA's Recent Blog Entries |


Sunday, July 21, 2013
Rainy outside today. Which is rare for us here in Arizona. I love monsoon season though! Today got up and got ready to go to the grocery store. Planned out all my meals for the next week and got going.

Forgot to take a picture... so I have one from the site. Quick breakfast today.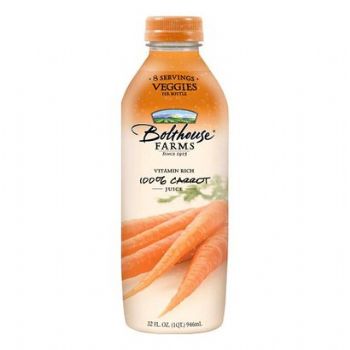 Came home after grocery shopping and made some baked breaded eggplant. Never made eggplant before. It was delicious! Had that with some carrots and a little french onion dip.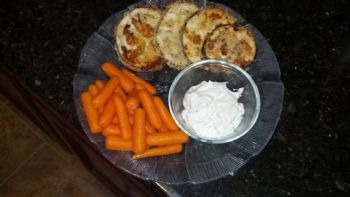 Had a quick snack of some celery with a tablespoon of almond butter after I got done with my Insanity DVD. Got my husband to give it a try... he made it in 15 min with a lot of stopping. Good for him for the effort, but he is already complaining he hurts. :)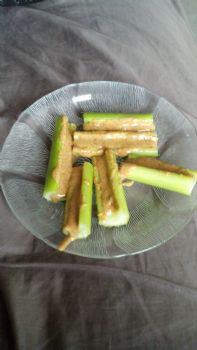 For dinner tonight I made cheesy chicken and rice. One of my favorites on a Sunday! Had it with a side of edamame.



Today was a nice day inside. I love curling up and reading a book when it is raining outside. One more day off tomorrow and it is back to work. This long weekend has gone by too fast!





Sunday, July 21, 2013
Today was a good relaxing day. Slept in a bit and got up to make a good breakfast. Egg whites, spinach, tomato, a little cheddar cheese in a Flatout Tomato Wrap. With a little fat free sour cream on the side.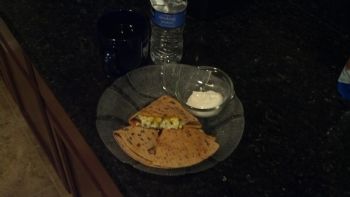 After we ate the hubby and I went computer parts shopping. Bought a new Solid State Drive while we were out. On the way back we stopped for pho. I had the seafood pho with spring rolls.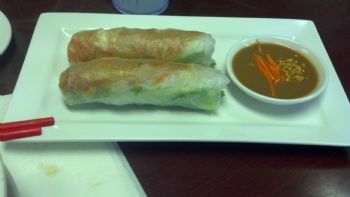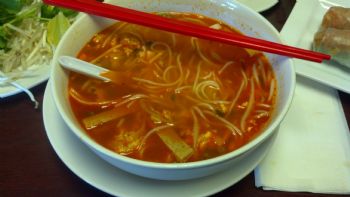 ... of course I couldn't leave without getting a Thai Tea Boba... with extra Boba.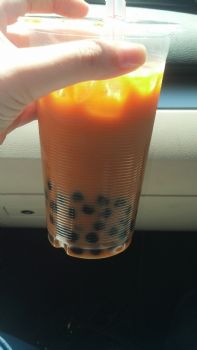 Came home ordered a new motherboard and power supply. Getting close to getting our computer together! Afterwards we left again and did a bit more shopping. Stopped and got some Starbucks. Black tea, unsweetened of course.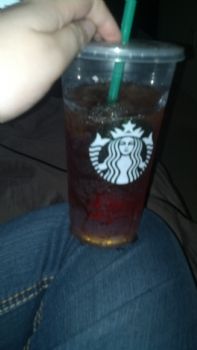 Tonight for dinner I made a chicken wrap. With some grilled chicken breast, spinach, tomato, a little bit of reduced fat feta, and some Greek olives. Paired with some edamame and a Babybel light. It ended up being too big for the tortilla so I had to eat it taco style haha.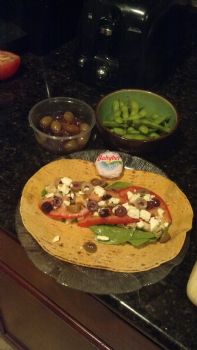 Overall a very relaxing good day. Hit all my nutrition, and with 1,323 in calories! I needed a little down time and some retail therapy to give my brain some rest! And a picture of my doggy watching tv with me... just because. :)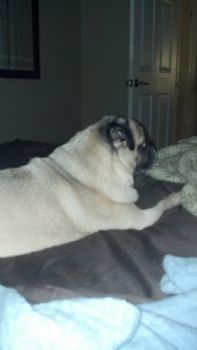 Friday, July 19, 2013
Got to sleep in a little bit today. Got up made some breakfast, ate, and sat down to study and take my three hour midterm. Bleh! So I didn't get too many steps in today.

For breakfast I had two Van's pancakes, a plum, and some black coffee to wake me up.



For a quick snack while writing essays I had a quick and easy Lara Bar.

Three grueling hours later I was finished. Wooo! I had big plans to make eggplant for lunch but it was already late so I figured I would treat myself to some Robek's. I had their new peach almond milk smoothie. Very yummy! (Plus my sister works there so I have to show some support!)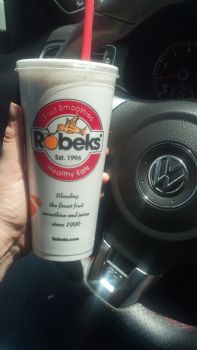 Didn't get to dinner until late today so I munched on some Pita Bites to hold me over.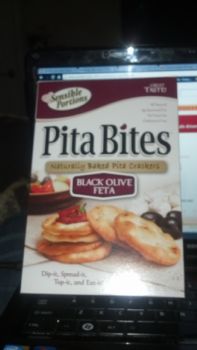 For dinner tonight I had a hot sandwich with turkey breast, slice of cheese, tomato, and avocado. Paired with a big bowl of mixed veggies and a little Babybel Light.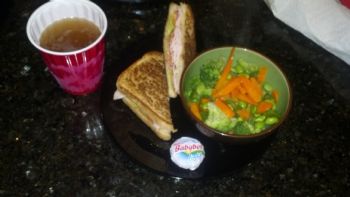 Also to drink I had a beer! I had a reason to celebrate... I got a 94% on my midterm wooo! Overall I stayed within my goals.. except in carbs. I went a tad bit over with the smoothie and the beer. Clocked in at 1,493 calories today. Sunday I am going to really push forward with exercise and hopefully get back to where I was before.




Friday, July 19, 2013
Today started out great. I got out of bed this morning and about fell flat on my face. My calves are hurting! So not too much exercise today. Made it a point to try to walk a little extra and did two of the SP Yoga videos to try an stretch it out. I should feel better tomorrow. I have midterms tomorrow and one is scaring me. Hopefully I will do well and I can keep a positive outlook for my four day weekend. After working so much these past few months I have really been looking forward to some time off. Today I did well again with eating.. this having to take a picture of everything I eat is really helping me stay on top of everything.

Today I switched up breakfast woo! I had a plum, a few pita crackers, and some black coffee. I know my breakfast may not look like much but it beats what I was eating before... nothing!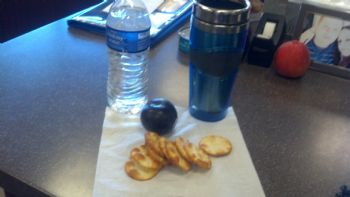 Had a quick morning snack. I bought these on clearance last night. Holy. Cow. These are yummy!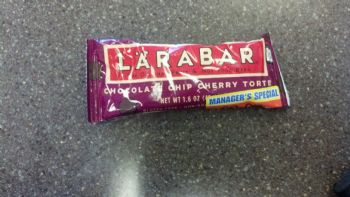 Lunch was similar to yesterday. Trying to use up what I had at work before my long weekend. Today was a romaine with tuna and lemon. A side of baby carrots with fresh homemade salsa from one of my customers.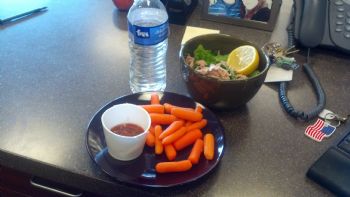 A quick afternoon snack today of a peach.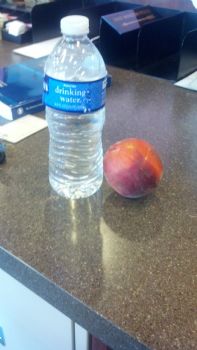 Tonight for dinner I made one of my husbands favorite recipes. He loved the buffalo chicken fajitas from Chili's. Of course they are breaded, deep fried, slathered in sauce among other things. So a while back I started making a lighted up version at home. I used grilled chicken with Frank's Buffalo Sauce (I really do put that on everything!). We use fat free sour cream, a little bit of shredded cheese and portioned out ranch. Very easy to make as well! I didn't have anything but white tortillas so I only used one and ate the other "insides" sans tortilla. Of course gotta have the veggies on the side!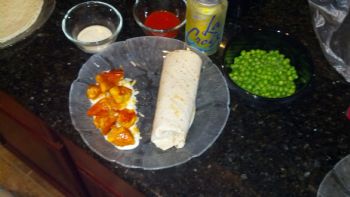 Tonight I will have a sugar free popsicle and call it a day. Hit all my nutrition goals other than fiber. I was only two grams shy! Totaled in today at 1,259. I weigh in tomorrow so we will see how much progress I've made in the two weeks back. I know I will need to start exercising a lot more but baby steps!







Thursday, July 18, 2013
I am so sore today! I haven't felt this feeling in a while and I love it! Did well again eating. Was able to get two miles of walking and a few light jogging spurts in today. I would have gone longer but it is monsoon season here so I almost got blown away.

Breakfast was mixed fruit again with black coffee. I am a creature of habit in the morning. I really need to bake/make something ahead of time for in the morning.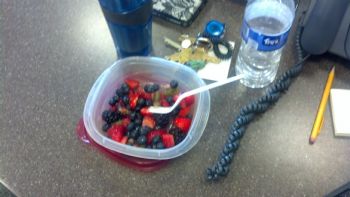 Midmorning Snack - 200 calories of almonds.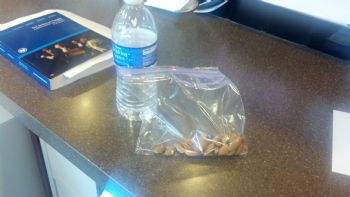 Lunch today was a salad with romaine, tomato, and 2 oz of salmon with fresh squeezed lemon on top with a side of baby carrots.



I forgot to take a picture of my midafternoon snack, but I had one of those Dole Squish'ems. I don't care if they are made for kids they are so yummy!

Dinner tonight was black bean burgers. Instead of a bun I like mine on some crushed avocado and a little cheese sprinkled on top. Also a big bowl of mixed veggies.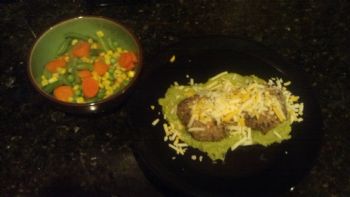 For dessert tonight I had a dark chocolate almond milk. I started tracking my steps again today. I was determined to get over 10,000 steps in. Finally after going to the grocery store I hit over the 10K mark. Today I was able to get in 11,144!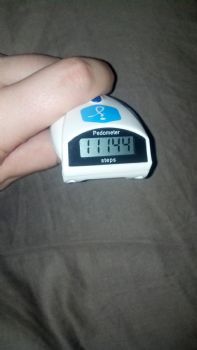 So today I was able to hit my target for all my nutrients and be at 1,246 calories. Wooo!



1 2 3 4 5 6 7 8 9 10 11 12 13 14 15 16 Last Page

Get An Email Alert Each Time SOCIALAPHASIA Posts