Monday, August 20, 2007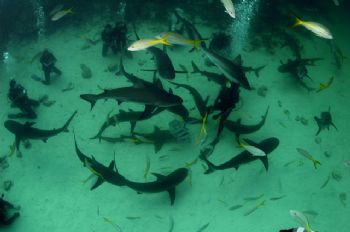 Oh yeah ... I got my test on Day Two, yes sir!!!

First a study in dedication:

Start with being tired mentally AND physically but being committed to sticking to "the plan"...
... leave work headed to the gym for yet ANOTHER workout ...
... remember that you forgot your workout gear at home, drive home to get it ...
... drive to the gym, getting swamped in road construction traffic ... turning a 10min drive into 30min...
... get to the gym, get checked in, get to the locker room, get dressed in your workout gear...
... realize that you forgot your workout SHOES !!! ...
... ponder blowing off the noon workout...
... quickly calculate the effects of losing 1000 calories for the day...
... remember THIS is not the week for excuses...
... dress BACK into your street clothes...
... drive BACK home to get your gym shoes (taking an alternate route, mind you)...
... drive BACK to the gym and proceed with the planned workout...
... bask in the glory of getting an additional 1000 calories put into the score card...
... little did I know what the rest of the day would hold ...

So still trying to stay in a well fed state, I had a Chick-Fil-La 12-pack nugget, a double dose of orange juice and 3 Reece's Peanut Butter Cups after my workout. Having already planned my secret Super-Sauce for later, i.e. Apple Juice mixed with protein powder for 750 calories of quick energy (times TWO), I felt ready for the day.

"So ... did you already workout today?" Steve asked me, the instructor for Krav Maga class.
"You know me ... yep, I sure did", I replied smugly.
"Ah ha, cool", he replied back ... and walked off.

Little did I know that Steve had overhead me talking to another of the people in the fitness class on Saturday, I guess he *thought* I was bragging about being able to workout at the gym and then STILL make it through his fitness class? And you know guys with our machismo, right?!?!

Needless to say, Krav Maga class was 60 minutes of total cardio destruction. Steve even announced to the class that ... thanks TO ME ... he felt obliged to kick the torture up a notch, since I was not being "challenged enough" in the class. Now, I've seen people blow chunks on The Biggest Loser due to the intensity of the workouts on that show ... and I came pretty close to doing just that during class ... and more was still to come.

Thankfully, I had the Super-Sauce in hand ... and survived the fitness class. Afterwards, Steve asked me if the class was challenging enough for me ... "Thank you sir, may I have another", was my smart a$$ reply (KeeKee is rubbing off on me). He just smiled and walked off. I kept it to myself that I was headed from there to Kenpo class and THEN kickboxing, ha!

"Well ... Look who finally decided to show up for CLASS this week, ha!" was the reply from the OTHER Steve, instructor for my Kenpo class as I walked in the door. I had forgotten that during my Pre Cardio Mania training, I had skipped his classes. Of course, I was looking exhausted ... dripping with sweat with that "shot out" look on my face. "Dude, don't tell me that you worked out BEFORE my class ... again?!?!?" he asked. "Yeah, I did, but it was a light workout this time", I answered trying to save myself from myself. "Naw ... seems like it's time to teach you a lesson about working out before you come here", was the reply. And unfortunately, due to school starting back ... it was a SMALL class ... two people. Basically this means that it's private lesson time ... plenty of attention from the instructor. 45 minutes of agony went by...

I was in various states of consciousness but I did make it to the end to hear, "Well look who decided to grace us with his PRESENCE this week???" ... Ashley the instructor for the kickboxing class. Yes, I had skipped her classes too in preparation for Cardio Mania. "Oh please stay for kickboxing tonight ... actually I dare you to stay for kickboxing tonight ... I've got something special to celebrate your return from being a slacker", I think all these people have been talking to KeeKee??? Needless to say, another 45 minutes of cardio mayhem ensued ... along with endless taunts about "hitting like a girl" ... "being a little sissy", etc.

But again, I survived ... I'm thinking about Stronger by Kanye West ... you know: "Now that don't kill me ... can only make me stronger", ha !!!

Okay, time for a late night snack (food is fuel right) of Skinny Cow Ice Cream Sandwiches times TWO ... and some much needed sleep!!!

Grand totals for the day: Calories eaten: 4268 … calories burned: 4250.