| | |
| --- | --- |
| | SNEVIL1's Recent Blog Entries |


Friday, May 11, 2012
My Mom is Obsessed is on tv. This woman is obsessed with her weight. She uses SP lol. The mom weighes her 14 year old everyday and the girl is now sneaking food in her room like drugs because her mom is crazy. I guess the mom was thin before she had kids and now she cant get rid of it and taking it out on her daughter. Sooo crazy!




Wednesday, May 09, 2012
I had such a fantastic, positive day. I planned an HSA Super Review Game Day Carnival type thing to prepare the students for the HSA exam (MD's high school state assessment). My 4th period 9th grade Algebra 2 students and the 9th grade AVID students ran the stations and another teacher's Algebra 1 students that period were the participants. Basically, her students had to complete an HSA problem in order to participate in each station. The games at the stations included Wii tennis, goldfish challenge, hoola hoop contest, bean bag throw, duck pond, marshmallow challenge, paper airplane challenge, bubble gum blowing contest, play doh Pictionary, no hands balloon drop, states/capitals trivia, paper football field goal contest, etc. They could also buy 3 minutes of headphones/IPod time with the completion of a math problem or they could buy raffle tickets with the completion of a problem. The raffles I had were for bags of cupcakes, brownies, cookies, a slice of pizza, or a $10 gift card to subway or a $10 gift card for the local movie theater. For my "employees" who were running the station they had access to the employee lounge. This was set up in another room and had their own pizza, juice boxes, cookies, candy, etc. The event was SO successful! Kids were shoving problems down my throat so they could get more raffle tickets because they all wanted those prizes! They loved the games and kids who have spent all of their time fighting any kind of state assessment review were doing math problems! It was nice working with kids that I don't teach and everyone was respectful of my room and my materials. No one was silly or inappropriate and it was just a really great time. After the other teacher's students left my students were thanking me over and over for the event. I didn't think they would enjoy working the event that much! They were giving me high fives and telling me how awesome it was. It was really nice seeing them be able to step up in a leadership role. I had kids that I taught/failed last year in Algebra 1 who I no longer teach that were stopping by begging me to let them do problems so they could participate. It was just such a positive experience and I really think it benefited a group of kids that definitely struggles with behavior and motivation. It was also so nice that I had such support from many of my coworkers. I had numerous teachers lend me materials or donate food and supplies! I also had some teachers who do not teach this period who volunteered to stop by and help out! It was fabulous. I received a nice email from a coworker telling me that I did a great job and it was just nice overall for it to work out. I would love to do the event again next year, but it would be good if I had more space. Having 55-60 kids between two rooms was kind of tight. I would also like it to be an all day event so all of my students could participate. All in all it was an excellent day and it is wonderful to be surrounded by positivity. I have definitely noticed a difference when I make an effort to avoid negative people and to keep feeding positivity in my life. I feel independent and happy within myself. I am noticing that people are coming to me more to ask for my opinion and seeking me out to be a part of their group/team for whatever they are doing. I feel that people are noticing my skills and that I am an asset. That is a nice feeling. I am still losing weight, which is also nice (of course!), but it is equally satisfying to feel like you are contributing other ways as well. I am still control of my body and my choices. Yesterday I wasn't having a good day, but I did not change how I had already decided I was going to eat. I am still going strong with only drinking water and I have not allowed external factors to impact my choices.

Oh, and I forgot to add that an online tutoring service that we use wants to interview myself and 2 of my students. Not only do they want to interview me, but they want to video tape some segments of me teaching my class. Kind of nerve racking, but at the same time... why not!? When do we get opportunities like this? Sounds like fun and the old Sara would've definitely not done it so why not give it a try. The interview is in a week so I'll let you know how it goes.




Tuesday, May 08, 2012
So yesterday was not the best day for me. On a positive note I got up and walked/jogged on the track before school, but the kids were very draining yesterday. Everyone was very unappreciative and had a terrible attitude. I also somewhat mentor a student and yesterday was not a good day with him. I have been calling him every morning at 6:30 to make sure that he wakes up. His father hasn't been coming in enough time to drive him to school so I told the boy that he just needs to walk the mile to school and not rely on his father. He is very smart, but he's in 11th grade and running out of time. He has always had huge attendance issues and has had some legal issues because of drugs. I met him 3 years ago when it was my first year teaching. I have always tried to encourage him and keep track of how he was doing, but this year we created a plan to help him be successful. He failed every class last quarter because of attendance. I helped him go through his backpack and organize all of his papers. I also bring him granola bars if he comes to school on time because he is usually hungry and that's the reward he wanted. However, last week he was late to school 3 times. Yesterday another teacher emailed me fussing because she thinks I am the reason he was late to her class. I got upset and told him that it is making me look bad when my name is associated with his excuses for being late. He was making a lot of excuses yesterday and blaming everyone else. He also said he will not come to school on time every day and that it's impossible for them to expect that of him, etc. etc. I was getting emotional and starting to feel myself getting upset. I had asked what he wanted from me since what I am doing now doesn't seem to be working. He said he doesn't need me and that he'll just do it himself. This hurt and I didn't know what else to say. I started to get a little teary and he walked out. I just want him to see how much potential I see and do be able to move to the next step in his life. He has been close to dropping out several times and I really don't want this to happen. While I was driving home I was pretty discouraged. I know you can't want more for the person than they want for themself, but a week ago he was very enthusiastic. He has a 0% in English because he didn't do any parts of a paper he had to write. I've sat down with him after school and we were working on it. He was proud that he had done some of the assignment at home and that we were making progress. His teacher gave him an extension and it was looking great. He said he was going to come before school either Thurs or Fri to work on it with me, but he never showed either day. This hurt as well because I changed my plans and didn't walk before school so that I could be available to help him. I told him how him not being reliable impacts me and he seemed genuinely sorry, but now I am just feeling unappreciated. Why try to help kids that don't care? So last night I asked him if he wanted me to just leave him alone or if he still wanted me to call him this morning. I don't want to keep wasting my time if he is going to ignore it either way. If he chooses that he doesn't want my help then that is his choice and I will respect that. Late last night he responded to my question and said "I dont want u to give up on me just cuz i had a bad day". This really stood out to me. I appreciate that he recognizes that he has a bad day and it seems like he does still value what i do for him. My goal is to help him in whatever way I can so that he can do what he needs to do. I know he isn't used to people holding him accountable and not allowing him to blame things on other people. I know he also isn't used to people checking up on him and pushing him to be better... I am sure this is an uncomfortable feeling, but deep down I also think that he values that someone is on his side and he does want more for himself. I find that sometimes I really feel unappreciated and just want to stop trying to help. However, I like how my student put it when he said deep down he really doesn't want me to give up on him because of one bad day. I feel like our diets and our bodies say the same thing. We shouldn't give up on them if we have a bad day. I know that he can do it and I know he can accomplish great things, so I need to keep supporting him... just like I know that my body can accomplish great things. It will just take time and I need to keep supporting myself and my efforts to accomplish more athletic tasks and to lose weight. You never know the kind of impact you make on other people, so don't be so quick to give up on others. Some people may be fighting it on the outside, but on the inside they really do want that emotional hug.




Sunday, May 06, 2012
So today I feel like I have achieved one of the biggest accomplishments of my life. I participated in the Baltimore Amazing Race National Challenge. We went around 4-5 miles. We finished in 1 hr 14 mins. We found all of the clues and came in 15th place out of 174 teams! There were around 700 participants. Since we placed in the top 25 we qualify to attend nationals in New Orleans! I have NEVER in my life run outdoors (especially in front of people). Back when I did SP a few years ago I ran on a treadmill (max 30 mins), but I have never in my life felt comfortable doing this in front of people. This year I started walking with short jogging spurts on the track of my school in the AM, but today was ground breaking. Not only was I running on the streets of Baltimore, but I was dressed up like Batman! There were 6 of us on the team. I was about in the middle with my running abilities. We ran with intervals of fast walking, but it was fantastic. I felt confident and wonderful. We had to approach people on the street and ask them to take pictures of us doing different tasks. I am pretty introverted, so this was a really great event. I can't wait to improve my skills and start running outdoors more! THis was HUGE for me. I would never have imagined doing an event like this. I really feel like in the near future I could do a 5K!

I also got a food scale today! You type in the food code and not only does it show you the oz/grams, but it shows you the nutritional information as well. I cooked myself great food today. Filet mignon, shrimp, scallops, and crab.



Before the race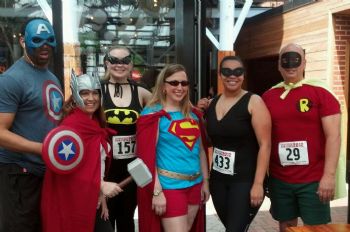 Team Super Heroes (teachers that I teach with)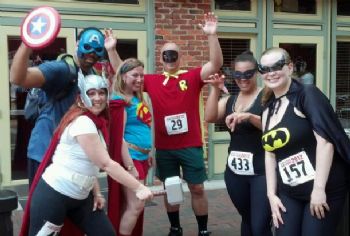 After the race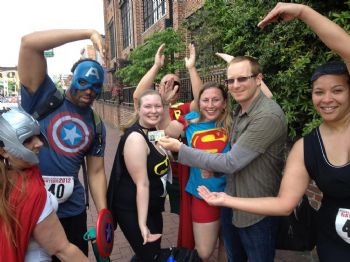 With the guy from CA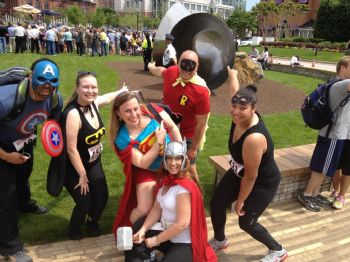 In front of the brand new park. The police weren't happy about hundreds of racers running towards the sculpture during their presentation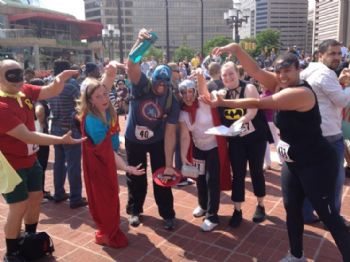 Acting out Jaws in the middle of the Harbor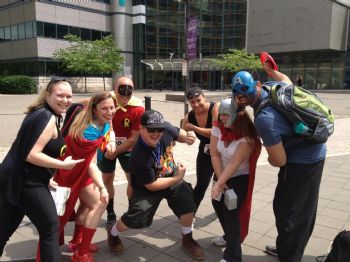 With the guy with the sports team hat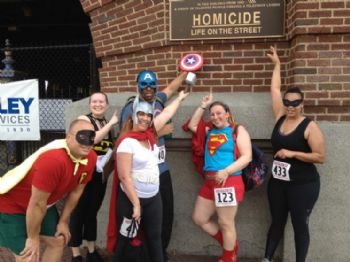 In front of The Wire sign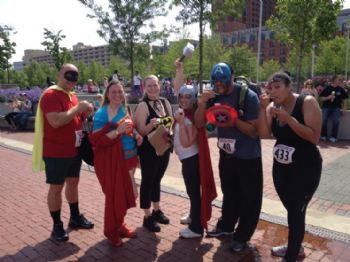 In front of Ritas in the Harbor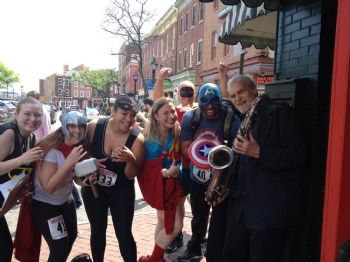 WIth a street musician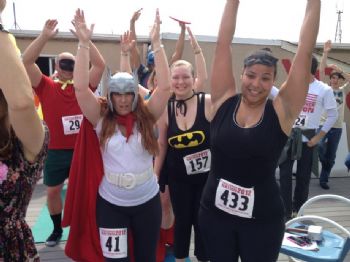 After rooftop yoga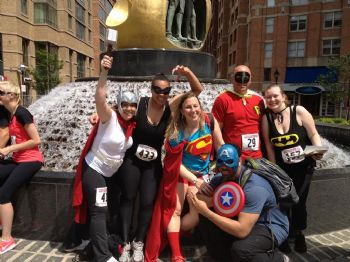 In front of the fountain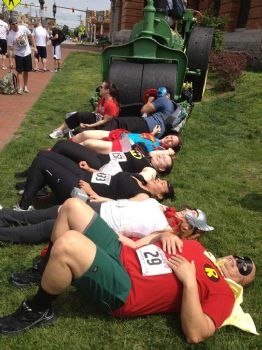 Acting out the final scene in Who Framed Roger Rabbit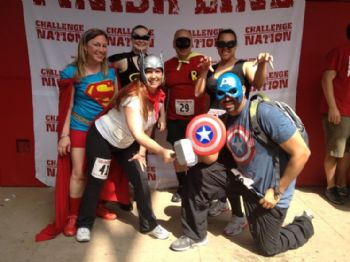 At the finish line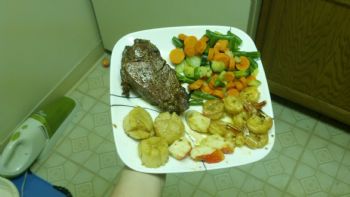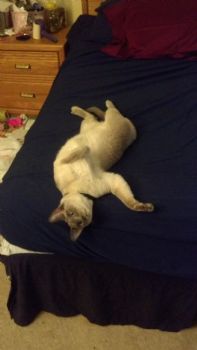 The kitty likes my new fresh sheets:)





Friday, May 04, 2012
So yesterday I came to a realization that I have really been destructive to myself. I saw a picture of a very attractive female (I won't post the picture because she was wearing lingerie and I don't want to offend anyone). I really admired that she still looked natural and had feminine curves, but she was toned and lean. She looked very healthy and in great shape. I suddenly realized that in my head I have always dismissed this as a possibility for myself. I have always told myself that I am just bigger, so even when I get down to my goal weight I won't look like that. When I have lost weight before and I got to my goal weight I still had fat on my hips and was still a bigger girl (size 7 has been my all time low), but why did I sell myself short? Who decides how I am allowed to look? I would never allow someone to tell me what my goals could be or what I am capable of in an academic or work setting, so why do I do this to myself in an physical setting?? I advocate for myself very strongly and am a pretty independent female, but how is it that for my entire life I have dismissed the idea that I could look like that? I know that models and other images we see might not be "realistic", however, why should there be limitations on what I can and cannot do? My goal is to not only get to my goal weight, but then to assess am I as toned as I could be? I have seen SP pages of women who have become body builders and have drastically transformed their bodies. This is not my personal goal, but why should I automatically be excluded from the set of people who are "allowed" to look like that woman looked in the picture? That's not fair and I won't allow it. I am determined and hard working. I have stuck to my calorie ranges EVERY day since I rededicated myself to SP. I have ONLY drank WATER EVERY DAY since I came back on board. I have accomplished great things, so why couldn't I push myself farther? If other people were able to achieve physical results like that who is to say that I can't? No more will I automatically dismiss these thoughts and count myself out of this arena. I shouldn't take myself out of the running too quickly. Like I said the first time I did SP, who decides who is allowed to be "athletic" and who is not allowed to participate? No one! I can be whoever and whatever I want to be. If I want to run a marathon, I will. If I want to be toned and no longer be a big girl, then I will. It is eye opening to realize that I have restricted myself since I was young and started being aware of body size and weight. I was always bigger than everyone else and I was always taller than everyone else. I am 5'7", so I feel I am right around average for height. Why do I have to stay the big girl? The only person who can keep me from my goals is myself, so I have decided for myself that I won't allow that any more. I love you SP and hope you have a fantastic weekend!


First Page
1
2
3
4
5
6
7
8
9
10
11
12
13
14
15
16
17
18
19
20
21
22
23
24 25 26 27 28 29 30 31 32 33 34 35 36 37 38 39 40 41 42 43 44 Last Page

Get An Email Alert Each Time SNEVIL1 Posts