| | |
| --- | --- |
| | SLIMKATIE's Recent Blog Entries |


Saturday, June 11, 2011
Hi everyone! Yes, I'm still around :) Lately, I've gotten a lot of messages and comments asking where I've been and why I'm not blogging... and they are surprised to find out that I actually DO blog just about every day. I apologize if you've already seen this, but I figured I'd post a link here in case you're one of the super nice people that asks about me.

My blog can be found at www.runsforcookies.com .

It's nothing super interesting--just the day to day of trying my best to keep this weight off! I do still check my Spark page and Spark mail, and I read all of your nice comments. THANK YOU for being so supportive and motivating to me!!

Katie






Sunday, May 08, 2011
I just got home from my fourth annual trip to Indianapolis for the half-marathon. I've walked it the past three years, and this year was my first year RUNNING it. It was fantastic!! Hopefully I can remember all the details (there was a lot of drinking, haha).

Friday-
Eli had a Mother's Day tea party at school, so I wanted to make sure I could go to that before we left for Indy. I went to the tea party and Eli was adorable. He was so excited and proud of the things he'd made for me. My mom picked him up at 11:30, and I left with Jerry (my husband), Renee, and Jessica (my friends) for Indy. The drive was about 4 1/2 hours, and we stopped a couple of times along the way for snacks. At one gas station, they were selling Cadbury Creme Eggs for 6 cents each!! I was tempted to buy all of them, but I only bought two.

We arrived at the hotel and my brother Brian, my sister Jeanie, and her two friends Cathy and Jen were already there. Everyone had a drink in our hotel room while we waited to head to dinner. We had reservations at Buca di Beppo to load up on pasta for the race. Reservations were at 5, and we were seated right away. We had cheese bread, lasagna, fettuccine alfredo, ravioli, stuffed shells, manicotti... OH, it was SO good. Then we headed over to the Expo to pick up our packets.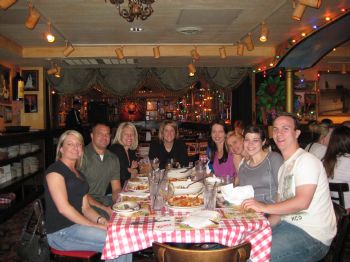 I was kind of bummed to see that I had requested a medium shirt, when I really need a small, but I registered for this race almost a year ago, and I was a medium at the time. We walked around the Expo, and I bought a sticker for my car that says "13.1 miles 'cause I'm only half crazy". I noticed someone walking around in a Biggest Loser t-shirt and I recognized it to be Allen from season 8! I said hello, and asked if he was doing the race, etc. I told him about my weight loss and asked if I could get a picture with him. He was SUPER friendly.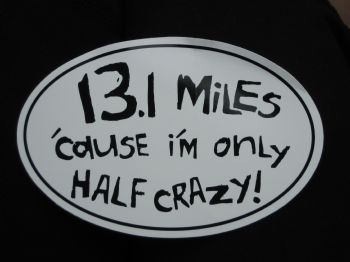 After the Expo, we went back to the hotel. I was kind of wired and wanted to play some games or something, but everyone else just wanted to lie around and go to bed early. I sat in my sister's room and talked to her and her friends for a little while, then went to bed at around 11.

Saturday-
The alarm went off at 5:00 AM. I went down and ate breakfast (oatmeal with raisins, canteloupe, muffin). Then I got dressed and tried to calm my nerves. I get nervous every year, even though I already know what to expect. We took some pictures, then everyone headed down to the start area, which was directly in front of our hotel. I was in the Q corral (by myself--no one else from our group was starting there, and I planned to run alone). Jerry wasn't running, so he had all our stuff in a bag and he was going to go wait at the finish line.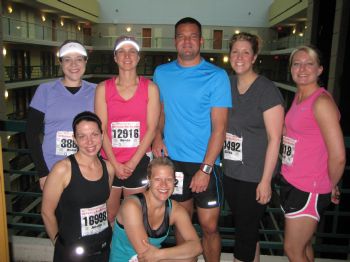 I made small talk with a couple of people, turned on my Garmin, and waited for the start. Once the race started (at 7:33), it took me about 20 minutes to get to the actual starting line. This is the largest half-marathon in the country, with 35,000 racers--and being in Q, I was pretty far back there. It's organized by estimated finish time, and when I registered, I had estimated my finish to be 2:30.

Once the race started, I started running at a pretty slow pace. There were so many people that I had to dodge people constantly for the first mile or so. Right after the starting line, there was a girl in front of me that I was going to pass, because I saw her trying to TEXT AND RUN at the same freaking time. She wasn't watching where she was going, and then she fell--RIGHT in front of me, which almost caused me to go flying to the pavement as well. I was so mad that I wanted to kick her, but I dodged her and kept going. At the first mile marker is the zoo, and I saw an elephant watching us run by :)

I kept focusing on maintaining a steady pace, and I didn't want to worry too much about how slow I was going. I wanted to stay comfortable, so I just found a happy pace and went with it. At mile 6, we went onto the Indy 500 race track. The track looks so small on TV, but it is actually 2 1/2 miles around. It's the most boring part of the race, in my opinion. I saw a man wearing a Martian Marathon t-shirt and I told him I did the Martian 10k in March. He is from Windsor, and went to Indy for the race like I did.

There were tons of pit stops along the race (probably about every mile) but I hadn't stopped for water or Gatorade at all. At around mile 8, I had some water--I didn't realize it would be so hard to run and drink at the same time, and I wound up getting water all over my shirt right before I saw the photographers. So I'm interested to see how I look in the pics!

After mile 9, the rest of the miles went by kind of fast. I had water at mile 10, and then Gatorade at mile 11. Most people eat some sort of fuel, but I always feel fine without food or water up until about 10 miles, and after that, I just need a little water and I'm good to go. My legs started hurting about halfway through mile 12, but I still felt pretty strong. When I finally hit mile 13, I saw the finish line and there were TONS of people cheering us on. I heard Renee yell my name, so I smiled and waved at her. I didn't see Jerry at all, and I actually slowed down a little to try and see him, but no luck. I think I was half smiling, half crying when I crossed the finish line. I felt emotional for a minute and was about to go into the ugly cry, and then I was over it. My finish time was 2:10:40. I got pic taken with my medal, then went to find Renee (who finished in 1:46) and Jerry.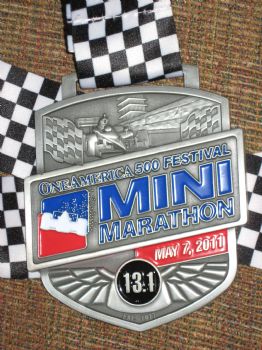 Finish time
I'm not thrilled with my time, but it's decent. An average 9:59/mile pace. I'm definitely going to have to do some speedwork. My splits were as follows:
Mile 1- 10:31
Mile 2- 10:10
Mile 3- 10:06
Mile 4- 9:56
Mile 5- 9:54
Mile 6- 10:00
Mile 7- 9:47
Mile 8- 9:47
Mile 9- 9:59
Mile 10- 9:47
Mile 11- 9:37
Mile 12- 9:41
Mile 13- 9:23
Mile 0.1- 8:55

For the most part, I had negative splits, so I'm happy with that. My best mile was actually the 13th mile, which surprised me.

Renee found me and she said she had no clue where Jerry was. We went back to the finish line to watch everyone else finish. I saw Brian and Jen cross, which surprised me, because I thought for sure they would have finished before me. Their time was 2:19. We watched for Jessica, but didn't see her. We saw Jeanie and Cathy cross. Then someone found Jerry, who admitted he completely missed my crossing the finish line!

We went back to the hotel and met up with Jessica. I took a shower and had lunch at the food court in the mall next door. Then I drank almost a whole bottle of Kendall-Jackson Merlot (my favorite wine!) and relaxed. After that, we went down to the hotel bar and had some drinks and snacks. Renee and Jessica ended up going out to a club to dance, which I wasn't interested in doing, so I stayed with everyone else. We went to Buffalo Wild Wings for dinner--that's where you end up if you don't make reservations on time--and then finally went back to the hotel. I went to bed at around 10:30.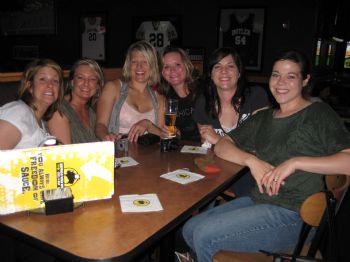 I couldn't sleep at all, and at 3:30 AM, Jessica and Renee finally came back to the hotel. They were being pretty loud, so I went in the other room to sleep. I could tell I was getting sick because my throat felt like I was swallowing razor blades.

Sunday-
I woke up at 8 this morning and packed up our stuff. My throat hurt so badly. Surprisingly, I wasn't sore from the run at all. My hips felt a little stiff, but that's it. We left the hotel at 10:30, and I got home at about 3 pm. I looked up my results online. My kids asked if I won, and I explained that I came in 11,890th place... hahaha.

Overall, it was a great weekend. I'm so excited to be a part of the cool kids club now that I've RUN a half-marathon! I'm super psyched for next year--I'm going to run it sub-2:00! ;)

I'll post the official race pictures when I get them.
5/15/11- Official race photos are in!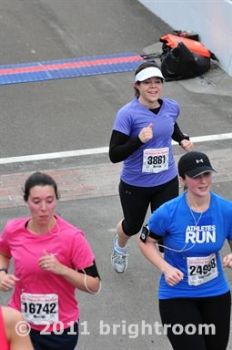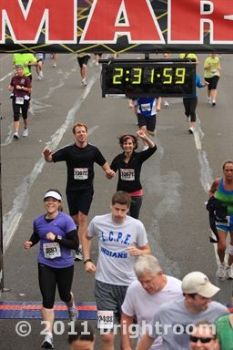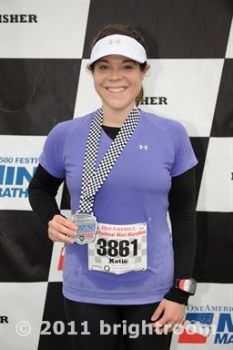 Monday, January 31, 2011

I've been wanting to make a video like this since before I even lost the weight! I hope to inspire at least one person with this :)


ETA: I've been getting swamped with e-mails and Spark messages from people asking questions about my weight loss. I'm happy to answer new questions, but please check out the FAQ's on my blog before asking. Thanks! http://www.runsforcookies.com/p/faqs.html






Sunday, January 30, 2011
I'm so sorry it's been so long since I've written a blog on here. I write in my Open Diary a few times a week, but I usually save my blogs on Spark for more meaningful entries. So for those of you that have been asking about me, I'm doing pretty well (thanks for asking!)

Just before Christmas, I reached a low weight of 128--just 2 pounds from my goal! I should have known it wasn't going to last, because my mouth was still wired shut from my broken jaw. On Jan 4th, I got all the wires removed and with the exception of some pain in my joints (just under my ears), I'm feeling pretty good. I'm able to eat solid foods again and the week after Christmas I gained 8 pounds!! However, I've been working really hard not to get into old habits, and I've maintained my weight between 134 and 139 for the entire month of January. That's where my weight was in November, before I fell and broke my jaw. So even though my weight is up from Christmastime, I still feel like I'm doing really well with all things considered.

DIET: I did get re-addicted (for lack of a better word) to sugar--which I had forgotten how hard was to overcome! After 16 months of losing weight and eating a pretty balanced diet, I started eating too much sugar around the holidays and it is SO HARD to cut back on it. I think if I could kick the sugar habit, I'd get my weight down to goal pretty easily--but I'm having a hard time getting through the first 4 days of sugar withdrawl.

As I type this, I am on Day 3 of counting WW Points again... which I REALLY hate to do. I was doing really well through December with intuitive eating, but that is what led to the sugar cravings again, so I know now that I MUST count calories or points or something in order to stay on track. I chose to count points because WW's came out with their re-vamped program and I thought it might be fun to do something "new" and learn a new program (in other words, I might actually enjoy it! haha)

WEIGHT: I was 137 today, so I'm 11 pounds from goal. I *should* be happy about it (it's in the "normal" range for my height and my size 4's all still fit), but knowing that I was 128 before the wires came off is messing with my head and makes me feel like I should be in the 120's. However, my jeans were starting to feel tight and a little uncomfortable, so I made the decision to start counting points again. Hopefully I'll get the last 11 pounds off soon--if it becomes TOO hard and I am miserable doing it, I might revise my goal weight to be around 132 (where I feel good, my clothes feel good and it's easier to maintain). I chose 126 simply because it'd be half of my starting weight, which is a stupid reason to choose a goal, but when I started losing I had no idea I'd actually make it this far! So I'm giving it a month to see how I feel and then I might revise my goal.

EXERCISE: I've still been running consistently. The roads have been icy and I'm terrified of falling and hurting my jaw, so I've been doing my runs on the dreadmill. Normally I like to run for distance rather than speed, but I cannot endure more than 3 miles at a time on the treadmill, so I've been running 5k every other day and working on increasing speed. Today I set a new PR of 25:50! I was THRILLED to get under 26 minutes. Maybe by fall I'll get under 25 minutes.

OTHER STUFF: I'm thinking about getting a tummy tuck in May. I spoke with the insurance company about it and it sounds like they might cover it--and if they do, I definitely want to get it done! Cosmetically, my stomach looks terrible! But it causes me non-cosmetic problems as well (particularly when I run) and I would love to get it out of the way.

I wasn't going to say anything about this until I knew anything for sure, but I was contacted by the producer of The Rachael Ray Show to possibly appear on a segment about weight loss in an upcoming show. That was last week and I haven't heard anything since, so I'm guessing that nothing will come of it. It was still exciting to be recognized for my hard work, though :)

So there you have it, in a nutshell. For more specifics, you can check out my entries on Open Diary. Here is the link for that:
www.opendiary.com/entrylist.asp?auth
orcode=D691107





Sunday, December 12, 2010
I can't believe it's been a month since I passed out, fell, and severely broke my jaw. Thank you all so much for the well-wishes and concern! I'm recovering pretty well, and the doctor said that my jaw is healing very well.

I still don't have any answers as to WHY I passed out. I saw a neurologist on Friday and had an EEG. The neuro exam was completely normal, and I should get my EEG results in a couple of days. The neurologist said that he highly doubts it was a seizure, and he's pretty sure that my EEG will be normal as well. That is a good thing :)

I have another follow-up appointment tomorrow with the ENT surgeon who performed both of my surgeries. I'm not sure what he's going to do, because I know my jaw will still be wired for a couple more weeks. It takes 6 weeks for a bone to heal, and it's only been 4 weeks.

I also have an appointment on Friday with a cardiologist, hopefully to rule out any heart problems that could have caused the syncope (fainting). I doubt they will find anything. Something in my gut tells me that it had something to do with the ice cream I had eaten--as ridiculous as that sounds.

My friend Renee and I had made plans to have wine a couple of nights ago (Friday). I asked my surgeon about it, and he said it was okay as long as I stop taking my pain medication (oxycodone) for 24 hours before I have wine and for 24 hours after I had wine. So my last dose was on Thursday afternoon. By Friday morning, I was feeling a little sick. Friday night I was so sick that I called Renee to cancel. I was sick yesterday too--I've had chills, sweating, nausea, stomach cramps, and trembling. From what I read online, you can become physically dependent on oxycodone in about 4 weeks, which is how long I was taking it. I think that I am having withdrawl symptoms, which is really scary. When I first got the script in the hospital, I told them no--I was scared to take it, because I've heard that it's really addictive. They kind of pushed me into it, and told me that I would only get addicted if I didn't take it as prescribed. I was very careful to take it as prescribed. So anyway, I had planned on resuming the meds 24 hours after having the wine with Renee, but after all this, I've decided not to take it again. Today, I'm still feeling sick, but much better than Friday night. Hopefully I'll be back to normal within a couple of days. The jaw pain is still there, but it's not unbearable. I just constantly feel a tingling in my chin where my nerve was severed, and it drives me crazy.

ANYWAYS, the liquid diet isn't so bad. I usually have a fruit smoothie (made with Boost or Ensure) for breakfast and sometimes lunch, pureed soup for dinner, and pudding for my daily dessert. The pudding was really hard to eat at first, but now that I can open my teeth a little, it's much easier. (A couple of weeks ago, the wires that were holding my jaws completely shut were replaced with rubber bands. I still have metal things and wires running along my gums on top and bottom, but I can open my mouth a little now). I haven't been counting calories at all since I went into the hospital, and I've been doing really well with "intuitive" eating. I eat whenever I'm hungry and I eat a "normal" amount of food, stopping before I'm stuffed. I thought this would be good practice for when I get the wires off--hopefully I can continue eating this way even when I have a huge variety of foods to eat.

I've been running, but not very much. I still try to run every other day, but the most I've run in the last month has only been 3 miles. I'm scared to run outside (fear of passing out again), and the treadmill is SO BORING that I can't stand it. However, I've been toying with the idea of possibly running a full marathon in October 2011. It would give me a good reason to run once I get back in the groove of things.

Again, thank you so much for thinking of me. I hope you all have a great holiday!



1 2 3 4 Last Page

Get An Email Alert Each Time SLIMKATIE Posts