| | |
| --- | --- |
| | SLENDERELLA61's Recent Blog Entries |


Friday, March 14, 2014
If you didn't read my "5 Surprises" blog on March 11, read that one. This one is just day to day living stuff.

I enjoyed the Lakeland Runners Club meeting last eve, even the pizza. I bought a fuel belt for long distance running as a birthday gift for my niece who plans to run a full marathon within a year. She really seemed pleased. I was delighted to see a fellow from my Weight Watcher group at the meeting. I told him about our Galloway group and LRC and he's joined both! He also went running with my nephew and plans to run with him every Monday. That is just great. It will help them both a great deal. This fellow (David) has lost 10 pant sizes so far. He is also battling diabetes so he and Martin have some things in common.

Tomorrow I'm planning to do my own run. Instead of meeting the group to run in the dark, think I'll go at sunrise to the nice level track around the lake. Will miss the company, though. I'm going to the eye doctor a week from today. I'm hoping that some glasses specially for running may help me get back my confidence after my 2nd fall & having to fix my 2 front teeth. I'm thinking my progressive lenses with the bottom really made for close up is part of problem. We'll see!






Tuesday, March 11, 2014
What can I say about 5 years of maintaining an 80 pound weight loss after more than 5 decades of being overweight or obese? I've already said so much. In "Please Read This Blog If You've Gained Back Weight Before," I credit Super Foods, increased cardio, and most importantly the mindset to "quit quitting" as my keys to maintenance success. www.sparkpeople.com/mypage_public_jo
urnal_individual.asp?blog_id=5042750 I still believe every word of this blog.

In "How I Found My Inner Jock" I tell about my foray into running after years of gradually evolving from couch potato status:
www.sparkpeople.com/mypage_public_jo
urnal_individual.asp? blog_id=5060314 Running has helped me. I love it. But I know that successful maintenance is probably 80% food and 20% activity. During time of injury or limited activity for any reason, I can still maintain by focusing on food. I feel best, though, if I get in my activity!!

What can I add at this 5 year milestone? Well, I am really surprised about a lot of things.

1. First surprise: I have kept off 80 pounds. Honestly, I did not think I could do it. And that lack of confidence scared me. I read that having confidence in your ability to maintain is important to success. I knew I wasn't confident, so I worked to try to build confidence. Earning trophies here at SparkPeople, blogging about small successes, acknowledging and savoring compliments from 3D friends and SparkFriends, celebrating minor victories all helped me gain confidence.

2. Second surprise: It still isn't easy. It takes a daily (or more often) commitment. And the hardest day to make that commitment is when I messed up the day before. I know those "getting back on track" days are critical to success. I've had an hour or maybe two in the past 5 years where I gave up. But I have not had a whole day. I grab some water, do some exercise, and declare myself back to healthy living NOW.

3. Third surprise: If I honestly look at how much time I spend struggling with food issues, it is a very small percentage of my life. Given that it isn't easy, and that I'm tempted to overeat every week (actually on most days), I could envision myself obsessed with food and food thoughts. That isn't so. Usually I have a small period of time after supper when it is hard not to eat even though I know I don't need more food. That time is harder when I'm tired but can't go to bed yet or when I haven't been able to exercise. Thinking about what I really, really want helps at those times.

4. Fourth surprise: I don't have to endure much hunger. Through the Beck Diet Solution I learned that I can endure hunger. Hunger is not an emergency. However, maintenance is easier for me if I'm not hungry. If I make wise choices and eat small meals often, I have very little actual hunger. If I go to a ball park and have a hot dog on a white bun or go to a birthday party and choose to have a piece of cake I will be hungry and want to go over my calorie limits. I know it is my choice. Do I want to eat a convenience food or enjoy a treat? If so, am I willing to endure a bit of hunger?

5. Fifth surprise: I have not nailed down my healthy routines. I still don't have menu plans that I have been meaning to develop now for years. Hubby still does the grocery shopping and our kitchen is filled with whatever is on special. He is great about always getting lots of fruits and veggies. And I always have tuna in water, fat free cottage cheese, frozen plain fish like cod and tilapia, 70 calorie Boca Burgers and other low calorie protein sources so I can choose to eat something other than what he wants. I've definitely learned to be flexible. I can make my calories balance out even if a last minute decision to eat out is thrown at me. I've learned that no food can trigger me to eat if I'm feeling strong and healthy and determined. I am stronger than peanut butter. I am stronger than candy bars. I am stronger than cake. I am stronger than any food.

And it is no surprise that the support I've gotten from my SparkFriends has been a major factor in my success! As ONEKIDSMOM tells me every day, life is good. Life is precious. And to be able to live life fit is a tremendous blessing to be valued and prized!!





Sunday, March 09, 2014
Five years ago today, on March 9, 2009, I weighed in at Weight Watchers to find I had finally achieved a healthy BMI. I've now had 60 monthly free lifetime weigh ins, and not once been over my WW goal. Since I was a pre teen this is the only 5 year period I've lived at a healthy weight.

Perhaps tomorrow I'll have some wise reflections about achieving this milestone.
Today I am just recovering from my athletic endeavors of yesterday and giving it some thought.






Saturday, March 08, 2014
If you've read my status you know that my granddaughter, Natalie, made 20 laps in her Walkathon yesterday and has earned the right to be Coach for a Day at her school. We are so proud! I'm pretty sure it is an eighth of a mile lap, so that would be 2.5 miles. Last year she remembers she did 19 laps - but I thought it was 17 - and she quit when they called time at 45 minutes. They are allowed to jog, walk, or even run some. This year she had her sites set on 20 laps in order to earn the top prize and she reported that she stopped at 20 laps; that time had not been called. She went the farthest of anyone in her first grade class. Hooray for Natalie!!

My Senior Games experience was a mixed bag. I have to admit I'm disappointed in my running 5K time. Just didn't have it today. Admittedly, I had some symptoms, but just couldn't push through them. The 65-69 age group is a big one for Senior Games. Nonetheless, after winning bronze 3 years ago, silver 2 years ago, and gold last year, I hate to report I came in 4th -- out of the medals this year. Definitely did not qualify for National Senior Games. Although, the top 6 are invited to the state games in December and it would be possible to qualify there. I'll have to think about it.

So I was picturing me going to the closing ceremonies on Monday with hubby wearing his two medals and me having none. Won't happen. Believe it or not, I did much, much better in the walking events this year. I not only took the Gold Medal in the 5K and 1.5K walks, I was the first woman of any age (50-94) to finish. I did the 5000 km in 37 minutes and 22 seconds and the 1500 km in 11 minutes flat. So even though I would have much rather improved my running 5K time, I feel like I won huge consolation prizes.





Friday, March 07, 2014
Here's Gwen, dressed as she likes best, snuggling our dog: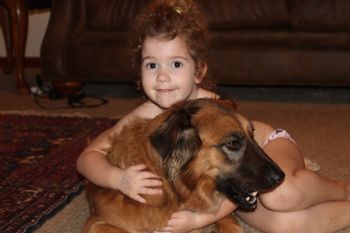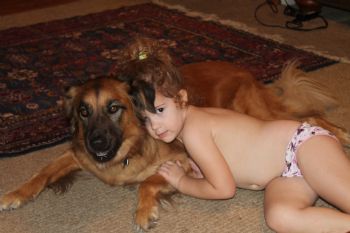 And here's Natalie reading and snuggling with Gwen: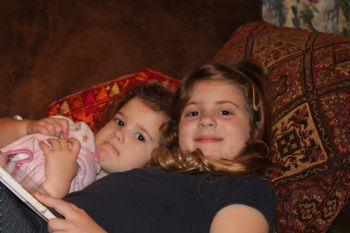 And here are my granddaughters playing in our backyard: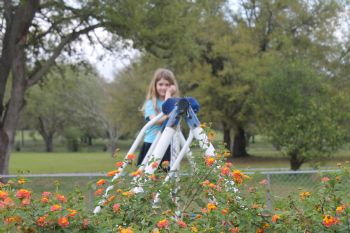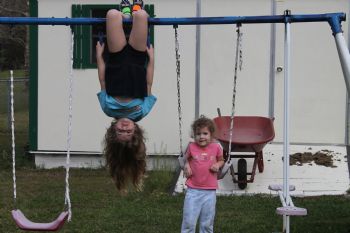 Natalie has a Walkathon at school today. If she makes it 20 laps she'll get to be Coach for the Day. Her toe is healed and I think she can do it, even though we didn't get to train as much as we'd planned. And I'll be getting packed up for my races tomorrow. We'll play a bunch today. Fridays are extra-fun days as Natalie has no homework so we get to play more!!











First Page
1
2
3
4
5
6
7
8
9
10
11
12
13
14
15
16
17
18
19
20
21
22
23
24
25
26
27
28
29
30
31
32
33
34
35
36
37
38
39
40
41
42
43
44
45
46
47 48 49 50 51 52 53 54 55 56 57 58 59 60 61 62 63 64 65 66 67 68 69 70 71 72 73 74 75 76 77 78 79 80 81 82 83 84 85 86 87 88 89 90 91 92 93 94 95 96 97 98 99 100 101 102 103 104 105 106 107 108 109 110 111 112 113 114 115 116 117 118 119 120 121 122 123 124 125 126 127 128 129 130 131 132 133 134 135 136 137 138 139 140 141 142 143 144 145 146 147 148 149 150 151 152 153 154 155 156 157 158 159 160 161 162 163 164 165 166 167 168 169 170 171 172 173 174 175 176 177 178 179 180 181 182 183 184 185 186 187 188 189 190 191 192 193 194 195 196 197 198 199 200 201 202 203 204 205 206 207 208 209 210 211 212 213 214 215 216 217 218 219 220 221 222 223 224 225 226 227 228 229 230 231 232 233 234 235 236 237 238 239 240 241 242 243 244 245 246 247 248 249 250 251 252 253 254 255 256 257 258 259 260 261 262 263 264 265 266 267 268 269 270 Last Page

Get An Email Alert Each Time SLENDERELLA61 Posts