| | |
| --- | --- |
| | SLENDERELLA61's Recent Blog Entries |


Tuesday, November 05, 2013
It's my taper week, just 4 days from my second half marathon, T minus 4 and counting!

I'm drawing inspiration from the NYC Maratho. Here's some great signs: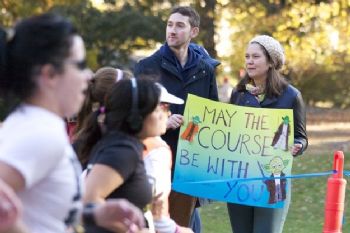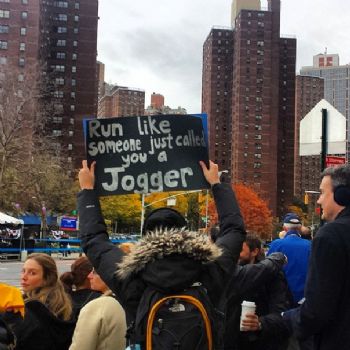 Here's the fastest finisher I know, posing at mile 17. Paul finished in 4:20:59: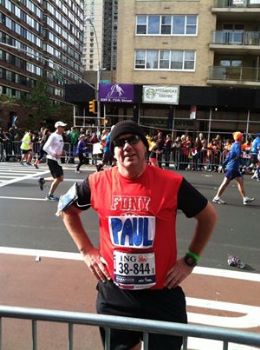 And here is Cindy, known as the Celtic Runner. I've never run with her. She's faster than I am. She finished in 5:20:56: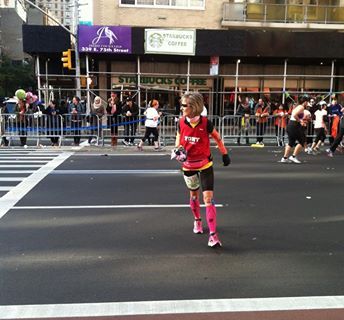 Here's Susan. I've run with her a lot. She runs 7 days a week and has for years. She is in charge of our half marathon on Saturday. She works for Interact Alliance, a drug prevention program, that is sponsoring the half. She is really fun to run with and a great encourager of us newbies. She finished in 5:35:56: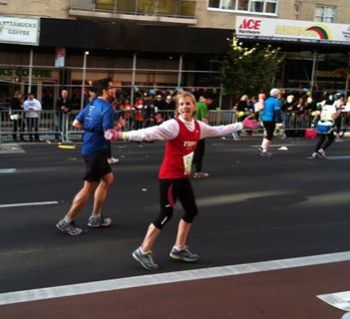 I've confirmed my ride and feeling confident about Saturday! Weather will be warm. Course will be hilly. I'm set to do good anyway!!





Monday, November 04, 2013
T is for taper! It's time to get plenty of rest. My second half marathon, first in 2013, is in just 5 days. So I decided to run Monday and Wednesday this week to be plenty rested for Saturday morning. I'm trying to eat smart, at the top of my calorie range, with about 65% carbohydrates. I'm skipping strength training this week to ensure I don't pull or strain anything. And I'm not picking up the grandkids for the same reason.

This morning I ran in my neighborhood. I had the Beatles' One album playing on the MP3 player. It was my favorite music in high school and I channel my 16 year old self easily as I listen to it! It was an easy fun run, about 2 and a half miles, a bit faster than I plan to run the 13.1.

Hubby will be out of town with our car, but I have a ride to the race. Trying not to worry that she will forget to pick me up. I kind of laugh at how I can always find something to worry about! I'm right on track and trying to get in the "coiled spring" mode that ONEKIDSMOM nurtures before a race.

Incidentally, Jan who helped me prepare for my first half, completed her first New York Marathon yesterday after years of missing it due to emergencies (surgery, family crisis, and a hurricane) keeping her from running it in the past. All four of the runners from my Galloway group finished the 26.2 miles. Jan, just 6 months younger than I am, finished in 6 hours and 9 minutes. Hooray for determination and persistence! Jan at the NYC Marathon:




My nephew may come root me on at the finish of my half marathon. That would be so cool! I have come to many of his races. I just might try to get my camera to him. This is the first ever half marathon in my hometown of Lakeland, Florida. 850 people are pre-registered. Packet pick up starts on Wednesday. I know at least 50 of the people running it and will recognize many more of them from local 5 and 10Ks. I've been training with the leader of the 2 hour and 30 minute pace group. With luck, I'm going to PR! All systems are go!!!






Sunday, November 03, 2013
I thrive on compliments! And when I get one from my hubby it is like a jewel. Perhaps I should be, but I'm not ashamed to admit I savor and enjoy it. Hubby does our grocery shopping, partly to help me and partly because he wants to eat what he wants to eat. (Luckily, he's become good at finding the things I want and need.)

Well, yesterday when he sat down to supper he looked on our table and said, "I go to the grocery store and just buy a lot of things on sale and then you turn them into a feast." Oh, yeah, I'm going to savor that one, about as much as I savored the dish. I even went and got the camera to snap the leftovers: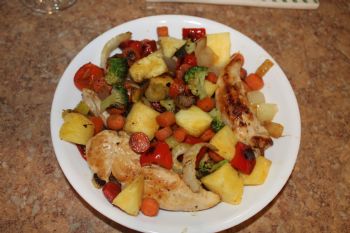 This dish was based on the SparkRecipe, Pineapple Chicken Stir Fry. I had the onion, garlic, broccoli, red pepper, and pineapple on hand. I didn't have cabbage, so I substituted celery and carrots. I cooked each veggie separately and then put them together so they retained more individual flavor and color. I didn't have enough juice to worry with thickening it, but it didn't need it. I served it with brown rice. Absolutely yummy. And it is so great to find something healthy hubby likes, too.

Another picture I took yesterday in our front yard: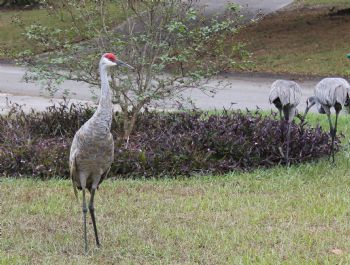 These beautiful cranes hang out in our neighborhood. I just love seeing them. Funny, but I grew up less than 50 miles from here and never remember seeing one as a child. Wonder if they've come back following the DDT ban or whether they have been imported or if I just never noticed!

After yesterday's group run I recovered quickly and felt good. After supper, though, I was feeling a little weak. I debated between going to bed early or having more to eat. I chose to eat thinking it might help. It did. I ended up going a little over my calorie range, but the scale was just at 125.4 this morning, right where I want it to be, so I'm thinking I really did need that extra food. Still experimenting and still learning!












Saturday, November 02, 2013
Just one week from today I'll run my second half marathon. I'm hoping to make it in 2 hours and 30 minutes or at least beat my previous time of 2:37. It will be a beautiful run between and around several lakes, although that does mean some hills.

This morning I ran with the pace group leader for a 2:30 half. We started at 6am today and ran 5.6 miles. There was heavy cloud cover and high humidity, although the rain held off until after we finished. For next Saturday a low of 65 and high of 86 degrees is predicted with about 100% humidity. Since the clock turns back, the 7 am start will be equivalent to 8 am today. It was 73 degrees at that time today. Perhaps the forecast will change; we sure would like it a bit cooler. But no matter, I've run in hotter and as humid. I had planned to wear a new running outfit, but the consensus of the pace group is that we need to wear tank tops and carry water.

I'm planning to eat at the top of my calorie range this week, aiming for 65% carbohydrate all week and low fiber for the 2 days before the race. I won't worry if the scale goes up a bit as I'm trying to build glycogen storage for race performance.

I'm signed up for 3 half marathons this year. After this one for time, I've got 2 to run for fun. November 24th I'll be joining ONEKIDSMOM for our second St Pete Women's Half Marathon. I'll be wearing a ladybug costume. (See my Halloween Bonus Blog if you haven't seen it! EDIT: It's now my background picture!)

In February of 2014 I'm running the Disney Princess HM. Don't have a costume yet, but I'm signed up for the Cinderella section. I'm thinking about being her fairy godmother who got fit! Like maybe "Bibbidi Bobbidi Boo" on the shirt, and a disposable blue robe with the red tie at the neck like in the Disney movie for standing around in the cold before the race. I think it starts at 5:35 am and that I'll have to get on the bus from my resort around 4 am. Man, the things I'll do to run!!

I feel ready for next Saturday, and although I'm aiming for time, as long as I finish in an upright position with a smile on my face wanting to do it again, (to quote some of my favorite people) I'll be fine!





Thursday, October 31, 2013
The Rainbow Fairy (AKA Natalie) kisses Dora the Explorer (known as Gwen):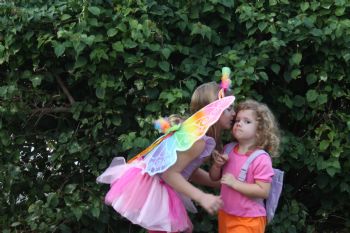 Natalie and I show off our wings while Gwen displays her backpack: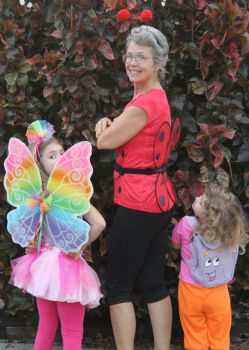 I ran 3 miles this eve as a ladybug. Think this costume will work for the St Pete Women's half marathon, Team Ladybug: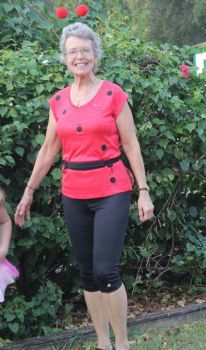 First Page
1
2
3
4
5
6
7
8
9
10
11
12
13
14
15
16
17
18
19
20
21
22
23
24
25
26
27
28
29
30
31
32
33
34
35
36
37
38
39
40
41
42
43
44
45
46
47
48
49
50
51
52
53
54
55
56
57
58
59
60
61
62
63 64 65 66 67 68 69 70 71 72 73 74 75 76 77 78 79 80 81 82 83 84 85 86 87 88 89 90 91 92 93 94 95 96 97 98 99 100 101 102 103 104 105 106 107 108 109 110 111 112 113 114 115 116 117 118 119 120 121 122 123 124 125 126 127 128 129 130 131 132 133 134 135 136 137 138 139 140 141 142 143 144 145 146 147 148 149 150 151 152 153 154 155 156 157 158 159 160 161 162 163 164 165 166 167 168 169 170 171 172 173 174 175 176 177 178 179 180 181 182 183 184 185 186 187 188 189 190 191 192 193 194 195 196 197 198 199 200 201 202 203 204 205 206 207 208 209 210 211 212 213 214 215 216 217 218 219 220 221 222 223 224 225 226 227 228 229 230 231 232 233 234 235 236 237 238 239 240 241 242 243 244 245 246 247 248 249 250 251 252 253 254 255 256 257 258 259 260 261 262 263 264 265 266 267 268 Last Page

Get An Email Alert Each Time SLENDERELLA61 Posts