| | |
| --- | --- |
| | SLENDERELLA61's Recent Blog Entries |



Saturday, January 19, 2013
I ran the Hope for Haiti 5K this morning with my nephew and niece. We watched a video after about Haiti, met people who work there full time and local people who go quarterly to support a school there. It was very inspirational and I was glad to support the effort.

My motivation before I went, though, was to support my nephew. He dropped 30 pounds in the 3 weeks before he was hospitalized for diabetic acidosis about 3 months ago with blood sugar over 650. Since he came out of the hospital he hasn't lost much more weight, but he has totally changed the way he eats, walks many miles a day, does Crossfit regularly, and has learned to control his blood sugar. He is totally off insulin and pills now. He goes to Weight Watcher meetings with me and hopes to lose 70 more pounds. My niece did the 5K, too. She has run with me before, but hasn't been running regularly since her marriage in April. She paced him and reported he did eight running intervals. I snapped pictures of them crossing the finish line, but haven't yet figured out how to download the pictures on my laptop. He finished 3.1 miles in less than 48 minutes. When he first started walking the lake(2.84 miles) it took him over an hour, so he's made lots of progress. Will try to edit their pictures in later or post tomorrow.

My time was around 30 minutes, maybe 29:59 or 30:00 or 30:01; I'll know for sure when it is posted online, possibly with pictures, in a day or two. This was the first 5K I've run since March of 2012. For the last year I've trained for greater distance. This was my 8th 5K, since my first in January 2011. I've run 4 5Ks under 30 minutes and 3 over before this one. So I was way off my PR of 28:28. I started too fast and had to take several walk breaks in the first half mile. When I heard my time was 9:40 at the first mile, I felt much better and settled down, running the whole rest of the way. At 2 miles I was at 18:25, I think, or was it 19:25?? I was thinking it was a negative split, but I'm now doubting myself. Anyway, even though it was not my best race, I did place first in my age group, which is my first FIRST PLACE medal!

My hubby took this picture of me with my age group medal after I got home: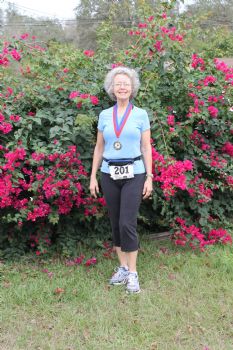 (You can see that we have not had a freeze here this year yet and the bougainvilla is still blooming.)

So I refuse to be disappointed with my time. I'll just celebrate the victory for me, the money for Haiti, and the exercise progress of my dear nephew!!





Friday, January 18, 2013
Did you notice I didn't blog yesterday? It was a usual day of child care and cooking for family. I went to the gym. Gwen stayed in the nursery for an hour while I ran. Good workout! Think my knee is fine now. I have a little soreness from my new SP strength training workout I did the day before. She and I played actively together outside. I showered at home while she napped. Made a new recipe that is pretty healthy and was very well received by hubby, son in law, and 5 year old granddaughter, which is kind of unusual for pretty healthy recipes I try. I tracked my food and made a lot of healthy choices. My "no intense sweets" streak is still in tact, having done better in this area than I have done in years -- maybe ever. Sounds like a successful day, doesn't it?

Only, I'm leaving out the elephant in the room. No, it isn't me!! I'm still a size 4 sitting here. Last night I just gave myself permission to overeat. My problem was that I woke up at 3 am yesterday (like I had the night before, too) and ate way too many of my calories and didn't leave enough for the rest of the day. And at 10 o'clock last night I was way too hungry to sleep. So I ate 3 cups of dry corn flakes, a blood orange from my neighbor's yard, and 2 T of sunflower seeds and I didn't log them because I didn't want to and I didn't care. And I broke my streak of days eating within my calorie range. (I made a new record since counting = 14 days.) But after I broke my streak I wanted to cry.

Crying doesn't help; figuring out what went wrong helps. When I woke up this morning in the middle of the night, I remembered what WalkingAnnie taught me and I kept my eyes closed and eventually I went back to sleep. I got a good night's sleep and started my day with all my calories in front of me. I have started my streak again. I'm going to blog even when I'm not feeling really proud of myself, because I'm going to face it and not hide. (Thanks, Barb, for your blog that helped me make that choice.) I have a 5K to run tomorrow and my nephew is going to join me. I'm going to eat to run today!! It will be a good, healthy day.








Wednesday, January 16, 2013
Maybe it is Mirage272's incredible culinary creations, or maybe it is the fun Natalie and I have been having with the Kids in the Kitchen cookbook. Or it could be that the At Goal & Maintaining Plus Transition to Maintenance Team's "What's Cooking, Good Looking?" has gotten to me. Probably it is the combination. Suddenly I feel inspired to try some new recipes.

Tonight I made Pineapple Salsa Mahi-Mahi. Yummy! Here it is in the pan: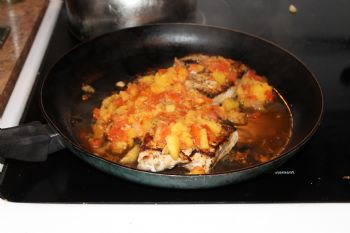 Here is a generous serving on my plate: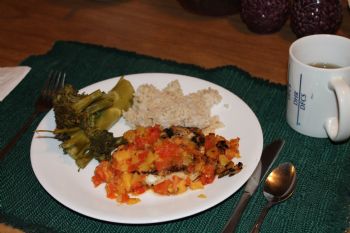 Incidentally, I entered the recipe in SparkRecipes, but didn't realize that the ingredient list didn't appear as part of the recipe, so it makes no sense -- and I don't see a way to edit. Oh, well.

And, while I'm posting pictures taken with my new Christmas camera, here is one of my inspirations, Chef Natalie creating her delicious Banana Boats: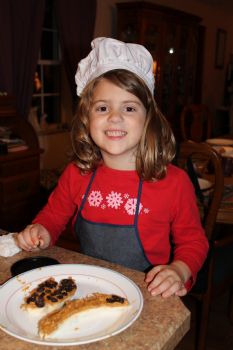 And Natalie with her reknowned Snow on the Roof:




And, last, but not least, here's Gwen enjoying her portion of Snow on the Roof: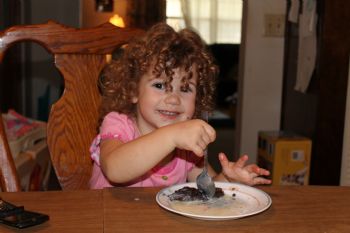 Wishing you delicious, healthy food in wise portions, and great health!!!

(Don't worry. Gwen doesn't usually have so much hair in her eyes. And she's getting her first hair cut at DisneyLand in just a couple weeks. Natalie did and it was a great experience!)


Edit: I fixed the recipe! It now makes sense. You go to your recipe box and there is an edit button to the right of the recipe name there. I would have never found it without help. Thanks, SparkFriends!!





Tuesday, January 15, 2013
Doing good:

* "No intense sweets" streak still on track - fully on the 10th, 11th, 12th, 13th, & 14th, plus half of the 9th and half of today. So, either 5 or 6 days depending on how you count it.

* "Staying within calorie range" streak is going strong: today is 14th day!!

* Walked 4.75 miles in 65 minutes today. Knee is recovering from freak accident with dog running into me. Should be able to run my scheduled morning 5K on Saturday the 19th. We'll see. Modifying exercise schedule for recovery.

* I've made it to 200 weeks of maintaining at or below my Weight Watcher's goal. Working to get back to where I am maintaining an 86 pound weight loss! Plan to celebrate 208 weeks in a big way -- that's 4 years!!










Monday, January 14, 2013
I've made it four whole days with absolutely no intense sweets - no sugar, no honey, no syrup (diet or otherwise), no Splenda/Equal/Sweet n Low/saccharine, no raisins/dried fruit, no sugar free pudding, no sugar free ice cream, and no juice. When you understand that other than 2 times when I tried for several weeks to reduce my artificial sweetener use (and ended up using more regular sweeteners), I have been using large amounts of artificial sweeteners for many years. I substituted an artificial sweetener habit for a sugar habit. I could control my weight, but I still felt somewhat out of control and knew that I was not fueling my body optimally.

The last few days I have really enjoyed fruit. It amazes me that even things I don't usually think of as sweet (baby carrots, corn, peas, almonds, bananas, tomatoes) suddenly seem sweet to me. I thought this might happen, but certainly did not expect it to happen so soon. I find I can drink tea, herbal tea, coffee, and decaf coffee with nothing added. I don't like them as much, but that is fine, because I will probably drink more plain water and consume less caffeine which is an improvement.

Funny, but probably my hardest challenge was the Weight Watcher Open House. They served smoothies and samples of raspberry shortbread - both definitely sweet. I stayed away from them just fine at first, but then went over to the table to speak to one of the servers who I originally met at the first 5K I ran. I didn't take any refreshment, and didn't feel odd about it. Then they passed out samples of the new Celebration Cake bars. I brought mine and my nephew's home and gave them to my daughter yesterday. Then, believe it or not, my thank you gift for speaking was a box of Weight Watcher lemon filled lemon cakes! I brought them home and they are up (top shelf) in the cabinet. The family has decided they will be dessert at our next extended family dinner. My hubby particularly likes lemon. That will work! I had a hard time believing with all the savory snacks Weight Watchers sells that there was not one thing offered at the Open House that was not sweet. Oh, well, I proved to myself I can control my sweet tooth in a social setting

I'm definitely going for a week with no sweets and then I'll see whether I'm ready to reintroduce a very, very moderate amount. Or maybe not.



First Page
1
2
3
4
5
6
7
8
9
10
11
12
13
14
15
16
17
18
19
20
21
22
23
24
25
26
27
28
29
30
31
32
33
34
35
36
37
38
39
40
41
42
43
44
45
46
47
48
49
50
51
52
53
54
55
56
57
58
59
60
61
62
63
64
65
66
67
68
69
70
71
72
73
74
75
76
77
78
79
80
81
82
83
84
85
86
87
88
89
90
91
92
93
94
95
96
97 98 99 100 101 102 103 104 105 106 107 108 109 110 111 112 113 114 115 116 117 118 119 120 121 122 123 124 125 126 127 128 129 130 131 132 133 134 135 136 137 138 139 140 141 142 143 144 145 146 147 148 149 150 151 152 153 154 155 156 157 158 159 160 161 162 163 164 165 166 167 168 169 170 171 172 173 174 175 176 177 178 179 180 181 182 183 184 185 186 187 188 189 190 191 192 193 194 195 196 197 198 199 200 201 202 203 204 205 206 207 208 209 210 211 212 213 214 215 216 217 218 219 220 221 222 223 224 225 226 227 228 229 230 231 232 233 234 235 236 237 238 239 240 241 242 243 244 245 246 247 248 249 250 251 252 253 254 255 256 257 Last Page

Get An Email Alert Each Time SLENDERELLA61 Posts