| | |
| --- | --- |
| | SLENDERELLA61's Recent Blog Entries |


Monday, January 21, 2013
I'll be finishing up the 4 weeks of the official SparkPeople Taming Your Sweet Tooth Challenge in two more days. I am extremely glad I took on this challenge. I cut back my artificial sweetener use for a couple weeks and then I gave up all artificial and intense sweets - no Splenda/Sweet n Low/Equal/saccharine/Truvia; no syrup, diet or otherwise; no pudding; no cakes; no cookies; no desserts; no honey; no gum; no Tic Tacs/breath mints; no soda; no Crystal Light; no Lipton/Snapple tea. I'm drinking coffee, decaf, tea and herbal tea absolutely plain, instead of with the mountain of sweetener I used to use. It has now been 11 successful days. (Full disclosure: although I'd given up dried fruit, I had 23 raisins on my oatmeal the Saturday morning before I ran the 5K. I also had one Gu Chew 30 minutes before the race, just to make sure I had the energy to run. I'm not counting this race fueling as a sugar violation. I think I may have needed them.)

I've decided to complete two full weeks with no intense sweets. Then my goal will be to eat one dessert or less per month, preferably at a family birthday or holiday dinner. I will limit my artificial sweetener use to an average of 4 packets or equivalents (8 oz of artificially sweetened drink = one packet) per day. I believe I can live with these goals and be healthier and happier for it!

As I commented earlier, things I never thought of as sweet (carrots, peas, corn, tomatoes, almonds) all taste sweet to me now. My sweet threshold has decidedly been reset. Today even onions tasted sweet. I'm not kidding.

And once again I say gratefully, thanks SparkPeople!





Sunday, January 20, 2013
Here's the pictures of my niece and nephew finishing the Hope for Haiti 5K: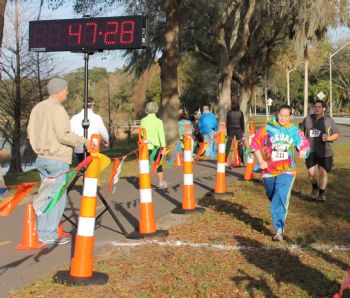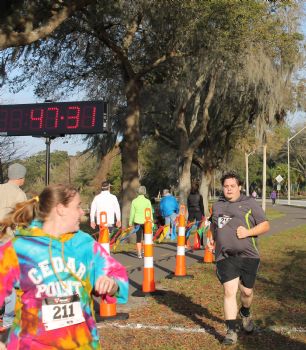 Finally I got it all posted! Thanks for your patience.





Sunday, January 20, 2013
Wasn't it Mario Puzo who said if he'd realized how popular his novel, The Godfather, would become he'd have taken a lot more time to write it better? Well, that's kind of the way I feel this morning after seeing the Popular Blog Award on my post from yesterday. But thanks, SparkFriends.

Here are a few of the pictures I promised yesterday of my niece, nephew, and me before the race: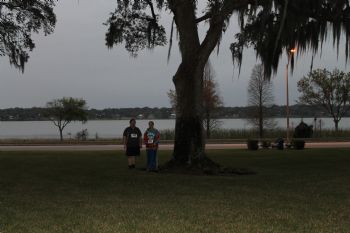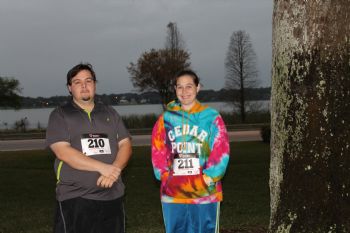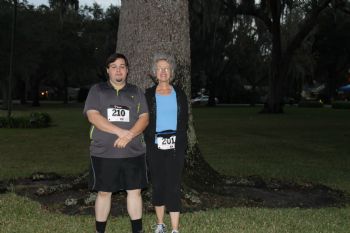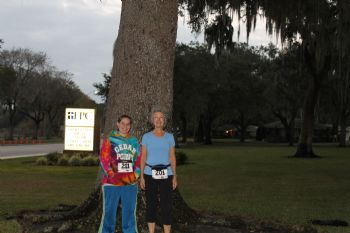 You can see a bit of the lake where we often run or walk or jog and frequently local races are here. Lake Hollingsworth, 2.84 miles around, has hundreds or probably thousands of birds, a rich variety, as well as Florida Southern College, rich with Frank Lloyd Wright's architecture. You used to see lots of boats and water skiers on this lake, but not so much recently. There are more water plants and run off is thoughtfully treated before it gets to the lake, so the ecology has improved in recent years. It is a beautiful spot and yesterday we just overlapped a little more than a quarter mile to make a 5K. The Rotary Twilight 5K I'm planning to run on Friday, February 1st, goes around this lake, but ends with the last quarter mile up a hill lit with illuminaries. I can make it!

That's all the pictures this blog will take, so I'll put the finishing pictures in the next blog. I know some of you get more pictures than that in blogs, so maybe it is my computer's limitations, although it likely is the limitation of the computer user!



Edit: Need help again from SparkFriends. When I tried to put the finishing pictures in this blog, and when I tried to put them in a separate blog I got the error message, "File too large to save." Any clue how to overcome this issue?? Thanks for any help.






Saturday, January 19, 2013
I ran the Hope for Haiti 5K this morning with my nephew and niece. We watched a video after about Haiti, met people who work there full time and local people who go quarterly to support a school there. It was very inspirational and I was glad to support the effort.

My motivation before I went, though, was to support my nephew. He dropped 30 pounds in the 3 weeks before he was hospitalized for diabetic acidosis about 3 months ago with blood sugar over 650. Since he came out of the hospital he hasn't lost much more weight, but he has totally changed the way he eats, walks many miles a day, does Crossfit regularly, and has learned to control his blood sugar. He is totally off insulin and pills now. He goes to Weight Watcher meetings with me and hopes to lose 70 more pounds. My niece did the 5K, too. She has run with me before, but hasn't been running regularly since her marriage in April. She paced him and reported he did eight running intervals. I snapped pictures of them crossing the finish line, but haven't yet figured out how to download the pictures on my laptop. He finished 3.1 miles in less than 48 minutes. When he first started walking the lake(2.84 miles) it took him over an hour, so he's made lots of progress. Will try to edit their pictures in later or post tomorrow.

My time was around 30 minutes, maybe 29:59 or 30:00 or 30:01; I'll know for sure when it is posted online, possibly with pictures, in a day or two. This was the first 5K I've run since March of 2012. For the last year I've trained for greater distance. This was my 8th 5K, since my first in January 2011. I've run 4 5Ks under 30 minutes and 3 over before this one. So I was way off my PR of 28:28. I started too fast and had to take several walk breaks in the first half mile. When I heard my time was 9:40 at the first mile, I felt much better and settled down, running the whole rest of the way. At 2 miles I was at 18:25, I think, or was it 19:25?? I was thinking it was a negative split, but I'm now doubting myself. Anyway, even though it was not my best race, I did place first in my age group, which is my first FIRST PLACE medal!

My hubby took this picture of me with my age group medal after I got home: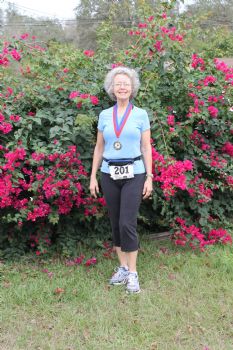 (You can see that we have not had a freeze here this year yet and the bougainvilla is still blooming.)

So I refuse to be disappointed with my time. I'll just celebrate the victory for me, the money for Haiti, and the exercise progress of my dear nephew!!





Friday, January 18, 2013
Did you notice I didn't blog yesterday? It was a usual day of child care and cooking for family. I went to the gym. Gwen stayed in the nursery for an hour while I ran. Good workout! Think my knee is fine now. I have a little soreness from my new SP strength training workout I did the day before. She and I played actively together outside. I showered at home while she napped. Made a new recipe that is pretty healthy and was very well received by hubby, son in law, and 5 year old granddaughter, which is kind of unusual for pretty healthy recipes I try. I tracked my food and made a lot of healthy choices. My "no intense sweets" streak is still in tact, having done better in this area than I have done in years -- maybe ever. Sounds like a successful day, doesn't it?

Only, I'm leaving out the elephant in the room. No, it isn't me!! I'm still a size 4 sitting here. Last night I just gave myself permission to overeat. My problem was that I woke up at 3 am yesterday (like I had the night before, too) and ate way too many of my calories and didn't leave enough for the rest of the day. And at 10 o'clock last night I was way too hungry to sleep. So I ate 3 cups of dry corn flakes, a blood orange from my neighbor's yard, and 2 T of sunflower seeds and I didn't log them because I didn't want to and I didn't care. And I broke my streak of days eating within my calorie range. (I made a new record since counting = 14 days.) But after I broke my streak I wanted to cry.

Crying doesn't help; figuring out what went wrong helps. When I woke up this morning in the middle of the night, I remembered what WalkingAnnie taught me and I kept my eyes closed and eventually I went back to sleep. I got a good night's sleep and started my day with all my calories in front of me. I have started my streak again. I'm going to blog even when I'm not feeling really proud of myself, because I'm going to face it and not hide. (Thanks, Barb, for your blog that helped me make that choice.) I have a 5K to run tomorrow and my nephew is going to join me. I'm going to eat to run today!! It will be a good, healthy day.






First Page
1
2
3
4
5
6
7
8
9
10
11
12
13
14
15
16
17
18
19
20
21
22
23
24
25
26
27
28
29
30
31
32
33
34
35
36
37
38
39
40
41
42
43
44
45
46
47
48
49
50
51
52
53
54
55
56
57
58
59
60
61
62
63
64 65 66 67 68 69 70 71 72 73 74 75 76 77 78 79 80 81 82 83 84 85 86 87 88 89 90 91 92 93 94 95 96 97 98 99 100 101 102 103 104 105 106 107 108 109 110 111 112 113 114 115 116 117 118 119 120 121 122 123 124 125 126 127 128 129 130 131 132 133 134 135 136 137 138 139 140 141 142 143 144 145 146 147 148 149 150 151 152 153 154 155 156 157 158 159 160 161 162 163 164 165 166 167 168 169 170 171 172 173 174 175 176 177 178 179 180 181 182 183 184 185 186 187 188 189 190 191 192 193 194 195 196 197 198 199 200 201 202 203 204 205 206 207 208 209 210 211 212 213 214 215 216 217 218 219 220 221 222 223 224 Last Page

Get An Email Alert Each Time SLENDERELLA61 Posts