| | |
| --- | --- |
| | SLENDERELLA61's Recent Blog Entries |


Monday, September 17, 2012
With my usual Sunday morning group, I rode right at 20 miles yesterday in about 2 hours. We took this picture after the ride: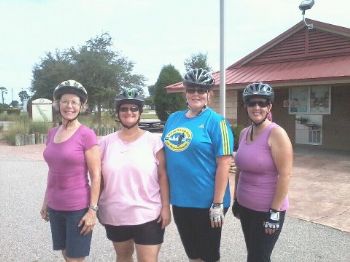 There were actually 7 of us. One rider left before the picture and the two guys just don't like photos, I guess.

There have been years that all my exercise has been a solitary enterprise. I don't have to have a group or buddy in order to enjoy it. But if you ever have a chance to exercise with a group, I'd highly recommend you try it. I have found it to be more fun than I anticipated. Really!!





Sunday, September 16, 2012
Thanks, everyone, who read and liked my "How I Found My Inner Jock" blog. This eve there are 84 comments on it. And can you guess who made the 83rd comment? SparkGuy, Chris Downie, no less!

Isn't that awesome? Here he gives us this incredible free site, and even takes the time to check out member blogs!! I went to his SparkPage and gave him a goodie, because that's what we do here on SparkPeople. Right?

PS I'm up to 105 comments and I received a Popular Blog Award. Thanks, SparkFriends and other readers!! Isn't SP just so positive and reinforcing??

PPS I now have 148 comments and 99 "like" votes. This is so cool!?? ! One comment mentioned that the Inner Jock blog was featured in an e-mail, but I didn't see it. If it is true, I would love for someone to cut and paste it into a SparkMail to me!!

Last postscript??? (no guarantee - LOL): Thanks, TerriJ. As of 9-20-12 I have 164 comments and 128 "likes" on the blog. It has been a hoot watching the number go up. I've tried to thank each person commenting, but may not get to all. Will try!! I love SparkPeople!!!! I think because I've been writing blogs for almost 3 years, I have really enjoyed my first two Popular Blog Awards.

9-21-12 PS Now 172 comments and 138 "likes"! Now what am I going to write?? I feel a little pressure to write more than my usual stream of life dribble. Ahhh, I'll be back to usual blogging soon, but I can get the three points just by editing!!






Saturday, September 15, 2012
Eleven mile run – done! Or more precisely an eleven mile run-walk-run. I loved it. I ended up feeling great and knowing that I could run more and run faster. And I soon will. Looking forward to it. How did I go from living a sedentary existence to where I am today?

As a kid I remember being chosen last every time. I was embarrassed to run for fear kids would see my fat jiggle. My 5th grade teacher recommended dancing lessons to help awkwardness, not knowing I'd already had three years. I remember my 7th grade coach calling me a "motor moron." How did I ever find my inner jock?

In 1998 when I hit my top weight of 212 pounds, I had not exercised for more than a decade. Before that a couple times I had started an exercise program at a gym or on my own, but that was just it. I started. Inevitably I overdid it, was so sore I could hardly walk, and would give up. I thought it was just way too hard.

In 1998 I joined Curves. That was the first time I ever exercised fairly regularly. It wasn't too hard and I didn't get sore. I lost 60 pounds, but really did not see any muscle definition nor notice any improvement in my cardio. I did not enjoy the workouts, but endured them in order to lose weight. After I hit my weight goal, I quit. I tried Curves again in 2004-2006, and was really dedicated to getting my workouts in for the first time. It became easier and easier. I used a weighted hula hoop on the "recovery stations" and started really having fun during my workouts.

I changed jobs and Curves wasn't convenient any more. I walked regularly three days a week for 30 minutes. Pretty soon it was four days a week and then five. Usually I was a little more consistent in the summer than in the winter when it was dark when I got home from work. Then I got a treadmill and consistently walked year round.

For Christmas I got a great present, a Walk Away the Pounds DVD. I loved the indoor walking program and mixing it up with my outdoor walks and my treadmill walks. I stuck to my 5 times a week cardio schedule for several years, but my weight was creeping back up. In 2008 I rejoined Weight Watchers, having regained 25 pounds. I lost the 25 with my 5 days a week exercise routine. I was at the top of the healthy BMI range, but I wanted to make sure I kept it off this time.

That was when I found SparkPeople. I read that exercise was crucial to maintenance. I increased my cardio to 6 days a week, one hour per day. I consistently did a SparkPeople-generated strength training program, too. I added the minimum maintenance food, and was surprised when I continued to lose weight slowly for more than a year.

After four months of SP strength training I was confident enough to join a gym. At our local YMCA I found people at all fitness levels and wish I'd joined earlier. I tried a lot of different exercises – weight machines, pilates, step aerobics, stationary bike, swimming, etc. Zumba became one of my favorites and I found I really enjoyed 70 minutes on the elliptical trainer. My new MP3 player also helped jazz up my workouts.

In January 2011 at the age of 61, a poster caught my eye, "5K Road Race for People Over 50." I wondered if I could run 3.1 miles. I jumped on the treadmill and did it without much problem. I entered the race and placed third in my age group. It was only the 12th time I had ever run and the third time I had ever run that far. I thought maybe I should start training for real! In the following year I ran six 5Ks and one 10K. Now I'm training for my first half marathon on November 18th.

If you just read the previous paragraph you might think it was foolishly impetuous of me to start running so late in life, but taken in context, the opposite is true. I found my inner jock by taking slow consistent steps over years and gradually increasing the intensity and length of my workouts.

I've learned if I dread a workout, I need to slow down. It doesn't need to hurt to be beneficial; in fact, you should end up feeling great. I do!!





Friday, September 14, 2012
I tried riding my bike to my daughter's house on Sunday as I was going to keep both kids at their house. The ride over was enjoyable. At one time I worried about the heavy traffic on a major highway I must cross, but I've gotten braver. The ride only took me about 10 minutes. But when it came time to ride back it was pouring down rain and my daughter insisted that she drive me home. I had to agree. During the week I drive, because I take Natalie to and from kindergarten, and without safe sidewalks I'm not going to take the baby in the stroller. That's not a matter of bravery, but of good sense, I think.

So, today I drove home and then walked back to my daughter's house the 1.69 miles per SP Map My Route in 24 minutes. I got my bike and returned home. So now I should be set for my weekend ride. Some time I may try cycling in a poncho in a deluge, but I suspect I'm going to mostly be a fair weather bike rider.

Incidentally, my bike helmet still fits despite the fact that the At Goal & Maintaining + Transition to Maintenance team got me a Popular Blog Award yesterday and today my quote was featured in a dailySpark about beating the odds. Nope, I won't get the big head. Wouldn't go with the rest of me!!







Thursday, September 13, 2012
I went 6.2 miles on the treadmill this morning. I didn't really have a distance goal today, I just wanted to do running intervals for an hour, plus 5 minutes warm up and 5 cool down. I didn't feel like I needed an extended warm up this morn, because I was already warm from playing with Gwen, my almost 2 year old granddaughter who enjoys the nursery at our YMCA.

Saturday I have a slow eleven mile run planned with my Galloway group. That will be a new distance record for me; my current PR for distance is 10.2 miles. Just over 9 weeks until my first half marathon. I am feeling confident!!

Thanks to all my supportive SparkFriends. I would have never started running if I hadn't met people here my age who were not only able to do it, but enjoying it. It is still incredible to me that after being inactive for decades, that my body loves to run!! It just feels so good. I amaze myself. I have found my inner jock for sure!!



First Page
1
2
3
4
5
6
7
8
9
10
11
12
13
14
15
16
17
18
19
20
21
22
23
24
25
26
27
28
29
30
31
32
33
34
35
36
37
38
39
40
41
42
43
44
45
46
47
48
49
50
51
52
53
54
55
56
57
58
59
60
61
62
63
64
65
66
67
68
69
70
71
72
73
74
75
76
77
78
79
80
81
82
83
84
85
86 87 88 89 90 91 92 93 94 95 96 97 98 99 100 101 102 103 104 105 106 107 108 109 110 111 112 113 114 115 116 117 118 119 120 121 122 123 124 125 126 127 128 129 130 131 132 133 134 135 136 137 138 139 140 141 142 143 144 145 146 147 148 149 150 151 152 153 154 155 156 157 158 159 160 161 162 163 164 165 166 167 168 169 170 171 172 173 174 175 176 177 178 179 180 181 182 183 184 185 186 187 188 189 190 191 192 193 194 195 196 197 198 199 200 201 202 203 204 205 206 207 208 209 210 211 212 213 214 215 216 217 218 219 220 221 222 223 224 225 226 227 Last Page

Get An Email Alert Each Time SLENDERELLA61 Posts