| | |
| --- | --- |
| | SLENDERELLA61's Recent Blog Entries |



Monday, September 03, 2012
The first time I lost 60 pounds it took me 9 months to lose it and 3 months to gain it back. I was 16 years old and I doubt if I even maintained my loss for a week.

On December 1, 2008, when I started my current effort to control my weight, I'd lost 30 pounds or more eight times and twice maintained for almost a year. I'd lived over 5 decades overweight. This time my goal was not to lose weight, but to change my life.

Today I claim 180 weeks, almost 3 and a half years, of living life at a weight below what I weighed in 7th grade, a weight I never dreamed I could achieve, 86 pounds gone.

What did I do differently this time? For me, successful maintenance is in a large part due to three factors:

1. Super Foods or Power Foods - I dramatically increased the healthiest foods (see
www.sparkpeople.com/resource/nutriti
on_articles.asp?id=307 )
and decreased dramatically the processed foods I eat.

2. Based on what I read at the National Weight Control Registry, I increased my exercise. I went from 5 half hour sessions per week to a minimum of 6 one hour cardio sessions. And then SparkPeople convinced me to add strength training.

3. And most important, I quit quitting. After years of letting myself get discouraged by the scale and how hard it is to maintain, I recommitted each day to do the best I can, no matter what. Some days the best I can do isn't very good, but if I just keep trying, I get it back and find it is good enough. And my SparkFriends on the At Goal & Maintaining Team, www.sparkpeople.com/myspark/groups_i
ndividual.asp?gid=1111 , understand and support me like no one in my 3D life.

My point is that maintenance is possible, even for someone like me who found it impossible over and over again. Perhaps your keys to successful maintenance will be different than mine. We are all different. But if you keep trying, you can do it.





Sunday, September 02, 2012
Enjoyed a great bike ride today! Janet took our picture, as usual: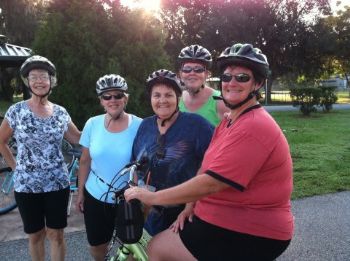 Hope all my SparkFriends are having a healthy, happy weekend!!





Saturday, September 01, 2012
I ran with my Galloway group this morning, a casual run-walk-run of 4 miles. We sat around and drank coffee for a while, drippping sweat in the shade on this muggy, muggy morning.

Then I was feeling like more, so I went to the YMCA, jumped on the treadmill and ran, after a brief re-warm up, without walk breaks, 3.1 miles. I never went under 6 mph. When I started to feel a little tired I tried a trick a Galloway group member told me about. Instead of slowing down, I tried increasing the speed - 6.5, 7 or 7.5 mph - for 20 to 60 seconds. Then I'd go back to 6 mph and it would feel very easy. I swear it works!! I ended doing a 3.1 mile run in 29:55, my first under 30 minute 5K in at least 6 months.

I attended a Weight Watcher meeting today. I'm at a BMI of 21.7 (134 pounds dressed) which is the highest I've been for a while. Not terrible, but I'm trying to get motivated to eat a little smarter. Maybe feeling like it is not terrible is not helping me!!?!

Then I rode my bike to the bike shop under the noon sun after generous application of sun screen. Now my brakes no longer squeak and I've got a new rack to carry freggies home from the fruit stand.

Good day!!





Thursday, August 30, 2012
Enjoyed a good treadmill run at the YMCA today. Training for my half marathon in 11 weeks and 3 days is right on track. I dropped Natalie off at kindergarten on the way. Gwen (23 months) is healthy and has no problem with the Y nursery. Although I can get my runs in early-early or late when I have to, I really enjoy this schedule. I am feeling very good about my running and cross training.

My recent eating, on the other hand, I don't feel as good about: not terrible, but just a bit sloppy. To start with, I've avoided the scale for about 5 days. I usually don't let myself go more than 3 days without weighing. Tomorrow morning I will weigh and see what the damage is, if any. Since there is fluctuation, the scale is not precise feedback, but probably the best information I can easily obtain. Can't be too bad as my clothes still fit. But my body has complained. I've awakened without that crisp-hungry-empty feeling, but with a bad taste in my mouth, and my stomach feeling a little uncertain. That is a definite sign I ate too much the night before.

Recent days I tracked but with too much estimating, and a couple days I didn't even do that much. I'm sure I got in adequate freggies, skim milk, water, protein, and whole grains. What I am slipping on is that portion control. So tomorrow is weigh in for me and complete and accurate food tracking.

A SparkFriend blogged not long ago that you can't out-exercise a poor diet. That made me think. I may eat a lot of good food, but that "lot" is the problem. It would be unwise for me to try to exercise enough to balance my excess food. If I'm going to continue to maintain my 80+ pound weight loss, portion control is every bit as important as the wise food choices.







Tuesday, August 28, 2012
Did just over 3.5 miles today on treadmill with running intervals up to 6 minutes and speed up to 7 mph. Did a good strength workout for arms and core, too. Slept well last eve and got in all my freggies, water, milk, protein, and good nutrients, but could have used a little more restraint this eve. Oh, well, tomorrow I will do even better!



First Page
1
2
3
4
5
6
7
8
9
10
11
12
13
14
15
16
17
18
19
20
21
22
23
24
25
26
27
28
29
30
31
32
33
34
35
36
37
38
39
40
41
42
43
44
45
46
47
48
49
50
51
52
53
54
55
56
57
58
59
60
61
62
63
64
65
66
67
68
69
70
71
72
73
74
75
76
77
78
79
80
81
82
83
84
85
86
87
88
89
90
91
92
93
94
95
96
97
98
99
100
101
102
103
104
105
106
107
108
109
110
111
112
113
114
115
116
117
118
119
120
121
122
123
124
125
126
127
128
129
130 131 132 133 134 135 136 137 138 139 140 141 142 143 144 145 146 147 148 149 150 151 152 153 154 155 156 157 158 159 160 161 162 163 164 165 166 167 168 169 170 171 172 173 174 175 176 177 178 179 180 181 182 183 184 185 186 187 188 189 190 191 192 193 194 195 196 197 198 199 200 201 202 203 204 205 206 207 208 209 210 211 212 213 214 215 216 217 218 219 220 221 222 223 224 225 226 227 228 229 230 231 232 233 234 235 236 237 238 239 240 241 242 243 244 245 246 247 248 249 250 251 252 253 254 255 256 257 258 259 260 261 262 263 264 265 266 267 268 269 Last Page

Get An Email Alert Each Time SLENDERELLA61 Posts